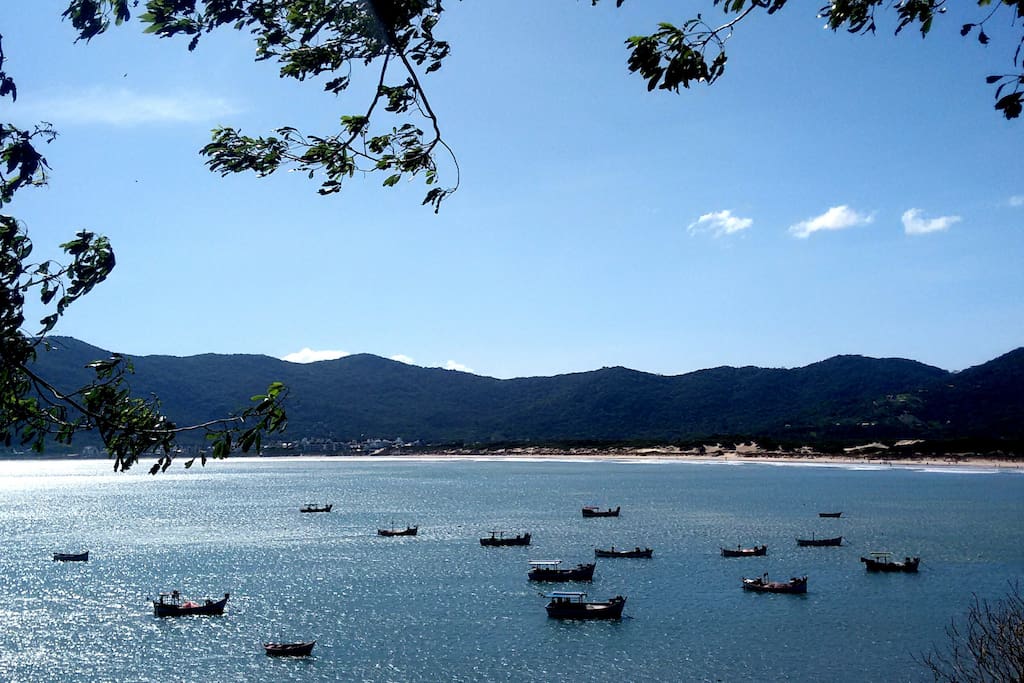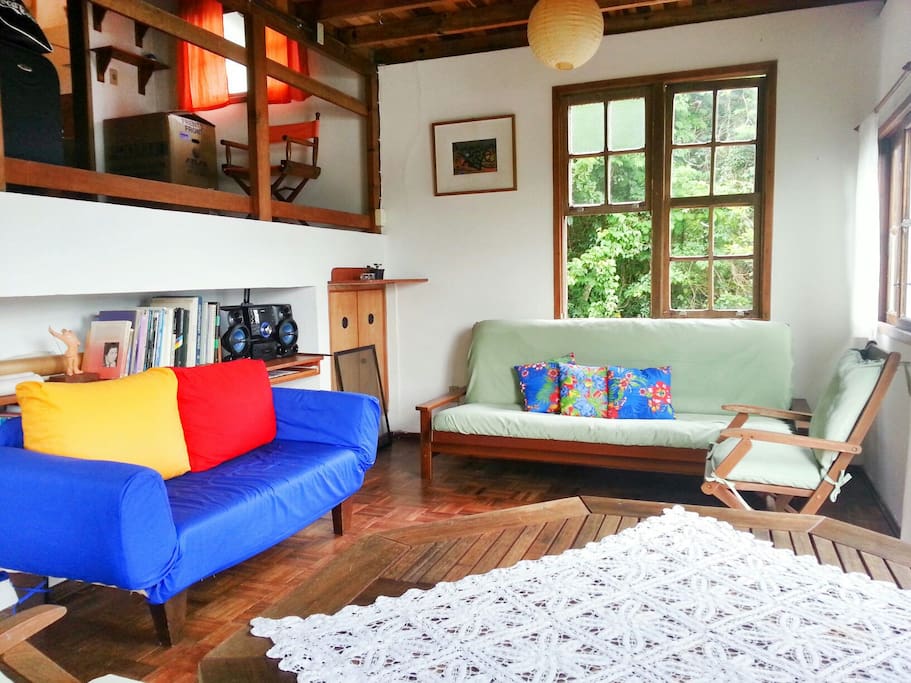 Delicious house at amazing spot
This is definitely a place that amazes everyone. The house has a simplicity of its own and harmony with the nature that surrounds it. We love to have guests and see them even more surprised with what they find here that photos cannot translate.
房源
House in Pântano do Sul beach, comfortable for 4 adults but we can accomodate 5, one being a child. With fully equipped kitchen, bathroom, double room + mezzanine for two people, both with window to the sea, with bed linen.
The sea beats at the foot of the hill and the beach is just meters from the house, with many restaurants specialized in seafood, especially squids, that are fished on the beach itself.
There are a variety of other beaches, including pond and waterfall, around Pantano do Sul to ensure options for your stay.
The house is located in a preserved area. Cars have access within 150 meters of the house and can be parked at private parking.
Easy and regular public transport to city and various beaches.
Feel at home. We guarantee excellent ambience and special attention from the owners. The landlord lives on a private and independent studio on the premises so any concern you may have will be taken care right away. Contact us for details.
---
---
Esperamos cuidado e atenção com a casa e nossos pertences. Não são permitidos hóspedes além da capacidade da casa acordada em contrato. O locatário assumirá total responsabilidade por qualquer dano ou evento indesejado durante a sua estadia.

We expect care and attention with the house and our belongings. Guests are not allowed beyond the capacity of the house. The renter shall assume full responsibility for any damage or undesired event during your stay.
---
Diego's house is very unique - a cozy, woodsy cabin-like place with a sleeping loft upstairs and great views of the bay of Platano do Sul. We loved the views, the feel of the house, and the privacy. Keep in mind that it's on a private road and so you can't drive directly to the house - you have to park in the town below and shuttle things up to the gate on the road. That said, it's an easy shuttle, there is cheap, secure parking in the town, and it's nice not having any traffic or cars on the private road. The sleeping loft is cozy - has a slightly low ceiling, but not a problem. When we visited, the beds were simple futons/mattresses on the floor; we would have preferred something a little more comfortable. The house is also very close to the hiking trail to Praia do Lagohina and Matadeiros. Great view to the south and of the fishing boats in the bay below. verall, we enjoyed staying here a LOT and would recommend the house to anyone who wants to stay in Platano do Sul!
---
The 'Delicious House' is a very clean and comfortable place that overlooks a quiet bay on the southern tip of Florianopolis Island. The landlord lives below and is very polite and accomodating. There are two restaurants in the fishing village about a 5 minute walk from the house, and a supermarket nearby as well. It is a very romantic 'getaway' location perfect for a couple who want to get away from the hustle and bustle of city life. I recommend renting a car if you stay in this part of the Island, as the bus comes every 40 minutes and takes about 30 or so minutes to get into Florianopolis City. There are no taxis in this fishing village. The beach is not the best for swimming, as it is primarily a bay for fishermen to launch their boats and fish, so there is no 'beach life' at this location (no bars on the beaches, no surfing, etc). However, there are others nearby that do offer beach activities. Diego was very accommodating and the landlord was very sweet and kind. There is a cat named Tiago that keeps the critters at bay but does not come inside the house. The shower was very nice. Very clean place. Kitchen has everything you need.
It is not true there's no "beach life", no bars and the beach is not fit for swimming. My guest arrived at 6pm in october and left the next day because he was looking for a city, not a beach. I've been to this beach all my life, lots of families also come here all year long, and one of the most famous restaurant in the island is in Pântano do Sul, "Bar do Arante", as seen on (SENSITIVE CONTENTS HIDDEN) Maps. Our house is about to be rented every day from november 11 to jan 31 as it is every year and nobody ever complained. On the contrary. The sea is so calm there's lots of swimming specially for kids and people surf right across the bay. He mentioned jellyfishes as a reason to cancel his stay (which can be true for a couple of days on any beach in the world, as much as whales also show up here once in a while) but I'm pretty sure he misunderstood some advice about taking care of HEDGEHOG by the rocks, which has nothing to do with the beach being improper to swim. People even scubadive at the foot of our house where the hedgehogs are. I can garantee that by showing pictures to anyone who may need them. Cheers.
---
Delicious house at amazing spot indeed! The view is amazing, all conditions in the house are very well. One thing needs to be changed is the old frying-pan. Diego's mother Nana who keeps the house is wonderful person - she showed us all the necessary places, took care of car parking and all other stuff. One of the tenderest cats in Brazil - Tiago - included in price =)
---
Todo resultó mejor de lo esperado, el lugar es increíble tanto la playa como la casa barco de nana, su dueña. Nos recibió como si fueramos de su familia y compartimos algunos momentos con ella y su hija. Para nosotros fueron unas vacaciones magicas con mucha alegría y diversión, tambien ejercicio ya que hay que bajar y subir 80 escalones para ir a la playa, pero en cada uno te encontrarás con una vista sorprendente. Recomiendo mucho este lugar!!!
---
Diego et sa mère sont des hôtes très accueillants et attentionnés, parlant parfaitement le français. L'emplacement est sans doute l'un des plus intéressants de l'île, en pleine nature au bord d'une plage magnifique, très animée par les pécheurs, avec tous les commerces, bar et restaurant à proximité. La maison est agréable à vivre et bien équipée. Nous la recommandons vivement.
---
Diego e sua mãe foram muito atenciosos e colaborativos ao longo da locação, antes, durante e depois (eu tinha esquecido um cartão de credito na casa e mandaram logo de volta pra nosso domicilio). A casa e simples mas funcional, destaque para a sala de estar e o terraço com bela luz, e vista sensacional. Os pássaros e o mar são os únicos barulhos exteriores. O acesso a pé não foi maior problema para nos mas e preciso gostar de caminhar um pouco, com malas e eventualmente compras... O sul da ilha é um encanto: Pantano do Sul (de frente a casa) e ideal pras familias, e não faltam praias lindas: Armação, Ribeirão (isso ja é pra se deliciar com as ostras locais), Campêche e as melhores de todas apos caminhar um pouco: Matadeiro e Solidão! Destaque tambem pela comida para quem gosta de frutos do mar é um paraiso. O Arantes é muito bom mas um pouco caro. O buffet dos sabados e domingos (de graça pras crianças) é maravilhoso. Vale a pena provar perto da casa a comida da patroa do "Pedacinho de Ceú" e tb a excelente comida caseira do seu Vadinho. No mais, cuidado que aos domingo Floripa Centro e verdadeira cidade fantasma, e tb com o transito na ilha que pode tornar-se infernal ja que so tem estradas unicas pela ilha toda, que rapidamente congestionam. Mas pelo menos os motoristas (locais) respeitam as regras do transito e (quase sempre...) as limitações de velocidade... Obrigado/merci!!!
---