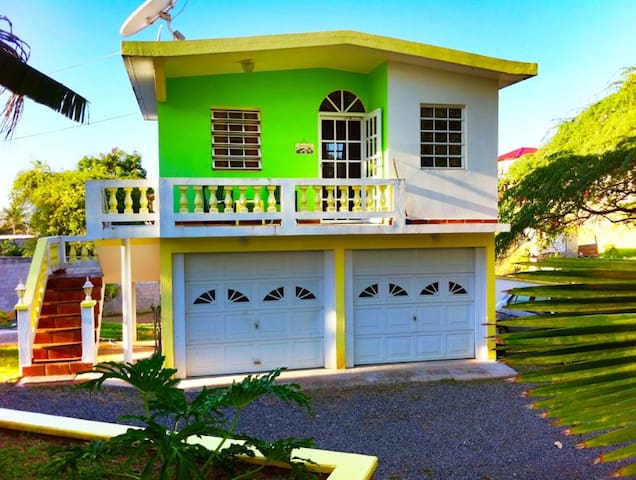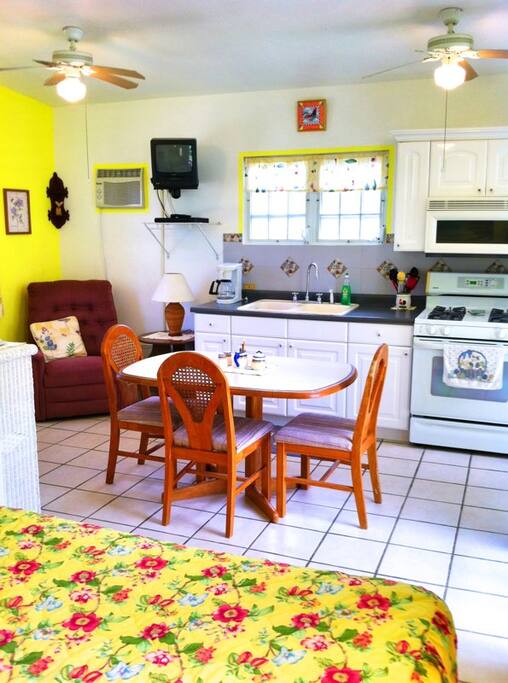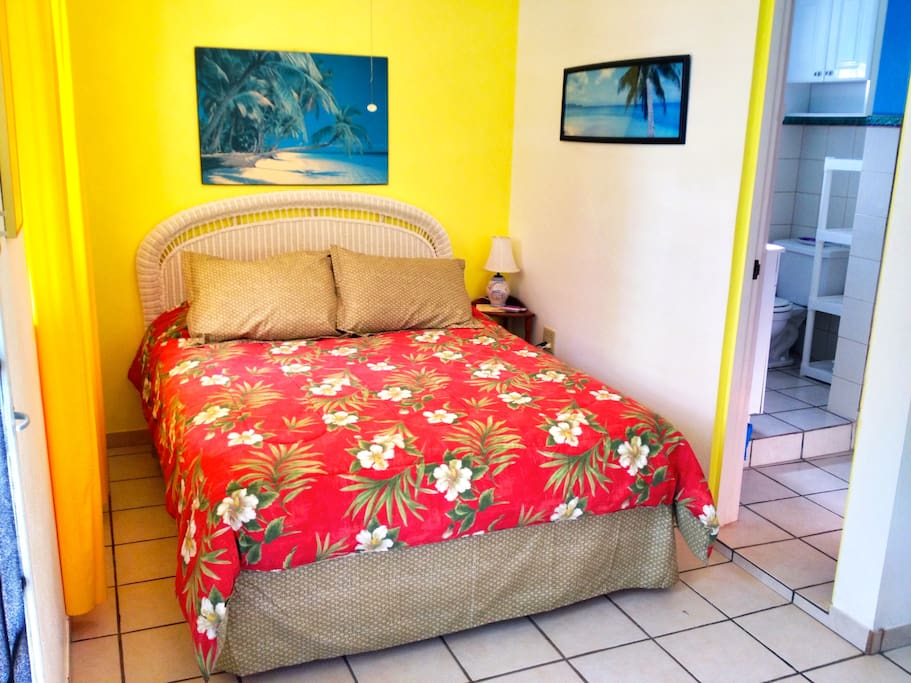 Sleeps up to 2 people in a queen bed & features a full bath and full kitchen. All units have shared access to the pool and main patio area with gas grill and outdoor kitchen. Satellite TV in unit. A/C & WiFi
房源
Located in the heart of Bravos de Boston, on Vieques' North Shore, Casa De Claire rests beautifully upon an uphill dead end street, offering breath-taking views of the Atlantic Ocean and Culebra. A five minute drive will take you to downtown shops and restaurants, and a five minute walk will bring you to nearby beaches. CDC consists of three air conditioned rental apartments and a bunk house in addition to the main house which is also available for rent.
房客使用权限
Access to the pool and main patio area which features a gas grill and a full outdoor kitchen including a microwave, fridge, blender and ice machine.
---
We had an incredible time at Casa de Claire! Claire was a wonderful host, so sweet, helpful, and laid back. The garage below our studio was full of awesome beach necessities (umbrellas, rafts, snorkel gear, chairs, coolers, etc., seriously!!!) that we were so happy to utilize! The studio had anything we could possibly need and more. Thank you again Claire for providing us a tropical home away from home!!!
---
Casa de Claire was absolutely perfect for us. I was traveling with my fiancé and we got the little separate studio apartment opposite the main establishment. When we got there our room was ready with the keys and a welcome note. We did not even have to check in . We were not bothered throughout the stay and the place was self sufficient with a kitchen and dining area too. All in all perfect for our needs
---
We had a wonderful time staying at Casa De Claire! All 11 individuals in our group agreed that the stay significantly exceeded our expectations. We stayed in both the main house and in the garage studio apartment. We found our host Gordie to be very accommodating and helpful. Casa De Claire is very clean, spacious, on beautiful grounds, and in a nice location, within walking distance to the ferry dock. We look forward to a return trip!
---
Thank you! My husband and I had such a lovely time at Casa de Claire -- it was so wonderful to both have our own private space and kitchen, as well as the use of the communal outdoor-kitchen and fabulous pool area. Once we drove around the neighborhood and got our bearings, we found it to be the perfect home base for exploring the island. Claire and Gordie were extremely welcoming and accommodating. This was my first experience using airbnb and I am very happy!
---
We loved Casa de Claire. The property manager, Hector, and his wife were so nice and helpful - they were even able to rent us a car for a day, which totally made our trip. The property is beautiful - especially the pool and outdoor kitchen. The apartment was very comfortable, and we were very happy to have a nice kitchen. Roosters are noisy, but the a/c or fan easily drowned it out when we were going to sleep. Everyone else staying at the property was super friendly - this place had such a great atmosphere. Vieques was wonderful, and when we make it back, we will definitely stay here again.
---
Rental Home in Vieques Puerto Rico. We are located in the section of Vieques called Bravos de Boston and are very close to the ferry. The property consists of the main house along with three separate apartments and a bunk house. All units have access to the pool and outdoor kitchen. The entire property sleeps up to 20 people.
语言:
English