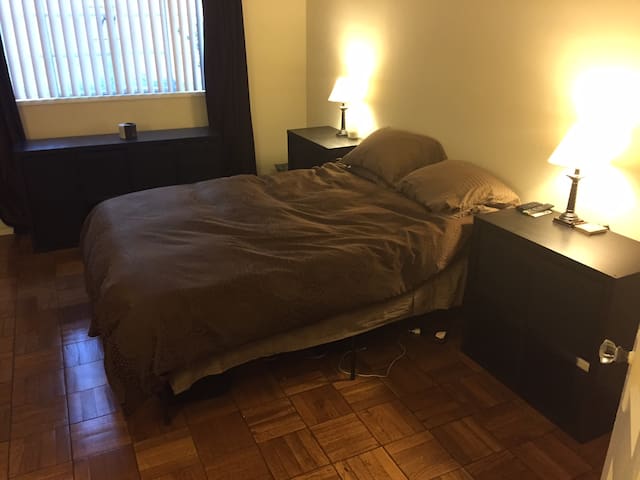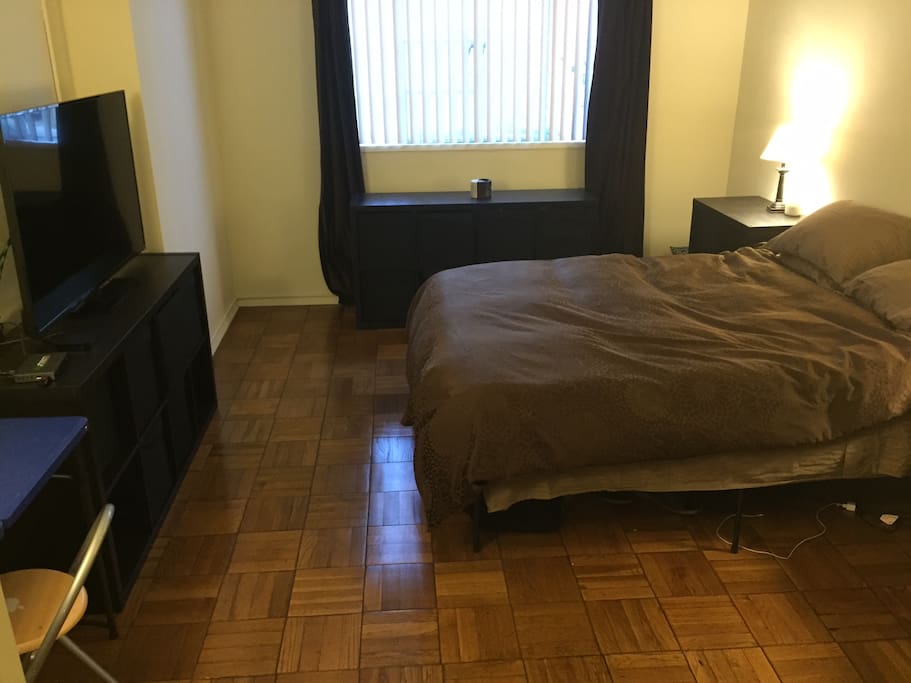 Living on this cool semi private grounds is a great escape from the fast pace energetic flow of Los Angeles. Just 10 mins walking from the action and 30 mins driving from the Beach. Come enjoy this great location with me!
房源
This is a one bedroom apartment with a huge living space and a nice big size bedroom.
The internet access is:
Network: TG1672G72
Passwords: TG(PHONE NUMBER HIDDEN)
房客使用权限
There is a front and back door
与房客的互动
I understand that when guests rent the entire space they desire privacy. I come daily after 1pm to check on the space, clean and assist with any maintenance requirements.
---
Hey thanks for taking the time to read this description. I'm an outgoing person that loves to laugh and bring joy to those around me. (even when I'm driving) I consider myself to be intelligent, educated, creative and witty. I love to read, play board games, stay physically active and sing whenever possible. I really enjoy meeting new people and thanks to what I do for a living (Entertainer) I meet new people everyday from the subway to an elevator.

I'm doing something very different on Airbnb from most other hosts, If you are looking for an immersive experience where we can hang out some, explore the city, attend shows, cook for one another and just all out relax and have a great time this place is for you. I've hosted for almost 3 years and just want to deeply connect with anyone who crosses my path!

I am a former marine and Naval Officer and lived in Japan for 27 months back from 2004 till 2007 and I traveled to such great places as Hong Kong, Singapore, Goa India, Vietnam, Kota Kina Balu, Saipan, Korea and Guam. One place I have yet to visit but I am dying to go to is Australia.

Five things I can't live without are Music, Humor, Knowledge, all of my apple products, and smiling (ok ok thats not a thing but I love doing it)

I read and or listen to over 6 books a month so its hard to pic a favorite but to name a few good ones are "Emotional Intelligence," "The Power of Now," "Green Smoothie Revolution," "Spark," Talent is Over Rated," and the "Freakonomics" Series.

I also watch a Ton of movies and my go to movies that deeply affected me are "City of Angels" and "The Matrix" (I know you probably wondering how the Matrix got in there but when face with a red pill or blue pill which one would you take?)

I love a wide variety of music form R&B, Soul, Hip hop to Classical, Adult Contemporary and even some Country... If it sounds good and has some depth to it I am probably at least knee deep in it and I am always searching for inspiring music to help with work outs and creativity.

Food is a great subject. I will try almost anything once but my go to dish is lasagna and I love breakfast food!

When I travel, I travel light so I can move efficiently from objective to objective (wait I'm out of the military why am I talking like that?) But light an east does have its benefits like shopping sprees :)

As a host I am very magnanimous and try my best to make friends feel at home. When I am a guest in someones house I do my best to leave a small imprint and never over stay. The idea is to keep them wanting more! :)

I don't really go by any one motto but if I had to choose one I would say.

"it doesn't cost anything to be nice, and you might even find out life is sweeter when your handing out lemonade"
语言:
English