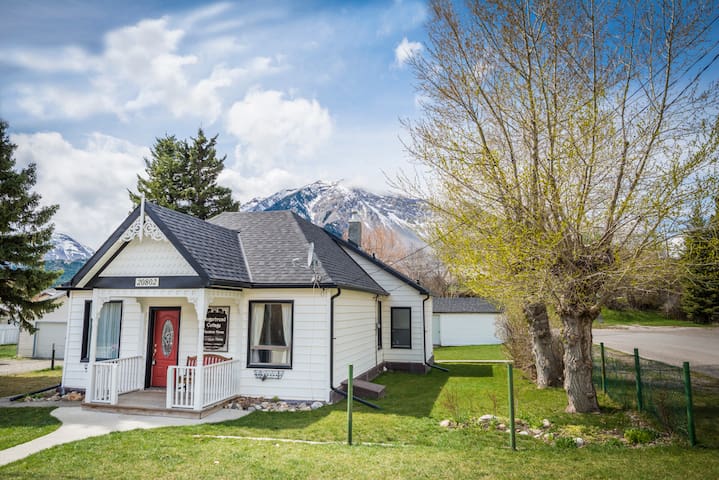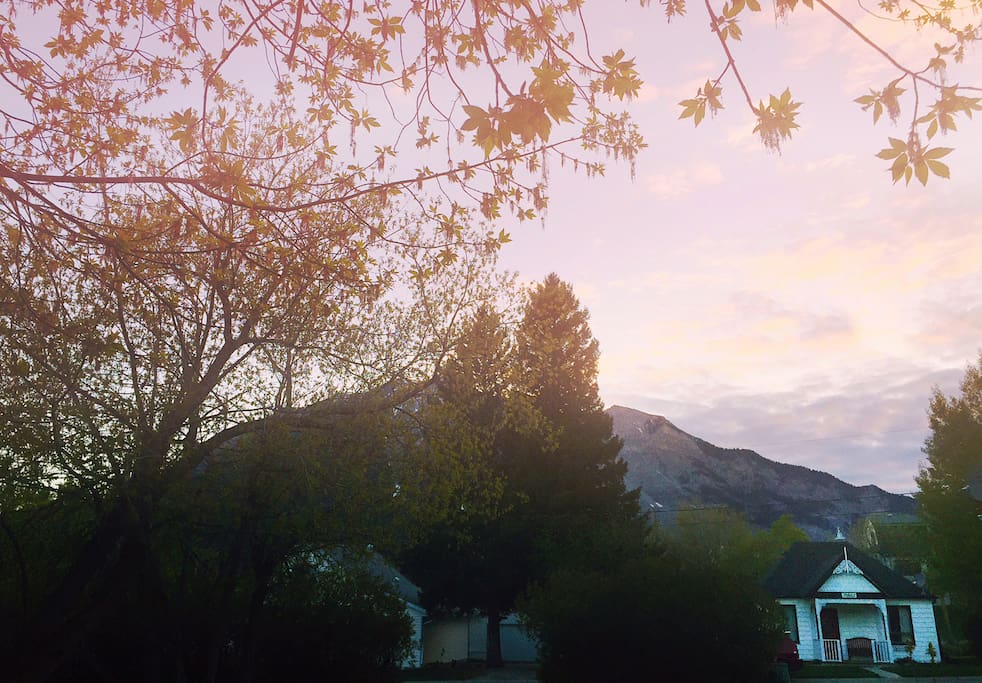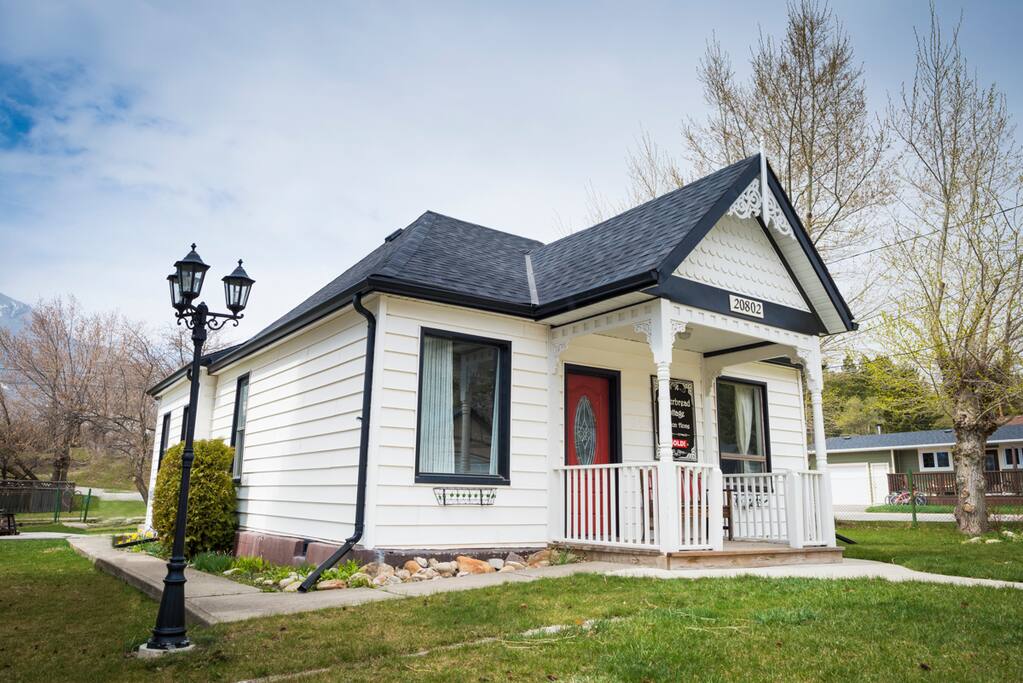 It's a cottage life experience in the heart of the rocky mountains. This 1920's character home is ready for you to create lasting memories in every season. Nestled in a 360 degree view of the mountains, at the foot of hiking, fishing, an ice-cream shop & waterfalls. This cottage is mere steps from incredible hiking & secluded trails. If you're wanting tranquility, enjoy music or make your own with the piano and violin or draw/paint or write with the peace and quiet a mountain town inspires.
---
---
---
---
The house is nice for facilitating events/small weddings/reunion/workshops, however, this is a different price than sleeping 7 people and requires permission. The neighbour across the street has 24HR video surveillance of both our properties and can be accessed on our phones.
HOUSE RULES (Please see Animals, Kitchen & Home Section)
ANIMALS:
1. Please register your pet prior upon booking. $25/pet fee for their entire stay.
2. Please pick up after your animals.
3. All animals must be house trained and well behaved. If accidents occur in the house, please use the Pet Enzyme cleaner located with cleaning supplies in the pantry and do not use my towels for urine/feces/vomit, please use paper towel.

KITCHEN:
I have Celiac Disease, a digestive system that can't break down gluten (wheat, rye, barley and oats that are not GF) and contamination can have irreversible consequences. I require ALL guests to follow the 5 kitchen rules. If you do not know what gluten or celiac disease is, feel free to ask me questions. This is not a GF lifestyle but a serious disease.
1.For gluten items ex: bread, cookies, Crackers, pastries; use the 2 white plastic cutting boards & plates only! Wash thoroughly with hot water & soap. Do not use any wood. The only way to get gluten out of wood is to sandblast it. Not very convenient when I want to make dinner ;)
2. Do NOT use my condiments such as jam, butter, mustards etc. Please tell every guest who stays with you. I do provide guest friendly condiments. Check for ones marked :)
3. When making pasta in my pots, WASH THOROUGHLY. Check for sticky bits on the bottom and sides, wash again if necessary. Any trace amount will make me violently ill. I don't mind re-washing just leave them out for me to do if you are unsure.
4. Put things back how you found them. All peelers, spatulas utensils etc. please put back in bin.
5. Cast iron pans are lovely. If you don't know how to keep them non stick, I'll send you a brilliant article.
HOME:
I hope you love the home as much as we do. If you have chosen the Entire Home listing, than you have complete privacy throughout the duration of your stay. Unless it has been pre-arranged and only for guests with more than 5 in their party, the upstairs is my personal space and off limits.
Rules:
1. Put things back how you found them.
2.Hang up your wet towels on the many hooks provided. (Tip: check behind your door)
3. Clean soiled linens that will stain it left such as towels and sheets for items you do not want to pay to replace.
4. Leave the house how you found it.
5. Turn off the BBQ after use on both the BBQ and the PROPANE tank. If you use the BBQ more than 3x, please refill tank.
6. Smoking is NOT allowed.
7. No outside guests without prior permission from your host. Doing so can result in immediate cancellation without refund.
8. Any excessive cleaning required will be deducted from the deposit.
---
---
---
---
I am a quiet person at first, an outgoing introvert, HSP, artistic, clean, courteous & fun loving. I am into art, food, travel, nature, permaculture & Natural medicine and enjoy meeting travellers. I love horseback riding and dancing too. I used to be a competitive ballerina and grew up salsa dancing. I'm also a bit of a cat nut.

I am studying to become a Clinical Herbalist, Osteopath and Medical Doctor.

I married my perfect match Jeremy last Fall in the Crowsnest Pass, he is an amazing photographer and shoots for magazines like The Walrus and has a pretty epic legacy project he is working on. Ask him about it :) We have two cats that mean the world to us! We used to have a big yellow lab named Brandy and he has crossed the rainbow bridge.

I recently traveled through Australia, UK, Spain, Malaysia, BC, Alaska, Washington and Montana. My favourite travel spots are Easter Island, Seattle, Scotland & the Highlands.

Favourite books are the Diana Gabaldon's Outlander Series!!! they're now making a TV series out of it?? *gasp*

Good music can brighten any kind of day. Especially while knitting or cooking.

I'm a super laid back traveler, courteous, very clean, considerate, and very independent. & as a host, I want everyone who comes into my home to feel comfortable.

I'm always looking to brush up on communicating in spanish and ASL!

Life is about love and relationships and growth.
语言:
English、Español、Sign Language