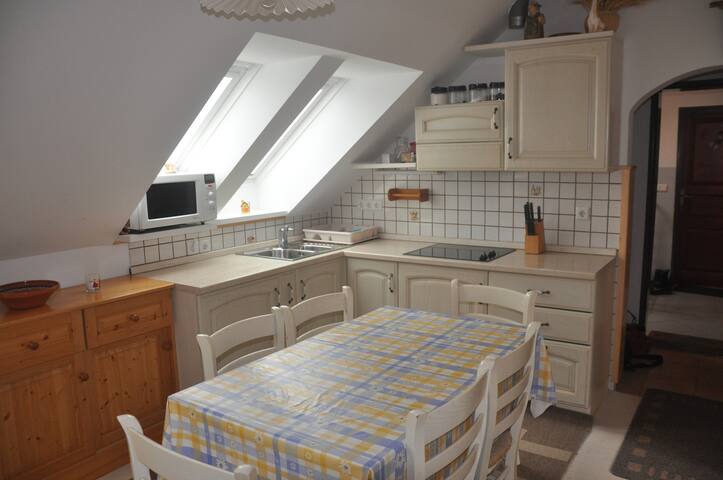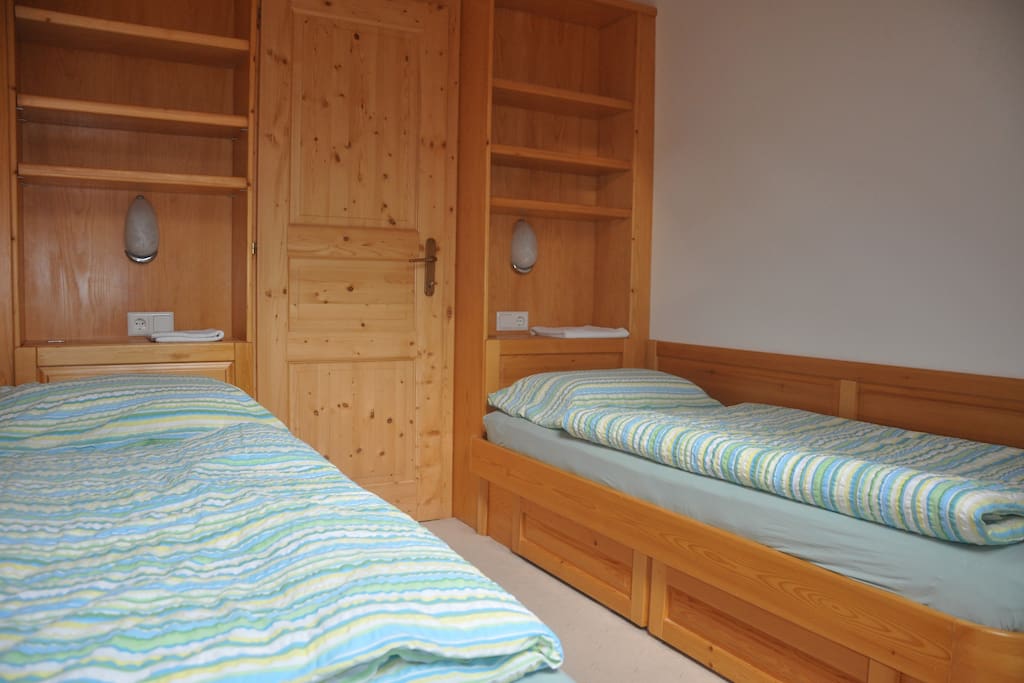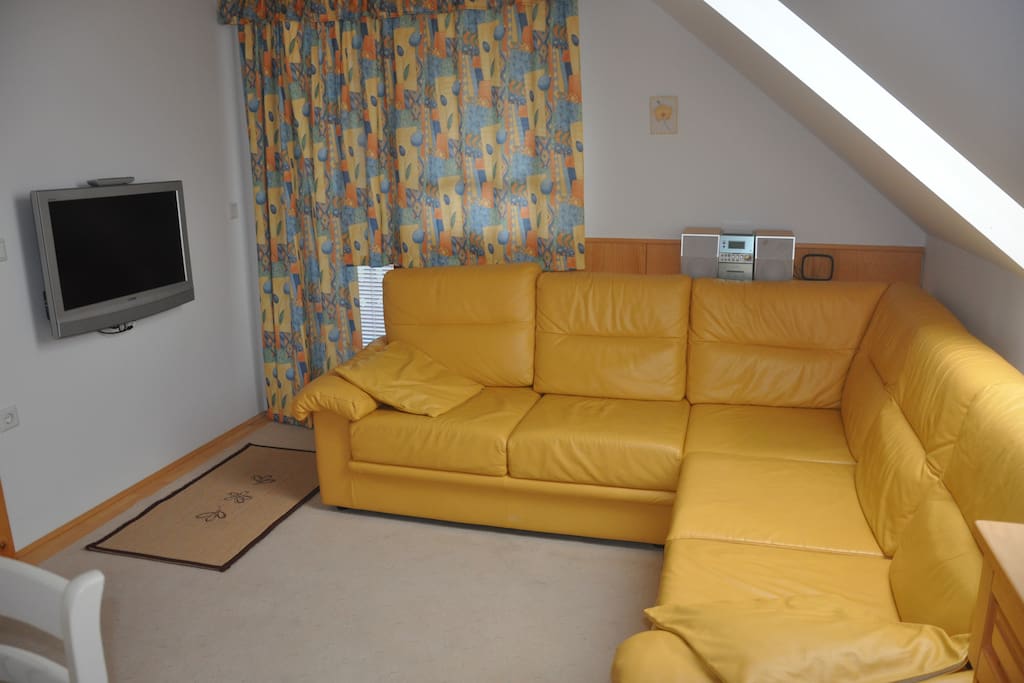 房源
A cosy apartment in the heart of slovenian Alps, near beautiful Lake Jasna, 1.5 km from the village centre and ski slopes of Kranjska Gora... soo in the winter days you are just a few minutes away if you want to hit the slopes and it is peaceful and ideal for hiking in the summer time.

The place has a kitchen with dining area, living room with LCD TV, bathroom with shower, two separate bedrooms (double bed, and two singles) and even a"Dwarfs'" room with four extra beds- the apartment is very children friendly. There is a nice view of the mountains and the lake from the balcony. The basement is large enough to store skis, bicycles, sledges or other equipment. Bed linens, towels and hair dryer are supplied. A parking space is in front.


Kranjska Gora (809m) is a mountain resort in the northwest corner of Slovenia, 10 km from the Italian an Austrian borders. It is a well-known winter and summer sports tourism centre. The alpine ski world cup is helt here each year. The area around the village church has an outstanding range of tourist and restaurant facilities. Modern ski slopes, developed on the slopes of Vitranc mountain, are almost in the village centre. Kranjska Gora attracts crowds of skiers in the winter and hikers, cyclists, golfers and swimmers in the summer.




(URL HIDDEN)
---
Perfect place to stay and visit the Julian Alps. The apartment: it was clean and tidy just like on the photos. The wood interior is beautiful and the whole place is quiet and sunny with a lot of windows. The view from the terrace is amazing. It is not evident from the pictures but the app is located on the 3rd floor and has the biggest terrace of all. This is also a drawback as there is no elevator. The house contains about 10 flats but we could hardly hear any noise. There is no photo about the spacious bathroom with bidet and a large shower but it looks just as good as you would expect it. There is a "dwarf's" room opening from the second bedroom where there are 4 more beds but the height of the room is very limited, suitable for kids only. But they liked to play there a lot. There is no internet but 3G is available. There is no real oven but the "microwave" actually has real oven functions even heat fan is available - and it is quite large. We missed something to dry wet clothes on but I am sure Uros will take care about this. Apart from these minor glitches, the whole place is a real home that I could live with. Family friendly features: We were there with two small kids (3 and 5 yrs). There are no dangerous sharp parts in the app, recommended for small kids - however we missed a child's toilet seat and a stool for hand wash. A bit more problematic that the chairs are short while the table is high - so even the 5 years old could not access the table conveniently who usually does with "normal" tables and chairs (there is no child chair), however we could fix this with bed pillows. Kids used to completely dark bedrooms will wake early as the windows can not be shaded very well. The surroundings: the lakes are beautiful just like Kranjska Gora. There are several beautiful walk paths in the wood nearby and you can access almost every part of the Julian Alps within an hour. Bovec or Bled are no exceptions, perhaps Bohinj takes more time. The hosts: Uros and Marusa were helpful and flexible even though we arrived quite late. All in all this was a very pleasant stay, we will return definitely as there is a lot more to see there.
---
We had an amazing time in Kranska Gora. The apartment is perfect and beautifully organised and decorated. We were 4 and there is enough room for at least two more kids. Our host was so kind to pick up at the bus station and advice us the best hiking roads for us. Our only regret was to stay there only three days. The lake is gorgeous and located on the opposite side of the road.
---
We spent a week in this spacious and tastefully furnished appartment. Everything was exactly as shown on the pictures. The beds are excellent. We enjoyed sitting on the balcony. Uros was waiting for us upon arrival and was very helpful. The appartment was clean and neat. We recommend the appartment and would choose it again were we to travel to Kransjka Gora once more. Anne Marie & family
---
What a lovely surprise this appartment was! We stayed here for a few days with our two small children and it was very comfortable and extremely nice and tidy. The appartment is much more spacious than the pictures suggest! The surroundings are also beautiful withmany nearby streams and the beautiful mountains.
---
A wonderful experience in the Slovenian mountains... The apartment was very clean and soo cosy but yet spacious and modern. The location is great, a walking distance to the beautiful lake and the Kranjska Gora downtown. Our hosts Uroš and his sister Petra were very helpful and friendly. I would definitely recommend this place to couples and families who want to spent some quality time together and get some fresh air in their lounges ;)! Best regards and see you again soon! Lucy
---