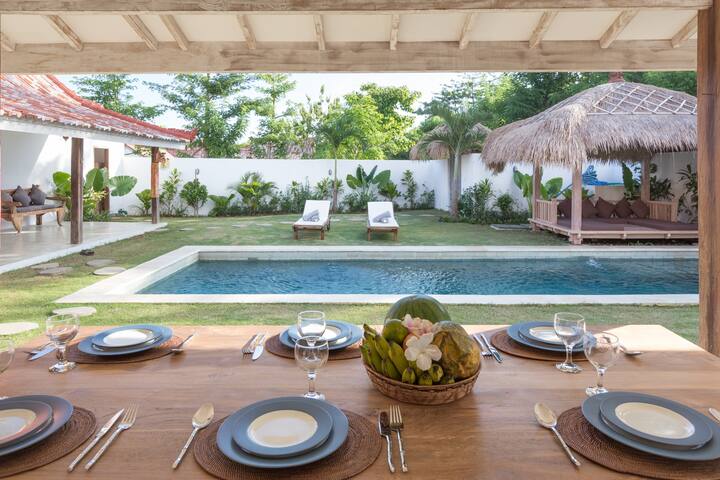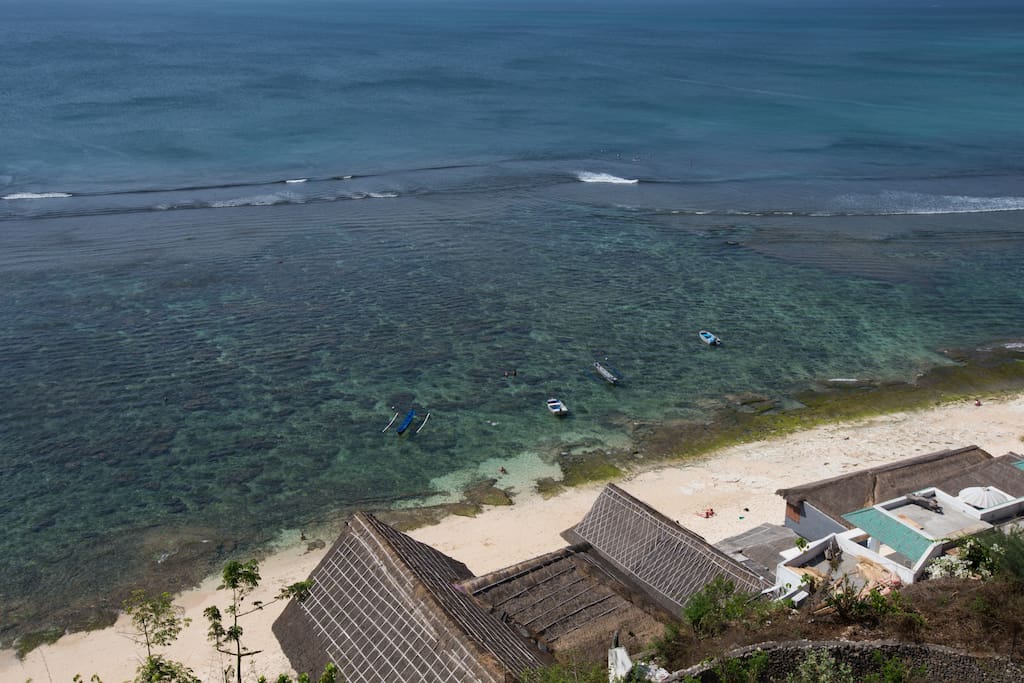 与房客的互动
我们享受见到我们客人的所有机会。如果我们不在场,我们BukitVista团队成员中的一人:Kris、Bayu、Bastian或David都会欢迎您,并随时乐意为您服务提供您需要的信息我们的团队非常了解我们的地区并享受看到满意的客人。他们也会与你分享一些本地的技巧!
我们可以帮助安排机场接送。接机需花 45-55 分钟和花费为 250,000 印尼盾(约 20 美元)。请直接付给司机。
---
Beautiful property and great hosts
---
Bingin beach is the most beautiful beach we have ever visited with a reef that is full of diverse wild life. We also took beginning surfing lessons which were fantastic. Next door there is a restaurant with healthy and delicious food. The house was pretty with traditional balinese touches to its decor. The pool is long enough for laps and the staff that maintain Wayana and Jing's properties are very friendly. I suggest asking Wayana to arrange for local motorbikes as you will need them to get around which Wayana did for us which was great. There are not many ATMs and all restaurants ask for cash so make sure to get sufficent cash out at the airport on your first day. Overall wonderful experience!
---
This villa is absolutely amazing!!! It's in a quiet, secluded, residential area and the walking path to the beach is literally 2 steps out of the front door! It's completely private with a large wall surrounding the property, we felt very safe and secure. Definitely an amazing price for such luxury! Thanks again for the great stay!
来自Jing, Wayana + Bukit Vista Hosts的回复:
Hi Becca! Thanks for your great words to our property and hospitality service. It was our pleasure to host you during your memorable experience in Bali. Glad to know that you enjoyed your stay and looking forward to welcoming you back in our charming little paradise! Cheers-Rafik
---
The owner isn't friendly, but the staff was really helpful and kind. The Villa is big and nice but wasn't really clean, a lot of ants in one room, the towels were smelly and the kitchen too. We had a big problem with the pool because the filter wasn't working, there was a lot of pollen in the water and we became yellow and sticky. We had to wash our bodies many times with oil to solve the sticky feeling. The house is quite away from everything.
来自Jing, Wayana + Bukit Vista Hosts的回复:
Hello Stefania. Wow, we're so surprised to read this review. This is an exceptional difference from our regular guest experiences. I'm investigating this immediately, fix any potential issues and will make sure that future guests will have a good stay. Bukit Vista Hosts.
---
We loved our stay. place was so beautiful and well maintained. We found some fabulous cafes and the beach is breathtaking. It is a fair hike down the stairs to the beach but as long as you are relatively fit its not a problem.
---
Jing, Wayana and the Bukit Vista team want to make your trip to Bali awesome. We have a collection of some of the most iconic accommodation options in Bali. Tree Houses, Beach Villas, Cliff Lodges, Tropical Apartments and Rice Paddy Cabins. We are a hospitality startup here on t…
语言:
Bahasa Indonesia、English、Español、Português、中文、日本語