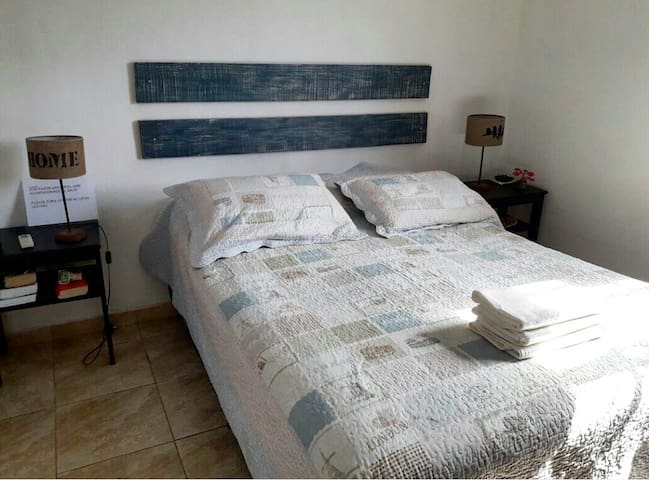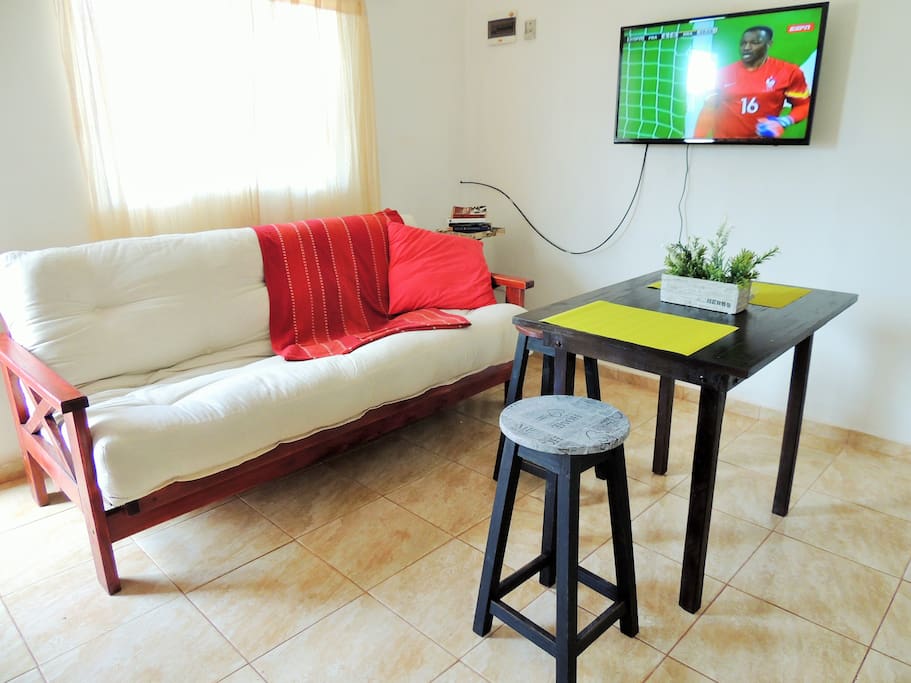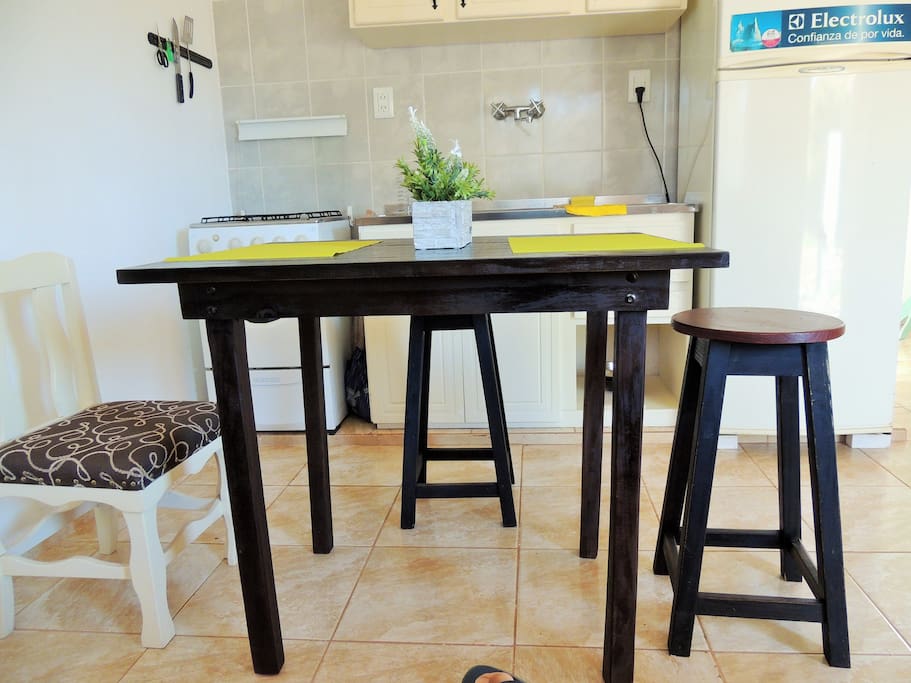 房源
The apartment is located in an ideal area of Puerto Iguazu, 5 minutes from downtown. All bus lines. Also on the same block there are supermarkets, Internet and taxis.
Living Room
Sofa, flat screen TV with cable, Dining table for 4 people. Very charming and stylish environment.
Room
King sized bed, bedside lighting, and air conditioner.
Bathroom
Complete bathroom.
Kitchen
Fully equipped kitchen with Fridge-freezer.
Garden
Quiet deck with chairs and barbecue grill.
The apartment will be all for yourself, with absolute intimacy and privacy. Be Welcome!
房客使用权限
Internet Wi-Fi, AC, Barbecue, Deck, TV cable, Garage, Bedding.
---
Thumbs up: Even though she was sick and we arrived a day later than planned because of flight mixups, Gabi came to meet us at the airport and drove us to the house, which was really helpful because of how she introduced us to the house, neighborhood, and town. (Pato was abroad at the time.) We were comfortable and enjoyed our stay at the house. It's just about a stone's throw from a grocery store, and the pizza place on the corner was good. It's a block or so to a laundromat, though we used one farther away because it had longer hours. We did experience the same issue with the hot water getting cold after a bit, and the dogs in the neighborhood (actually the birds were worse), and the electricity being cut off briefly, but guys, it's South America. If you haven't traveled in rural South America before, count yourself lucky there's hot water at all. We were not uncomfortable in the shower at all, we just turned it off while washing and then turned it back on for rinsing, and that was in the winter. And noise? Zoning is nonexistent. I'm not sure I've ever stayed in a place in Latin America that wasn't across from a bar, and/or a rooster or three, and/or a parrot that screamed like a baby at 4 AM. A pair of earplugs and a white noise app on my iPad, and I slept great. Some issues we had: When we read "fully equipped kitchen," we expected a microwave, and there was none. Given that everywhere else we stayed in Argentina had a microwave, and it was advertised as fully equipped, I don't think we were off the mark in expecting one. Between that and the stove that has to be lit with a spark from a lighter (a very tricky business), it was a little tough to make warm food at the house. When we read "5 minutes from downtown." we expected that to mean walking, but it likely means on the bus or in a taxi. Taking a taxi everywhere gets pricey, and we're not super confident on U.S. mass transportation and didn't exactly know where we were going half the time, so we were reluctant to wait for and try the city bus from the neighborhood. So, heads up that if you're going to walk, it's a solid 20 minutes to the active part of town where you can get the bus to the park and shop in the souvenir shops, etc. It's a good 45 minutes' walk to the place where the 3 borders meet. The first full day we were there, because of walking to the town, walking all over the park (including to the Garganta del Diablo- we didn't want to wait for the train), and walking to Hito de las 3 Fronteras, we put in 12.5 miles, according to my Fitbit. Bonus: the Polaris ice cream shop was a favorite stop on our way back...
---
Pato's mother was extremely patient with us, and waited as we get stuck at the Falls. I also was without cell-phone coverage, so that made communication difficult. I greatly appreciate that. The place is not downtown, but you can walk to the restaurants in about 20 minutes. Otherwise the apartment is cozy, with both a bed and a comfortable sofa for sleeping.
---
Gabi helped us immensely, sending a cab driver to get us from the airport, explaining to us where things were, and even dropping us off at the bus to the Iguazu falls. The apartment is conveniently located near a supermarket, bus stops, and the casino, though the stray dogs in the area make a big racket at night so that should be noted for lighter sleepers. Overall, a great stay!
---
Neighborhood is within walking distance to buses that go to Iguazu and is also close to a supermarket. We were also able to walk to the Tres Fronteras point in about 45 minutes. Hosts were lovely - they provided a lot of assistance with helping us figure out what we wanted to do at the Falls - and we would definitely stay there again!
---
Pato is a journalist and actor living in between Argentina and France. Gabriela is an enterpreneaur who makes furniture and paints in Puerto Iguazú (ARG). We are very friendly and relaxed people, who love to travel and as we understand the important of a warm welcome and information when you are visiting a new place, we will do our best to make yourself confortable during your stay in Iguazú.

Welcome to the city of the wonderfull Iguazú Falls!

///

Pato es un periodista y actor que vive entre Argentina y Francia. Gabriela es una artista que realiza decapados en muebles y pinturas en Puerto Iguazú (ARG). Somos madre e hijo, personas muy amigables, relajadas, a quienes les encanta viajar. Como entendemos la importancia de una cálida bienvenida y de la información cuando visitan un nuevo lugar, haremos todo lo posible para que se sientan cómodos durante su estadía en Iguazú.

¡Bienvenidos a la ciudad de las maravillosas Cataratas del Iguazú!
语言:
English、Español、Português