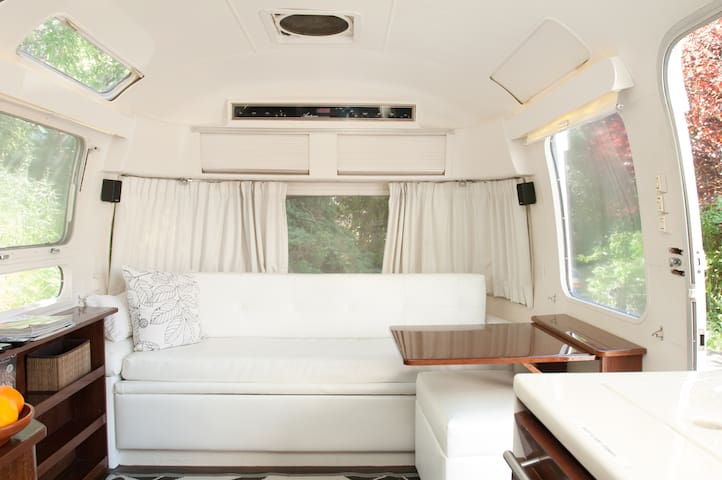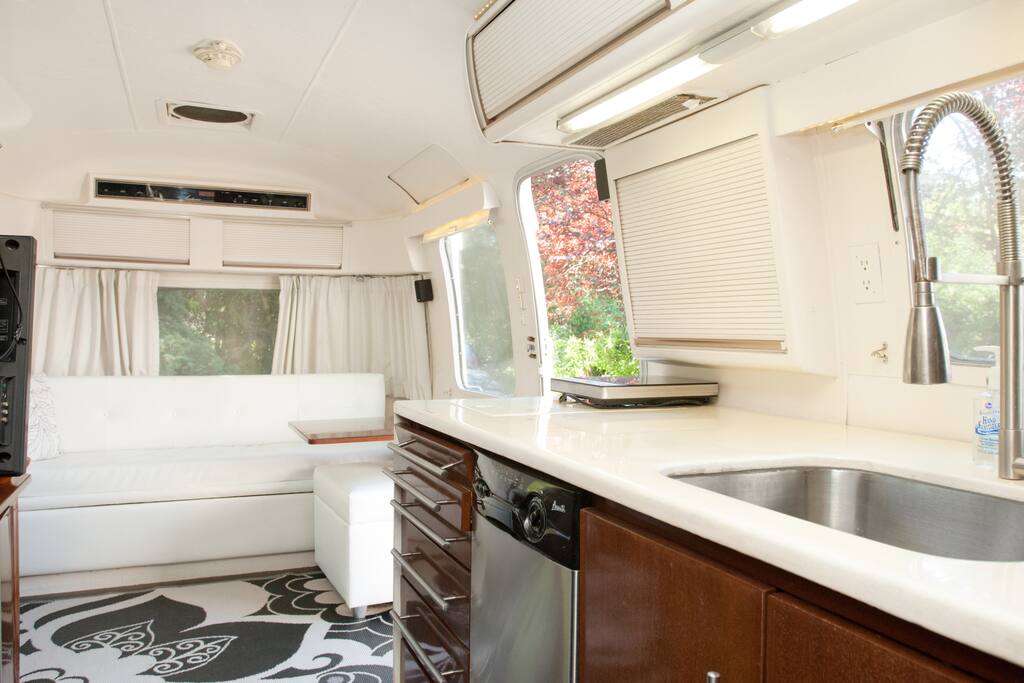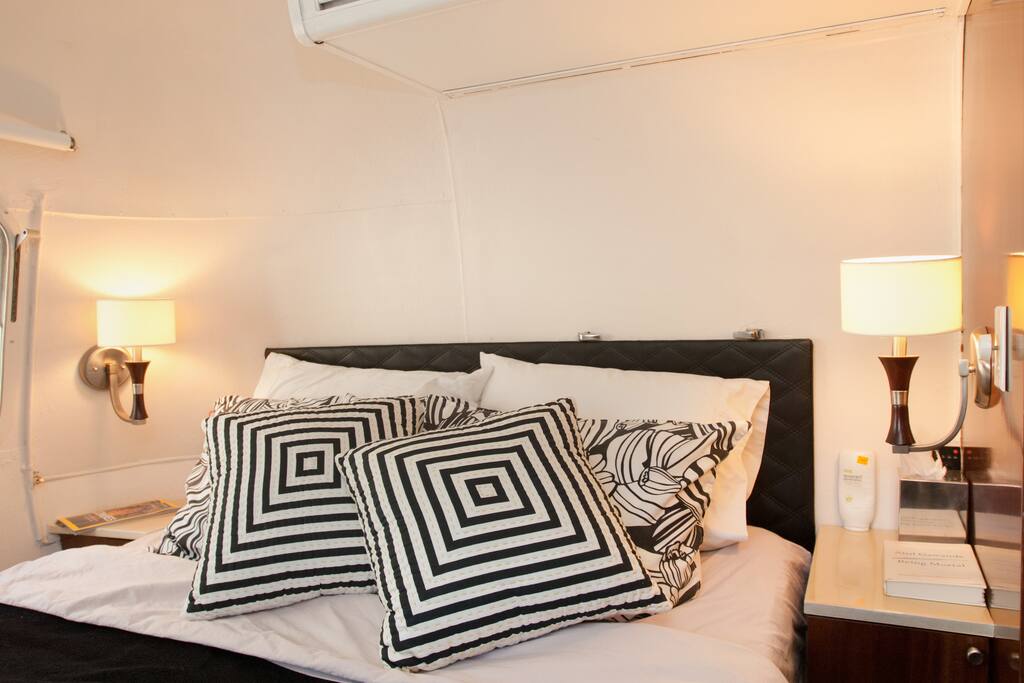 此房源的描述已由谷歌翻译从英语翻译成您的语言,但谷歌翻译并不能保证翻译的准确性。
体验真正的美国人住在我们独特的31英尺Airstream预告片!我们在奥克兰山(Oakland Hills)一个非常美丽和安全的地区,几分钟路程。与此同时,距离奥克兰市区有15分钟的路程。
房源
这个气流是一般的。它被洛杉矶的室内设计师从地面翻新,花了2年时间。它有一个家庭的所有舒适,同时建立像一架飞机。
与房客的互动
我们住在酒店,如果你愿意,肯定会建议你在湾区。安德烈二十多年来一直住在湾区,非常熟悉所有的远足和户外活动。他也说德语。如果您需要帮助,我们在这里,但如果需要,我们也可以离开您的隐私。
其他注意事项
这是真正的拖车生活 - 即使它看起来像一个可爱的公寓 - 它真的是一个露营车!这意味着它不会被连接到房子的水线 - 一切都流入和流出坦克。因此,淋浴器应尽可能小,使用方便。如果需要,我们很乐意填满水,但坦克只能装50加仑。
同热水器 - 它很小,所以它只能加热足够的水,两个人快速淋浴。加热水需要几个小时,所以你需要注意这一点,并事先打开开关。
电力连接在房屋网格上 - 但是保险丝不能同时处理所有的东西。例如,如果您打开空调充满爆炸,微波炉和电热水壶,则可能会导致保险丝熔断。这是一个豪华的露营车 - 但它有极限。我们会带你通过它 - 但想在你到达之前让你知道。
---
Andre was very warm and accommodating, though, unfortunately, I had to call on him far too often. In short, due to maintenance, cleanliness, safety, and location issues, this otherwise comfortable and charming little camper is not a good value. Maintenance: Andre's tour of the camper was an introduction of things that do not work: shades, sound system, stovetop, and--notably--the lock on the door. In some cases, the hosts have attempted to remedy the problems with cheap fixes (a drawer front held in place by velcro, an electric hotplate for cooking), but overall, this camper is very poorly maintained. Cleanliness: This is a camper, not a hotel room, so I was fully anticipating a degree of grittiness. But given that I was charged a $50 cleaning fee up-front and was paying $120/night, I was not anticipating filthy floors and carpets, dust everywhere, and several cobwebs and spiderwebs. When I pointed the floors out to Andre, he told me he'd had a go on the carpets with a broom and suggested I do likewise. When I pointed out how ineffective that strategy had been, he made a vacuum available, which I used to vacuum and dust the whole camper. When I pulled back the bedspread on the first night, I was greeted with a long strand of black hair coiled up on my pillow (I don't have hair), and there were cobwebs and spiderwebs in the entrance, kitchen, and bedroom. Finally, when the water pressure sputtered one day, Andre filled the tank, warning me that it might result in some odor and overflow. So for the next 24 hours, the entire camper smelled like a septic tank, the toilet backed up, and the shower filled with 2 inches of dirty water, which required Andre to empty the tank and me to scrub the shower and light aromatic candles to combat the smell. Andre never apologized for any of this; he simply stated that he had warned me that might happen, as if that made it acceptable. Safety: There always seemed to be random people walking around the camper. Andre seemed to know some of them, but he never introduce me to them or explained why they were on his property. This would not have been as disconcerting if the lock on the camper door worked, which is doesn't. It can be locked from the outside, so when I left for the day, I could secure it. But at night, I had no choice but to sleep in a camper with an unlocked door. Andre pointed this out when I checked in, assuring me that the neighborhood is very safe, but any travelers--especially solo travelers--considering staying here should be informed prior to checking in. Location: The camper is parked in Andre and Smita's driveway. And Smita parks her car directly next to the camper, so when you step out of the door, you have about 2 feet of clearance between the camper and her car. And when she cranks her car in the...
Brian's characterization of his stay is very unfortunate because it is mostly false. Why someone would be this mean-spirited it is hard to imagine. But let's start with his complaints: 1: Brian's claim that our shades, sound system and stove top are not working is false. All are in working order - although you must understand how they work. We showed him everything but I guess he wasn't paying attention. We offer a top of the line induction stove with all brand new cookware. We have this because as this is a vintage camper - it's safer if you use the induction stove as opposed to the older propane gas stove. Brian's claim is particularly surprising as I saw him use it to cook every single day. The first drawer under the stove is held on by velcro. This was done intentionally as the first handle is a 'false' oen because a true drawer can not be put in where the stove top is. So the velcro prevents people from pulling the handle out of the wood. Instead the entire drawer face comes off. All the other drawers are not false and work like normal drawers. I'm amazed that he choose to complain even about this. 2: We have a professional cleaning lady clean the camper after each visit at a cost of 50 USD. Before each check-in, I walk through the camper to assure it is clean before guests arrive. I checked before he arrived and I found it to be tidy. Our cleaning lady always mops the entire camper and cleans every surface. The floor was absolutely clean before he moved in. When he arrived, we both went into the camper with our shoes on. There were some leaves outside and while walking in, a few came into the camper. This is what he was complaining about - the dirt he brought in with his own shoes. The next Day Brian showed me these leaves indignant- as if we planted them there. We do not offer daily cleaning services. The cleaning lady cleans everything with a vacuum. We even offered her vacuum to him so he could clean up the floor but even that he complains about. 3: This is the first time I am hearing about a 24 hour odor issue. I would suggest it to be more efficient and more polite to communicate something like that to your host and not wait for the review. Brian unfortunately did not understand that he was in a camping vehicle - this is not a five-star hotel. Now our issues. 1. I had a lengthy discussion with Brian about not wasting water. With a full tank and normal usage (provided to understand that you are in a camper and not a hotel) - this water should last a single person more than 4 days. Brian, of course, did not listen and started complaining on day 3 that the water had run out. We are happy to refill the water but it could have been handled with a lot more grace. He started texting at 7 a.m. with a nasty attitude. Despite this we got up and emptied the old tanks and gave him a refill. He was inconvenienced for 15 minutes. I offered to clean the black streaks that remained in the bathroom but was denied entry. 4: Random people ? These are my neighbors and friends. The neighborhood is very safe and I am sure Brian feels similar since he stayed the entire 7 days without leaving. In fact, I'm shocked that this is even something to complain about. We even invited him to a party we were having the day he arrived. Do we need to do that? no but we wanted to be polite and we enjoy meeting new people thru Airbnb. 5: And yes we have a car 6: Pool access is absolutely granted. I told Brian that when he moved in. And as we said, we INVITED him to our pool party. The only thing he has to do is to ring the bell and wait for somebody to let him into the main house. We have a gate. Sorry, Brian didn't like that either. In summary Brian is a complicated guest who wants to tear everything apart. We are disappointed that he found so much to complain about. We offer an unique experience of staying in an vintage Airstream trailer. Most of our guests have understood this and have embrace this experience. We make an effort to respond to our guests needs but in the case of Brian, we did everything we could, were always polite even at 7 a.m. Saturday morning, but to no avail. We pointed out all the issues about the camper before he arrived - but he choose it. I pity his next host!
---
My husband and I were pleased with this unique experience. It's a fun place to stay and within 20 minutes to other popular towns. We appreciated the quiet and serene setting of the hills. Although I never met Smita but her husband was friendly and gave us some suggestions for local things to do. The only thing I would want to let people know is that there isn't a door on the bathroom and you are not able to flush toilet paper down the toilet. So, if you're going to stay there make sure you're comfortable with whoever you're going with :) Overall, a great little place to stay!
---