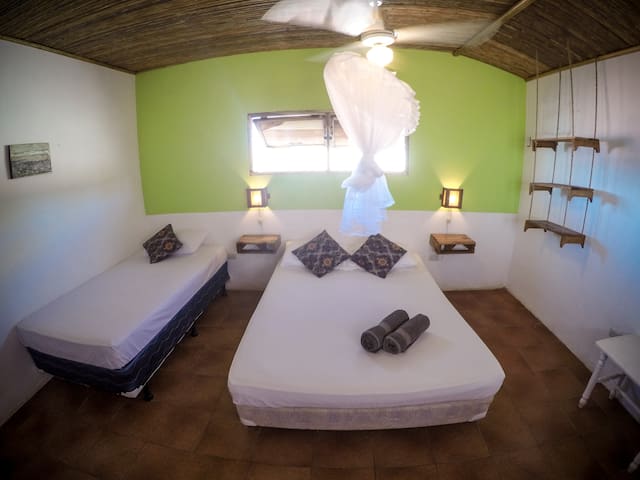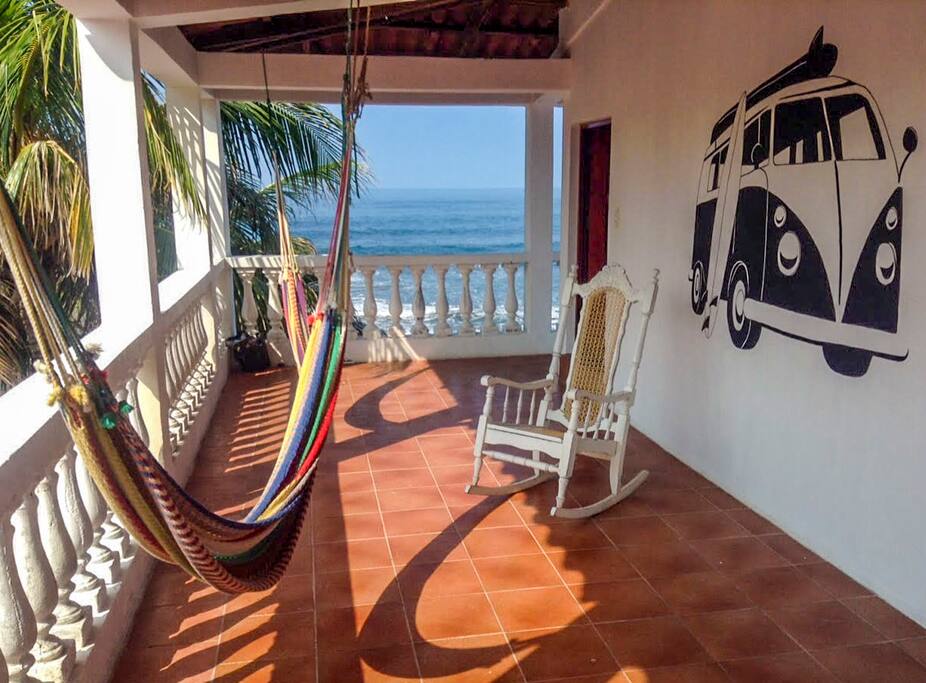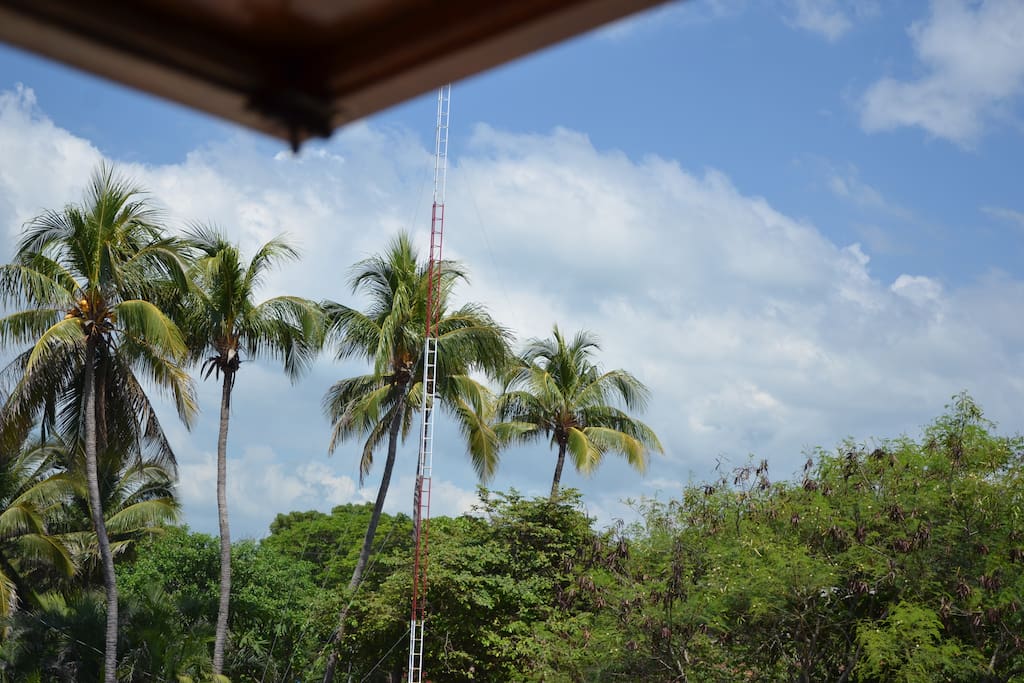 Triple room in the best location!
Double room with ocean view and private bathroom. Plenty of natural light and ventilation. Walk down the stairs right on to the sand!
Habitación para tres personas con vista al mar y baño privado sobre la playa. A unos pocos metros de la arena!
房源
We are located next to Playa Roca Hotel and Restaurant.
---
Our room looked somewhat like the photos. The shower and sink had a weird sewer smell. We had to ask for a broom so we could push water into the drain while taking a shower, otherwise we would be taking a shower and a foot bath. The bathroom door nob kept falling off. There was not much of a breeze so we asked for a fan. We got eaten up by mosquitoes the first night. Las Peñitas is more of a surf town and people-watching spot so two nights here were enough for us. People staying at Simple Beach seemed pretentious and not very friendly. Ms. Karla and Daphney were very nice and helpful during our stay.
Thanks for the feedback Liz, it would have been best to raise these issues while still at the place! The drains sometimes get blocked due to the amount of sand that goes down, staff are used to this and can take care of it easily. We also have a maintenance person that could have fixed the knob (and already has) Glad that you asked for a fan to help with the ventilation, we have also added a mosquito net to that room to improve it further. Hope you enjoyed the rest of your time in Nicaragua! Stay positive, Matt
---
Matthew and CeCe were amazing. They are so nice and such great hosts. We stayed in popoyo room and it was perfect, walk right out of the room to the balcony oceanfront, also fall asleep to ocean waves with a canopy to block any mosquito (we got 0 bites!!!) this place is pretty unreal and extremely relaxing! Restaurants next door and down the street although simple beach lodge does have amazing fooD! Very cheap breakfast each morning and it was just perfect! As someone who has traveled and stayed in many places all around the world - this was one of my favorites.
---
This place is amazing. Our room had an amazing view of the beach and stayed very cool in the heat. It's in a great location with Playa Roca just next door. Matthew was very helpful and even gave us some great advice on how to get from Leon to Las peñitas. Such a beautiful place. Matthew, his partner and son were such warm people. Would love to come back if I could.
---
My boyfriend and I stayed three nights at the Simple Beach Lodge and wished we had more! It is an incredibly beautiful location with the beach right outside the lodge. The room was just as described; simple and comfortable, which is perfect for a town like Las Peñitas! Matthew and Ceci were very helpful with anything we needed; a mosquito net, transportation, and even allowed us to have a later check out. This is a wonderful location in Las Peñitas and I would recommend it to anyone.
---
Matt, Cece and all of there staff were absolutely wonderful. They were helpful, kind and patient. They even organized our tours and shuttle services for us. The location is amazing and the rooms are exactly as pictured. If you are going to Las Penitas you have to stay at the simple beach lodge!
---
Together with my partner Ceci we left Argentina in 2014 on a overland motorbike trip headed north, after visiting and staying in many amazing places, we decided to settle down in Nicaragua and start our very own project right here on beautiful Las Peñitas beach.

语言:
Deutsch、English、Español