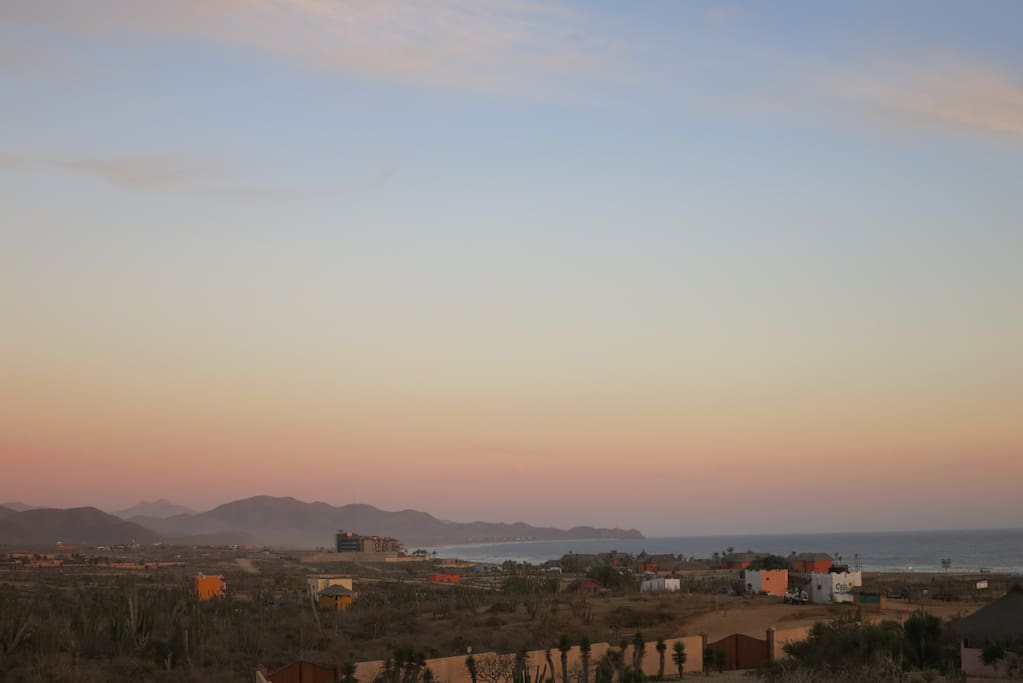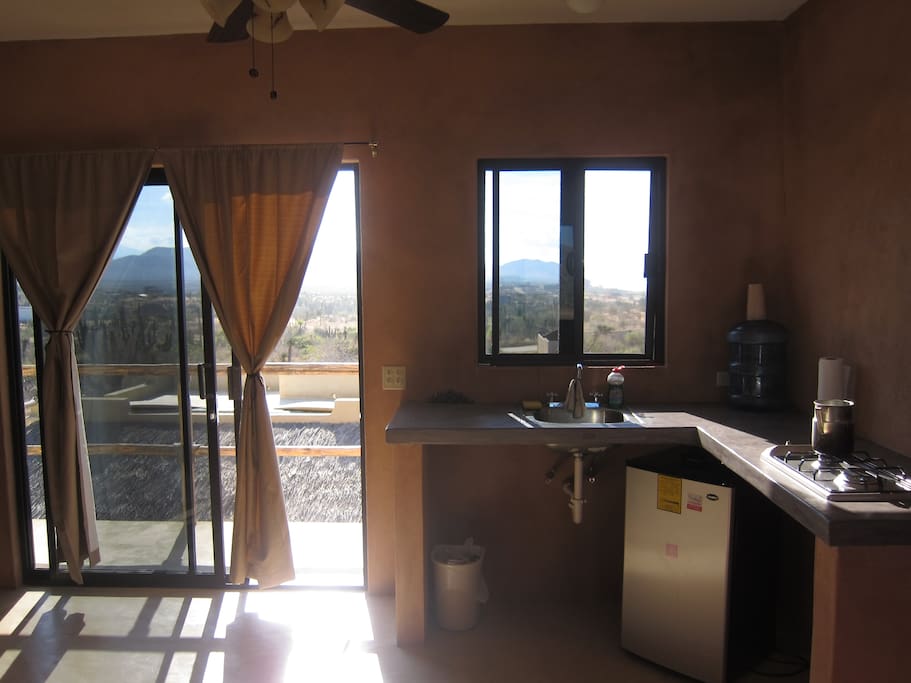 The ONLY Upper Unit at The Villas has wonderful panoramic 360˚ views of the ocean the mountains the sunset & the sunrise, a private balcony and kitchen. The resort itself has a restaurant, jacuzzi, pool, free wifi in the commons area, etc. Included in the room price is FREE access to all of the resort facilities, FREE unlimited drinking water, a FREE boogie board for use, & easy access to the safest beach in Baja which is just a 5 to 10 minute walk away! Any other questions please just ask.
房源
The location here is really special. You are close enough to Todos Santos and Cabo San Lucas that you can drive in for the day, but far enough away where you'll have total peace and quiet at night. The stars sparkle SO much from this place, and the beach is really pleasant.
房客使用权限
Guest of the resort have exclusive access to the commons area, DVDs, swimming pool, jacuzzi, bar, restaurant, pool table, and secure parking. Also, the beach is only a five minute walk.
其他注意事项
If you have any further questions please just ask.
---
We had a great 3 day stay. It was easy to find, easy to go to the beach each day, and easy to explore. Surf lessons right on the beach! Great hot tub and nice neighbors! Short drive to Todos Santos. It was an easy drive to Pescadero where we ate roadside tacos, farm to table dinners at Hierbabuena and Rancho. We highly recommend!
---
Aaron's Oceanview Bungalow was the perfect base camp for our week long surf adventure in Baja. The place is clean, simple, convenient, and comfortable. The views of desert mountains and the pacific ocean are astounding. The proximity to the incredible Cerritos Beach is hard to beat. The onsite reception staff are able to address daily needs and make check-in/check-out a breeze. Also, the pizza place on site makes incredible wood fired pizzas. Thank you Aaron for sharing this wonderful place with us. As outlined in the "getting around" section - this is a small community and while there are a few restaurants, there are no market/convenience stores in the area at this time. It is best to have your own transportation or plan to bring your supplies with you.
---
Our family had a great stay at Aaron's place! It was easy to find, close to the beach, and had great views. It is equipped with everything you need to have a comfortable stay. The second story apartment was well worth it, the view out was spectacular.
Thanks SO much for the heartwarming review :-) Yeah, that 2nd story view is definitely incredible... It's difficult to describe to people online, so I'm glad you had a chance to see it. Please let me know if you ever return. I offer a discount for returning guest and Friends & Family :-)
---
Cerritos beach is an absolutely amazing place to relax and unwind! It's quiet and breathtaking beautiful!! I enjoyed staying at Villas De Cerritos a LOT! Managers were exceptionally friendly and helpful - it felt like visiting a family on Christmas :) The Italian restaurant on the property was so good that I ended up using it every night! Plus there is a great (newly opened) coffee shop with seriously good espresso (!!!) in just 3 minutes walk from the property! What else can you ask for??!! Many thanks, Aaron!
Oh Elena, thank you SO much for your heartfelt review, glad you found the staff to be like family. I'm grateful that you enjoyed the place as much as I do, and yeah, I 100% agree with you on the wood fire pizza. It's a great price and super delicious, the secret is putting a bit of fresh chili oil on there ;-) Please come back any time, Mi Casa Tu Casa!
---
This bungalow made for a cozy stay at Cerritos beach for two. The view from this top level unit was beautiful - the mountains and the beach! The location was perfect- an easy stroll to the beach and an easy drive to Todos Santos, La Paz or Cabo. But being right at Cerritos beach was perfect for us. The unit was supplied with enough kitchen stuff to make simple meals. The double bed was comfortable. The restaurant had fabulous thin crust pizzas and salads. Everyone we met around Cerritos and really everywhere we travelled were so welcoming! We will be back for another visit for sure!
Awww! Ellen! What a nice review :-) I'm so glad you enjoyed the place and the community there. And yeah, that wood fire pizza really is something special for sure! Also, that top level view is such a good one isn't it? It's tough to explain to people the difference between the top and the bottom but when you're there you REALLY notice :-) Anyways, yes, I'm stoked you loved it. AirBnb is such a wonderful tool for travel, and the transparency is so great! I'm currently in Malaysia, so sending you Love and Respect from the other side of the world!
---