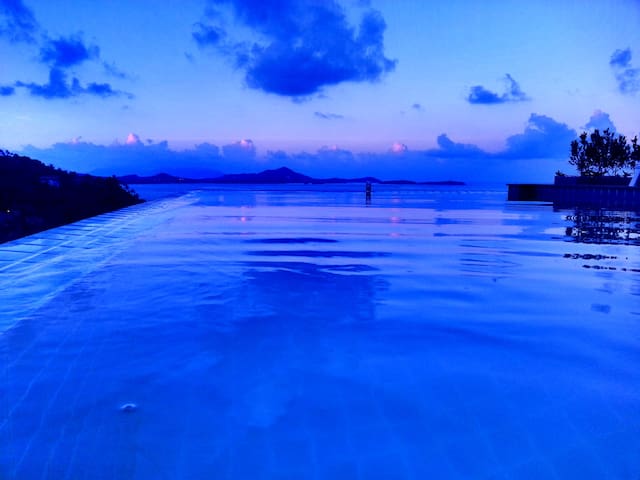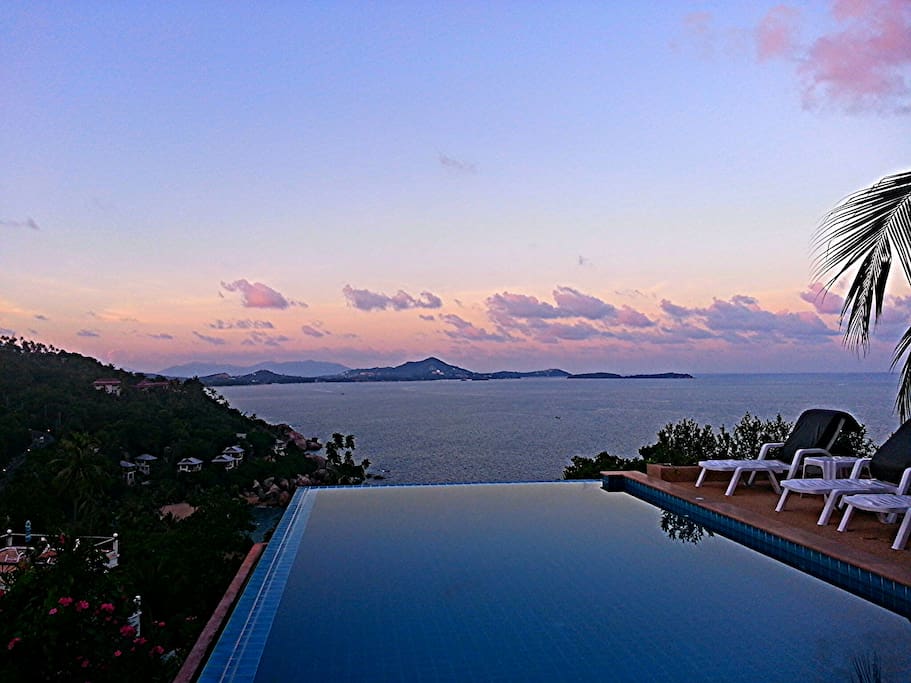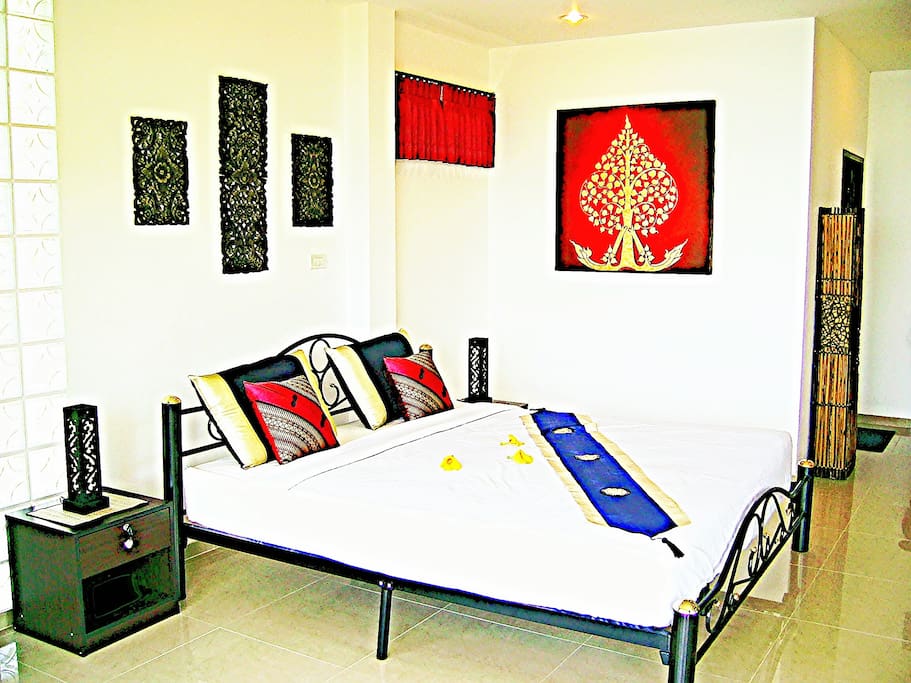 此房源的描述已由谷歌翻译从英语翻译成您的语言,但谷歌翻译并不能保证翻译的准确性。
我们的地区被称为苏梅岛的"观点区",近年来已经成为"内地",只有百万美元 - 这个地区的新设计别墅和项目。
房源
Ban Sua Palm Heights酒店靠近我们的两个海景无边游泳池。它提供一流的和壮观的海景。距离山坡上的海滩仅有300米,以确保我们令人惊叹的查汶湾海景,我们的别墅提供当代泰式优雅和现代设计。我们所有的别墅都有海景露台,没有被破坏的海景,到泰国广泛的海湾,是一个撒哈拉小姐的帕岸岛。我们的别墅都有自己独特的设计,在宁静的环境中享受假期。您可以在5分钟内乘坐公共交通工具或汽车到达查汶或拉迈苏梅岛最受欢迎的海滩。
班苏设施和设施:
- 免费海景无限游泳池,共享
- 免费停车场
- 短期租赁免费用水/用电
- 工作人员在现场
- 免费无线上网
- 客房服务
- 单独控制的空调
- 迷你吧
- 卫视
- DVD播放机
- 带花岗岩和独立热水淋浴的浴室
- 免费咖啡和茶设施
- 汽车/摩托车出租
- 可应要求提供洗衣服务
- 房间里有大冰箱
---
View is simply spectacular. Place is clean and they've provided me with the motorbike to get around the island. Make sure you don't pay extra money for the taxi to go uphill 200 yards, they will try to charge you; ain't worth it - just walk up yourself. The only minor downside - the WiFi is pretty much non-existent (but that's just a Thailand overall thing), but who cares, just use 4G and you're good! I'll be back definitely.
---
Where do we start! This place is nothing short of stunning!! The pictures Klaus posted look great but once you get here you realize the pictures don't do it the slightest bit of justice! Let's put it this way, we had planned to go to Koh Phagnan for the full moon party after our stay with Klaus but within the first house of being there we had quickly decided to cancel our already paid for full moon party to stay a few more days at Klaus place, it was that good! Klaus greeted us personally upon arrival with a warm welcome and took us to our balcony to give us a run down of the many things to do from the island and point out the great beaches near by. It was close to many restaurants and amazing night beaches , with a mini mart just up the road as well. My advice would be to rent a scooter as soon as you get off the ferry and head to Klaus' place as its much cheaper than getting a taxi. If not and you decide to get a scooter later to travel the island , then Klaus is also able to get you a scooter rental at an even cheaper rate. That all being said, we cannot wait to come back and spend even longer at Klaus' place, thanks again for the great memories Klaus!!!
---
First off the pictures of Klaus' place may look amazing but the pictures truly do not do it justice! Let's put it this way, within the first hour of arriving at Klaus' suites we immediately canceled out full moon party trip to Koh Phagnan and asked Klaus if we could stay an extra two days! We were blown away by the scenery and the fact that the rooms were great too was a bonus! He has two infinity pools for the guests to use and the view is nothing short of breath taking! Klaus came and met us personally and gave us a warm welcome and gave us a great run down of the island and places to check out such as secret beaches known only to the locals and great places to eat. The location was perfect as its right close to the best beaches and and great food. I'd highly recommend renting a scooter once you get off the ferry for your stay, as its cheaper than taking a taxi, but if you choose not to and change your mind later Klaus too has access to scooters for rent at an much better price than you can find on the pier. We are so happy we stumbled upon his place, and we've decided that every time we come back to Thailand we will be making a point of coming back to stay at Klaus' Suites! Can't wait to come back! Thanks again for the amazing stay!!!
---
Meine Freundin und ich haben unseren Aufenthalt dort sehr genossen. die Wohnung sieht aus wie auf den Fotos und beschrieben. der Ausblick ist unbeschreiblich schön und man hat seine Ruhe, trotz zentraler Lage. dafür lohnt sich auch der kleine aufstieg, es ist zwar steil, aber auf jeden Fall machbar. mit roller sowieso kein Problem. Klaus war sehr nett und hat uns einige tipps zum erkunden der Insel gegeben.
Hallo, danke für euren Review. Es sit schön, dass ihr unsere zentrale Lage mit dem viewpoint Ausblick genossen habt. Wir sind ja zum Glück zwischen Lamai und Chaweng und so sind es nur 1 Roller-Minute nach Chaweng noi, 2 Minuten zum Silver beach und 3 nach Nord- Lamai zur beach republic. Wichtig ist uns auch immer, dass es so ist wie auf den Fotos, so ist es nett, dass ihr es erwähnt habt. Ihr ward tolle Gäste, es freut uns immer, wenn wir es schaffen Gäste persönlich zu sehen und bei der Erkundung der Insel zu helfen. Auch wir empfehlen immer einen Roller, Samui hat so viele Attraktionen, die man hervorragend und am Besten selbst erkunden kann. Bis zum nächsten Mal und Sawasdee khap aus Samui
---
it's good!the room is clean and quiet.except the place is not easy to find.maybe Klaus can leave the address with further (URL HIDDEN) is just up the hill when u see the SANDALWOOD and then turn left.apple map can letting u find this Hotel。 the swimming pool is perfect to me to take pictures and seeing the scenery.
Hi, thank you so much you were wonderful guests. Regarding info about the location, we always send detailed info with waypoint description (menionting Sandalwood as well) and in addition even send (SENSITIVE CONTENTS HIDDEN) maps gps coordinates. The estate is even marked on (SENSITIVE CONTENTS HIDDEN) maps, so maybe the guests did forgot to look at our additional info and had one of taxi new or non english speaking taxi driver or the driver just did not now as there are about many thousands of villas, estates and rooms in Samui. So no taxi driver can know them all, but the taxi driver simply should have checked the gps coordinates, navigation nowadays is so simple not a challenge at all, thanks to modern internet apps, especially as we are just 150m from the ring road in the viewpoint area of Chaweng.
---