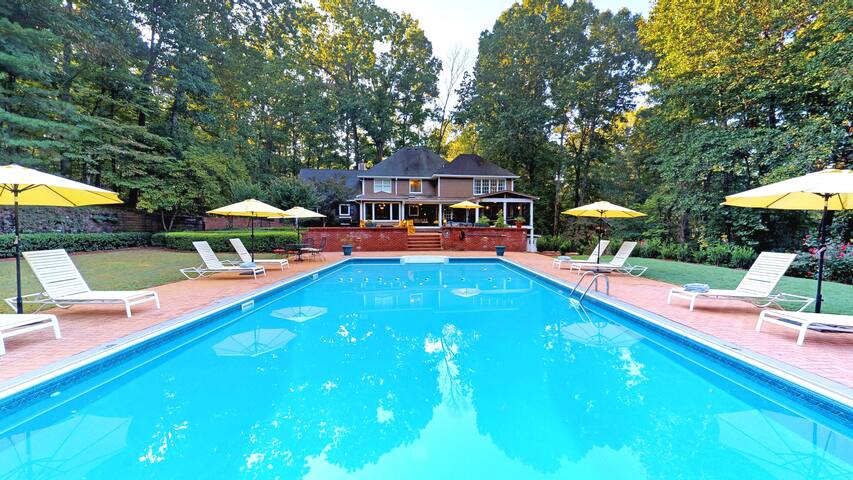 Beautiful estate home on 4 acres. Although very close to the historic Marietta square and downtown Atlanta, you will feel like you have reached your own private oasis. This is your home away from home. Sleeps 12 in real beds, Max 12 guests.
For rental requests less than 6 nights, please send an inquiry message before placing a booking request. Length of stay required varies based on the current booking calendar, season, and how close the check-in date is.
房源
Our home is on 4 wooded acres, located in Marietta, Georgia, just North of Atlanta. When you arrive, your family will instantly feel at home. There is plenty of room to spread out and relax the day away.
Our home has 4 wonderfully decorated bedrooms with luxury linens on the 2nd floor. The 5th bedroom is on the main level and has a daybed with a trundle. Towels and sheets provided.
Sleeping configurations: Master bedroom with King bed, guest room 1 with king bed, guest room 2 with a queen bed, guest room 3 with both a queen bed and a full bed, guest room 4 with a twin daybed and a twin trundle.
There is plenty of closet space for unpacking your belongings during your stay.
A hop from great restaurants and all the shopping you could think of! Minutes from historic Marietta - visit the Gone With The Wind Museum, stroll along the charming historic Marietta Square, visit Kennesaw Mountain battlefield, eat at great restaurants. A 24 hour supermarket, Costco, pharmacies, a mall and department stores, and a Childrens Healthcare of Atlanta clinic are also within a few minutes drive. Only 10 miles from the Brand new Atlanta Braves Suntrust Stadium.
房客使用权限
主要包括家庭房,厨房,餐厅,办公室,早餐室,屏幕门廊,覆盖的门廊和理由,包括天井,游泳池和按摩浴缸。超过3800平方英尺的室内空间和超过3000平方英尺的户外甲板和露台。 使用房屋和设施仅限于预订中列出的客人。这个家庭是专门为短期出租家庭而设的。查看客房费用和其他细节的房屋规定。
Main two levels of the home including Family room, kitchen, dining room, office, breakfast room, screen porch, covered porch and grounds including patio, swimming pool and jacuzzi. Over 3800 sq ft of indoor space and over 3000 sq ft of outdoor deck and patio.
Use of the house and amenities is limited to the guests listed in the reservation. This home is available exclusively for the purpose of a short-term family rental. See house rules for guest fees and other specifics.
与房客的互动
我们有一个看守/物业经理,居住在财产的地下室,以便根据需要向水疗中心,游泳池和场地提供维护。除了我们关心这些细节之外,您将在访问期间私人使用房屋和设施。
We have a caretaker/property manager that resides in a basement apartment on property in order to provide maintenance to the spa, pool and grounds as needed. You will have private use of the house and amenities during your visit other than our care of these details.
其他注意事项
请验证您的电话号码,添加个人资料图片,并在查询之前填写几个关于您自己的个人资料。我们也想知道您访问该地区的原因。
Please verify your phone number, added a profile picture, and complete your profile with a few sentences about yourself before inquiring. We also like to know about your reason for visiting the area.
---
---
---
---
THIS AGREEMENT, governed by the laws of the State of Georgia, is executed as of the time and date of the electronic signature by the undersigned Guest (hereinafter referred to as "Guest") evidencing Guest's acceptance of the terms hereunder and accepted by the Owner and/or Rental Agent (hereinafter referred to as "Owner") of the subject Property. It is agreed and understood that this is Agreement is part of an automated transaction as same is defined under the Electronic Signature Statutes. This Agreement is only for transient short-term rental of the rental premises listed in the Reservation as defined below. Upon acceptance of the Reservation, Guest hereby agrees to and accepts all of the covenants, limitations, agreements, conditions and terms set forth herein.
AGE REQUIREMENT
Guest making this Reservation must be 25+ years of age. A valid drivers license may be requested for security and verification from any guest(s) on property.
OCCUPANCY
Owner rents to Guest the Property described in the electronic booking reservation (hereinafter referred to as "Reservation"). It is agreed and understood that said property shall be only and exclusively for the purpose of a short-term family rental.
Only paid and listed Guests in the Reservation shall be permitted on the Property during the Rental, all of whom shall comply with the conditions and restrictions imposed upon Guest under this Agreement. Refer to your accepted reservation for the number of guests permitted for your rental.
Any changes to your reservation (increasing the number of guests) must have prior approval of the owner. Additions are charged at $25 per person/per night of the Reservation. Maximum of 12 people, can be requested in the Reservation and are subject to Owner approval.
Violations of the Occupancy or Visitor policy will result in a fine of $50/per person/per day.
VISITORS:
A Visitor is anyone that you intend to come onto the Property during your Reservation that is NOT listed and paid in your Reservation.
This property is made available as a quiet family rental. If you have anything else in mind, you must let us know ahead of time and get appropriate permission before placing a Reservation.
VISITORS: RESERVATIONS OF LESS THAN 7 NIGHTS
Visitors are not allowed on Property at any time during Reservations of less than one week. Anyone you want to be allowed on Property during your Reservation, must be included as a Guest (and counted) in your Reservation.
For special circumstances, submit full details of the request prior to submitting a Reservation request. Owner will review to see if a variance will be allowed for your Reservation. Fees will apply for any approved variance.
VISITORS: RESERVATIONS OF MORE THAN 7 NIGHTS
Guest must submit full details of a Visitor request prior to making a Reservation. All Visitors must be pre-approved by Owner in writing prior to your reservation date. Some Visitor requests may not be approved by the Owner so make sure to inquire in advance of the Reservation.
• Hours for approved Visitors: 8am to 11pm.
• Fee for approved Visitors: $15 per person/per day, paid in advance.
• Visitors are not permitted to use the pool or spa facilities.
• Parking limitations still apply: see parking below.
• Violations the Visitor policy will result in a fine of $50/per person/per day.
CANCELLATIONS:
Refer to cancellation rules.
• Late Arrivals and Early departures: nights not spent are not refunded.
CHECK IN/OUT:
Check in: 3:00 pm. Check out: 10:00 am
Text or call the number provided to arrange a meet and greet for your estimated arrival time. We require a walkthrough of the home with the primary renting Guest.
Early check-in and late check-out are based on availability, and can be requested one week prior to the arrival date. There is an additional charge of $20 per hour for extensions.
PROPERTY CARETAKER / GUEST INTERACTION:
We have a caretaker/property manager that resides in a basement apartment on property in order to provide maintenance to the spa, pool and grounds as needed. You will have private use of the house and amenities during your visit other than our care of these details.
APPROVED USE:
Guest shall only use the premises for residential uses and not to carry on any business or trade. Guest will comply with all laws, rules, ordinances, statutes and orders regarding the use of the Premises, and will not cause any disturbance.
• No indoor/outdoor Parties
• No events
• No stereos or amplification devices are allowed outdoors.
• No loud noise/music before 8am or after 10pm.
• No excessive noise allowed at anytime. We are in a quiet family neighborhood and need to respect our neighbors.
PARKING:
Parking is limited to 3 vehicles at any time during your stay. This is a County Ordinance. Please use the two parking pads on the right side of the drive, and one car can be parked near the entry door. Parking on the road is not permitted.
Violations to the parking allowance will be fined at $50 per vehicle per day.
SMOKING:
NO SMOKING (of any kind) INSIDE THE HOUSE OR SCREEN PORCH AREA. Designated area for smoking/vaping/hookah is on the brick patio. Place cigarette butts in trash receptacles. Zero-tolerance policy for illegal drug use and/or illegal behavior of any kind.
PETS:
NO PETS are allowed on property.
SHOES, FOOD AND DRINKS:
Help us keep everything looking new. Do not wear shoes inside the house. Shoe racks have been provided inside the entry door. No food or drinks on carpeted areas.
CONDITION OF PREMISES:
The subject Property has been cleaned for your enjoyment and is provided to Guest in its "as is" condition. Guest shall use the Property for residential purposes only and in a careful, respectful and prudent manner so as to prevent any loss, damage, injury, destruction, or mistreatment of the Property. Guest further agrees to save and keep the Property in a clean, orderly and sanitary condition at all times during Guest's occupancy. Guest warrants and represents that Guest and Guest's invitees shall observe all terms, covenants and conditions of this Agreement.
Promptly after arrival, Guest will notify the Owner of anything that is not in good and acceptable condition. If Guest does not report any issues, Guest is accepting the home in good working order. Any damages will be assumed to have occurred as the result of the current Guest's stay.
If Guest experiences any problems with the Property during their stay, contact the Owner immediately to make a report. Owner will make all reasonable efforts to correct any of the operational or functionality issues as quickly and practically as possible.
CLEANING FEE:
Your cleaning fee covers basic routine laundry and sanitizing of the house. If more than basic cleaning is required after your checkout, additional cleaning fees will be requested from your deposit. There is a checkout list provided in the information folder. Please review for instructions prior to your departure.
Be respectful of the area around you and upon your checkout, please make sure that everything is in the same condition as when you arrived. If you use it…clean it. If you move it…put it back in place. Leave the house generally clean, stain and damage free when you checkout.
SAFETY:
Guest shall not keep or have on or around the Property any dangerous, flammable or explosive items that might unreasonably increase the risk of fire or explosion or that might be considered hazardous by any responsible insurance company. No Fireworks.
USE OF WATER FACILITIES (POOL AND SPA):
Guest explicitly recognizes that there are no lifeguards on property and that Guest assumes all risks of the pool and spa at all times. There are no gates or similar barriers between the Premises and the pool and spa. The pool and spa are to be used by adults responsibly at all times, and may not, under any circumstance, be used by children under the age of 18 without adult presence and supervision. No swimming solo.
MAINTENANCE:
Guest agrees to allow the Owner or Owner's agent to enter and view the Property, both inside and out to inspect the premises, make repairs or deliveries if it is necessary.
HOLDOVER:
If Occupant remains in possession of the Premises for any period after the agreed rental period without the Owner's consent, Occupant will pay 200% of the Occupancy Fee required hereunder during the period of holdover.
SECURITY:
The premises are equipped with exterior security cameras. Cameras are not monitored for Guest safety in any way and should not be relied on by Guest for personal security or security of their belongings. Cameras may be used to enforce and verify compliance with Rental policies. Any damage caused to cameras by Guest may result in a partial or complete loss of security deposit funds.
Guest agrees that Owner does not provide any security for the Property (other than the locks installed with Property doors and windows). Guest releases Owner from any loss, damage, claim or injury resulting from the failure of any security system or from the lack of any alarm system. Guest agrees to keep the Property locked when not in use.
INSURANCE AND LIABILITY:
Guest acknowledges that use of Property and amenities including but not limited to hot tubs, pools, spas, high chairs, cribs or pack and play equipment, air mattresses, fireplaces, decks, and the like may be potentially dangerous and involve potential risks if improperly used, particularly with regard to children and such use is entirely at the Guest's own initiative, risk and responsibility. Guest agrees to diligently supervise any children at all times residing on the Property during the Rental Term as set forth in the Reservation. You are reminded to exercise care as to your personal safety, and the safety of your guests and invitees as by execution hereof, you assume all liability with regard to any injuries, damages or harm to person or property during your stay.
Guest assumes responsibility for all personal belongings or valuables during the said Rental. Any personal property abandoned at the end of the Rental Term may be retained or disposed of by Owner without obligation to Guest.
FIREPLACE USE:
We DO NOT allow guest use of the fireplaces in the home since it creates an allergy for some Guests. Please use the central heat instead.
RENTAL POLICIES:
Guest agrees to abide by the Rental Policies in this agreement at all times while at the Property and shall cause all Guest's invitees to abide by all rules at all times while at the property.
DEFAULTS:
If Guest fails to perform any of its obligation under this Rental Agreement, Guest shall be in default of this Agreement. In the event of default, Owner may, as permitted by law, re-enter the Property and re-take possession of the Property.
SECURITY DEPOSITS:
Owner may, in its sole and absolute discretion, apply said deposit to any damages caused by Guest or Guest's invitees including without limitation, charges for violations, telephone charges, utilities, any excessive cleaning required above and beyond standard post-tenancy cleaning, and any other damages. Any damaged or missing personal property shall be deducted from the security deposit at replacement value. Upon the vacating of the premises and provided the property is left in good, clean, broom swept condition, the security deposit refund shall be automatically issued 7 days following the date of checkout.
BOOKING CONSTITUTES ACCEPTANCE OF RENTAL RULES. Violation of the rules may result in forfeiture of your deposit, and is grounds for immediate dismissal from the premises.
Updated 4/10/17
---
---
---
The house was beautiful and clean. The back yard is gorgeous. The reason I can't give this place a 5 star review is because of the rigid rules and lack of hospitality. If you are looking to stay here, read the long list of rules (and they are long) first. Upon arrival we were walked through an hour of do's and don'ts. Everything from which wash cloth you can use, shoes off in the house (one person in our group is 70 and has trouble getting around due to a heart condition. She was given permission to keep her shoes on in the kitchen only) instructions to not move any furniture including outdoor chairs, instructions on not to use the garbage disposal, and how many cars can be in the driveway. If you are okay with the many many rules, then you may love the place. I did not realize the strictness of their rules, specifically the visitor rule. You literally cannot have a visitor come to the house without getting approval from the care taker in advance and being charged $15 per visitor. It doesn't matter if they are there for an hour. They have cameras set up to make sure that their rules are followed and the caretaker makes frequent visits to enforce the rules. She was pleasant, however doesn't make you feel very welcome. I stayed at the home with family, several of whom used to live in the Atlanta area. We felt very limited on who could stop over to see us while we were in GA because of the house visitor rule. We also felt like we were on egg shells each time the caretaker came around... expecting to get reprimanded for any little oversight to the rules. Because of this, this is not a place we would rent again when visiting GA.
Sarah, I am so sorry to hear that you felt this way about your stay in our beautiful home. We can better address our guest's concerns when they communicate any questions with us during their stay, so we are given the opportunity to improve the experience rather than complaining after the fact and leaving us without any opportunity to earn a 5-star stay. We take pride in providing each guest a upscale resort stay and I am sorry it did not feel that way for you. So, let me address your concerns: 1. House rules: our house rules are provided prior to booking so there are no surprises. Each guest must agree that they have read and understood the house rules before booking. Every house rules is based on actual experiences and they are there so our guests know how to be good neighbors and good guests. All you have to do is read them and see if it's a fit for you before you book. 2. We provide dark washcloths for removing makeup; and old washcloths that you can throw out for washing shoes or car tires and the like. We provide those as little extras for our guests in addition to white unstained washcloths for each guest. 3. We request shoes not be warn on carpet because dirty soles stain the white carpet. We have many guests bring indoor shoes with clean soles for use inside the house. 4. Moving furniture: We have a beautiful exotic wood deck which requires special pads to keep furniture from scratching the wood. All of our furniture on the brick paver patio has very rough feet and will scratch the deck. So, we do ask you not to exchange the furniture from one level to the next to keep guests from causing unintentional damage that can't be repaired between guests. 5. Disposal: We ask guests to put large chunky items in the trash, only small debris in the garbage disposal. We find beer tops, wine corks, forks and all types of large items in the disposal which causes damage to the unit. We cover this information for those that might not be familiar with disposal use. 6. Our county code allows a maximum of 4 vehicles in the driveway. All guests are required to be good neighbors and follow the laws of our county. 7. Visitor Policy: Our visitor restrictions are very clear and at the top of our house rules. We provided you with a special allowance for 2 family members with unlimited visiting permission at no charge. And, at the end of your stay, we gave you 2 more family members with no charge for the day. Even though we provided 4 allowances for free, you still asked for 3 more visitors for free. Only after we have let you know that we needed to charge for the 3, have we been made aware of your stay being less than perfect. Our house rules are very clear up front that rental of our family home is just like a (URL HIDDEN) is for the use of the guests listed in the reservation. Our property is not a social gathering venue and cannot be used as such. If you were looking for a place to receive family and friends, we would have been happy to provide a list of local rental venues suitable for that type of use. 8. Cameras: We do have driveway cameras for the protection of our property. As stated in our house rules, these driveway cameras can also be used for enforcement of house rules when it becomes necessary. 9. Property Manager (caretaker): You requested that we make our swimming pool available for your stay. It is very late in our swim season, but our property manager went out of her way to make your stay perfect. She extended the courtesy of leaving the pool open during your stay, even with our temperatures dipping low at night, and with all of the leaves falling in the pool by leaving it uncovered for you. When we provide this extended service for guests in the fall, it requires extra work on behalf of the property manager to maintain the chemicals and clean debris out of the pool. It is a lot of work. She would have been happy to leave the pool closed if you felt taking care of the pool was an intrusion of your privacy. Our property manager also allowed you an early checkin to accommodate your early arrival, as another extra courtesy, but you do not mention that either. Our property manager went above and beyond and did her very best to give to give you an incredible experience. I'm sorry it didn't please you. Thank you for your comments.
---
I stayed for 10 nights with my family from my home country. Ann's house was spacious and gorgeous. As it was tranquil and peaceful, it was a perfect place to refresh. Additionally, because it had a jacuzzi and covered pool, our children enjoyed swimming in spite of the low temperature of below 80 degrees.
---
This place is perfect!!! The home itself is beautiful! My family rented Ann's home for the week of my sister's wedding and not only proved to be the perfect place to relax from the business of our week, but also ended up serving as an excellent place having my brother-in-law's family over for dinner. Ann was super flexible when we ended up having additional guests come over for dinner as the place was just so amazing that other family member's asked to come over as well. We had plenty of space to sit, eat, talk, and enjoy each others company. In addition to all of this, the outdoor space was spectacular. The pool was great for swimming and cooling off from the Georgia heat and the hot tub was amazing for relaxing at night. The rooms were very accommodating and comfortable, and the master suite is breathtaking! Everything was clean and well kept. It truly felt like home away from home. We would definitely stay at Ann's place again if we ever end up back in the area. Ann is a great host and very accommodating. Would highly recommend!
---
Retired and a business owner, we absolutely love to travel. We enjoy traveling and experiencing new places and new cultures. Staying in other's personal homes has allowed us to enjoy areas like I we are living there, instead of just a vacationer. We love that. Plus, the home atmosphere allows us space sit at a computer and be productive.

So, We are sharing our homes too. We want to give other families the same experience, to enjoy a new city, in a wonderful home-away-from-home. We hope you can see the world in a different and better way by us sharing our space with you.
语言:
English