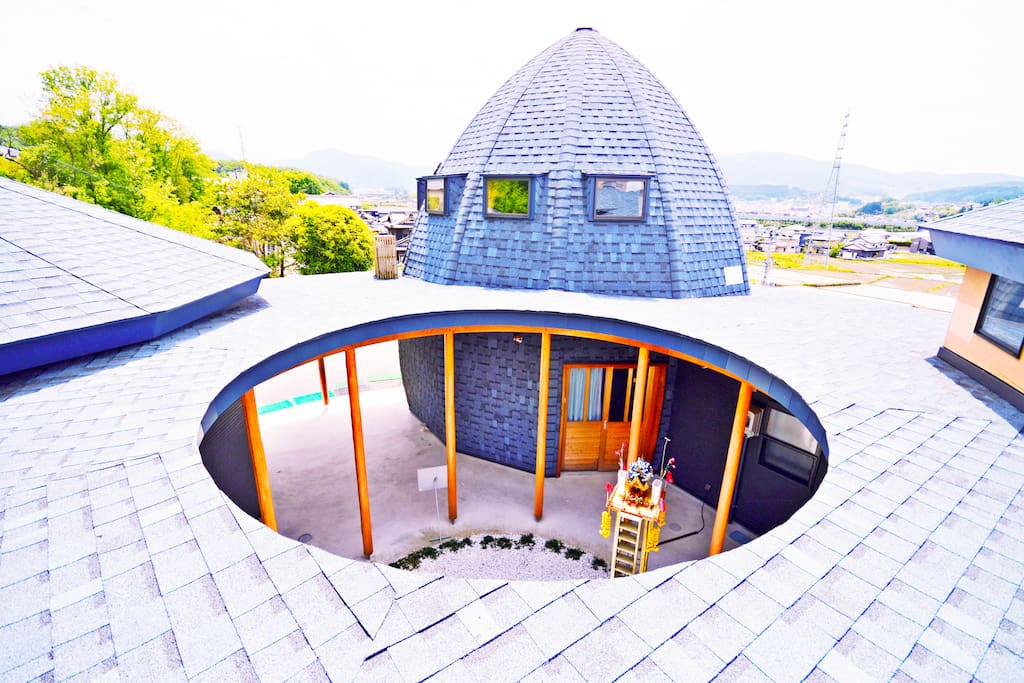 Our extended plan is 3 nights 4 days plan with full meals.
This spiritual Journey Includes:
With highly experienced instructor.
Real understanding about the Wisdom of Authentic Buddhism & Shintoism、 Exploring & Visiting amazing temples and shrines.
After class, your way to see this world will be totally changed. Even those of you study Buddhism for many years are recommended. Understanding of buddha's (Satori, meditation's meaning, Nirvana, Mantra) and Shintoism.
房源细节
This special Japanese spiritual 3 nights and 4 days trip course has to be reserved at least 5 days before in advance. **** We will be driving approximately 500km to visit temples, and shrines in this 4 days trip.
Our commitment is helping your spiritual grow. Opening attendance eye's for understanding about Buddhism essence. This is not regular sight seeing such as just visiting temples and shrines.This course provides your real oriental spiritualism understanding as a friendly lecture style. Especially, this course is those of you who are looking for better understanding of Buddhism and shintoisum.
This Unique spiritual Journey will become important part of your life and soul's growing process to have wider view of world. The world you see will be much bigger and expanded.
2 nights(the 1st, 3rd night) staying at ArchangelEna. Also 1 night at Nagano as 2nd night. (It may be hold as one day trip , it depends on the weather.)
We will visit Buddism temple and amazing Shinto shrine where we get private blessing and lectures.
At the end of this course, the small puzzle pieces will make a sense, and become as one whole clear image. (Those of you who have visited many countries such as India, Nepal, Thailand, Philippine, some Chinese culture influenced countries, western countries are all welcome to attend this special course.)
房客使用权限
Japanese Vegetarian meals included. You will be access to the holy shintoism, and buddism wisdoms. It will be a good chance for opening your new door to understand more deep inside.
Most of oriental spiritualism has been missing the points of linguistics exploration. In this course, English speaking lecture will be held to understand. (If you know some Chinese letters, we will explain with Kanji, the Japanese Chinese character letters,too.) That is because interpreter himself deeply understands each area of Buddism and shintoism. We explain the mechanism of each religion areas with the systematic points of view.
Mastering the authentic Meditation for every day life, also you will learn How to Solve Your Problems by Yourself. If you are peaceful in your mind, you do not have to struggle with others.
与房客的互动
(Note: We would like to make Clear Boundary Line from the other our Regular listing which is about Japanese everyday's life. The other listing is more likely toward to ordinal activities, such as hiking, cooking class, pottery class, typical Japanese life experiences.)
On the contrary, this is the Exploration of your spirituality.
You will be guided by well experienced English Speaking instructor. Most of Your long waited spiritual questions will be answered clearly.
We have enough Q&A time as well as lecture time in this tour.
其他注意事项
You will deeply understand Japanese and oriental wisdom. Especially Buddha teaching can be difficult to understand, so we lecture essential parts with systematic explanation.
You will learn essential parts of Oriental spiritualism. Any racial, historical, cultural ,educational、gender difference background can be equally treated with respects and dignities.
Japanese spiritualism can be related samurai or Yamatonadesiko, so you also will be learning about them,too.
Meditation has very important roll of spiritualism. There are some crucial issues of meditation that most of people have been missing. We will cover and teach more than Zen style method with authentic and productive ways. We use some of unique four elemental method meditation. You will learn How to Solve Your Problems by Yourself. If you are peaceful in your mind, you do not fight with others. That way your spirituality can be expanded more than ever.
额外房客 $220 / 晚 (从第2位房客开始收取)
为了保护您的账号隐私和付款安全,请不要相信其它任何平台的折扣或优惠券代订,并始终在爱彼迎站内转账和交流。
不适合婴幼儿(2岁以内)入住,或不能为婴幼儿提供安全的住宿环境
This is spiritual workshop : No Alcohol liquor. Japanese Vegetarian meal during this 3 nights.
Smoking can be allowed some designated outdoor, but Non Smoking is preferable.
Your background preference can be considerable with the highly respects.
For the review of the house, you can refer to the review in the general booking of this accommodation. All costs are included here like the meals, accommodation, traveling and also the fee for visiting shrine. If you are interested in either Buddhism, Shintoism or mediation, this trip must be very suitable for you. Koda knows a lot of them. He speaks English very well, even better than me, communication will not be the problem. He will also find the best way to teach you. Religion is totally not a problem too. Koda shew his respect on every religions. He taught a lot, but you will not feel the trip is boring. You may hear some interesting stories. Learnt much, I think I need to spend sometime to manage the note I dropped down. :) If you have any idea or question about religions, you can just share with Koda. He is easy going and willing to share, you may find the answer about religion or medication if you join this trip. Actually not only for religion or medication, as Koda is willing to tell, he also taught me the steps, the way for having Soba. My advise is don't hesitate to ask if you have any questions. This trip gave me an invaluable experience.
来自KODA、KERO ArchangelEna的回复:
It was great pleasure to have him during the hole period. Our goal of this special course is each participant gets deeper understanding about the Shitoism and Buddism, how they related each other in Japan. He was very much into learning and bright learner. His many interesting question made us think in good ways. It was a short time of period, and yet the time spend was really memorable for us, too. We hope to see him again!
---
Japanese Site:

English site:

【日本語での紹介は末尾にございます。】

I and my family are easy going and open-minded. We speak English.( we are native Japanese.)


We are also world wide travellers. Our family is Vegetarian , and specialized in oriental herbs and home made enzyme. We often visit Thai temples for tambun.

We can offer 【Free Zen temple style、traditional Japanese Vegetarian breakfast.】
We can also offer 【Vegan meals】your special requested of Vegetarian meals in advanced adjustment. Sorry we can not serve you eggs.

Our family is not so much into sport, but we practice "dou-道"
Sho-dou 書道、Japanese Calligraphy. Ken-dou 剣道, Japanese swordsmanship. Meditation with Buddist Styles .

Every cultural diversity is good way to start for communication each other. What more important thing is respect each other with dignities.

Our family have courtesy to have you from around the world.

If you looking for a good country side of Japan, you may consider us as one of your choices!

【Our Specialities , Experts areas】

1: Specialized in Kiso Valley:
Nakasendo, a major route connecting Tokyo and Kyoto during Edo Period. We can be your good guide of Magome,
Tsumago, Nakatsugawa, Ooi town.

We are kind of kataribe 語り部【story teller】
You will get to know and Understand more deep inside of Japan and orientalism.

We give you many perspective points of views such as folklore, good Japanese country side of traditional customs, local legends with spirituality of old Japanese, as well as architect and history.

You will get to know deep inside of traditonal & modern Japanese and Japanese life styles which you can not get from regular guide book.

With a Background of Majoring in Japanese local history in Buddhism University, we can tell many interesting story of deep aspects of Japanesque.

Kataribe 語り部【story teller】: undersatanding more deep inside of Japanese and orientalism. legend, history,old story of Japan, local That's what we can offer for your Japanese exploring.

2: We have deep knowledge of Japanese and oriental spiritualism.

That's because we have dedicated whole life in Exploring and getting holy wisdom from many greatest masters and Gurus all around from Asia such as Buddist highest monks of Thailand, Indian Jain holy saint, Philippines's greatest Psychic surgery healers, grandmaster of orasion. many times of pilgrim such as Tibets's Mt Kailas and Lunbini.

We are exactly where and how we are standing on the Japanese and oriental spritualism. Because of unusual experiseses and wider views based on Japanese ritual heritage with many world wide wisdom.

3: Oriental Herbs and Japanese vegetarian cooking areas come along with it naturally.

As we can provide optional tour: 【regular sight seeing】
A half day trip or one day trip around this Ena, Nakatugawa, historical Edo period Nakasendo town of Kisoji:Kiso Valley, Tsumago & Magome, Narai.
Also castle town, Iwamura. Shopping for Toki premium Premium.
Gero hotspring, Takayama, Sirakawa-go:Unesco World heritage site.
some horse riding, Trying making soba noodle facilties, Japanese Pottery making facilities and many things:

****************
Beside that 【OUR SPECIALTY】 is
【Holy spiritual Activities】& Vegetarian Meals,
We can make very special arrangements as followings:
***************

* Meditation Experiences at Japanese local buddist Zen temple where no tourist vistting, only local people place,is just for you.

*Getting special blessing from Shinto shrine chief priest just for you.
If you wish, You can have world wide reputable Psychic Surgery,too. (this we will be our special one day trip arrangement)

*Getting nobel sprit's holy water for your making wishes and health.
*You can make a wish at Omokaru-stone, if your wish come true, the holy special stone can be easily lifted where as the stone is fairly heavy at normal time.

【Our ORIGINAL WORKSHOPS 】are as following:

-Self detoxification with oriental Medicinal Herbs Fee:$100 for 3 hours.

- Home made enzyme with furuits and wild herbs. Fee:$100 for 3 hours.

-Zen & Theravada Buddhism meditation. For 1st time Fee: $50 for 2hours.

-Japanese easy Vegetarian cooking class for everyone.
( Japanese easy Vegan cooking based on four elements can be available.)
$80 for 3 hours.

and more workshop styles. Gruoup session can be discount rates.

*******************
【Extra notes 】
I am also a worldwide researcher of Supernatural Power & supernatural phenomena. Psychic Surgery and materialization is my speciality for many years. Unseen and unbelievable videos can be shown only when your request.
********************

【Last minutes Reservation can be possible. 】
That is because we do not want you to be a touring refugee in middle of Japan!

If you are looking for as real Japanese culture more deeply, and some traditional oriental amazing experiences, this could be your best destination!

Our family is looking forward to see you!

【about airbnb】
With the recent technology of our every day life, this world seems to be getting smaller. Who could have imaged that the local area such like my family place in Japan can be international place from all over the world. One Parisian is speaking to her family by whereas Japanese host is taking to Californian who is sitting next each other.
we all sit and enjoy eating dinner together with the same table.

This kind of situation had never imagined for 10 years ago. This is not just a regular sight seeing, but all new experiences of cultural exchange which we never had. It is getting a exciting world and new era of beginnings.

【末尾となり申しわけございません。
日本語でのご挨拶は下記の通りです。】

私たち家族3人は生粋のこの地である恵那・中津川地方で生まれ育った人間です。

スポーツというより、自分と向き合う日本古来からの道とつくものの方が性に合っているようです。 表向きは、菜食でお酒も飲まない家庭なので真面目で誠実に努める人達という印象を持たれるかもしれません。
実は以外とオタクであり、我が家のバイブルは、魁、男塾かもしれませんし、セイントお兄さん、鬼灯の冷徹、辺りかもしれません。

夫は、不思議な事、超常現象をリサーチするという、ちょっと変わった家族ですが、物事の本質をいつも捉えたい、核心に迫りたいという探究心は、世界の不思議発見より不思議さ加減では上を行くかもしれない、と鼻息荒く今も突き進んでいます。

妻は、世界中に食べ物は色々あるけれど、どうなっているの? という思いが絶えずあるため、 我が家の食卓は、いつも菜食での料理研究の道という名の下にて、お客様にご馳走を振る舞わない時は、実験!?爆走中の模様です。

親が見ている世界の方向性が違うがゆえ、我が子も、両方の性格を引き継いでいるとしか言いようがないようです。

ホスト役として、地元に住む人間として、また、ある程度の経験も積んで来た年となり、 他の地域との比較、この地域性はもとより、一般の見識、見聞をお伝えする事と同時に、少し違う角度からみた場合の日本の地方の良さ、日本人としての良さ、他の国の方ならば、 日本とそれぞれの自国の再発見をする旅のお手伝いが出来ましたら幸いです。

もちろん、とはいえ、お節介になってはいけませんので、礼節を持って対応を心掛けています。
ゲストの方々にとって、程よい、さじ加減でホスト役として旅の主人公であるゲストの方々の引き立て役、裏方として、思い出に残る旅のお手伝いができましたら幸甚です。







语言:
English、日本語