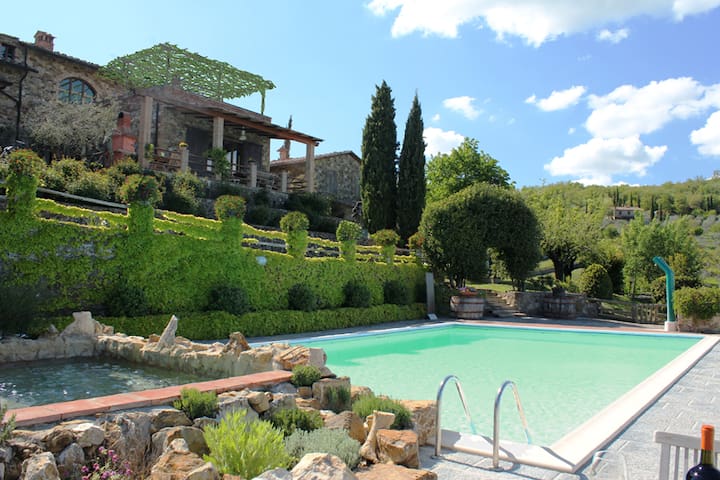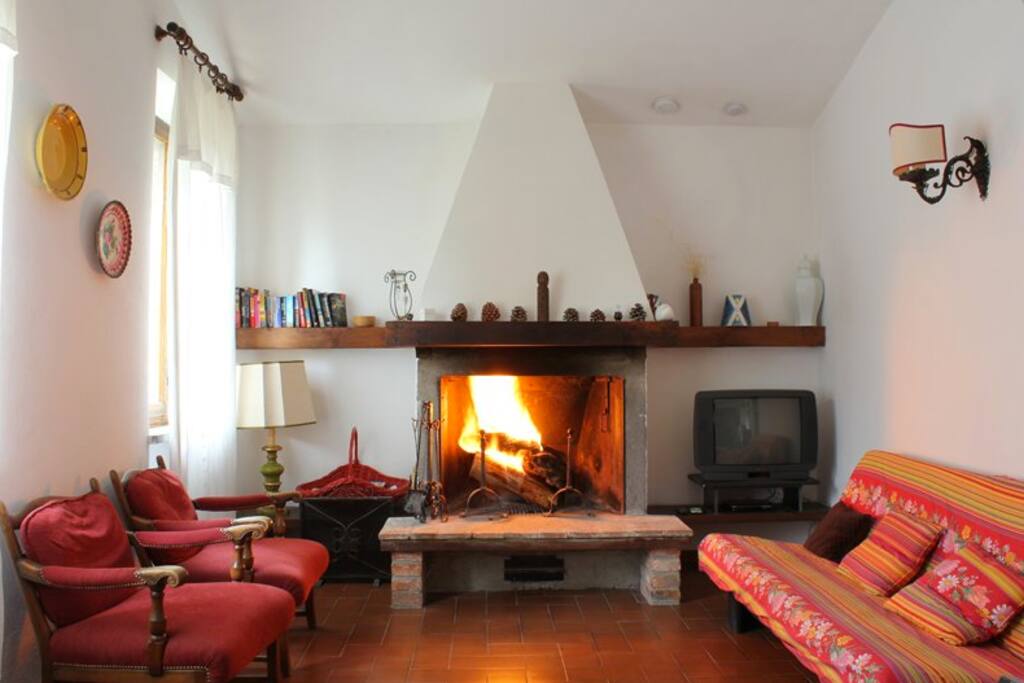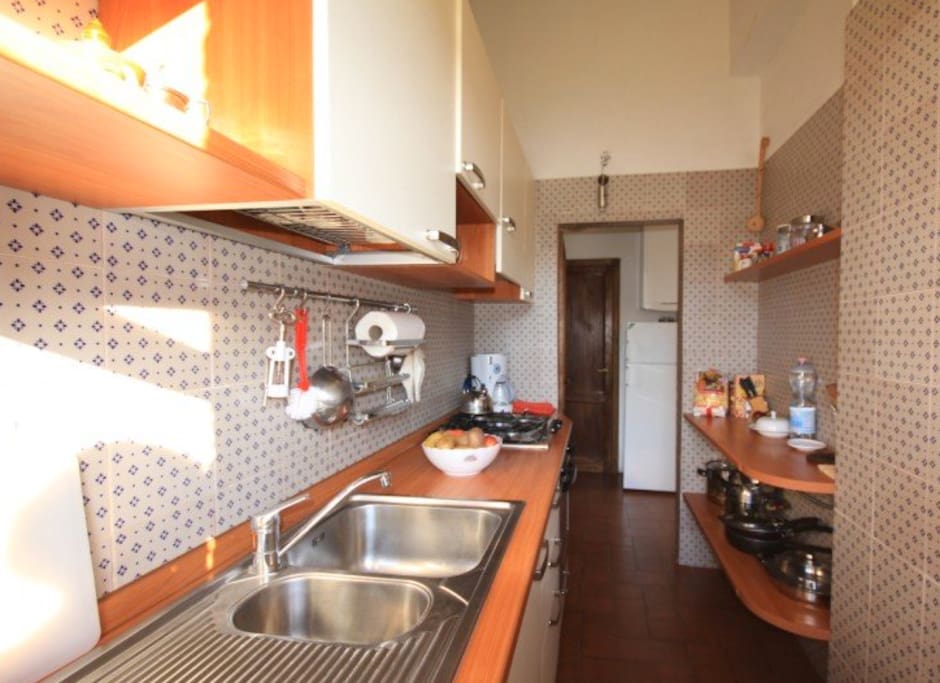 This is the most informal apartment of Piaggione of Serravalle, smaller than the other two, for this reason it's undoubtedly the coziest and most intimate. It's located in an independent structure from the main farmhouse, to which it's linked exter
房源
Nel cuore del chianti
The Piaggione of Serravalle, at a first glance, appears as a gem naturally cast on the highest ridges of the Chianti hills of Central Tuscany, and as a jewel it shines with its authentic flavors, ancient traditions and silent stillness.
Shaded and enclosed by oak woods and shrouded by the greenness of its olive trees and vineyards, it mingles within the horizons of the grandeur of the Tuscan countryside that is still genuine and remarkably unspoilt. The structure of Piaggione consists of two spacious apartments, one holds four, the other, three bedrooms and a separate two bedroom cottage. Among these, the Loggia, which houses a wellness center embellished by an exotic touch. On the top floor a spa tub and an infrared sauna and, accessing via a staircase, you will approach a somewhat hidden room used for massages and turkish baths on the bottom floor.
On the outside you are welcomed by a splendid swimming pool that plunges down on the lush valleys and, between sprouts of fragrant shrubs, built in the rocks, a jacuzzi tub that is surmounted by a spurt of hot water. Small paths and stone steps cut into the gardens that slope down the valley, designing silent hidden nooks that make its way through the forests. In this enchanting setting, stand out the modern sculptures of famed artist Alberto Inglesi that will accompany your quaint countryside strolls and hikes. If your desire is to rediscover the spontaneousness of life, the Piaggione of Serravalle is the place to be, to relax and immerse yourself in the magnificence of a Tuscan setting blessed by serenity and silence.
房客使用权限
The Piaggione of Serravalle is a unique farm. With an uninterrupted thirty year activity, in the chaos and hassle bussle of modern society, it proposes itself as an enlightened example of eco-compatibility that brings forth a devout respect for mother nature from which it draws its fortunes. We are talking about a working farm estate that is based on real life family stories and human relationships that are perfectly compatible with our times. One of our goals is to improve the excellence in the quality of services as well as being discreet in maintaining unchanged the authenticity of the ancient traditions of the area.
Camilla is a licensed tour guide that has been operating for over thirty in Siena and its province. Together with her husband Alberto, at her mothers death, despite the hard times, she decided to roll up her sleeves and take control of the project, proving not only to be fit for the task but demonstrating a strong character suitable for the role. She undertook challenging decisions, always dictated by a spirit of loving-kindness and far-sighted choices that rewarded her over the years and that culminated in this wonderful masterpiece.
Camilla is fluent in English, French and German and her vast knowledge of local history and art of the area, together with her fascinating savoir faire, guarantee unforgettable tours and excursions to explore Siena and its treasures. Her passion for the authentic taste of local cuisine, is high-flown in her first-class preparation of typical dishes that she cooks and serves in unforgettable dinners accompanied by Chianti wines of her own production in front of somewhat a fairy tale landscape. Alberto is a world acclaimed sculptor. His works can be admired not only on the premises but can be found in many other permanent exhibits, as well as Milan, Rome and Turin, in the Canton of Fribourg or in the Castle of Gruyeres. He has been responsible for adorning squares and corners of many villages and museums scattered around Tuscany. His innate manual dexterity allowed him to implement the works of her brilliant wife that suggested him to embellish the property by leaving his own artistic signature a bit all over the estate. Alberto also embarked a journey of his own self discovery, that convinced him it was time to lead a life more in union with nature. You shall in fact always find him around the property, busy with his chores, that include all the daily activities necessary to run the farm and thanks to his kind nature is always willing to satisfy your requests. At the Piaggione you can enjoy the fruits of his wise and patient work, from wine to olive oil, to the eggs laid by his hens, his meats and all the other organic goodies he cultivates and produces, and of course, we highly recommend his speciality; the pizza he bakes in the ancient wood oven on the premises!

其他注意事项
The Piaggione of Serravalle is a lively farm that is in constant action and that brings forth its daily activities that are carried out in order to achieve a balance of eco-friendly status that are , rational and respectful of the rules that prevail in nature and that characterizes its existence in every detail. Plants and animals, placed at the center of activities, have always been treated like human beings and therefore have the best care and attention to undergo the strictest quality controls that strive for excellence as well as for superb genuineness. The seasonal cycle of activities, therefore, commence in spring with the most suitable positioning of the plants, sowing the seeds and the maintenance of gardens, vineyards and olive groves. During the summer we proceed mainly with the picking of fruits and vegetables and then we begin canning the food for the winter and start collecting the wood for the colder months. Autumn however, is the most busy period since we deal first with the grape harvest and later with the olive picking. We also commence all the various processes for the production of wine and oil, the squeezing and the pressing and we also collect the wild fruits from our forests , traditionally considered to be one of the bases that characterize our local cuisine. During the winter, with the arrival of the frosts we end our labors but we also have to start preparing the land for the new year to come and we have time to devote ourselves to more domestic chores. Of course we always have our farm animals to look after. The food processing is challenging and goes hand in hand with the local tradition, to sustain the authenticity of ancient flavors and discovering new ones, thus giving the opportunity to gourmet fanatics to acquire the most authentic recipes , the methods of cultivation and preservation . The culinary skills of Camilla, joined with the hard labors of Alberto, will allow you to take advantage of the exquisite cold meats, salamis, bruschette and cheeses produced on the farm and we will be honored to prepare you memorable full course meals with traditional dishes, accompanied by Chianti DOC and DOP Extra Virgin Olive Oil; all obviously of our own produce and of course our products can be purchased directly on the farm. Camilla also offers her services as a professional tour guide, organizing trips and excursions all over Siena and its territory and enriching them with thorough descriptions and explanations. Albert, instead, offers his own experience and skills in the arts, by offering sculpture and painting classes. Among the various projects under construction, in the future Piaggione will be able to offer cooking classes as well as organizing educational strolls along the paths of the vegetable gardens. Also at a stones throw from Piaggione recently has been established a horseback riding center , with a full range of activities related to equestrian trekking through the ancient roads of the Chianti hills.
---
---
---
INCLUSI NEL PREZZO:
BIANCHERIA, LUCE, GAS, ACQUA, PULIZIA INIZIALE E FINALE, CAMBIO SETTIMANALE BIANCHERIA, PARCHEGGIO, UTILIZZO PISCINA ( DA MAGGIO A SETTEMBRE). LETTINO DA BAMBINO, TELI DA PISCINA

ESCLUSI DAL PREZZO:
vedi Servizi Extra:
RISCALDAMENTO € 5.00 al giorno , LA PULIZIA AGGIUNTIVA EURO 8,00 A PERSONA, CAMBIO BIANCHERIA AGGIUNTIVO.
---
---
---
最少住宿3晚。
从2017年9月01日 - 2017年11月30日起最少住宿4晚。
---
i propietari: Camilla e Alberto
Camilla è una guida turistica autorizzata che opera su Siena e provincia da circa 30 anni, dopo la morte della madre ha preso in mano l´azienda gestendola con amorosa cura apportandovi una serie di sostanziali modifiche sia a livello agricolo che ambientale, rispettando in maniera puntigliosa le tradizioni del nostro territorio.
La sua competenza nella storia dell´arte, la conoscenza del territorio, il simpatico modo di esporre gli argomenti vi garantirà indimenticabili escursioni di Siena e provincia, parla correttamente Inglese, francese, tedesco, la sua eccellente cucina tipica del chianti accompagnata con il nostro vino Chianti Classico si propone per cene indimenticabili da gustare all'aperto nela zona orto didattico difronte ad un panorama magnifico.
Alberto è uno scultore di fama internazionale le sue sculture si possono ammirare abbondantemente nei paesi del chianti, i paesi della provincia e lungo i percorsi del parco
immerse tra olivi, viti, querce e accompagnano gli ospiti in piacevoli passeggiate. Lo troverete sempre in zona,
disponibile per qualunque necessità per gli ospiti, olio, vino, uova, ortaggi. e a richiesta pizze cucinate nello splendido forno a legna.
语言:
Deutsch、English、Français、Italiano