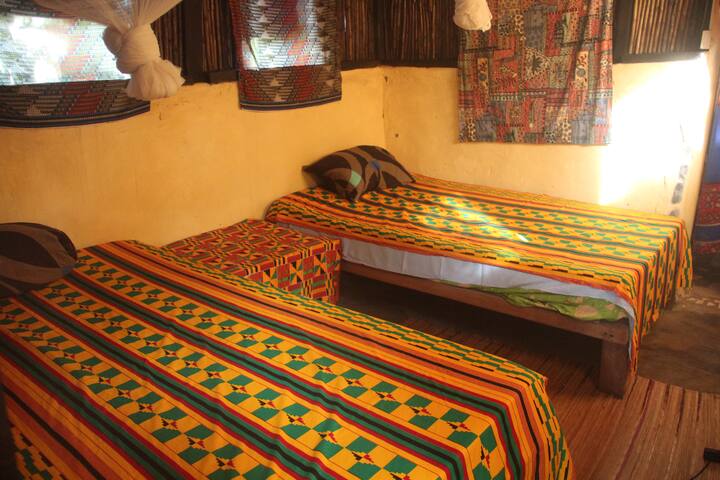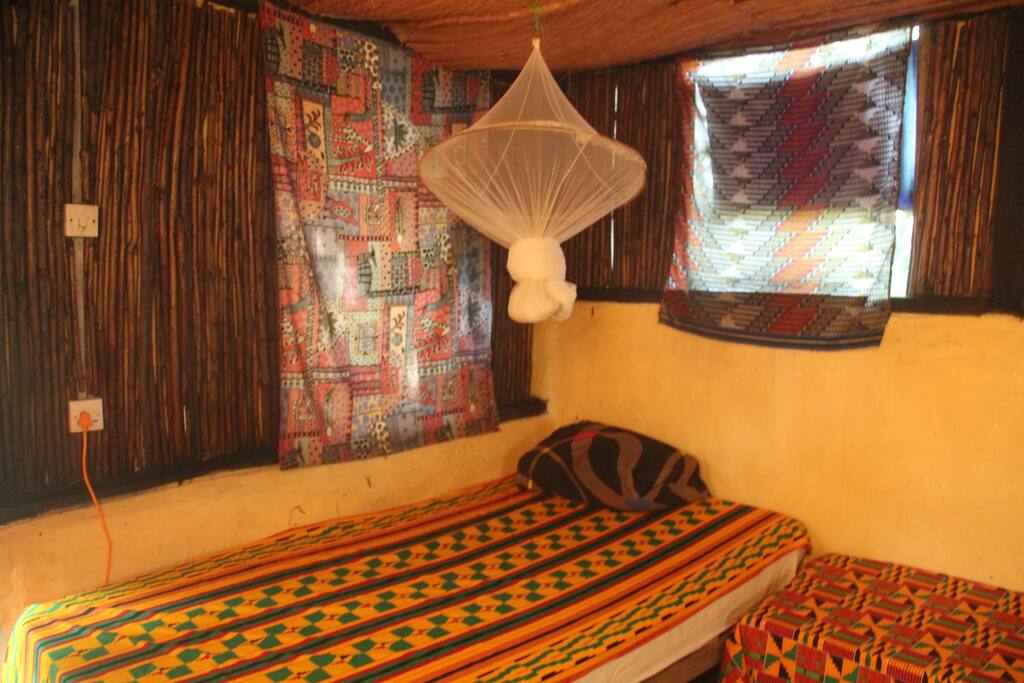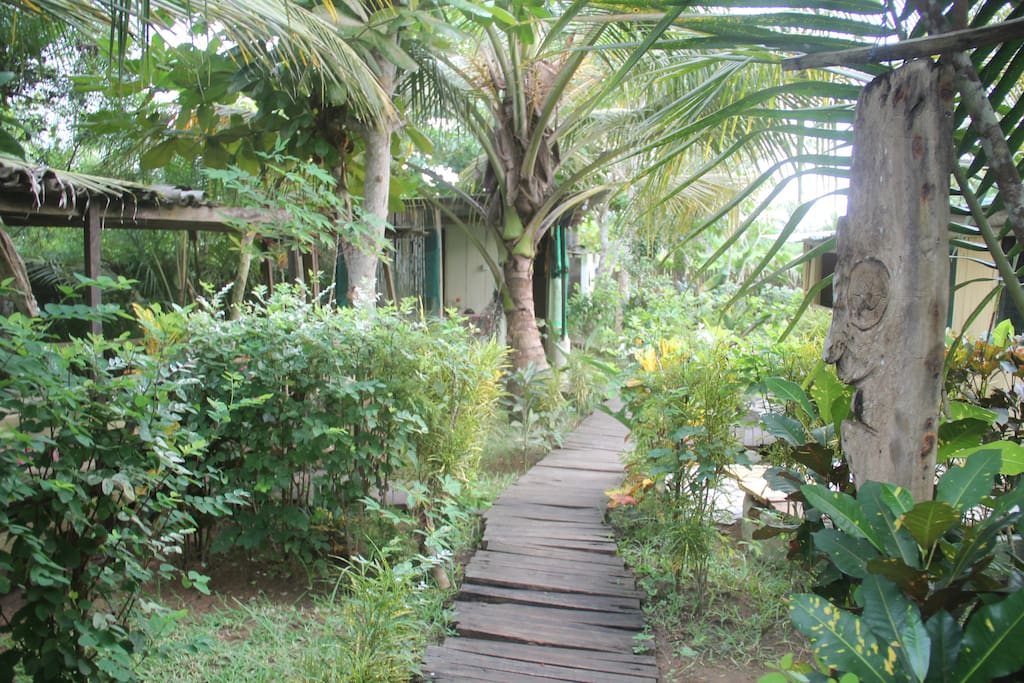 Remote beach hideaway - double bedroom twin beds
Set in a magical lush tropical emerald hued garden near the beach, amongst trees, flowers and bushes, with hammocks to laze around and lawns to lie on, this room is ideally suited for a couple or 2 single people or for groups It has a bathroom and a porch seating area. There is also a tree house with a double bed under another listing and another space, a room with 2 double beds which can sleep up to 4 in a round conical clay room. Restaurant & bar is also available under a leafy canopy.
房源
Come and enjoy nature at Green Zion Garden beautifully designed with lawns, trees and flowers. big enough for groups and families. There are hammocks to laze in just to enjoy the birds chirping in the trees, to be with nature, or to read and relax. A lovely peaceful place for yoga, thai chi or thai yoga massage or meditation. Tranquil and a place to get away from it all. African drumming lessons also available. Only 2 minutes from a remote beach!
Where I am is very remote. You need to book to get my phone number. From then on, keep in touch with me by telephone. I have no internet access as there is no signal. Reception is not brilliant. MTN doesn't work here but vodafone does. If you do not get a reply, don't worry, I may have to walk to the end of the garden to receive the call or make a call. If you don't hear by internet don't worry, we can be in touch by phone, but you need to book it in order that the phone number is given to you.
房客使用权限
There is a vegetarian restaurant which seats up to 12. Access to all the garden area and an extra outside toilet and bathroom. 2 minutes from the beach. It is a rustic place, sporadic electric, but you are in a remote place and to be amongst nature hopefully will override comforts and other luxuries you may have left behind. There is no wifi and telephone reception is minimum.
与房客的互动
I love people and would love to have you here, come as a stranger and go home as a friend!
其他注意事项
We serve good food on a menu and run a vegetarian restaurant and bar. We also can serve fish. Food source is in Butre village 15 minutes walk away but is very limited and will be Ghanaian food. If you are in need of using the kitchen, it must be with the consent of the owners and the owners need to be present.
---
---
There is a restaurant and bar to the property and can serve breakfast, lunch and evening meals at any time of the day if you so wish. There is no use of the kitchen for private use, unless specifically requested beforehand and it is agreed that one of the two hosts be present at the time of using the kitchen. Any damages must be paid for. A nominal amount must be paid for use of gas. This is a remote place and gas has to be carried by hand in a 50 kg cylinder from the village to Green Zion Garden along with a 12 km bus ride on a rough road. To be aware of this, would be appreciated.
---
We loved staying at the hobbit hut, surrounded by palm trees and sleeping in a round, make-shift, charming but dark room with a mosquito net over the bed. Having come just after the rainy season (August), it was a little damp but that was just as nature was around us. The ocean is 2 minutes walk away and is beautiful. The waves are crashing in quite hard which makes for excitement and being tumbled too! Ellis's brother is a very sweet host who cooks delicious, healthy food. There is also a cat called Kitty who makes for good company. Definitely recommended.
Sorry Sam that Ellis couldn't meet you, but hopes you will return and meet him one day. We are pleased that Emmanuel was able to look after you. Sorry I didn't return quicker than I thought, but had to attend a wedding and also fit Edinburgh festival in in August. Glad you enjoyed your stay.
---
What a lovely place in Ellis' garden. This room had its own bathroom and porch seating area looking out in the beautiful garden with lots of trees and flowers. he room had two 3/4 sized beds. It is decorated inside with coir matting and wood. A lovely bright room with mosquito nets and a fan. He has a further 2 rooms amongst this emerald hued paradise enclosure, only 2 minutes from the beach. Laid back, humorous, Ellis serves you in his vegetarian restaurant in the garden, where you can have breakfast, lunch and an evening meal. He plays the drums too and there is Thai yoga massage available on his lawns. The place is ideal for groups too. Reggae music plays in the garden and he has a bar, so it is lovely to come from the beach and lay in his hammocks on the lawn with a cold beer or a cocktail. Couldn't have wished for a more beautiful paradise. This certainly is a quirky, back to nature kind of place and will come back again to visit the friends I have made in the village and to Ellis' hideaway remote beach paradise. Very different from the commercial run places made of concrete elsewhere. It is a place where you can take off your slippers and lay back and relax! A dream ..... for singles, couple, groups and families, even for the disabled. Will always come back here to such great energy and humour. Ellis' bathroom singing is totally hilarious. He is a great character and always ready to serve you wherever he can. A very different experience from business run places with installed managers and staff. I recommend his place to anyone looking for an authentic African experience supporting local people. No doubt one of the best Airbnb experiences I have ever had!
---
Hello I am Ellis. I have built this property from bush land right near a beautiful fishing village and deserted beach. I have worked hard to make a beautiful garden and a paradise for you to stay. My motto is to just enjoy your life and live in the moment.