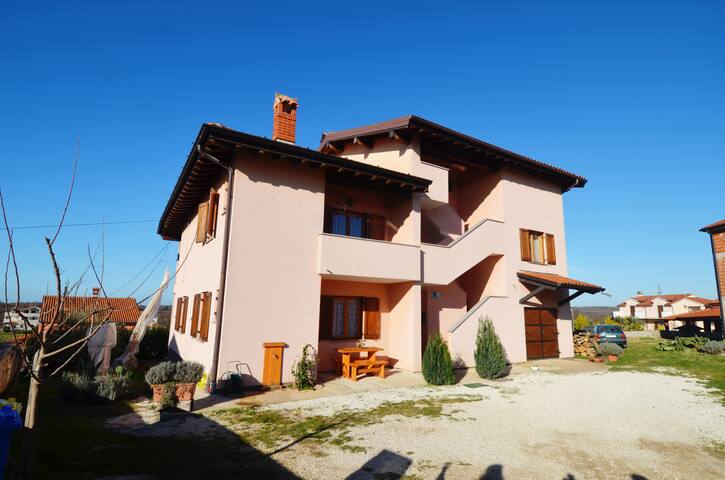 The apartment is located on the ground floor of a family home.It has one bedroom with a double bed. There are extra beds for 4 persons in the living room. The apartment has a bathroom with a shower, a terrace and garden with barbicue.
The tourist agency Mon Perin Castrum was founded in 2014, as a part of a well-known company Mon Perin Ltd. from Bale. The word "Castrum" originates in Roman times, from a legionary camp surrounded by walls and towers, in time becoming a sanctuary for refugees, later on citizens. Today you can walk through Castrum and enjoy the beauty of its walls, coats of arms, paved stone streets, little art galleries and the community of its citizens, who foster these walls. Within the walls, our guests have various activities and accommodations at their disposition and can enjoy 365 days of the year.
Our expert team is at disposition 24 hours a day, 7 days a week throughout the whole year. We offer complete support and the possibility of communication in 4 foreign languages, available by phone, e-mail and web page. We try to offer the best service at the lowest prices. Our team has personally visited all the available accommodation units and we can guarantee the best accommodation adjusted to individual needs of our guests. As a good host, we try to offer each guest a relaxing vacation and an unforgettable sojourn in rooms, apartments, vacation homes, hotels and mobile homes. Apart from accommodation, the guests have various excursions and package deals at their disposition, offering the possibility of discovering the rich history, natural beauty, cultural and historical monuments, tradition and tasting the local products such as autochthonous sorts of wine and olive oil.
Near the medieval town Bale – Valle there is a 9 kilometres long coast as part of the camps San Polo and Colone which dazzles with its clear blue sea, walking and recreation paths, sports activities and the most beautiful sunset in the world.
In all we do, we try to achieve the best results. The opinion of our guests is very important to us, so we are always available for any additional information, inquiries and suggestions. It will be our pleasure to ensure your perfect vacation.
语言:
Deutsch、English、Italiano、Русский