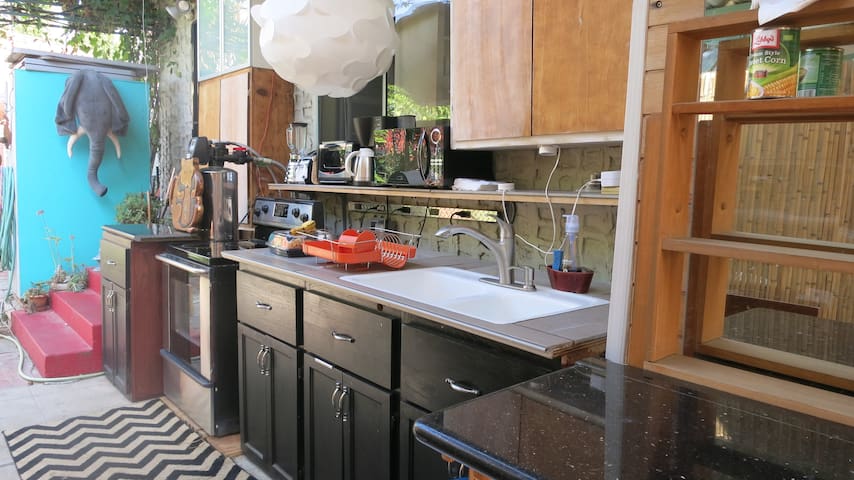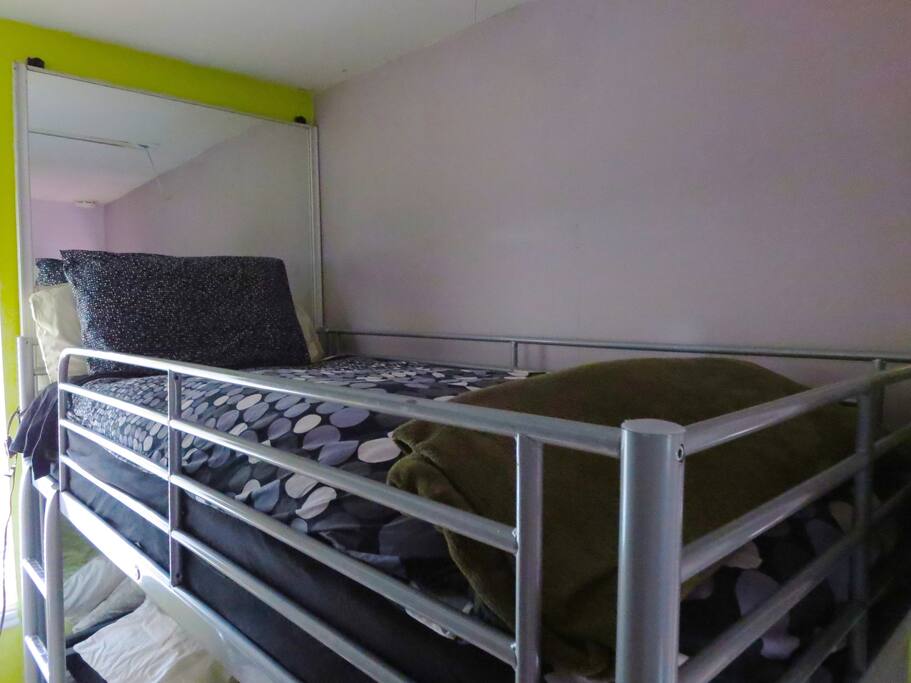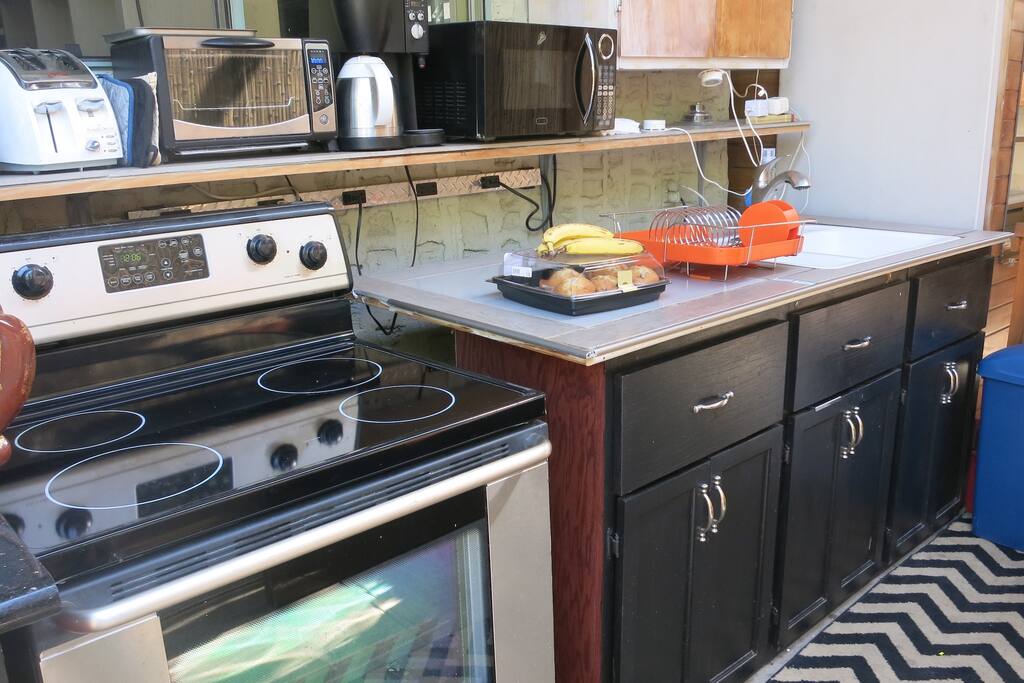 CENTRAL LOCATION! Bunk #2 of 4 - Nice peeps and creative community-a chill cozy upper bunk in shared room. Full kitchen, laundry, outdoor living and dining room - Walk to shops, cafes, markets, movies. Public Transpo super close-by. Free parking!
房源
This is a lovely property in the most central neighborhood in LA. It's a SHARED ROOM, with a couple of sets of bunk beds set up Summer Camp style. A great place to
to rest your head, check email, chill in the garden and communal areas and take Hollywood by storm.
房客使用权限
Just a few minutes from just about everything in LA, we are located near Beverly and Vine, close to Melrose, Hollywood, West Hollywood, Downtown, Beverly Hills, theaters, shopping areas, and walking distance from a gourmet market, shops and restaurants.
与房客的互动
The room would be shared by whomever else might be renting at that time. We have ultra high speed wi-fi, full bathroom dedicated to this room, full kitchen privileges, washer and dryer, easy parking - the works.

---
---
We are friendly and reasonable people and expect our guests to be the same. Common sense, cleaning up after yourself, good manners and and a healthy respect for the other residents and the property are tantamount.
If an issue arises, inform me immediately, day or night. We love happy guests and it is important that you leave with a big smile. Feel free to ask for anything you need to make your stay complete.
Parking: is free, unrestricted (other than a few hours of street cleaning - observe parking signs) with no permit required on the street. There is no parking in the driveway at any time, unless specifically cleared with the owner in advance.
Your space will be provided to you in very clean condition and excellent repair. We expect you to keep your space picked up, and for long-term guests, wash your sheets and linens regularly. For those who would prefer, room cleaning is available for an extra charge. Laundry facilities are $1 per load for guest use.
Since we employ no pesticides, it is important you keep food and other 'insect attracting items' in the refrigerator, sealed trash receptacles and out of the living areas.
Plumbing: VERY IMPORTANT: Nothing other than toilet paper in the toilet please! No hair, dental floss, q-tips, feminine products etc. NO "FLUSHABLE WIPES"! Any plumbing repairs attributable to a guest will be charged to the guest and/or be taken from their security deposit.
Energy conservation is just a good idea for the planet and it is expected that each guest will be conscious and cooperate in this effort. Basics like turn off lights/air conditioning/irons/electric rollers/hair tools etc when not in use or not present on the property.
Guest spaces are respected by the owner at all times. Your private space will remain so unless there is an emergency, an obvious problem, or violation of the house rules.
---
A Little Buddha fountain lies in the outside living room, the aesthetic, ambiance and environment is as zen as it sounds! Going home there for me was like a home away from home. The people are lovely, and Jamie, along with her amazing and unique residents, are one of the most amazing people you'll ever have the privilege of meeting. I can't wait to see them again in the future, for I shall return!
---
Wonderful time at Jamie's. The host is welcoming and is really willing to make her home confortable and The outdoors living room and are are havens of peace. She tries really hard to get everyone involved in recycling and respectful about the planet and each other. I strongly recommend this place. However I must say that if you cannot stand to be to close to people, the bunk room is really tiny and can get kind of stuffy. In this case I will recommend for a little bit more money to rent a private room. This is the best option. Please enjoy this place as I did and do not forget to share a glass of wine with Jamie because she is really worth it. ;)
---
I will start off with the fact that Jamie is an amazing host! I felt welcomed when she made sure I knew where all the amenities are. It is a very comfortable place and the people whom I was sharing a room with were also helpful and supportive. This is definitely one of the best locations in Los Angeles. The neighborhood is safe and is central to everything, I can easily see the Hollywood sign as soon as I step out of the house. I took public transportation everywhere, and I will admit, it is reliable and on time! It definitely feels more like a home then a hostel.
---
Jamie's wonderful home is my go to place-to-stay whenever I'm in LA. Fun, friendly, and convenient for both work and pleasure - the Arden Pond is perfect for anyone looking for a home away from home.
---
Jamie was there when I arrived and helped me with my bags and loved the welcome! I was coming first time to LA and didn't know anybody but Jamie helped m sort things out when I was a mess. She was always there to help when I needed some suggestions or help. I'm a student here and jamie helped me get a job which is just perfect for me! I'm very thankful to her for this. The room was just as described. I had issues moving into my apartment close to school and Jamie helped me sort everything and she is a wonderful person. The house has wonderful people too. I loved my stay here and would like to drop in sometime. I feel like home here and I will miss everybody here. The neighbourhood is also good and very safe. Overall my experience here was wondering. And thank you so much Jamie!
---
This is a wonderful HUMAN experiment. Throw a combination of friends and travelers from all corners of the World (potatoes), each creative in their own special way (spices), into the same proximity (pot), and see what happens. As much as I love and make use of all the wonde…
语言:
Deutsch、English