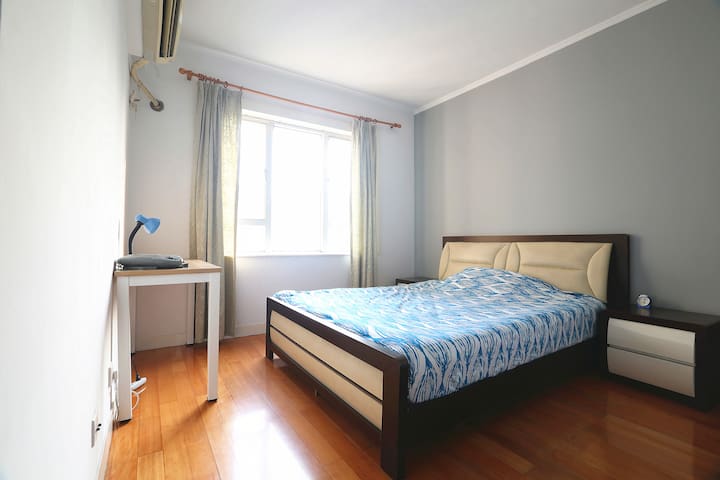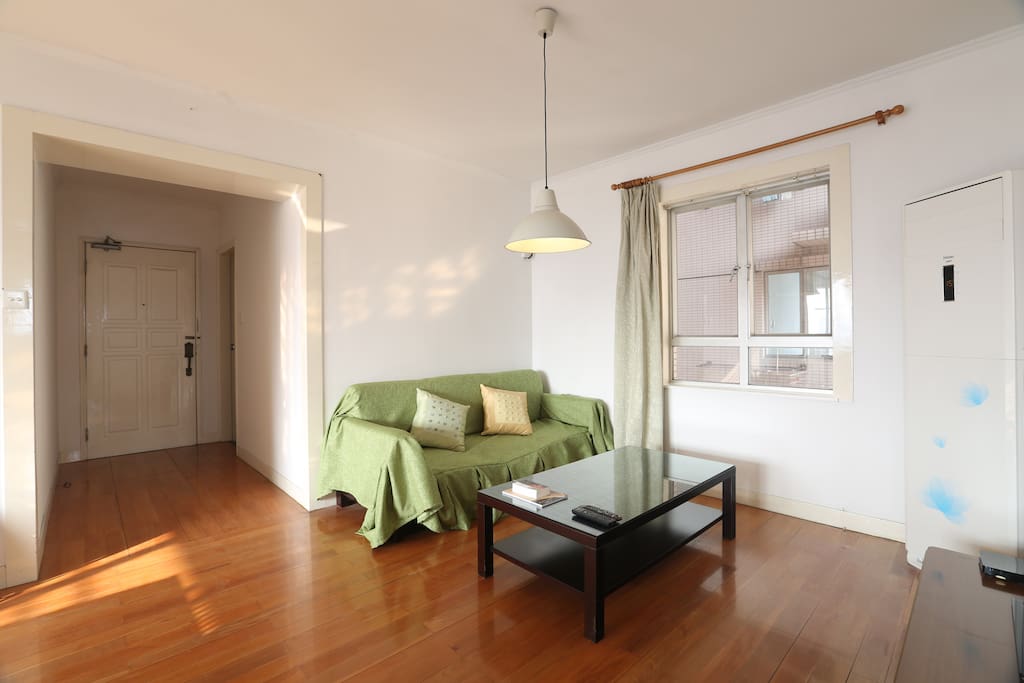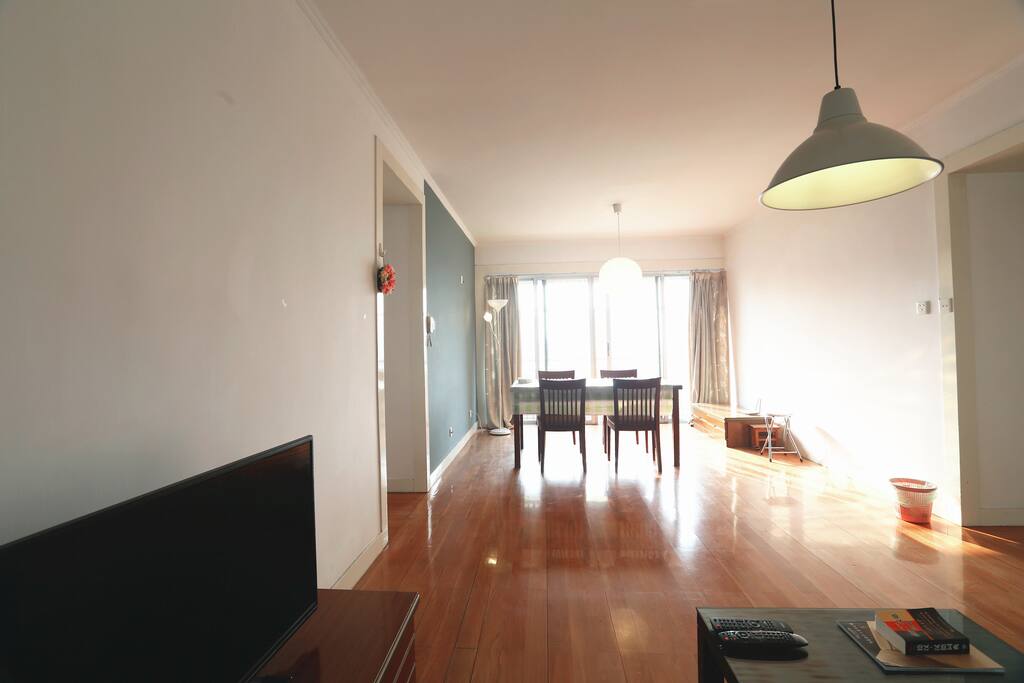 Sweet 3BR+2BATH Apt near the Bund!
主持人的评论:这间公寓位于21楼,全新装修,色彩鲜艳。有一张大号床和两张双人床,分三间,因此3-6人入住理想。南面的所有客房都充满阳光。
Host's Review: located on 21st floor, this apartment is newly renovated in while color. There are one queen size bed, and two double bed, in three rooms respectively, thus ideal for 3-6 person stay. All rooms facing south so receive ample sunshine.
---
My friends and I were late checking in but Lisa was very accommodating. The apartment's deco was basic, aircon cooling and place clean. Very near to food places and the Heping Park is within walking distance too. We had a good time there. Only downsides are 1) there were too many cars in the compound and we had difficulty moving around and parking 2) the outside environment was not well very maintained. Nonetheless, glad we found the place.
---
Lisa was very welcoming and made sure everything was set for us. The apartment is also spacious and cozy and conveniently located near the subway stop as well as a plaza. Neighborhood is great too; definitely recommend!
---
This 3 bedroom was quite nice. Immediately when my friends and I arrived we loved the layout, and how organized everything was. The rooms were comfortable, the apartment was 100% ready and clean, and Lisa even had an extra toothbrush & toothpaste for us. She was really sweet, and spoke great English. We figured she was going to be cool when she rolled up on her Razor scooter. I booked this place the morning before of our afternoon arrival, and Lisa was very accommodating. Who needs to book hotels when you can use rely on "Instant Book"? The neighborhood has lots of basic stores to buy drinks, small bites, and living essentials. There was also a ticket office that had a train ticket machine, but it was broken. We used Baidu maps to navigate there from Line 10 (I forget the stop). Baidu had us follow a river through the old neighborhood that was really interesting, and something you see in Shanghai less and less (You can obviously see this old neighborhood from the balcony). Lastly, we went to the roof where you get a slight view of Pudong, and is nice to check out if you're not afraid of heights.
---
Le logement était super, grand, spacieux, confortable et une belle vue sur Shanghaï. Dommage qu'il soit un petit peu excentré mais le prix des taxi est si faible qu'il compense la distance. Lisa a été super avec nous, nous avons pris l'appartement a 20h30 et il était prêt à 22h30. Elle nous a traduit les adresses que nous voulions et elle nous a rapidement répondu lors d'un problème survenu lors du séjour. Je recommande vivement et je reprendrai le même sans hésiter!
---
This apartment is located very near to Linping Road Metro Station (Line 4 or Circle line), about 5-7 minutes of walk. Near the metro, there is a big shopping mall with more than a dozen restaurants and a big supermarket. The whole apartment is clean and well organized. 3 of us stayed for a week and like the place. Lisa is nice and friendly and very professional, although we didn't have much chance to interact. She is helpful, she helped us to get hair dryer, iron and toaster. Lisa is a very nice and professional Airbnb host, I am more than happy to recommend her to other travelers :)
---
Hello, I'm Lisa, a young girl living and working in Shanghai. I am outgoing and friendly, fond of people, traveling & food :) I worked as a Skincare Shop Manager before starting the "hosting idea" in 2013 and Airbnb in 2014. It is a delighted experience showing my guests morden and old sides of Shanghai, giving them a "live like a local" experience. Since 2013, over 3,000 travelers / expats from 50+ countries have lived with us, short-term or very long-term. I appreciate all their insights on life, work and many aspects of things. So it would be great if you can help me know a bit about you before a booking!

We can reach much more than a hotel as highlighted (aka. if you're looking for) below:

-A fully furnished space to stay in city heart with short reach to major sites and easy transport access;
-A sweet and experienced host who has lived years abroad to handle all your expectations;
-A chance to befriend with other cool shared apartment guests and hang out around;
-A well compiled booklet to travel as a local.

FAQs shooting:

1. "Do you host elsewhere in the city?" - Not yet. In order to provide the best hosting experience, all our private rooms are in the same location (managible radius) strategically closed to the Bund and major sites of the city. Cloest metro is Linping Lu Station (临平路站) at Line 4 and Hailun Lu Station (海伦路站) at Line 10. Read our comment to check how great the location and everything else are.

2. "Can I / my friend come over to visit first?"
i) For stay of over one month, you can come for a visit beforehand. But to ensure room availability, we suggest you to book two weeks to check out the environment and roommie(s) before a decision to stay really long-term. But:
ii) For stay of less than one month, we cannot arrange it due to capacity. Reviews from 50+ guests and photos taken by Airbnb photographer can be a very good reference for your judgement.

4. "Can I check in in the morning or leave in the afternoon/evening?" - Normal check in time is 2 p.m. and check out time is 12p.m. We can help keep your luggage in storage before check-in time or after check-out time. If the room is not occupied or to be occupied, we can arrange it more flexibly for you.

5. "What else do I share with others after booking the private room?" -Our apartments are fully furnished. You will be sharing the common facility such as washing machine, refrigerator etc with 0-2 other roommies. You will have an own bath if you book a master bedroom.

6. "Good internet?" -YES! Internet is stable and fast but you need a VPN to access foreign sites such as (website hidden) and (website hidden). If VPN is important to you, please send us a note so we can arrange you to a room with this provided.
语言:
English、中文