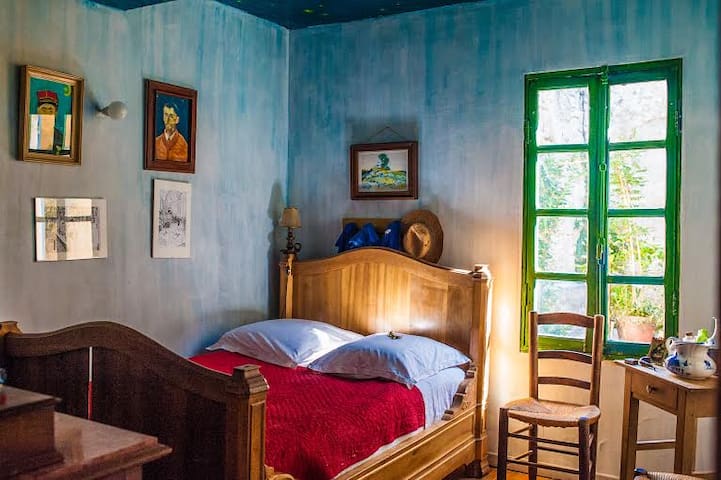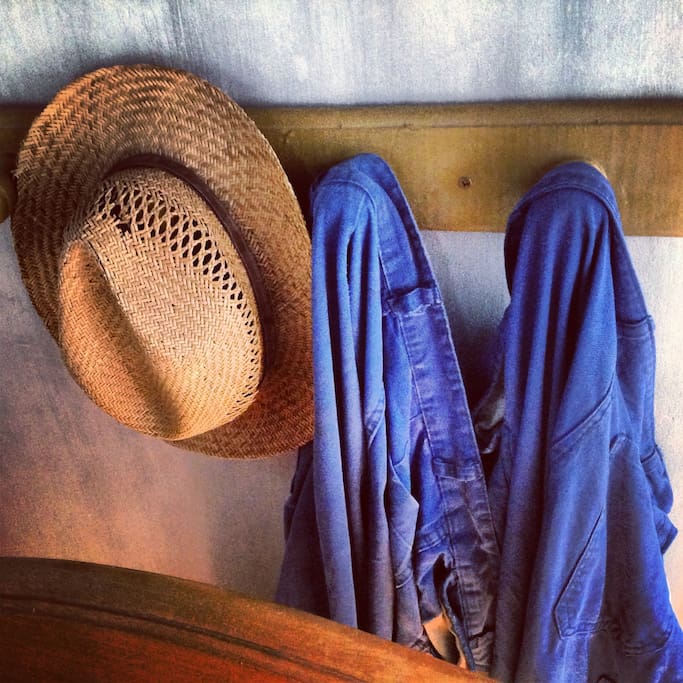 We very much enjoyed this unique home in Arles. Eryk is very attentive to details & helpful with suggestions for many options of sites to see in the region & wonderful restaurant options to fit your taste. Take note streets are very small and you must park blocks away, if you have a car, in metered spaces that require additional payment from 9 am to 7 pm. We would highly recommend this property!
---
After reading the great reviews on the awesome experience at this property and room with Eryk, my husband and I knew we had to book our Arles stay here! After a long day of discovering all the small Provencal towns in Provence, we were greeted with a welcome sign on the front red door of the building while Eryk hoped in the car with my husband to show him where the street parking was. Eryk's and his team exceeded our every expectation to make us feel welcome and at home; having a glass of wine and beer with us out on the peaceful terrace, showing us all his great restaurant recommendations (even making reservations for us), and sharing his story on how L'Aubergine Rouge came about. We were also fortunate enough to meet another sweet couple staying in the Vinyl room and ended up chatting with them for awhile. The room itself is just amazing! The attention to detail to replicate the Van Gogh painting is impeccable and all the vintage decor in the room and the entire apartment was wonderful to look at. Room was also very clean, with a private shower and toilet exclusively for the rooms house (located outside in the hallway). Location is just minutes to old town, the Roman Ruins, Theatre, and River. We ate at Le Kashmir, a new Indian restaurant and it was authentically delicious! If you're looking for a homebase to explore other towns or just want to explore the beautiful and historical Arles, you must stay here! The experience and memories you will get from this listing is like none other. Just all around, an exceptional place and experience.
---
Arles is one of my favorite towns that I've visited. The atmosphere of this Airbnb is wonderfully appropriate to its setting. I loved sleeping in a Van Gogh painting. Eryk was available, helpful, organized, and has given great attention to the details of his Airbnb. Everyone I met there was very friendly and welcoming. I highly recommend it .
---
I loved my "sleep in a painting" room! It was so close to the painting; comfortable and cozy. At first, I was disappointed that Eryk was away; as I had booked this specifically to have the experience he describes. However, Jamie was a lovely host with some amazing piano skills. He was attentive and informative; he made my visit a pleasure. We even went for a true French meal, as I had no clue what to order and my French is non existent. The rest of the house is comfortable with fantastic little details everywhere.
---
房源
Bonjour!
紅茄子民宿 B&B,18世紀建築改建的典型住宅,地處風光明媚的隆河畔、阿爾勒(Arles)的中心,300公尺外就是免費接駁小巴(20-30分鐘一班,火車站-博物館)、超市、麵包店、小商店,主要景點步行皆可到達。方便、寧靜、隱私、溫馨的兩套房一雅房。附Wifi上網。
紅茄子BnB(Bed and Breakfast),不只是睡一覺的地方,而是品味法式在地生活!

想體驗道地法式早餐嗎? 7€/人(phone number hidden)),專人為您準備的有機早點:宏都拉斯有機咖啡、錫蘭紅茶、普羅旺斯有機果汁、可頌、法國麵包、手作優格,手工果醬,營養麥片...可選
擇於房內、陽台或庭院使用,服務到家。

價格:
--文森梵谷房: (53€)置身梵谷畫裡想體驗梵谷當年的房間嗎?就是這裡!一樣的是景物不同的是時空,帶您穿越梵谷房,想像梵谷的畫筆在你眼前揮灑。專用衛浴位房外 (此房僅接受"手寫書信"預約!)
--紅茄子套:(63/68€) 附衛浴
--天堂套房:(99€)附衛浴、專用廚房、私人露天揚台

*另提供VIP接待:(15€/2人)事先預約VIP接待,讓您一踏進紅茄子就有美酒一瓶以及特色小吃歡迎您的到來。
您的滿意是我們的訴求,我叫Eric,會英語、法語、西班牙語、義大利文

期待與您美麗的邂逅!
Eric & Vincent
---
Bienvenue, welcome, bienvenido,歓迎,benvenuto,Bem-vindo,.Gast....
I'm Eryk a French guy living in France,Arles. I feel I understand the ethos of Airbnb and have been fortunate enough to have hosted some amazing visitors who I would now call my friends. Make my house your "home sweet home abroad".... Just waiting for you!

I hope to have the opportunity to meet you soon.

Thanks
If you have questions before your stay in ARLES, don't hesitate to contact us, we will help you organize your whole trip in Provence and around....Gay friendly and artistic B&B in the city center close to the river Rhône.
语言:
English、Español、Français