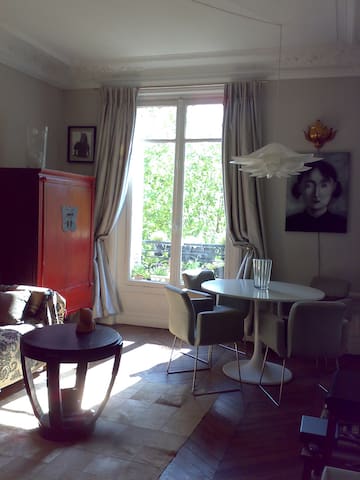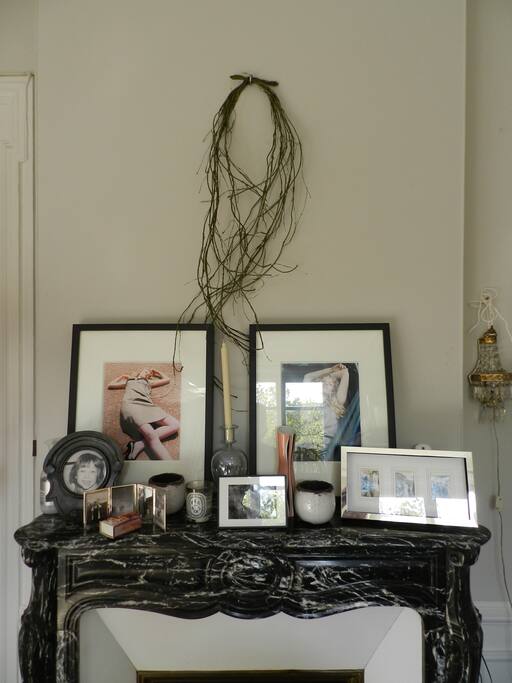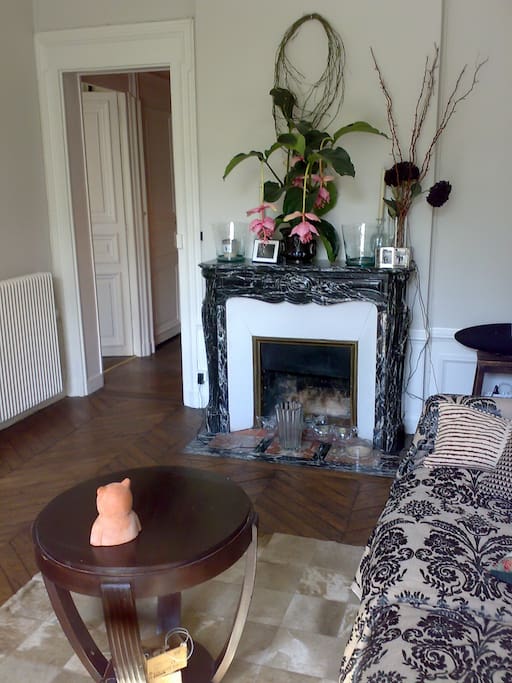 房源
Hello,

Our apartment is on the 3rd floor with a gorgeous view onto a charming Canal St Martin. Canal St Martin is known for its bohemian, romantic atmosphere.
Summer time ,this is the place where the French picnic on the banks of the canal.. There are lots of excellent restaurants and bars as well as trendy boutiques and bookshops..
It is also centrally positioned, within a walking distance to historical Marais known for its galleries and boutiques.

10 min walk to Republique metro station, 5 metro lines.

Furthermore, the flat is located just by the bus stop (line 75 going to Pont Neuf through Le Marais) and Velib's bike station around the corner (a nice, cheap and different way to discover the city).

Welcome to this "little piece of Paris", nice, quiet and typical of a French apartment of the 19th century with its old Parisian style.
Bienvenue!... and Have a great journey!

THE APARTMENT: Superb two-bedroom appartment, 70 m2 in a typical parisian building from the 19th century with an entry codee and an interphone. 3rd floor overlooking canal. Very bright and calm..Appartment has been professionally renovated and designed.

THE AMENITIES: The apartment is fully furnished to accommodate up to 4 persons. Quality bed linen is provided: sheets, duvets and pillows, towels and dishtowels.

Bedroom 1: queen size bed
Bedroom 2: pocket sprung upholstered stora bed (2 single sleeping places)

Living room: double sofa, dining table with 4 chairs, coffee table, radio-CD player, 42'' LCD tv

Kitchen: fully equipped with a fridge with freezer, a five burner gas stove, an electric oven, and dishwasher. All the dishes are provided as well as cooking essentials (salt, pepper, oil, tea, coffee, pasta,).

Bathroom: Bathtub and shower

PHONE AND WEB : broadband wifi access, phone with free unlimited landline calls to 70 countries.

CABLE TV

Cleaning lady provided once a week.

PRICING

1 WEE(URL HIDDEN)800 EURO
2 WEEKS 1550 EURO
1 MONTH 2500 EURO


---
---
---
We have a parrot, called Freddie who is looked after when we are away and there are guests, by our cleaner who comes when necessary.
---
---
Overall: great apartment in a great location, but Freddie (the parrot) can be a big undertaking if you have never taken care of birds. I stayed at Katarzyna's apartment on Canal St. Martin for about 3 weeks. We also had a special agreement: five of those days, her daughter (Lola) would stay in the 2nd bedroom, and that I also had to take care of Freddie for most of my time there. I love the Canal St. Martin neighborhood, and this apartment is right on it — steps away from all the restaurants, coffee shops, grocery stores, etc.. For a couple of nights during my stay, the young crowds drinking and hanging out on the canal were noisy late into the night. Katarzyna and Lola were very communicative over texts and e-mails throughout my stay. Upon my arrival and departure, I picked up and left the keys with the neighbor without any hassle. I really love the period details in this apartment: the moldings and wooden floors are my favorites. The kitchen and the bathroom are well-equipped and also decent-sized. The apartment looks pretty similar to the pictures, except that there is a huge bird cage in the living room. Having a parrot in the living room can be a problem if you try to have a nice quiet time, listen to music, or watch the TV. Cleanliness-wise, the rest of the apartment except around the bird cage is fairly clean. There are some fruit flies around in the kitchen and living room because of the exposed perishable bird food. There's a cleaning lady who comes to clean the bird cage twice a week, during which I had to leave the apartment, which was a bit inconvenient, especially the one time where she had to come in at 8:30am. I was given detailed instructions on how to feed Freddie. It was quite an undertaking for someone who has never taken care of a bird before. Freddie's mood can be up and down, as reflected in the noises he makes. Because I normally go to bed and wake up a bit late, there were times when I was woken up by Freddie. I eventually had to put Freddie's cage in the 2nd bedroom, which helped a bit. By the end of my stay, I was sad to leave the apartment, but I was glad I didn't have to live with Freddie anymore. In summary, everything about the apartment is great, except that living with and taking care of a parrot isn't as easy as I thought it would be. Unless you're a bird lover, all the positive things about the apartment will be overshadowed by hassle of taking care of a pet parrot.
Hello Purin, I am sorry you feel you had a few disappointments while staying at our apartment. Yes, I agree that looking after a pet can be a challenge at times - this was however agreed and both of us understood clearly, mutual conveniences- yourself, getting a preferential rental rate and ourselves lowering it, in return for you looking after our pet. This situation was however unusual as normally, Freddie (the parrot) is with us when the apartment is available for rent. We did our best to provide you with all the extra support , cleaner who came twice a week, to clean the apartment and the cage (not just cage as you mention), of course this service was free of charge to you. And yes, la femme de menage rules her schedule and we have to fit in with her timetable, so no excuse here this is what it is normally in Paris..I, however might question her, if according to yourself, with a cleaning lady coming twice a week to an average size Paris apartment, you rate the apartment 'the rest of the apartment fairly clean' - this is a bit unusual, as this is a high level of maintenance. I still hope that despite these small nuissances you have enjoyed staying at our apartment, at a very reasonable rate, which otherwise would have been out of your budget as you mentioned yourself. Nevertheless I will look at all the points you have highlighted to make sure that they are taken care of.
---
Hello,
I am a fashion designer, I travel a lot on business. Our home reflects who we are: interested in art and design, extremely sensitive to quality and aesthetics of our environment. I speak English, Italian, French and Polish.
语言:
English、Italiano、Polski、Português