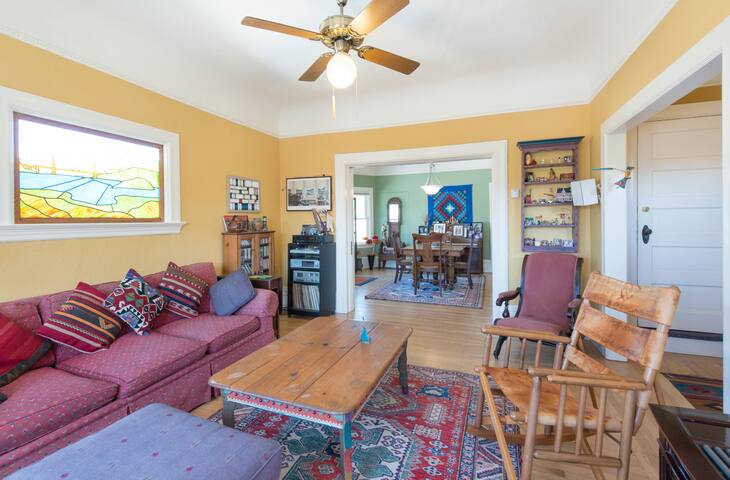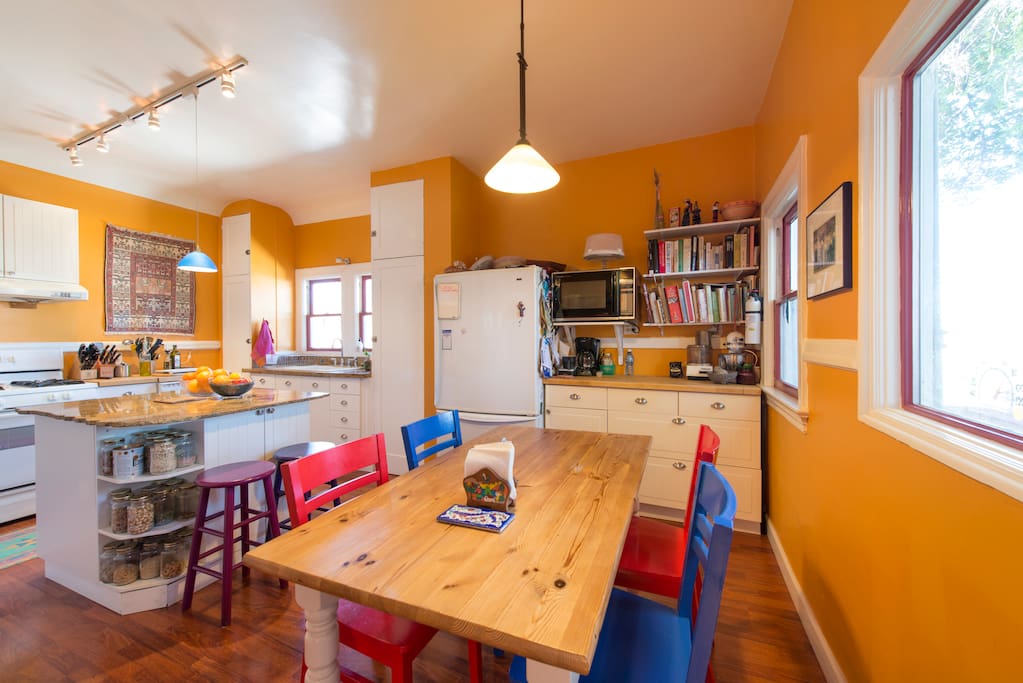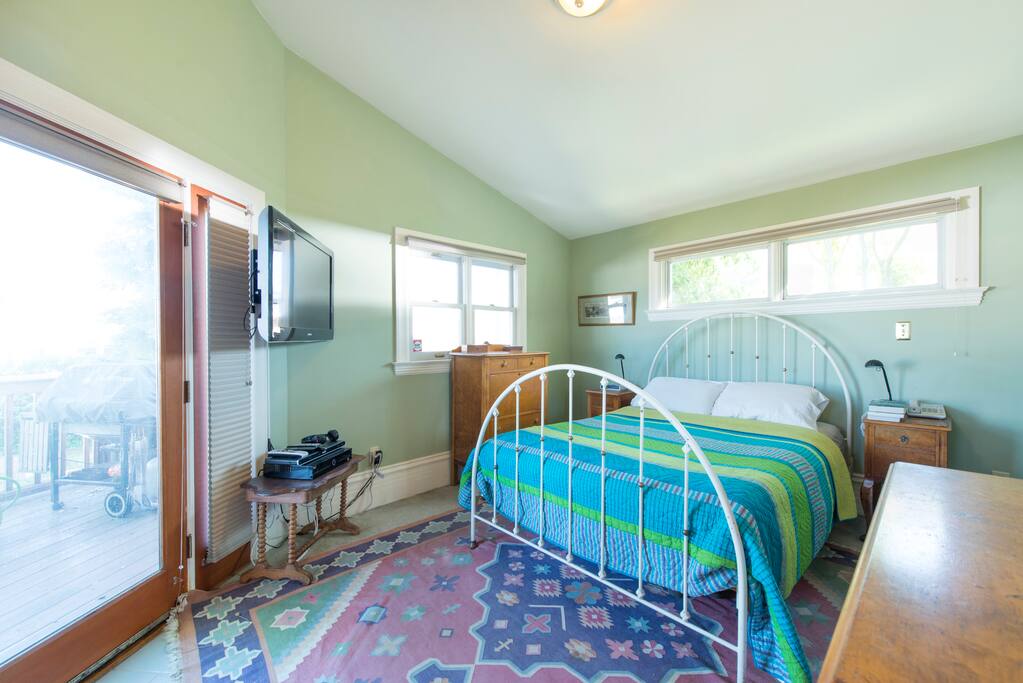 3 bedroom - 2 bath house in North Berkeley. Lots of sun, deck with barbecue, large private yard. Large kitchen, laundry, internet and TVs. Quiet neighborhood. Great location - walk to BART, university, shops, restaurants. Two family house.
房源
Great space with lots of light. Room for 4-5 people. 2 good size bedrooms with one queen and one double bed; the third bedroom has a desk and we can set up a double airbed in that room if needed. We have all the amenities that you will need.
Ours is a 2-family house so we have a neighbor downstairs who is friendly and quiet.
There is a large, private, enclosed backyard/garden with big redwood trees, a vegetable garden, a hammock and chairs to relax in. The downstairs neighbor does not share the garden so it is for your private use.
房客使用权限
The 3 bedroom house is for your use with private deck with barbecue, backyard, large kitchen, living room and dining room.
与房客的互动
We will be available by phone and have a friend in Berkeley who can take care of things if anything comes up.
---
We had a great time staying in Annette's apartment. The apartment is a located in a beautiful 2-story house located on a very quiet street. The location is perfect - it is close to downtown Berkeley, close to the BART station and very close to Trader Joe's. As a family with kids, we also enjoyed having several nice playgrounds just a few blocks away. The apartment is very convenient and well-equipped, had 3 bedrooms, a living room and a dining room, and a very large, comfortable, well-equipped kitchen. Having 2 bathrooms is also very convenient, and somewhat rare. I should also mention that the apartment is very beautiful, with colorful glass windows, wooden furniture and decorations everywhere. Annette also kindly let us use their grill and their garden. We did not meet Annette, but received very clear instructions on how to get in and how to operate everything; the communication was excellent. We would be very happy to stay in Annette's place again.
Maria and her family were great renters. Maria was responsive in communications at every step. They enjoyed the house and left it clean and in order. She even left me a bottle of wine with a lovely note! I would rent to them without hesitation in the future and recommend Maria and her family highly.
---
My family and I had a terrific experience in your home! Delightfully full of personal mementos and unique decorating really exemplified the 'Berkeley' experience. The home was spacious, had everything we needed including a grill on a very inviting deck in the back. Loved the kitchen- the granite island was so unique! Bedding was very comfortable, bathrooms were spacious and had all we needed- including hair dryers which I didn't expect. The location was perfect- within easy walking distance of TraderJoe's, many local shops and restaurants, BART, and two car rental agencies in case you need to rent for a day or two. Annette and Larry were very accommodating with our very late arrival time. Thanks so much for a great experience!
---
We had an amazing stay and a great experience with this location. We wish we could have stayed longer and would definitely come back and recommend this place! This location is perfect for a family or a couple. Lots of charm, beautiful soul, great tuned piano, gas fireplace, warm wood or comfortable carpeting everywhere, everything in amazing shape (including the beautiful kitchen sink and gas stove). Very welcoming, we loved the rocking chair and the Golden Gate Stained-glass window. Loved the decorations. Loved the way all rooms can communicate with each other. The kitchen is fully equipped and perfect. Very comfortable beds with comforter and silk quilts, soft sheets. We were there as a couple with a baby and a 2 year old. Our host found a portable toddler bed for us which was amazingly helpful. We used the big middle bedroom as room and playground for the toddler and used the study as bedroom (with the extra large mattress on the floor provided by host) which made it very safe and comfortable to co-sleep with our baby. We didn't use the end bedroom (which gives to deck and garden). Very convenient and large laundry room. Hosts were perfect and very available and very helpful even though it was Thanksgiving time. I don't think anything can be improved. We had the opportunity to briefly meet the downstairs neighbor, very nice and helpful, who didn't complain about any noise our jet-lagged family might have made. Three details that might be helpful for other visitors which may have different needs than us (to us it was perfect): - we rented the place in end-November when the weather was sometimes cold-ish (Berkeley-wise, so 10-15°C). There are only two heaters in the place (living room and middle bedroom), which means that for all rooms to be warm you need to leave the doors open. This was fine by us as we're a family and didn't mind the open doors, but it might be inconvenient for people renting the place who might need more privacy. - The dishwasher is a portable one, which means you need to roll it off the wall and plug it to the sink, making the kitchen sink unavailable while the machine processes, so you need to anticipate the cleaning before launching the machine, which is not very convenient. However, it was very clearly explained when we arrived and simple to use, and we didn't use it everyday, so it made it OK for us. - Even though the house is indeed very quiet, the study (not the other rooms) is weirdly noisy at times (evening/morning), sound coming from TV or neighbor (next door or underneath?). However, even though we are very very sensitive about noise, it was not at all a deal-breaker (maybe because jetlag made us tired or maybe because it wasn't that loud/long). I would recommend renting a car online at the airport as it's way cheaper than locally plus you save the shuttle money.
---
There is everything you could wish for in this lovely house: 2 bathrooms, 2 bedrooms, a very nice kitchen (with microwave / oven / toaster / kettle / dishwasher / all the pots and pans you can dream of, etc.), a wonderful deck, etc. The location of the house was also ideal: it is walking distance from the campus / Shattuck / Telegraph, with a park with a playground nearby, and it is very quiet too! Annette and Larry are great hosts, who answered all the emails we sent very fast, and tried to help in every way they could (they even found a pack n' play for us even though they do not have any grandchild yet!). We only wish we had known there was a neighbor downstairs when we booked the house, as we could have made sure in advance that having a jet-lagged two-year-old was not going to be a problem. That said, the neighbor was charming, and our daughter not too noisy (we hope!!). We would definitely come back had we the chance!
---
We are two social workers, one retired. We love living in Berkeley and enjoy hiking, biking and kayaking. We have two grown daughters who live nearby.