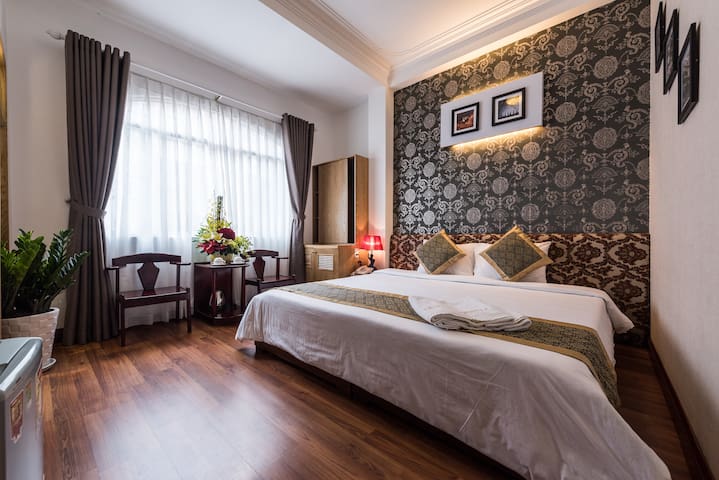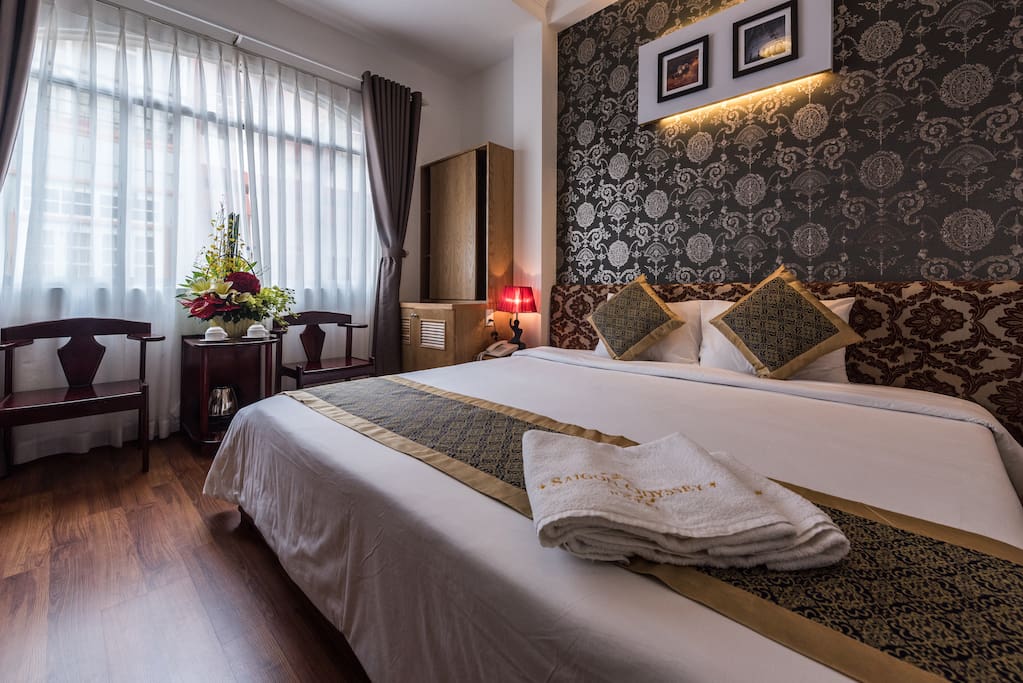 Very comfortable, cozy, clean, well decorated, useful, internet access wifi, feeling home, quiet & moderm.
Nice, clean hotel in the "travelers" quarter, which is a great location for foreign travelers. Great service, including laundry service for only $2 per kg of clothes. The staff is friendly and give useful activity recommendations. Night time is a bit noisy during the weekends due to near by parties. Week days are fine though. Also has a spa shop in the first floor, convenient after a long day of walking.
---
데탐거리에 위치해 접근성이 좋고 가격도 합리적이나 욕실이 노후되었고 세면대에 개미들이 있음
---
Stayed a week was on the first floor!! Space was like the picture. Pretty comfy bed, little loud some nights, ear plugs did the trick, super cold a/c, black out blinds. Hotel staff made the bed & changed the towels daily. Staff in the lobby are helpful & always available. Very close walk to anything you would need. Little fridge, tea kettle is a nice addition for some snacks, hot bevi. enjoyed the breakfast bowl of Pho if you choose that staple. Would stay again.
---
Quick check-in, room was basic but comfortable. Air con worked good. We were on the 4th floor of 5 so had to climb 4 sets of stairs. Not a big deal but something some ppl might want to consider. A porter carried our bags up which was nice. Location is great, rooms are quiet but hotel is right in the midst of restaurants & massage shops. Overall good 3 night stay.
---
Dzung and the rest of the staff at Saigon Odyssey were absolutely wonderful to me! From the minute I arrived, they made sure they suited my every need. I also loved my Deluxe room so much, especially with the balcony because of the great view of the buzzing Backpacker's District. Breakfast was lovely every morning and I miss staying at this place already. Thank you to everyone who made me feel so welcome! I hope to visit again soon! :)
---
The Warmest Greeting from Saigon Odyssey Hotel ( The Old name: Saigon Sports 1 Hotel, renovated in May 2015 ), I am Pham Thi Dzung, Manager of Saigon Odyssey Hotel, Nice to welcome all the guest in all over the world to stay at our Saigon Odyssey Hotel. We hope that you will feel our hotel like your Home Away From Home.
语言:
English、Français