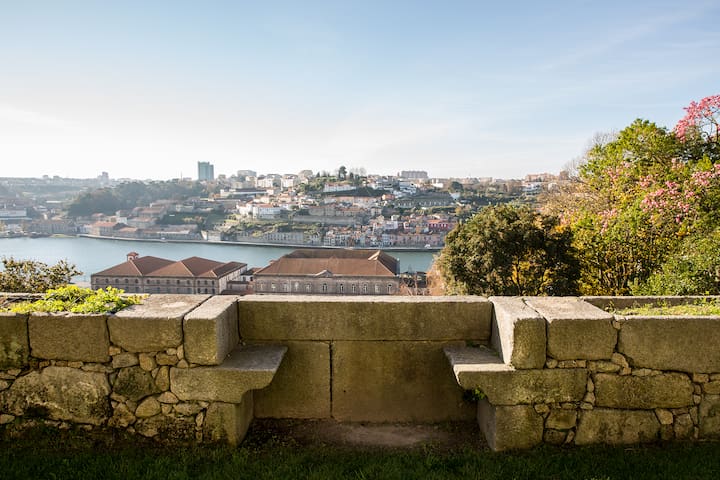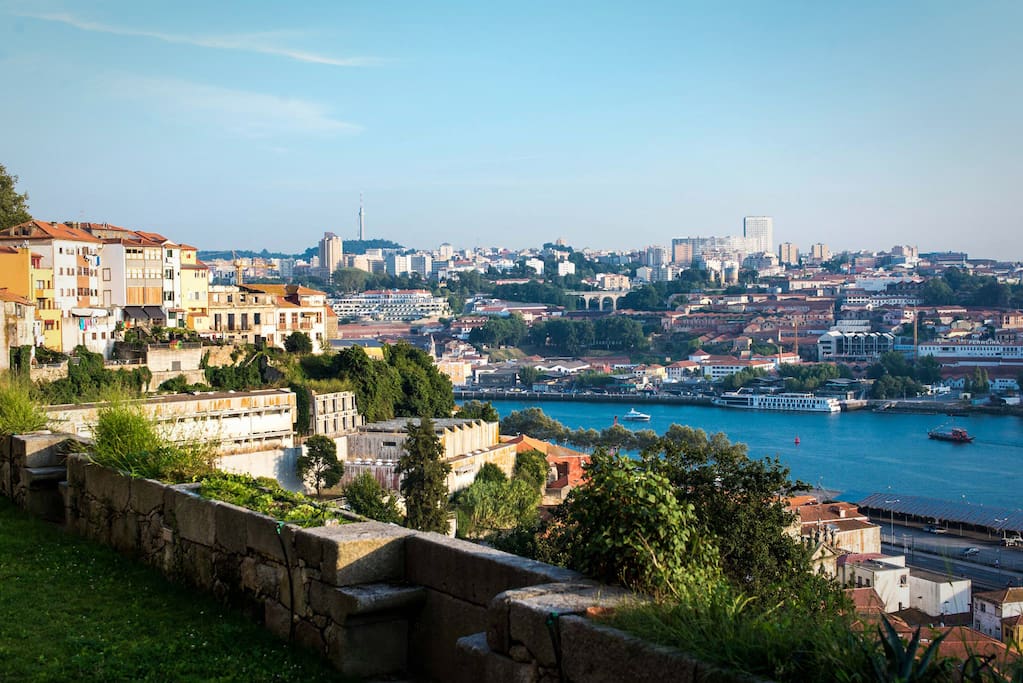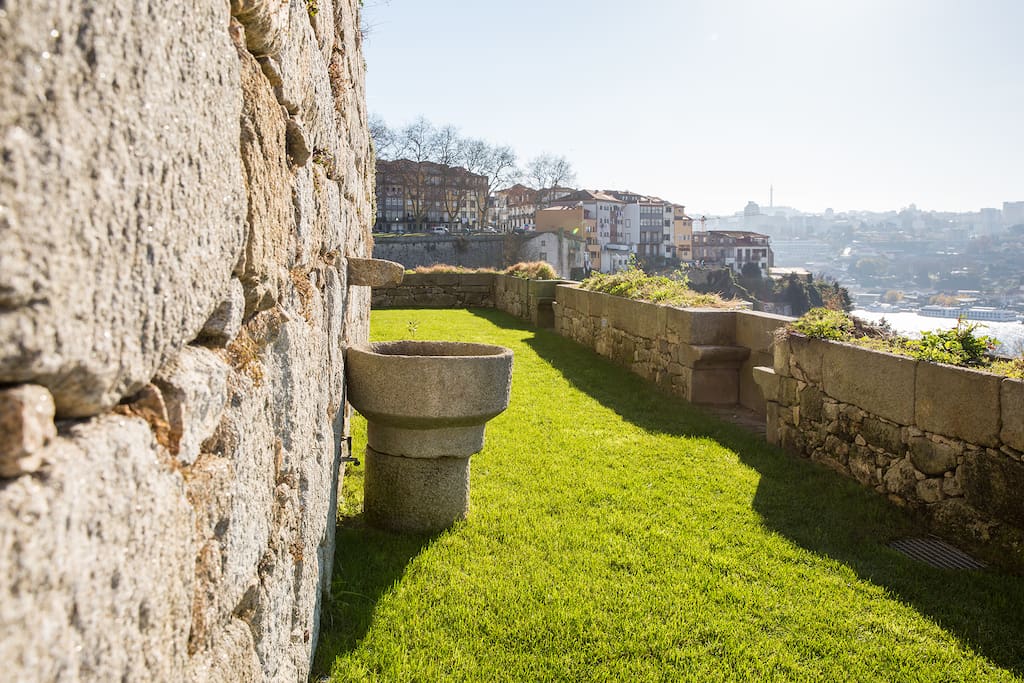 Hi Maria~ We've been home last night and sorry for the late comment~ [ABOUT THE APARTMENT] 这间屋子使我们旅途中最正确的选择!它的位置优良,步行前往景点方便;它有一个让人震惊的美极了的庭院,在庭院里、阳台上甚至窗前你就可以看到波光粼粼的杜罗河和两岸的橘色屋顶们,漫天海鸥、晨光弥漫时在屋里就被这个小城醉到了;它的室内装修也非常的简洁温馨且实用,我女儿在波尔图持续生病,我们一家就一直未出门,我们用装修精良方便的厨房做饭,女儿在客厅手工地毯上看迪斯尼频道,我们的卧室也非常明亮舒适,太喜欢在房间里睡觉的感觉了~ The house with a wonderful view is very cozy, clean and well decorated, it has a fantastic courtyard and balcony of a amazing view of the whole town and the river. The position is great for walking to all the scenic spots in the town. [ABOUT THE FAMILY] Maria和她的家人都非常热心,他们帮助了我们非常多!我女儿生病时,Maria坚持带我们去医院,帮助我们和医生沟通,一直等到深夜;Maria的先生开车载我们去超市采购当地食物;他们的小女儿很热心地给我的女儿送来她的玩具……然而我们离开时来不及多跟他们说声谢谢! Maria and her family is warmhearted and helped us a lot! When my daughter was ill she drove us to the hospital and translated for us at night, her husband drove us to a big supermarket and introduced local food for us, her children are also accommodating that the sweet girl lended her toys to my daughter. Thank you so much, Maria!
---
Maria and Fred were amazing hosts! Their home is beautiful, well kept, and in a prime location to explore Porto. On our first night, Fred provided a ton of great suggestions for places to go in the area. If I ever go back to Porto (which I hope I do!) I will definitely be staying at this AirBnb again. I would recommend it over a hotel room any day!!
---
If you are traveling to Porto and don't stay here then you are a fool. This was the single best Air BnB experience I've had. From our arrival when Luis greeted us with a bottle Port to when we left everything was perfect. We've already recommended it to another friend who is going to the city. The apartment is a good size and very clean. Wifi worked great too. The garden is the highlight. Maria and Luis could charge for that view!! STAY HERE AND THANK ME LATER!
---
Our hosts and their family were lovely. Separate apartment in an owner occupied building. The host helped us with directions to all the sites and recommendations to resturant. Great communications. Location was close to the sites but not in the middle of the noise and commotion. House was on a hill so when we were having lunch at Taylor's we could see the building. Had a great time!
---
Wow! The apartment itself was newly updated, very clean and comfortable. The view from the apartment is unreal! And the outside space for our kids to play and to have an outside dinner was amazing. Maria and her husband were beyond helpful and settled us right into their home and city. We can't wait to come back to Porto and their apartment again.
---
Lovingly restored historic XVIII century apartment (70 sqm, second floor) with a unique garden and magical views over Douro river. It is located at Porto UNESCO World Heritage Site, a perfect spot precisely at heart of the city.
房源
The house is prepared to host children and babies (with high chair and crib).
房客使用权限
You could use part of the garden. The whole garden only if it is available.
与房客的互动
The owner lives in the same building. One of the family members will be present to advise and make sure that your stay will be unique and a memorable experience.
其他注意事项
A House With a View is a reputable, legally registered and recognized rental, fully registered at Turismo de Portugal, under the number 21443/AL and supervised by the local authorities, Camara Municipal and ASAE. This accreditation can be checked any time at Turismo de Portugal database. Of course, the best independent proof of our quality is the reviews from our previous guests, which you are invited to read in our page or when making a reservation.
In accordance to the Portuguese Immigration and Borders Service (SEF) you will be asked to fill in the Accommodation Bulletin prior to staying in this apartment. The SEF accommodation bulletin is intended to monitor foreign nationals in the country. All foreign citizens, including nationals of other member states of the European Union, must complete an accommodation bulletin when staying in a hotel, tourist resort, local lodging establishment or similar tourist accommodation.
Check-in from 16h-22.00 (late check-in 25€) and check-out before 12h (may be arranged differently if agreed previously)
---
---
---
1. Treat the apartment as if it is your own home
2. Smoking is not allowed inside but you are more than welcome to go outside to the balcony and enjoy the scenic view :-)
3. Pets are not allowed
4. Check-in from 16h and check-out before 12h (may be arranged differently if agreed previously)
5. Minimum stay of 2 nights
6. Switch off the lights and electrical equipment when leaving the house
---
---
---
---