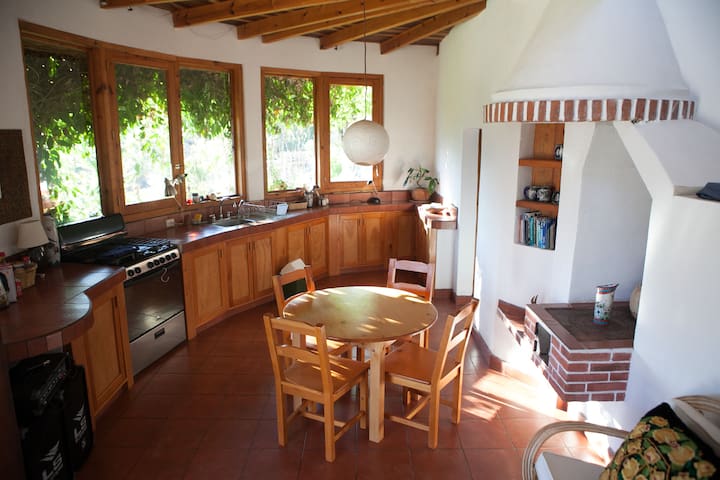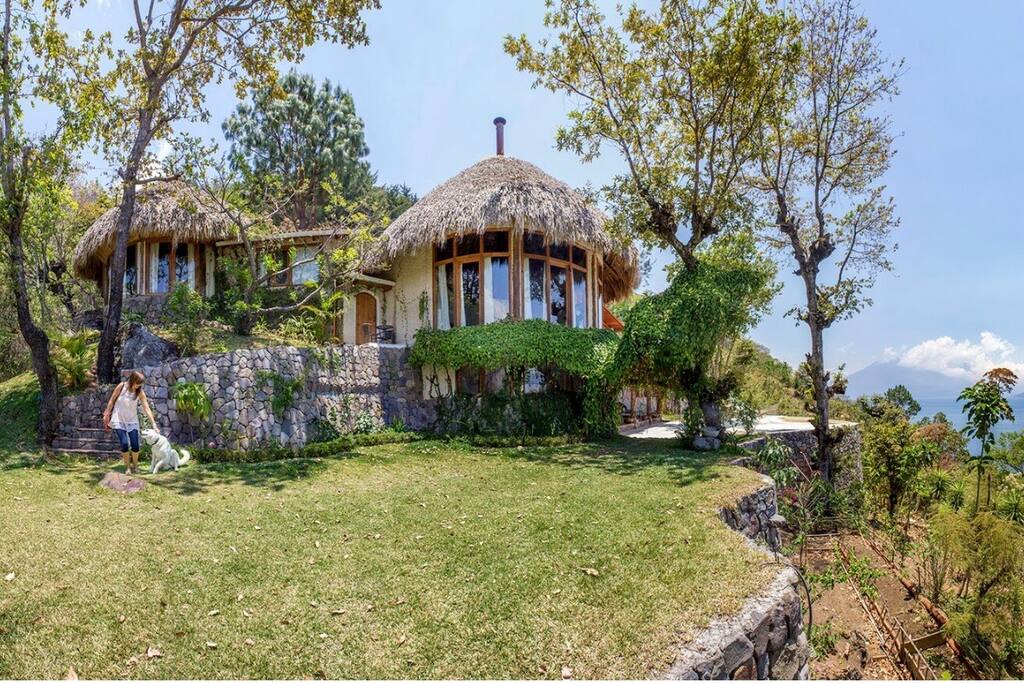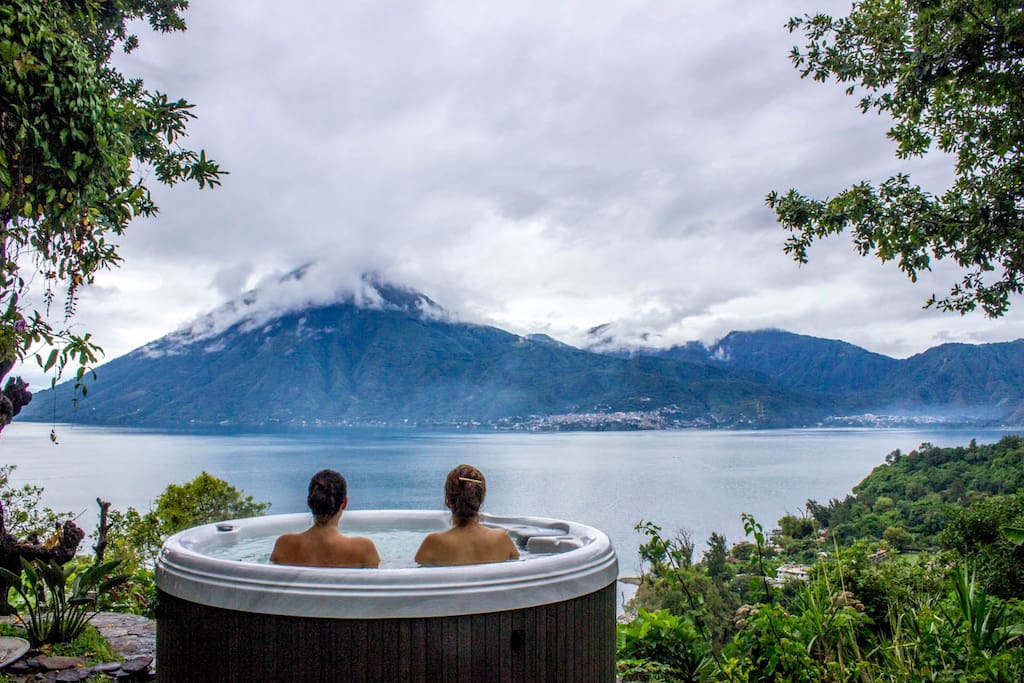 Mountain Lodge with Breathtaking views & Jacuzzi
Mountain Lodge with Breathtaking views & Jacuzzi
"Casa Julia" is located on a mountain site 10 min. walk from the center of San Marcos La Laguna, overlooking the lake and volcanos. The Lodge has 2 stories - including large spacious circular lounge, master bedroom & bathroom, beautiful kitchen, panoramic terrace & outdoor deluxe hydrotherapy jacuzzi acces, as well as a daytime guardian.
---
---
---
---
Bed linen, towels, water, electricity, and gas are included in the price.
The cleaning woman cleans before your arrival and after your departure.
The use of the Laundry washing machine in the Guest bathroom is not included in the rent. Please arrange directly with the cleaning woman to wash your laundry manually.
---
---
---
---
The house and the views are amazing. It is quite a surreal experience sitting in a hot tub overlooking the lake and a volcano. We loved the setting and the kids loved exploring the area. There were some drop-offs and no guardrails which stressed my wife out with our adventurous 3 year old. It is quite a trail through the woods up to the house. The house dog was a fun surprise for the kids.
---
Absolutely gorgeous mountainside setting. Beautiful, unique design, high ceilings, palapa roof, indoor fireplace, nice huge hammocks. Stairs / path are VERY challenging and steep, especially in rainy season. When the weather is cloudy there is only very COLD water for bathing or washing dishes, had to heat water on the stove to bathe with on multiple days in June. Location is high elevation and weather gets chilly, house is cold at night if you aren't prepared with sweats, socks, slippers, etc, especially in bathroom when no hot water available. Luckily the jacuzzi was nice and warm. Wifi worked pretty good most of the time. Very nice groundskeeper (only Spanish speaking). Cute & friendly dog made us feel safe, although she barked and howled a bit at night. During our stay we needed to buy basic necessities like cooking oil, sugar, paper towles, & dish soap. There is only ONE bathroom and ONE bedroom, which is a challenge for any more than a couple. Toliet paper isn't put into the toliet, which is common in this area of the world, but might be a surprise for some. We met rodents inside on multiple occasions. Overall it was a good experience and owner was communicative and nice, but house could use a bit of improvement and maintenance.
---
La casa de Julie es un lugar mágico. Verdaderamente hermoso, alejado del pueblo pero eso le da la tranquilidad que uno busca. Fuimos con una bebe de un mes y no hubo ningún problema. Para llegar tienes que estar en forma pues hay que subir una montaña!
---
We had a fabulous time at casa Julie! The villa is nestled into the hillside with the most breathtaking view of the lake. The home is stunning and spacious, equipped with in home hammocks and lots of charm. Julie was such a sweet and accommodating host that also helped with booking transportation back to GC. Loved our 3 nights there and were sad to leave! As she mentioned in her description, the steps up to the property are challenging, but worth with the trek.
---
We stayed in the "Beverly Hills" home of San Marcos! Highly recommend this home to anyone who can climb stairs. The stairs were not to be taken lightly- really : (URL HIDDEN) (here's a video for a visual representation :-) of the stairway to heaven. View was incredible, jacuzzi was exhilarating, beds were super comfy. 5 star lodging for a 1 star price!
---
La casa de Julie tiene una vista asombrosa. Es un lugar tranquilo que te permite descansar y apreciar la belleza del Lago de Atitlán y sus volcanes. La casa tiene todos los servicios, comodidades y es muy acogedora. Ver el atardecer en el jacuzzi es una muy grata experiencia. La llegada es dificultosa, pero cuando por fin llegas y ves la vista, ha valido la pena totalmente el esfuerzo de llegar. Su perra Milly es adorable y muy bien educada. Seguramente, regresaremos en otras vacaciones.
---
Hello !

I am a Danish woman living on the Lake Atitlán, in Guatemala.
Living here keeps me alive and awake. Every day is an adventure.

In Denmark, I worked in the Film industry for 20 years as a Director and Screenwriter.

While at the Lake, in my house, I am facilitating retreats and workshops in "The Work of Byron Katie"

My house is built in a traditional, local building style, with natural materials from the land. It's made to blend in with nature. The hot water runs on solar panels, and all water is filtered.
You can sit forever up here (or in the Jacuzzi!), and look across the lake and the volcanoes surrounding it. It has to be experienced - a perfect spot for retreats and creative working.

I have three different listings on Airbnb. You can rent the whole house or parts of it. Check out options by searching these listings:

Eco Mountain Villa with Stunning views & Jacuzzi
Mountain Lodge with Breathtaking views & Jacuzzi
Bungalow with outdoor Jacuzzi

I am flexible and open to discuss other arrangements.

Looking forward to meet you!
Julie

语言:
Dansk、English、Svenska