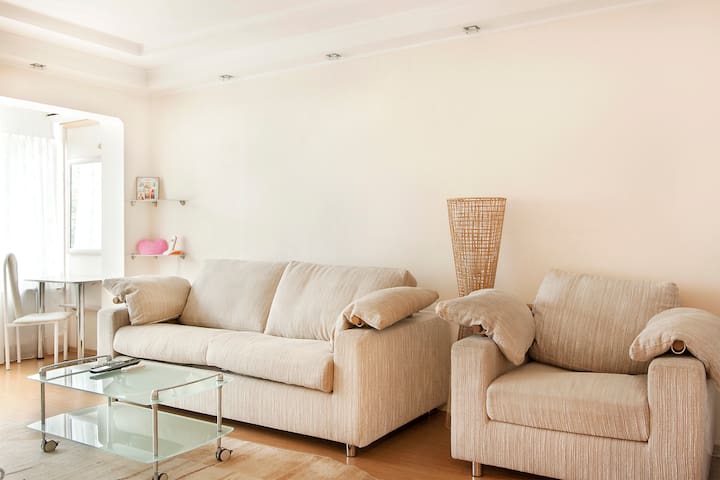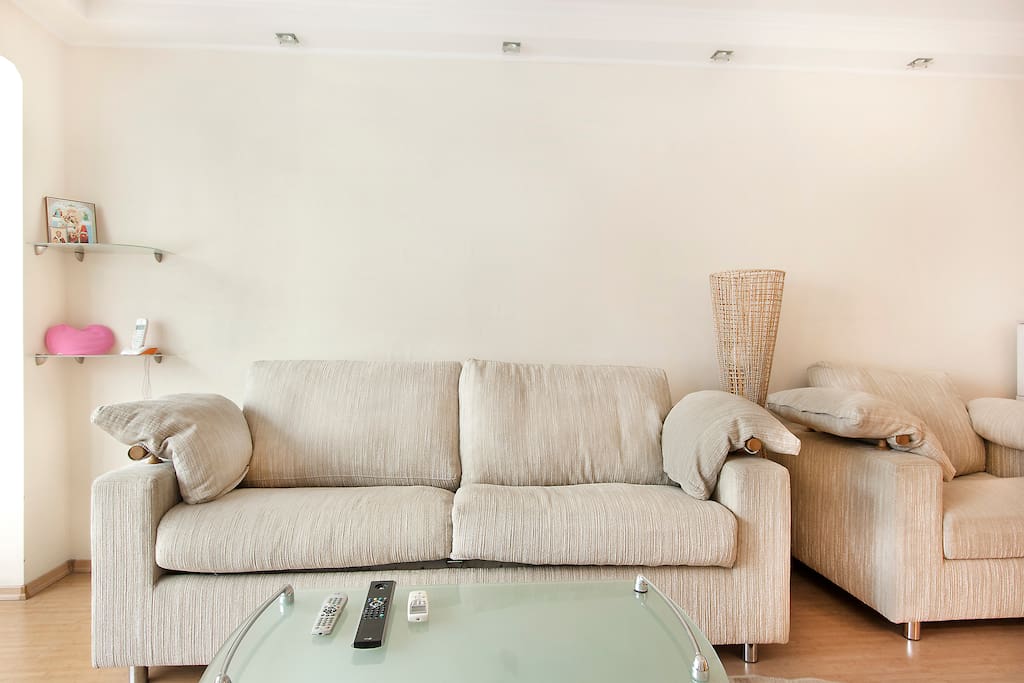 房源细节
Available for rent luxury apartment close to the Metro Palace Ukraine.
The apartment is neat repair. Beautiful bright colors and sunny side, where the windows create a cozy atmosphere of in the apartment. The windows have shutters, so the extra sunlight will not be a problem for you and you will be able to adjust the lighting flat.
Bed - a sofa bed. Decomposed into a sofa bed size of 160 * 200, it can easily accommodate two people. The basis of the sofa - orthopedic mattress, so the comfort of a sofa is the same as the bed.
The apartment has everything necessary for cooking and eating. There is air conditioning and all appliances.
Surrounding streets: Chervonoarmijs'ka, Horkogo Shchorsa Laboratorna, Anri Barbyusa, Patrisa Lumumby, Bozhenko, Fedorova, Telmana.
房客使用权限
You can use all at the kitchen, washing machine, hair-dryer, iron, iron board, air conditioner, microwave, refrigerator, bed lines, towels.
与房客的互动
Manager will meet with you at time check-in and check-out. you rent apartment complete
The apartment can accommodate as many people as stated in the booking information.
In an apartment you can not make a noise, loud music.
Smoking is allowed only to ladder platform between floors, but not in the apartment
The apartment is not allowed to sit with domestic animals unless agreed with the owner
Cannot speak of Yuri, we only saw him when he gave us the key & we spoke briefly on the phone 3 days before departing about time of departure! No cleaning during the 13 days I staid! I did it))Flat location is super, central & quite!Flat clean but this is all for the positive!Flat is truly miniature, maybe 20m² in all!Sofa bed does not close as Yuri, probably as original matrass, placed a 2nd matrass on top, so now all day long its open & occupy a good 30% of the already small room(15m²). you either sit in the single armchair , on the bed or in the kitchen. It Kichen is fine for 2, but equipment is poor!1 cup, No soup plates or bowls(in Ukraine!!!!), 1 tablespoon.I bought some more at supermarket, but plenty of knifes)))3 different glasses, one being broken! We had the visit of a cockroach, but only 1 & in old Kiev flat, not surprising! nothing to say about bathroom!It was fine!Yuri gave only 1 key which made it a headache as my firnd and I had different schedules! But maybe if we had asked Yuri??But what does it cost to straight away give 2 keys! My girlfriend was the one to meet Yuri for the key & he did not offer! The flat includes 2 balconies integrated to the rooms, which, even with insulation make it cold!Luckyly when it was -14, there was an electric heater! My conclusion is that it would take so little to make it a fine place to stay, attention a alittle investment in new matras and kitchen ware! Now I give it a 4 on a scale from 1 to 10
---
The apartment was modern and in good repair. Location is good with supermarket not too far. Downside? It was difficult to get hold of Yuri on my arrival at the central Train Station, even though he knew of my imminent arrival...very frustrating if you are a stranger to the city and not speak the language. In the flat, there was laundry that had been left drying on a rack. Cooking utensils and cutlery very limited. We had to buy some plastic disposable knives and forks... Neither TV's worked...or at least we were not able to get them to work. I again tried to call; but again there was not reply to the two number I had and gave up!! The sofa bed is very uncomfortable with a very thin mattress...Apart from these very trivial items. We enjoyed out stay in Kiev. Yuri.... spend a few hryvna for the comfort of your clients...
---
I already rented several appartments in kiev,but this flat is luminous with good localisation next the center! Yurii is pleasant and try to explain everything about the flat!
---