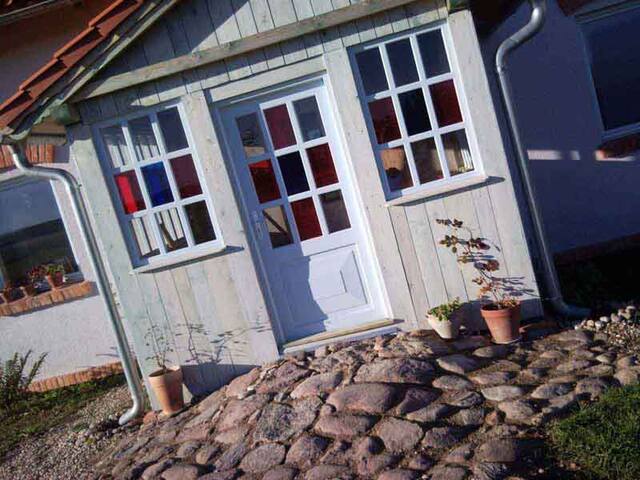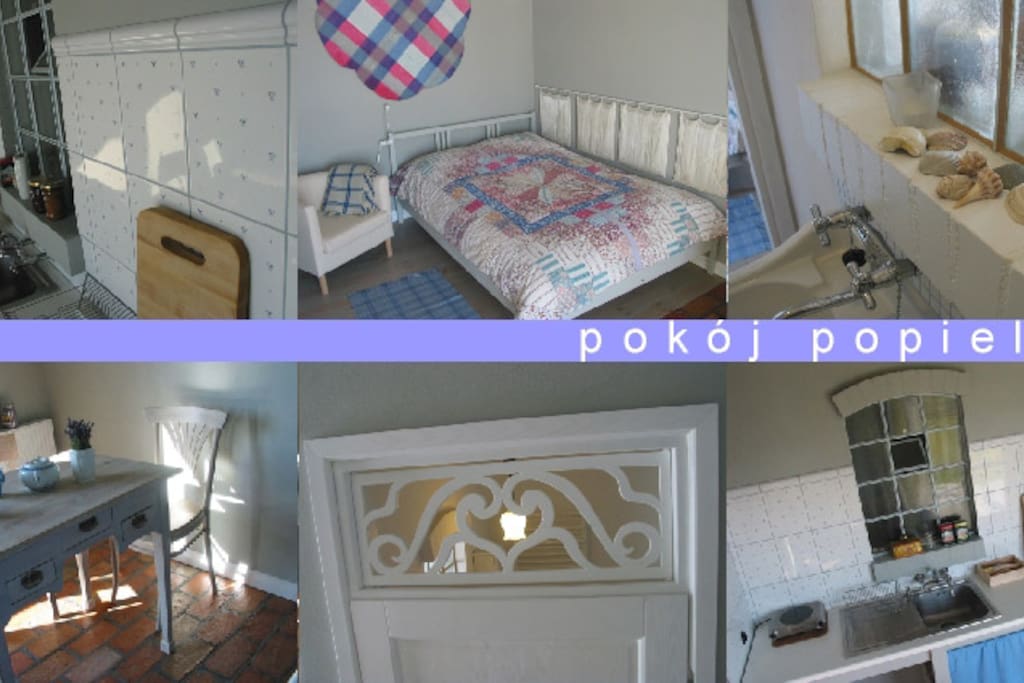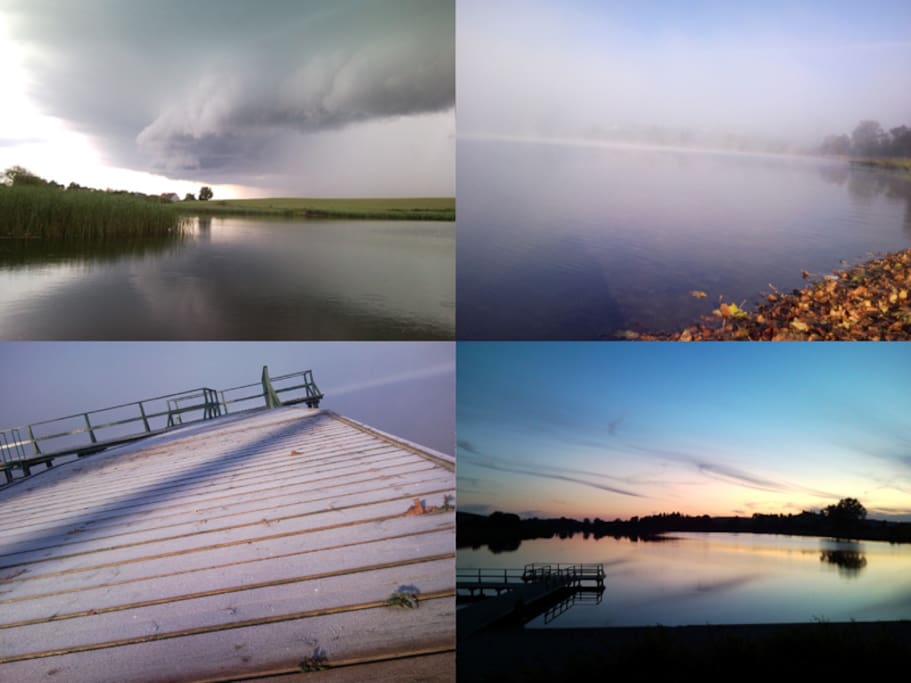 房源
THE GREAT PLACE - It 's a place anyone would love to visit. We love it here so much, we never left. You will find more than a cozy bed here. You will find an intimate atmosphere and memories you can take home with you…
WHERE – in the heart of the beautiful lake district of Warmia in the picturesque lakeside village of Tlokowo with a charming small town of Jeziorany nearby
YOUR BEDROOM - a comfortable room with a lakeside view, double bed + sofa bed
YOUR BATHROOM – each of our apartments is equipped with a bathroom
YOUR DININGROOM – here's where you will start each day with a delicious breakfast
YOUR TERRACE – just a step outside of the dining room with a view of the lake
CUISINE – you will taste delicacies prepared by Ewa Pe (URL HIDDEN)
YOUR KITCHEN – a kitchen is available if you prefer to make your own meals
WALKS- unending meadows and hills along gorgeous country roads
SAUNA - traditional wooden sauna with bathing facilities
MASSAGE - classical full body massage available on site
SKIING – cross-country skiing on frozen lakes or ski-lifts in Lidzbark (20km), Ruś (40 km), Mrągowo (51km)
BEACH – just 150 meters from your apartment where you can canoe, windsurf, and sunbathe
BICYCLES – available for you at any moment for rides on easy and picturesque bicycle routes
LAKES - there are more lakes close by if the one here isn't enough
FISHING - great fishing facilities
MUSHROOMS – during the mushroom season, there are plenty to pick in the nearby forest
WORKSHOP – the owners are leading textile and fashion artists you are free to see their collections and even work on art together (URL HIDDEN)
MAKE A SHIRT OF YOUR OWN DESIGN - you can create a shirt of your own design in our atelier
The REGION – The Great Place is located within reach of historical sites, villages, small towns, as well as castles and cloisters
PETS – pets are welcomed
ATMOSPHERE – please do visit our "great place"; here you and your partner will feel comfortable and free
WEATHER – is changing but the sky still surprising with its beauty
VILLAGE SPA - on our friend's farm nearby a former poultry-house
become a village spa. Kate is professional and will offer you a steam sauna, mud massage and other cosmetic treatments
HORSE-RIDING - only a few km away "stajnia Elf " -a stable and a horse riding school, offering horse rides through the forest or a horse cart rides

---
Artur and Tomek's place is out of this world, literally. Situated in a bucolic setting amidst colorful fields and lakes it is a dream for a painter or a writer or just an artist of life. The studios are beautifully designed and superbly comfortable. The views from the windows...I already talked about that. And oh what delicious food they serve! Their breakfast baskets are fit for a king, and so are their four course dinners which are delivered to your suites! We all fell in love with the place as well as the hosts. We shall return!
---
Our stay at Fajne Miejsce was the highlight of our trip around Poland. Artur and Tom could not have been more perfect hosts, whenever we asked a question, they provided information and sometimes even a map. They even gave us a ride to Olsztyn, where we were to catch our train.The food was very delicious and plentiful, I recommend ordering meals! The setting is very beautiful, a great place to relax! Thank you, Artur and Tom!
---
Ich kann mich den begeisterten Kommentaren uneingeschränkt anschließen! Wir verbrachten wunderbare Tage im "great place", einem Ort an dem man sehr gut entspannen kann und gerne länger verweilen möchte! Frühstück auf der Terasse mit Blick auf den See, Sonnenuntergang vor der Haustür, Fahrräder und Kanu zum Ausleihen, Hängematten und Grillplatz im Garten, Gemüse und Eier vom Bauern um die Ecke und: tolle, engagierte Gastgeber, die immer hilfsbereit sind und gute Empfehlungen für Ausflüge geben. Highlights: eine fünfstündige Kanutour auf der Pisa, ohne eine Menschseele zu treffen und das leckere Frühstück am letzten Morgen; ) Sehr zu empfehlen! Wir kommen bestimmt wieder!
---
Wir hatten eine gute Zeit, wenn auch sehr kurz. Die Unterkunft war wie beschrieben, wir fanden nur nicht gleich die richtige Adresse. Wir wurden aber herzlichst empfangen. Ewa kümmerte sich um unsere Anliegen und ihr veganes Abendessen und Frühstück war eine besondere Erfahrung für uns als Fleischfresser ;-). Es hat uns sehr geschmeckt. Der perfekte Abschluss unseres Aufenthaltes war die Sauna. Wir haben es sehr genossen.
---
It is not just the great place - it is the perfect place for having a holiday full of relaxation, beautiful nature, charming accommodation and tasty food all around - directly from the tree or cooked by Ewa! Thanks to Artur and Tom for creating and sharing such a paradise. I strongly recommend Fajne Miejsce to everyone who is interested in the real "all in" thing ;-) // Es ist nicht nur ein großartiger, es ist der perfekte Ort für Urlaub inmitten wunderschöner Natur in charmanten, geschmackvoll eingerichteten Räumen - Entspannung pur und leckere Lebensmittel überall frisch vom Strauch oder gekocht von Ewa! Vielen Dank an Artur und Tom, dass sie so ein Paradies geschaffen haben und es teilen. Ich empfehle Fajne Miejsce allen, die unter "all in"-Urlaub das Richtige verstehen ;-)
---