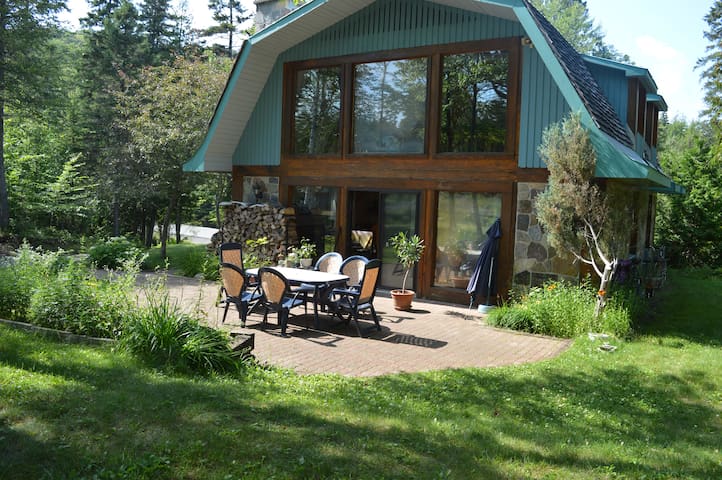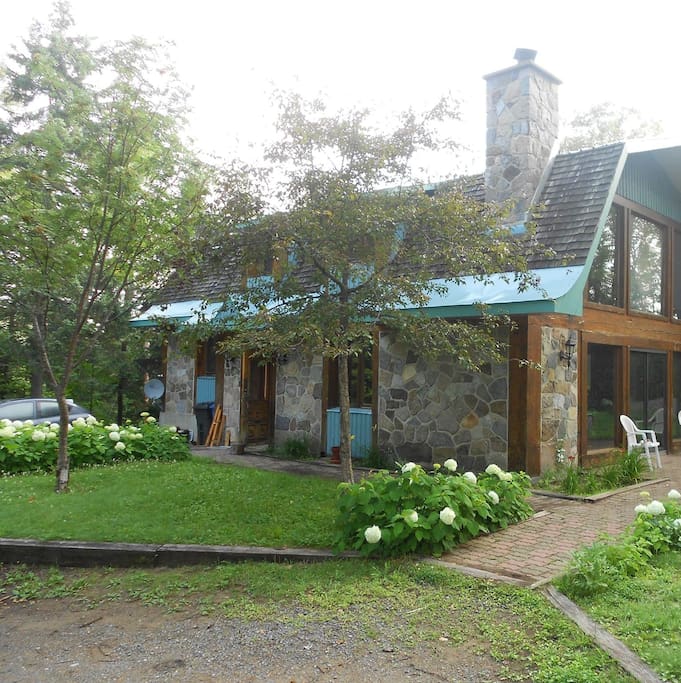 The perfect space to retreat from the city with family or a few friends or even to resource alone. In the heart of the Laurentians, surrounded by a beautiful natural landscape with walking paths in the backyard while being near many local attractions.
---
We had an absolutely wonderful time. The house was so cozy and welcoming, with plenty of room to relax and play. Our kids (ages 8 and 4) felt completely at home, and loved the decor and wooden toys, the swing and sand-pit and flowers, and the hammock (we ALL loved the hammock). There's so much room to explore and play, and it's wonderfully quiet and relaxing. We spent a lot of time outside, exploring the grounds, and even had a campfire one night. Our city kids were thrilled to see the stars so clearly :) And the weather was great, fresh mountain air and not too hot (although I think we came during mosquito season). Katya and Bertrand were excellent hosts; they provided plenty of instructions and suggestions for the area, and respected our privacy but responded quickly if we needed them. There's lots to do in the area, and we all had a wonderful time, and hope to come back again soon.
---
Katya and her family were extremely welcoming, warm and helpful. Their place is really charming with lovely gardens and surroundings, very close to the Petit Train du Nord cycling paths, lake and beach, great cafes &c in Val David, and also very close to the a very impressive ashram with lots of yoga classes! We loved it!
---
Our time spent at Katya and Bertrand's place was everything that we hoped for. The house was cozy and so well equipped. Although we'd hoped for snow to ski and snowshoe, there was still plenty to do around the area. We had wonderful hikes on the Petit Train du Nord and in the Parc Regional de Val Morin/Val David. It was always nice to come home and light a fire and cook a good meal in their open kitchen with tons of light pouring in even on cloudy days. It was so peaceful and quiet. We look forward to going back in the summer! Thanks for a wonderful stay!
---
Le chalet correspondait parfaitement à nos attentes. Les hôtes sont charmants et le site est très sympa ! La nature et la proximité de la de Val David sont deux très bons atouts. Le séjour était idéal avec des enfants. Nous recommandons vivement cette location !
---
This is a spacious house with good beds and one of the great showers of a lifetime, all in lovely mountain surroundings yet very easy to find. Katya is a great host -- she communicated well and was very flexible but also provided total privacy. Definitely worth a return visit.
---
Quaint and cozy chalet. We were a party of 4, but chalet could easily accommodate 6-8. We loved everything about this place. Perfect location if you are looking for peace, tranquility and beauty. We were only here for 2 nights and wished we could stay longer. Perfect for younger children too with the lovely play area set out in the house with wooden toys and outside in the garden, there were swings, obstacle course, sand pit, trails and even a tight-rope to practice your tight-rope walking tricks. Yoga ashram nearby and Val David with it's wonderful summer farmers market on Saturdays. Katya and Bertrand were great hosts, they met us on our arrival. We will be coming here again.
---
We had a fantastic time staying at Katya's lovely house. Katya and Bertrand were there to meet us when we arrived and gave us loads of information on the house and the surrounding area. The house itself is in a beautiful setting, surrounded by forest and with huge windows to let in loads of light. We were a family of 4, with 2 small girls, and they loved playing in the garden and sandpit, and exploring the forest. We even saw several wild deer grazing next to the driveway, and in the paddock. The house is very well stocked, with everything we needed for a pleasant and easy stay. There is a lot to do in the surrounding area, we went on a canoe and bike trip, visited one of the local funfairs, visited the beach at lac de sable, explored the shops and cafes in val David, and wandered the regional parc with it's giant boulders dropped by the glacier. Would definitely recommend a stay here, especially for families.
---