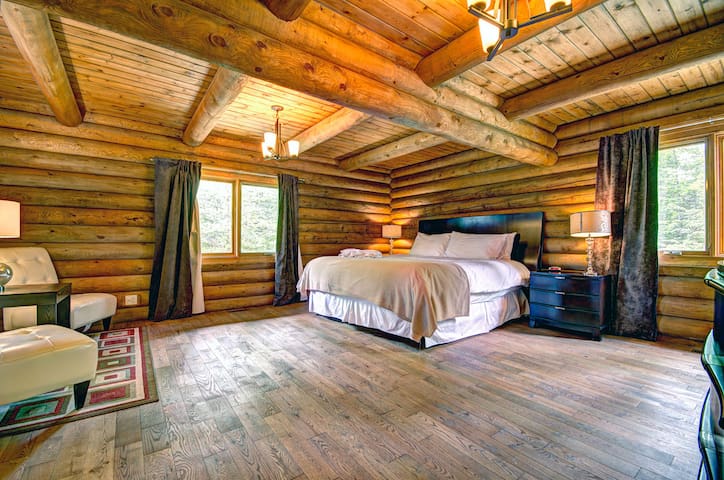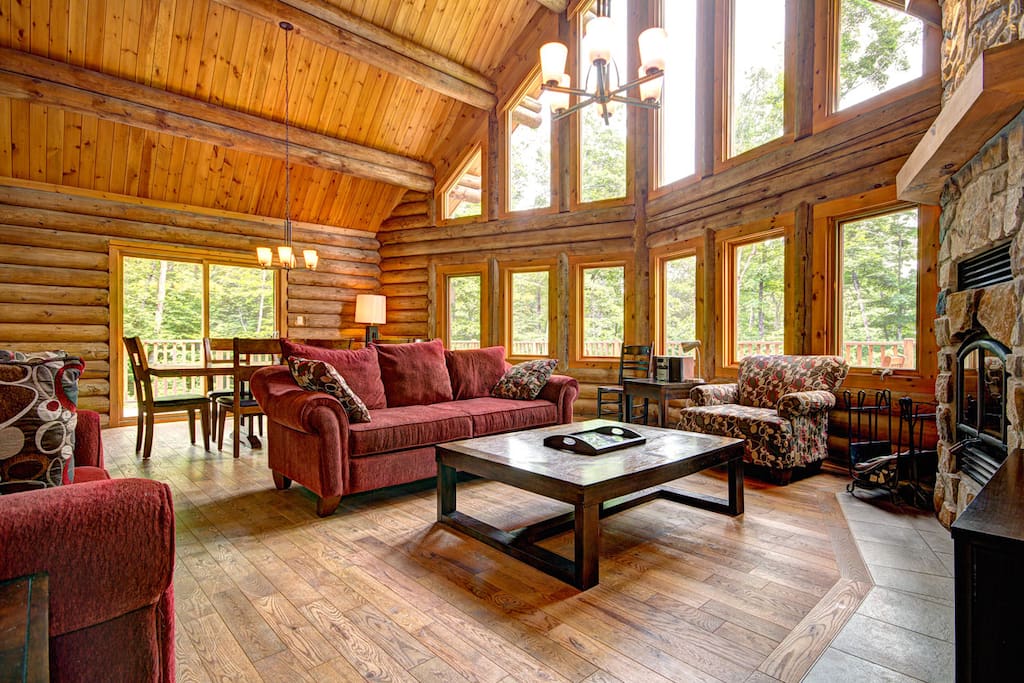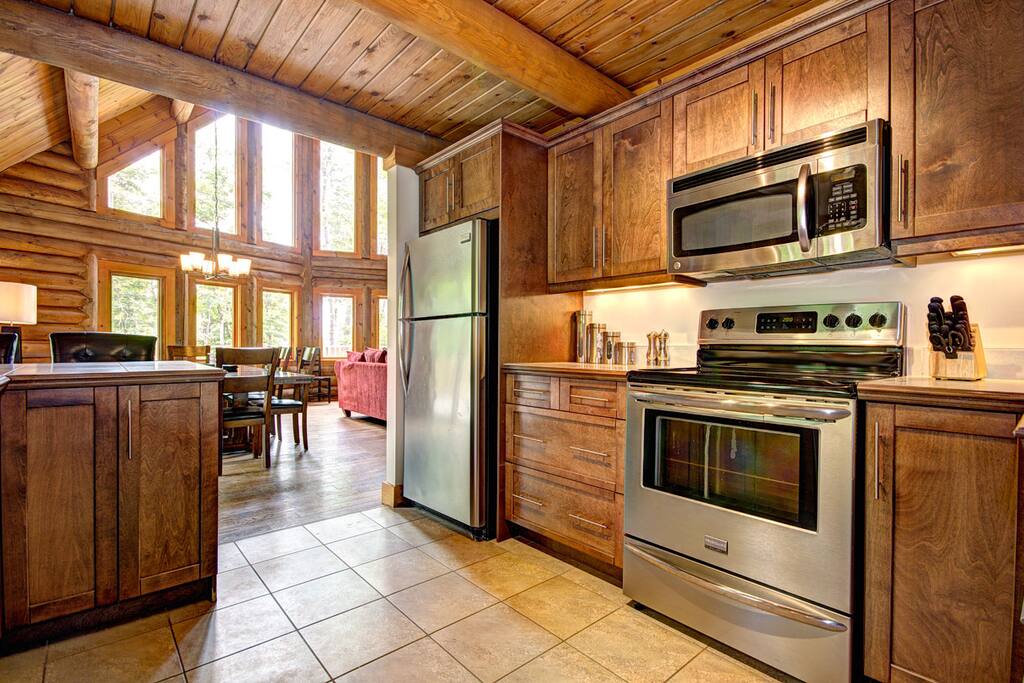 Our beautiful chalet is located in award winning Blueberry Lake Resort about half an hour north of Mont Tremblant. Our chalet is 2950 square feet with two King master suites, three further bedrooms, three bathrooms +rec room with pool table.
Dogs are welcome ! A 100$ cleaning fee will be charge for each dog.
---
We had an amazing weekend! The receptionist who ran the place was well organized, very welcoming, had great knowledge of the area and activities going on. We would definitely be back because of the great service alone! The area was kept well clean, the lake was smaller but clean and lively. It was a great choice for our May24 camping trip, the 5hr drive was worth it!. Driveway- very large Deck space- wrap around cottage, very spacious Lock system- key pad which was nice everyone learned the code no one ever got locked out Heating/ cooling system- works great Kitchen supplies- Limited but provides basics I would bring extra cooking supplies Washer/dryer- work fast Indoor fireplace- needs Eco logs so we did not use unfortunately Beds- super cozy and hard to get up in the morning Furniture- enough supplies however could use more deck chairs BBQ- only had one low rack level and was hard to use without burning and limiting what we could make Hot tub- no jets really worked but was fairly large, area not finished around tub so walking on hard gravel which wasn't nice, it could also use a light near the tub during night time aswell. Bathrooms- big and lots of showers/ baths however the jacuzzi tubs jets did not work Neighbors- fair distance away didn't notice them much and lots of trees for privacy Dog friendlyness- great I had brought my 130lbs mastiff with no issues Activities- lots to do from canoe, kayak, paddle boat, walking trails, fishing, volleyball, small pool ect
Hi Marika, Thank you for your stay at Blueberry Lake Resort and we are pleased that you enjoyed our hospitality and amenities. We strive to make you stay worry free and we welcome your comments about the things that need attention. They will be taken into account. We look forward to greeting you and your guests again in the future. Best regards, Reservations
---
Le chalet est très beau et propre. Malheureusement, le spa était brisé à notre arrivée. Il devait être réparé le lendemain, ce qui n'a pas été le cas. Nous sommes très déçus de ne pas y avoir eu accès, puisque c'était un de nos deux critères de location. Au moment d'écrire ces lignes un formulaire de plainte à été envoyé au propriétaire, en espérant avoir un retour de sa part.
---
The house is very spacious, comfortable and quite beautiful. We rented it for a family holiday reunion with 4 generations from 92 to 1 year old. It was perfect to have all and roomy enough to fit a wheel chair (only 4 steps to carry up). The kids had a great room to play and the parents could relax as well. Finally the setting is fantastic. Sitting in the hot tub, snow shoeing, building a snow fort, tobogganing was a real treat. So private as well.
---
Notre séjour au chalet du blueberrylake resort était incroyable! Tout était parfait ! La localisation au top de la montagne avec une entrée privé, un stationnement spacieux un chalet immense de 3 étages en bois rond, 2 foyer, un jacuzzi et une table billard qui se converti en table de ping pong. On était 10 et avions chacun un chambre avec toilette. La seule chose c'est qu'on savait pas qu'il fallait payer pour les bûches et comme la réception ferme à 17h on a pas pu allumer le foyer la deuxième journée, reste que le chalet était bien chauffé. Aussi assurez vous d'amener des haut parleur car la radio est un vieu model ou on ne peut pas connecter les cellulaires, appart ces deux détail c'est sur on y retourne à chaque année!! MERCI JOSEPH
---
The cottage is well equipped, has comfortable and large bedrooms, a pool table, Jacuzzi , three bathrooms...This cottage is on the Blueberry lake resort so it makes for a great getaway spot. The resort has a restaurant, an outdoor and indoor pool, playgrounds for children, playroom for children, trails to walk around the lake(s) , etc. We had a blast!
---
We really enjoyed our stay at the cottage. The house had everything we needed to make our stay enjoyable. Joseph was very quick to answer my questions before our stay. The people at the reception were very nice to us and were quick to respond when we had issues. The hot tub stopped working and someone came to fix it within an hour even though it was very late on a Friday night. It was greatly appreciated as everyone was looking forward to spend time in the hot tub. We would definitely consider staying here again if we come back in the area.
---