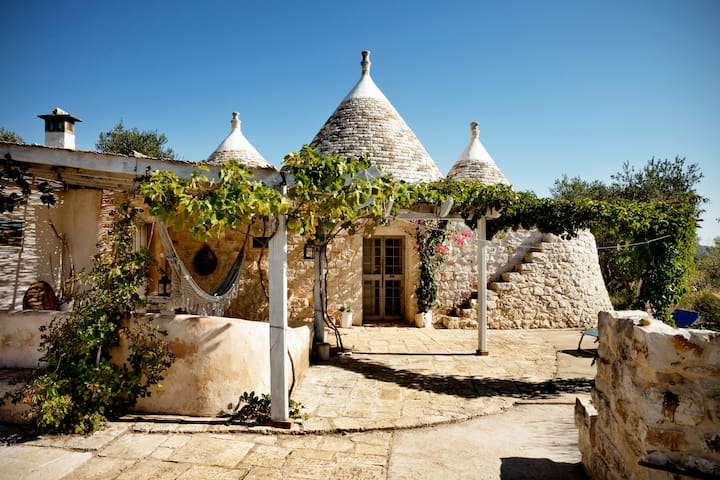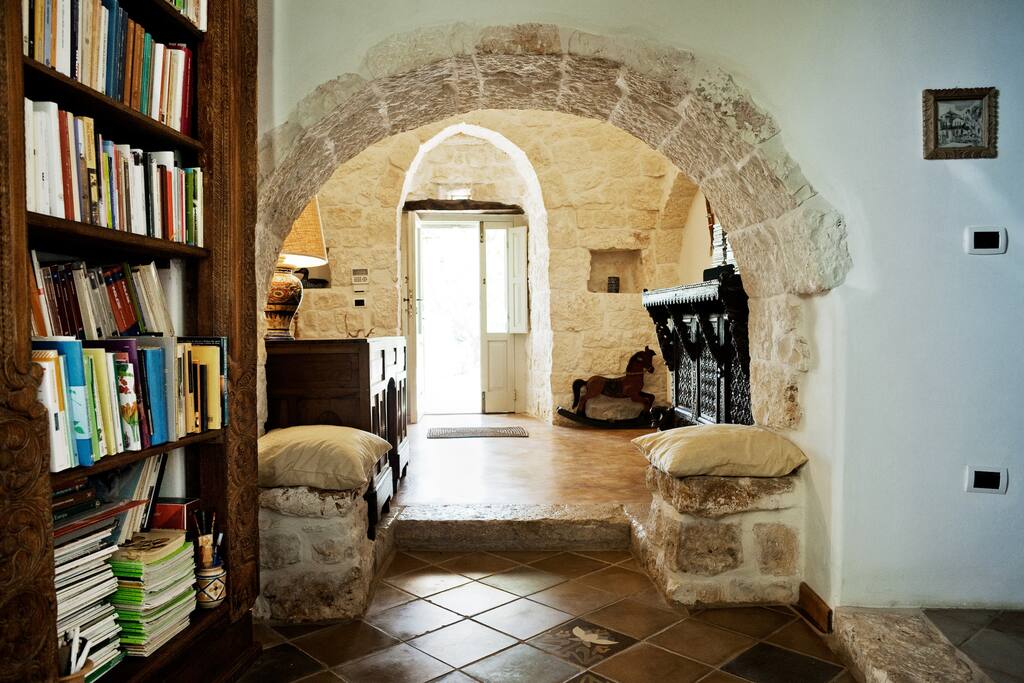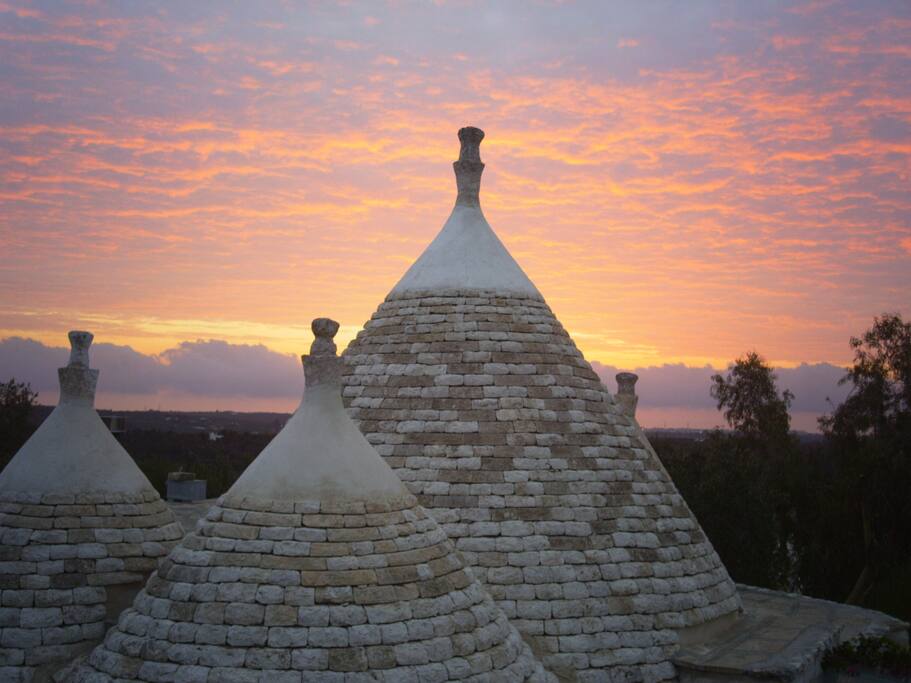 一个古老的trullo围绕着全景contereside,远离噪音。只要放松,躺在吊床上的时间或者在我们的cristalline海上浸泡,晚上在附近的村庄举行一次伟大的阿普利亚式晚餐。简单真实的东西
An ancient trullo surrounded by panoramic contryside , away from the noise. Just relax, time taken lying on the hammock or a dip in our cristalline sea and in the evening a great apulian dinner in nearby villages. simple and authentic things
房源
Trullo aromativc绿色是一个300年的建筑,与普利亚地区的传统"trullo"锥体。 Trullo位于一个令人愉快的安静山谷的西面斜坡上,享有周围乡村的美景,是放松身心的理想场所,是美丽的步行或骑自行车探索。 该物业的设计是美丽,舒适和环保的。太阳能用于热水,废水再次使用(请使用有机保健和清洁用品)。在较冷的月份,采暖和烧木炉将保持温暖。 trullo的传统厚壁和高高的天花板在夏天保持凉爽。通过技术的奇迹,在这个田园诗般的农村环境中,现在可以使用WiFi连接。 周围的地面有机地保存。 Trullo芳香绿色绿树成荫,占地四英亩,为您提供了放松身心的绝佳空间。在110个橄榄树中有许多杏仁,核桃,无花果,樱桃,苹果,梨和桑树,提供了一个可以盛宴的花园宴会。生产土地,包括橄榄油,为您在物业享受享受,并可以带回家。 在房子的前面是一个阴凉凉亭下的一个大餐桌。附近有烧烤。 从新的角度来看,一个大露台可以欣赏风景。舒适的家具,是日落人或消化的理想场所。还有一个古老的aia,您只需在吊床上放松身心。 内部的厨房配备了您期望从这个令人印象深刻的财产的标准。 我希望你大部分时间都可以用餐,但如果天气变化,或者你想改变,那个温馨的餐厅会让你感到高兴。 起居室为每个人放松提供了充足的空间。享受声音系统--Bose iPod基座和CD播放器 - 或在电视上观看电影。一个木材燃烧的炉子会在更冷的月份温暖烈性酒。 卧室:有一个双人卧室,一个可以配置为双人或双胞胎。他们都有自己的淋浴房和浴室。 两公里外,在一个叫做Casalini的小镇,您可以找到所需要的一切(熟食店,超级市场,酒窖,酒吧,报摊,屠夫,邮局) Puglia和Trullo芳香绿色将全年欢乐。每个季节都有自己的气候,节日和生产。四月份的日子很温暖,但普利亚仍然很安静。所以你会有一个很好的时间探索周边的城镇,市场和风景。复活节有许多节日游行。 5月份,樱桃,桑berries和ior one(早熟无花果)的水果都很丰富,市场上充满了春季蔬菜,田野里充斥着野花。这是一个梦幻般的季节。 6月份,人潮到来之前,享受农村和海滩。天气愉快,夜晚清澈。 7月份真正的夏天开始。在海滩上享受一天,然后是夏日节日或音乐会。附近的Martina Franca着名古典音乐会将于7月中旬至8月中旬举行。最后在8月份探索海滩,白天休息,以确保您在夏季期间为整个地区举办的许多节日充满活力。 9月份,由于夏季炎热的夏天消退,享受愉快的日子和一些溢出的节日,如莱切爵士音乐节,以及Martina Franca的商人。 要去的地方 普利亚群岛提供了丰富的改道;两条海岸线,大量山丘各有其特色,总是美丽,崎岖的风景与崎岖的橄榄树,春天的花朵,红土和英亩的葡萄园。抵达时(或预订,如果您愿意)将有大量的信息,包括您的日子的建议和指导。 当地山镇 Ceglie Messapica距离trulo aromatic green我只有10公里,并提供您可能需要的所有物品,包括一个迷人的老城区为您的晚上长廊。它的餐厅是着名的,其中包括"利玛窦"(Ricci's),这里有安东尼奥·卡鲁西奥(Antonio Carluccio)在意大利南部最喜爱的餐厅。 奥斯图尼(Ostuni)距离Trullo芳香绿地仅有07公里,是一个迷人的山丘小镇,中心的露台则是酒吧和餐厅。该镇有许多设施,周六上午的市场提供您可以想象的一切。 Cisternino距离酒店仅6公里,拥有自己的特色和魅力,许多免费的夏季音乐会和一流的餐厅。 任何对该地区的trulli建筑物感兴趣的Alberobello都是必须的。它是一个小城镇,几乎完全由trulli组成。夏天虽然拥挤游客,但值得一游,我们可以推荐一些美味的当地餐馆来完成 天。 Martina Franca是该地区最聪明的城镇。星期天晚上passeggiata是一个显示!老城中心是巴洛克风格的典型典范,其白车道,优雅的豪宅和庄严的教堂和公社建筑。 在这个半岛,你永远不会远离海洋。亚得里亚海距离Trullo芳香绿地仅有10分钟路程,设有家庭海滩和您需要的所有设施 - 包括海鲜和冰淇淋!在对面的海岸,爱奥尼亚人,你会发现一段开放的海滩。两个海岸线都提供大型海滩和安静的海湾,美丽清澈的蓝色水域。在南边的岸边变得更加崎岖和戏剧化。 除了大量的城镇和海滩之外,该地区还提供许多其他活动 高尔夫,骑马,水肺潜水和浮潜,风筝冲浪,烹饪课程,面食制作,美食之旅,瑜伽(附近课程或私人课程,Trullo芳香绿色),按摩。 当然,我们会非常乐意帮您计划并预约。 请注意,几个星期我们为个人或团体举办瑜伽假期和美食之旅。 对于特殊场合,当地的厨师可以来为您做饭。 夜晚 当地有许多酒吧,餐馆和俱乐部。普利亚以其食物而闻名,有许多地方以优惠的价格享用美味的美食。在夏天里,有很多酒吧和俱乐部设在里面 附近的海滩,以及众多的节日和音乐会(许多免费),充分利用了温暖的夜晚。
Trullo aromativc green is a 300 year old building, with the traditional "trullo" cones of this region of Puglia.
Trullo is situated on the west facing slope of a delightfully quiet valley with wonderful views of the surrounding countryside and ideal place for relaxing and is beautiful to explore on foot or by bicycle.
The property has been designed to be beautiful, comfortable and environmentally friendly. Solar power is used for hot water and and waste water is re-used (please use the organic bodycare and cleaning products provided). In cooler months, heating and the woodburning stove will keep you warm. The trullo's traditional thick walls and high ceilings keep it cool in summer. And through the marvels of technology, a wifi connection is now available in this idyllic rural setting.
The surrounding grounds are maintained organically. Set in four acres, Trullo aromatic green provides the space and tranquillity for real relaxation. Amongst the 110 olive trees are many almonds, walnuts, fig, cherries, apple, pear and mulberry trees, providing a garden banquet that guests can feast on. Produce from the land, including olive oil, is provided for your enjoyment at the property, and available to take home.
At the front of the house is a large dining table under a shady gazebo. Nearby there is a barbecue .
A large terrace is available to enjoy the landscape from a new perspective. Comfortably furnished, it's the perfect place for sundowners or digestifs. There is also an ancient aia where you just relax on a hammock.
The kitchen inside is equipped to the standard that you would expect from this impressive property.
I expect that you will dine outside most of the time, but if the weather turns, or you fancy a change, the intimate dining room will delight you.
The living room provides ample space for everyone to relax. Enjoy the sound system - Bose iPod docking station and CD player - or watch a film on the Tv. A wood burning stove will warm the spirits in the cooler months.
The bedrooms: there are one double bedroom and one can be configured as double or twins. They all have their own shower room and bathroom.
Two miles away, in a small town called Casalini you can find everything you might need (delicatessen, supermarket, wine cellar, bar, newsagent, butcher, post office)
Puglia and Trullo aromatic green will delight you throughout the year. Each season brings its own climate, festivals and produce. In April the days are warm, but Puglia is still quiet. So you would have a great time to explore the surrounding towns, markets and scenery. There are many festival processions over Easter. On May soft fruits such as cherries, mulberries and fiorone (early figs) are in abundance, markets are full of spring vegetables and the fields are full of wild flowers. This is a fantastic season. On June enjoy the countryside and the beaches before the crowds arrive. Days are pleasantly warm, and the nights clear. On July the real start of summer. Enjoy a day on the beach l, followed by a summer festa or concert. Famous classical concerts in nearby Martina Franca run from mid July to mid August. Finally on August explore the beaches and get plenty of rest during the day to ensure you are full of energy for the many festivals that take place throughout the region during summer. On September as the blazing heat of high summer subsides, enjoy pleasant days and some spill-over festivals such as the Jazz festival in Lecce, or buskers in Martina Franca.
Places to Go
Puglia offers a wealth of diversions; two coast lines, a vast number of hill towns each with their own characteristics, and always beautiful, rugged scenery with knarled olive trees, spring flowers, red soil and acres of vineyards. There will be plenty of information available to you on arrival (or booking, if you prefer) including recommendations and directions for your days out.
Local Hill Towns
Ceglie Messapica is just 10 kilometres from trulo aromatic green i, and provides all the amenties that you may need, including an attractive old town for your evening promenade. It is famed for its restaurants, including "Ricci's" - which has the accolade of being Antonio Carluccio's favourite restaurant in Southern Italy.
Ostuni, just 07 km from Trullo aromatic greeni, is a fantastic hill town, with the centro storico revealing great bars and restaurants. The town has many facilities, and the market on Saturday morning provides everything you can imagine.
Cisternino, just 6 kilometres, has its own character and charm, many free summer concerts and great restaurants.
Alberobello is a must for anyone interested in the region's trulli buildings. It is a small town, consisting almost entirely of trulli. Although crowded with tourists in summer, it is worth a visit... and we can recommend some great local restaurants to complete your day.
Martina Franca is the smartest town in the area. The Sunday evening passeggiata is a display to behold! The old town centre is a typical example of baroque art, with its white lanes, elegant mansions and stately churches and commune buildings.Beaches
On this peninsula, you are never too far from the sea. The Adriatic sea is just 10 minutes from Trullo aromatic greeni, with family beaches and all facilities you need - including seafood and gelato! On the opposite coast, the Ionian, you will find stretches of open beach. Both coastlines offer large beaches and quiet coves, with beautiful clear blue water. Further south the shore becomes more rugged and dramatic.
As well as a huge number of towns and beaches to visit, many other activities are available in the area
Golf, Horse riding, Scuba diving and snorkeling, Kite-surfing, Cookery courses, pasta making, gourmet tours, Yoga (nearby classes or private lessons at Trullo aromatic green), Massage.
We will, of course, be more than happy to help you plan and to make you reservations.
Please note, some weeks we hold yoga holidays and gourmet tours for individuals or groups.
For special occasions a local chef can come and cook for you.
Nights
There are many bars, restaurants and clubs to be discovered locally. Puglia is famous for its food, and there are many places to enjoy fabulous cuisine at excellent prices. In the summer there are many bars and clubs set up on the ne
Nearby beaches, as well as a multitude of festas and concerts (many free) to make the most of the warm evenings.
房客使用权限
Guests will enjoy the fruit production of the surrounding property
与房客的互动
如果我的客人如此希望,我们可以感受到每一天他们给我的任何要求,我一定会让他们感到宾至如归。当我不在营业或度假时,我住在trullo外面的一个lamia。以这种方式,我的客人可以依靠我在住宿期间可能需要的任何进一步的信息。
If my guests so wish we could feel each day for any requests they made me, I will be sure to make them feel at home. When I'm not away on business or holiday I live in a lamia just outside the trullo. In this way my guests can count on me for any further information they may need during their stay.
---
---
始终通过爱彼迎进行交流
为了保护您的账号隐私和付款安全,请不要相信其它任何平台的折扣或优惠券代订,并始终在爱彼迎站内转账和交流。
了解更多
---
I hope that my guests rejoice in the charm of the countryside in respect of the aspects of the same ecosystem. The attention to water resources is an important example.
---
---
Isabella's Trullo is a magical place in the southern region of Puglia and is one of the best places we have ever stayed in on Airbnb (and we have been traveling all year!). It's in a secluded community of other Trullo homes along a picturesque white gravel country road, surrounded by olive groves and offering a breathtaking view of the valley below. Isa decorated the Trullo with beautiful hand-carved furniture and art. The location is perfect for exploring the Puglia region and all of the historic little towns around it. There's Locorotondo with its white washed buildings and narrow streets, Martina Franca with its beautiful churches, Albertobello with its fairy tale village of 1000+Trulli and many others. Isa knows everything about the region and will help you make the most of it. Our first day we arrived to find fresh fruit, cheese and wine awaiting us in the kitchen. It was my birthday and Isa even left me a delicious birthday cake in the fridge!! We spent a little over 2 weeks at her home and it was one of the most beautiful, relaxing and memorable experiences of our lives. I can't recommend it enough. If it's available, book it immediately and never look back!
---
We, two couples, had a delightful tome at Isa's trullo. Great communication all the time leading up to our visit. We were met w/ lots of provisions to get us started. We found many good eating options in the vicinity and our location made it easy to venture out to Puglis's sites. Be sure to take in the olive oil tour near Ostuni. At home lots of places to relax and Ida's CD collection provided a variety of options for background. Getting to feed the cats was a bonus. As a base from which to explore all Puglia's, a dandy choice.
---
There are not enough words to convey how wonderful this trulli is and very true to pictures. We just came back from our trip in July. It was very dry there but the fig trees, apricot and plum trees were still producing which was such a nice treat. Isa truly is the hostess with the mostest!!!!! We arrived late due to plane issues and had problems finding the trulli. She came out to search for us and met us with a smile on her face leading us to the trulli. Upon arrival, we found treats in the frig and a bottle of wine. Such a peaceful place. We also found it convenient to all the areas we wanted to visit. I hope someday to return. Everything about the trulli is very special and first class.
---
My husband and I spent a week at Isa's trullo. It is a lovely garden setting with many kinds of fruit trees and vegetables. Isa's hard work really shows. The house was comfortable and nicely located to Cisternino and Ostuni. I especially liked the very equipped kitchen. We had a few very very hot days and Isa went to some trouble to get two good fans for us. She also left some of her hosed jam and other goodies for us. A very peaceful setting with a great view of the full moon.
---
Hello, I'm Isabella, I deal with rural sociology and territory, are forming and I love to take care of my land, plants and everything that grows and lives in harmony in the nature. I love meeting new people and help them learn the Apulian territory and local traditions and, of course, everything about the local cuisine!