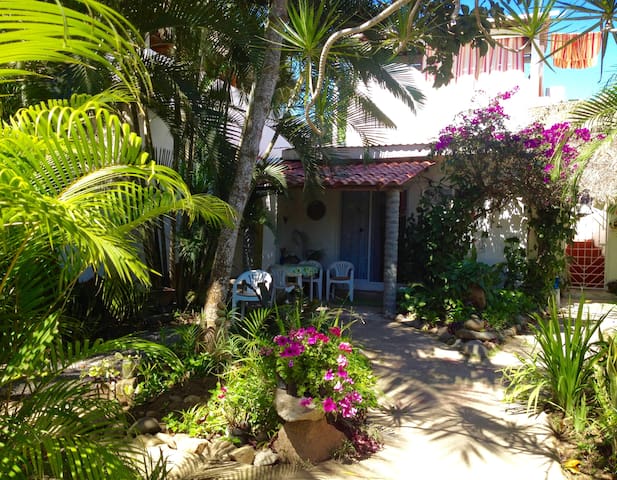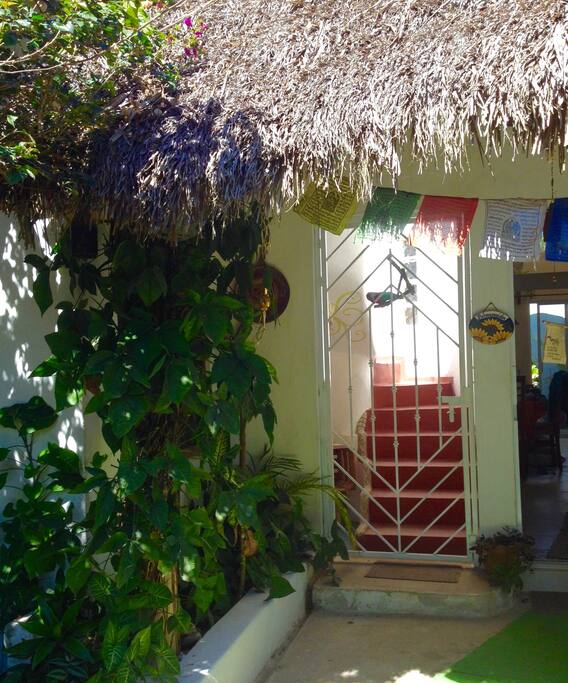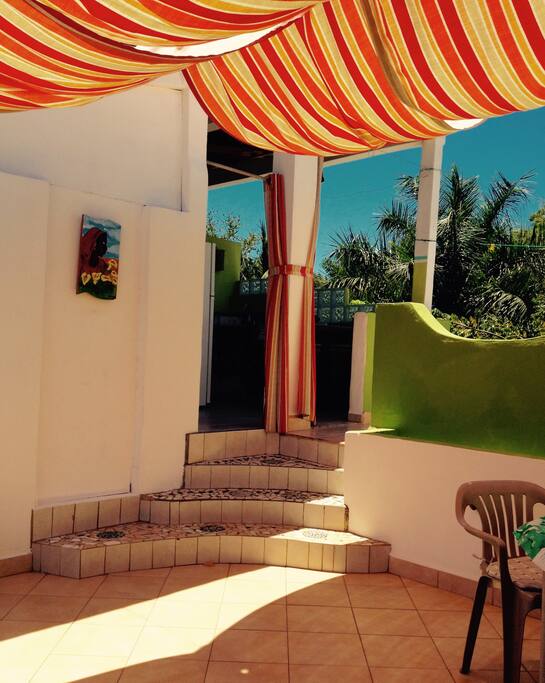 A breezy upper level bungalow, this apartment offers views of our gardens and the beautiful hills surrounding Sayulita. It is "open air" for those who enjoy the feeling of outdoor living!
房源
This apartment is truly an open-air space with beautiful views of the gardens and the hills surrounding Sayulita. The kitchen, bathroom and bedroom have a covered roof. The bedroom has walls on three sides with curtains across the front half wall to provide for privacy. Mosquito nets are provided, if needed, but during the dry season may not be necessary. There is a small sleeping alcove for a third person. If available, we can supply an air mattress. The apartment is completely furnished with a full-size refrigerator and a stove top. There is a nice size shaded patio area for dining and more.
房客使用权限
Patio, gardens (washing machine) and dipping pool.
其他注意事项
Because it is an open-air apartment it is obviously more susceptible to the wonderful noises of Sayulita - dogs, roosters, music (almost always quiet at night). We do rent during the rainy season but because this apartment is open we can't guarantee that the kitchen and bathroom areas will stay dry. From the end of October until mid-June this is a perfect way to enjoy nature without much threat of rain! During the summer months there is always the risk of a good cleansing shower!
---
---
Smoking in outside areas only. Respect for other tenants, no drugs or abuse of alcohol. No pets.
---
I love this place! My fiancé and I stayed in the open air casita and loved the experience. It is so cute and has so much character. Everything works, and the kitchen has plenty of dishes for use. There is a nice little breeze that comes through the apartment so it stays pretty cool. They also brought a fan up. Cool location, next to a cantina in a more authentic neighborhood, so it's not quite as crowded and touristy as the plaza area. But it's only 10 minute walk to all the action. Great views and lovely owners! Jennifer and Gary are cool people and very helpful. They let us check out late since our flight wasn't till that evening and they even offered to drive us to the bus stop. Lovely people, cute spot, great vibes. Would definitely stay here again.
---
This place was great for its price range and had so much charm! It is all open air so be prepared for all of the elements to be part of your experience, but it wouldn't be Mexico without it. The hosts were so pleasant and helpful. I would definitely recommend this place for a couple.
---
This was my first experience with AIRBNB and probably my last. The Host was less than truthful to say the least
Dianna, I was truly taken aback to read your review and to learn of the difficult time you had at our place. I had not seen your note regarding moving to a different apartment until I opened your review which is not available to me until I write a review of you, and of course I didn't know of all of your troubles. First of all, apologies for any misunderstandings about the space and I'm particularly disturbed that the caretaker did not bring you an additional bed. I assure you that all of the linens were clean, perhaps worn. As for the cantina, perhaps 100 yards would be a better description of the distance. Typically there is music on and off through the day until around 10:00 at night. Again, apologies for not being forthright. I know that particular apartment takes the brunt as it is open-air. For many this is part of the Mexican experience and they totally get "into" it. I also did not know that you left early. I would be happy to work with you to refund the money for the nights you didn't use. So sorry for your experience. I will forward a translation of your experience to our caretaker so that in the future they understand the need to be present and accommodating to our guests. Again, deep regrets for your inconveniences.
---
Had a great stay in Sayulita! Las Brisas was comfortable and totally what I was looking for! Its just on the edge of busy Sayulita steps from bus stn(stop) .. the casitas are clean, quiet and Jennifer and Gary are helpful and welcoming! Ive taken some extra pics and videos to show las brisas better! I preferred to be slightly on the edge of town but it was a quick walk to the center or beach.. Sayulita is too small to really bother with a vehicle. Happily for me Sayulita Animals was just down the street where I stopped first thing to make donations and see how I could help the animals of Sayulita..
---
Our stay in the open air casita was great. If you are a light sleeper I recommend ear plugs as the sounds of nature start very early. Lots of birds! The dipping pool was a great way to cool off after a hot day at the beach. Jennifer was always available if we needed anything and both Jennifer and Gary are very welcoming and friendly. Thank you for everything!
---
We are generally here during the entire high season (mid-Sept. through May). We have a Mexican family who serve as hosts and live on the premises from June until mid-Sept and are available to trouble-shoot any issues which need attention.
We retired to spend our winters in Mexico in 2006. We have found a wonderful community here in Sayulita. We initially came here to take over a small bilingual preschool which has blossomed into the amazing Costa Verde International School with grades kinder through 9th grade. As former teachers we continue to volunteer there sharing music, movement and art. We also lend support to Pro Sayulita a group which actively supports our communities many needs. We are both musical and Jennifer has been involved in the local Sayulita theater group for the past 5 years. We love to travel and continue to be inspired by this beautiful country. We enjoy suggesting interesting hiking opportunities to more obscure beaches as well as a trek up the arroyo into the jungle. We are here to assist you with your needs while honoring your privacy as vacationers.
语言:
English