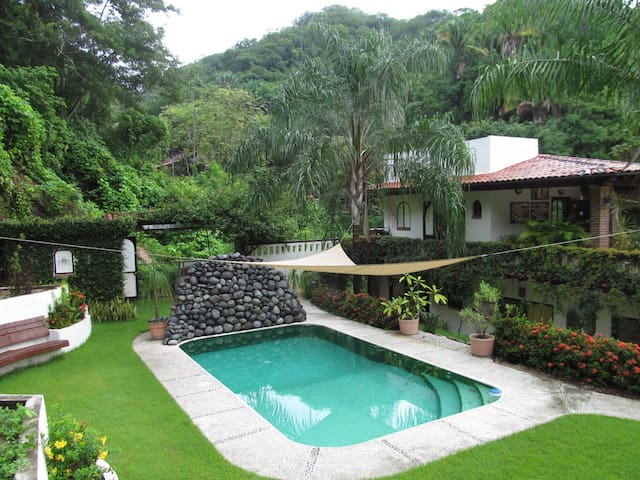 This unique place offers tranquility and nature.
located in a beautiful community "El.Nogalito" close to the mountain, river and nearby beach.
Great for birdwatching, hiking and nature lovers

房源
Our location is what makes us unique. In the jungle, near the mountains, river and beach. We are great for birdwatching. hiking and just being in contact with nature
房客使用权限
Great Access to nature! We have a common area where you can have a 360* green view of the jungle. In this area by the pool we have a dinning table where you can sit comfortabily 10 persons or a little more... there is a barbecue, you can cook there, we can cook for you, we can arrange your little party and treat you with a traditional mexican bbq. bring your friends! ask for more details.
与房客的互动
We can accomodate to our guests needs
---
Delightful, warm, hospitable...yes; but after one month of the good life at Lorena's and Remco's well maintained rental we felt like family: clean, cozy accommodations and tasty, reasonably priced home-cooked meals were a bonus! Their son, Blas, Luna (small dog), a cat and resident iguana added a special home-like flavor to the Puerto Vallarta experience. If there is a downside to being treated like King Ray and Queen Rita, we will return home feeling at least like a pair of VIP's (very important persons) that were surrounded by loads of TLC (tender loving care)
---
Everything was fabulous at Comfort in the Jungle. Lorena and Remco were great hosts. They were very helpful with our questions and getting to know the surrounding area. The apartment was clean and met our expectations. The description was spot on. I would recommend this stay to anyone who is looking for a quiet town, comfortable stay and super hosts.
---
Lorena & Remco were great hosts! We felt right at home in the studio and had everything we needed. We really appreciated the rides from Remco out to El Nogalito and to the airport of on our way out of Vallarta as well. It was lovely to sleep in the cooler jungle air at night and wake up to the sounds of nature. The walk to the beach wasn't too far, but the stairs were under repair while we were there, which made it a bit more challenging walking along the roadside and across some rocks. We had the chance to explore El Nogalito a bit and also go zip lining for the first time. We loved their dog Luna, who is incredibly cute and friendly. If you happen to go to the grocery store up the street, be careful not to open their cooler door more than once while you're browsing, or you'll get a scolding from the owner. Silly us, we didn't pay attention to the sign on the door. Overall we had a lovely time away from the busy scene in Vallarta, while knowing that it was all only a 10 min ride away when we wanted it. Seeing chickens wandering in the road, hearing roosters in the morning and admiring all of the butterflies dancing in the air around us were all lovely parts of the experience. I recommend staying at Lorena & Remco's place if you prefer to experience life as (more of) a local while traveling. They are a lovely family and we're happy we had the chance to meet them and stay in Casa de los Monos.
---