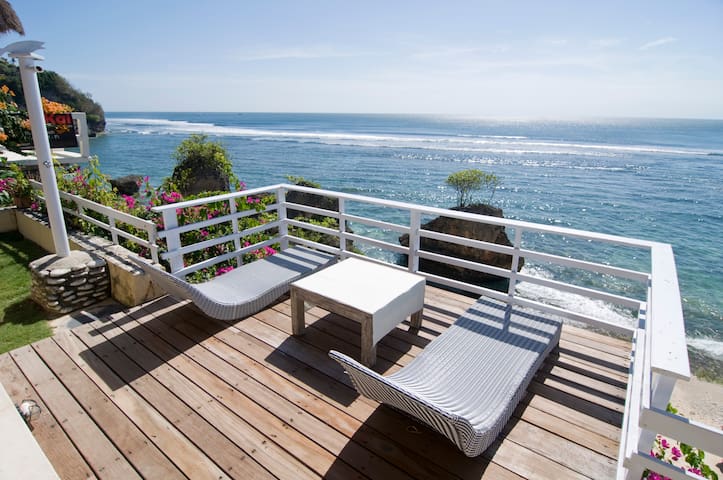 关于此房源
通过Airbnb,您可以在人们家中找到独一无二的住宿体验——从独栋房子到公寓,再到树屋和圆顶小屋。以下的房源详情阐述了此房源所提供的一切。如有任何疑问,您可以直接联系房东。
---
---
便利设施
厨房
网络
电视
生活必需品
暖气
空调
洗衣机
烘干机
内部提供免费停车
无线网络
有线电视
早餐
欢迎家庭/携带孩子入住
适合举办活动
允许吸烟
无障碍设施
大厦内电梯
室内壁炉
蜂鸣器/无线对讲机
门卫
游泳池
热水浴缸
健身房
烟雾探测器
一氧化碳探测器
急救包
安全卡
灭火器
---
---
描述
DEEKSHA WARUNG is at Bingin Beach , located on the western side of the Bukit peninsula between Dreamland and Padang-padang/Impossibles beaches.
The house is built on the cliff side, so there are many steps to take you to this magical location.
Enjoy!
A NEW (3rd) independent, bedroom and bathroom have been built on May 2014. This is possible to be rented by itself U$55 /night or added to the house, see my other listings ....tks
With more than 6 guests booking, you will have the 3 bedroom house . Up to 6 guests is a 2 bedroom rental, price increases automatically !!!!
Its a surfers paradise, perfect retreat, to relax and recover from Jet-lag, or simply unwind swim and surf.
* Bingin, (45mins from Kuta and about 1 hr from Seminyak town centers.)
* Great Views, Up above sea level
* 2 International surf Breaks can be seen from bed
* Walking distance from Padang Padang and Dreamland surf beaches.
* There are many local warungs on the beach for fresh cooked food and night fish barbeeque
GROUND FLOOR
Kitchen/Diner - fully equipped with granite Kitchen counters
Living area with L shaped sofa,
polished cement floors
ceiling fan
Extra lounge (sleep 2 or more)THIS BECAME THE SECOND BEDROOM FROM JUNE 2011 !!!
Bedroom with 2,7mt x 2mt bed , mosquito net, and fan !!!
Bathroom separate : wc, basins, Good hot shower.
Exterior
Exterior wooden deck , sun and moon bathing..
outdoor shower
1st floor :
*Air conditioned (just renewed -april 2014) room sleeps 4, but fits more !!!
*1 double bed
*2 twin single beds
* Fully tiled walk in shower, with wc ,marble basin top and hot shower.
*Balcony
*3Rd Bedroom (AC) and bathroom (hot water) behind, with Ocean view and private entrance.
Maid to clean , from 9am- 3pm (or hours to suit) You can send her Home if you wish....
She can help for breakfast ,cooking and shopping..... tipping :)
Also Available menu from beach side restaurants to order ....
On-site massage can also be arranged. !!!!
We have massage table at the house !
Got internet from neighbor wifi .....details of pass word on house rules ,FREE but connection can be unstable, tks!!!
Parking at the top !!!!
BRING A FLASH LIGHT>>>
ENJOY
The internet is FREE wifi but coming from my new neighbor( please don't give pass word around) As his antenna is on opposite side of my house the signal works by Hammock or top Balcony. But if you sit at warung/restaurant next door (right) it works very well and u can have coffee etc also !!! IF does not work ....IT does"nt !!!! tks
Im not at location normally . IDA the super Maid is in touch with me and takes care of needs !!!
Bingin - out of the track beach as it has no access for big buses and more difficult to find . As the top of the cliff is all private houses no big Hotel is there to overcrowd the area . Is the most "old Bali " beach .
Many steps to go to paradise !!!!
A scooter or car is the way around. Rentals r easy and cheap . 5U$ day or 50 U$ month ,scooter .
After 6 guests booking you will have a 3 bedroom house . Up to 6 is a 2 bedroom rental !!!!
更多内容
---
Water is supplied by Truck , use it consciously .
Dont leave A/C all day on .
Separate Organic material and plastic and others !
Better Not Smoking!!
Smoking only on ground floor. Not on Bedroom !!!! roof very flammable .
INTERNET , net work = Beyond villas...pass word = Bingin2013 , observe capital letters.( please dont give pass word around) This is from my neighbor which we have an agreement . the wifi works by the HAMMOCK and TOP BALCONY areas, no warranties....but if u sit at restaurant before my house it works perfectly !
Tipping is very appreciated by Staff.
Tks
ENJOY you EVOLVE !!!
更多内容
---
---
Thanks for a great stay, i would definitely recommend your property for a totally relaxing time just chilling out.

The location is great, the staff is great, and there are some really good places to eat right on the beach below the house.

It was a magical place and we felt very comfortable and happy there with plenty of space.

The housekeeper was friendly and so helpful, she also gave us all massages and cooked us a delicious breakfast with the food we had bought.

Fantastic view and I believe the most fantastic view ever so close to the beach just stunning.
---
The house was absolute amazing right on the beach just a "few" steps away. Very specious and as described in the posting. Ida was amazing we had forgotten some stuff at the house and were on our way to airport however she helped get the stuff to us.
更多内容
We had a great time at the surf house. It is in an ideal location, it couldn't be closer to the beach, with lots of opportunities to surf and great the hear the sound of the waves at night.
Having said this, I would imagine that without the help of housekeeper Ida, it would have been difficult to find in the dark.
I would definitely recommend the help of Ida for pick ups, food shopping and she does make a great breakfast. Filtered water is also provided which is very useful.
We would definitely stay here again and would like to thank you for making our trip to bingin beach an amazing stay!
Laura
更多内容
We loved our stay here. We hired out the whole top and bottom level and stayed here over a 4 night period and it was great. The house maid Ida was truly amazing, with a delayed plane which did not arrive until 2am Ida happily waited for us, guided us down the stairs and came back the next morning to cook us breakfast. She was more then hospitable over the 4 night stay. The house overlooked Bingin Beach, we watched multiple sunsets from here and spent majority of the day sun baking on the balcony. On the beach below there are a few bars and restaurants which are only a short stroll away. The stairs are a killer, but you get over them and they certainly won't ruin your stay. I would definitely recommend this place. Thanks SaTjan!
更多内容
I was unable to come to Bali, so my friends stayed here instead - so I'm unable to leave a proper review! But I heard it was fabulous.
更多内容
We spent a week at Bali beach house ,and it was exactly what we love ,.. The smell of the ocean the sound of the waves 20 steps to the water ,surf at our door step and fish BBQ on the beach ,...no shoes needed was perfect
Ida was very accomodating and the steps ,140 of em , really weren't that bad
Just beware the sneaky thieving monkeys super cute but super naughty
Definitely be back thanks SaTjjan
更多内容
The location and house was amazing, great part of Bali .
We were made very welcome from start to finish of our stay.
The maid Ida cooked breakfast very day , which I recommend highly .
Great house to relax and unwind and amazing views of the ocean.
更多内容