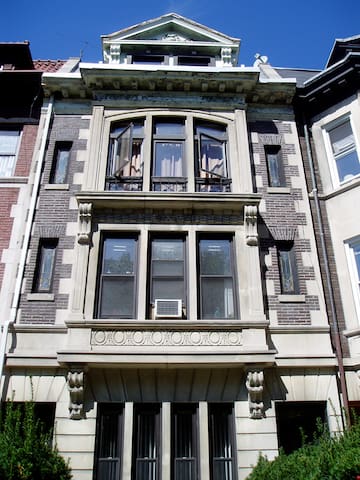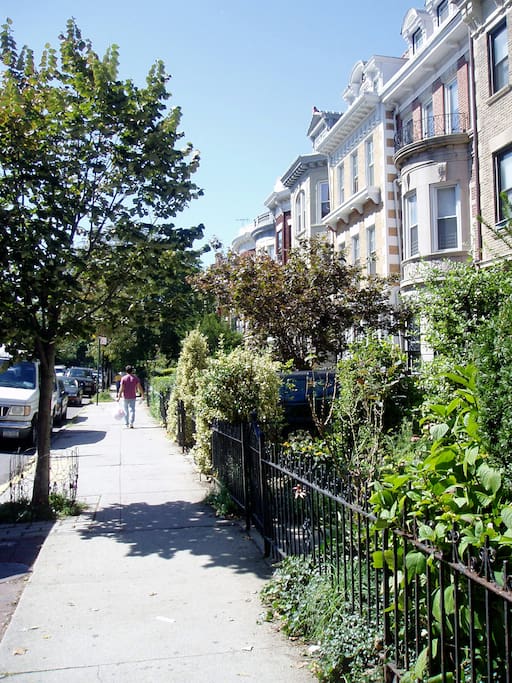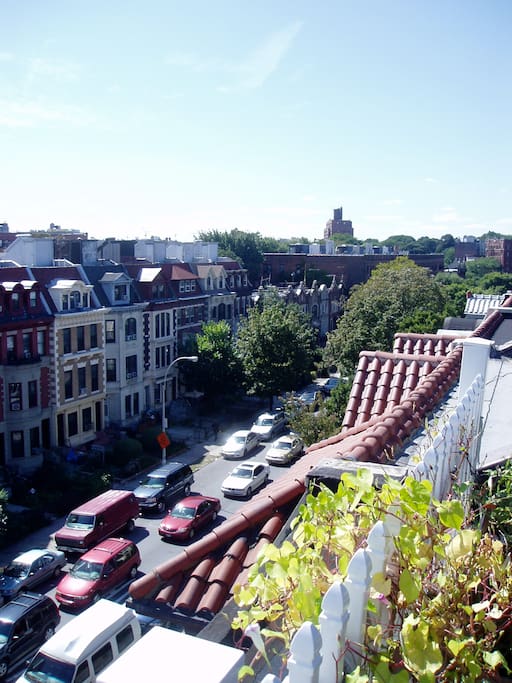 The artist's house part 2
Beautiful rowhouse steps from Prospect Park and a short subway ride from all New York has to offer.
---
---
---
---
Kitchen closed between 10 pm and 7 am.
Quiet after 11 pm
No smoking anywhere on premises
No ing in the common areas
---
---
---
---
I stayed here for the month of August so I'd have a place to live when I first moved to NYC. Christina's apartment was perfect - it's close to three trains, including the Q, which gets you into Manhattan pretty fast (great for interviewing or going to the Trader Joe's by DeKalb). Other perks: there's a cheap laundromat just around the corner to the right on Bedford, you can walk to Prospect Park, and overall it's a safe and pretty neighborhood (so many flowers!). The room doesn't have an external window, but that was clear to me from the pictures, and there is an A/C unit so you can't really complain. Bagel, the dog, is shy but adorable. Highly recommend if you need a longer-term rental in New York!
---
I had a great stay at 'The artist's house'. The location is quiet perfect when you work in Manhattan (only around 30 min to Midtown Manhattan). Gyms, grocery stores and the Q line, all pretty close to the building. But the best thing about the location is the proximity to the 'Prospect Park'. It's only two blocks away! You will live with very friendly and helpful roommates that are always willing to give you good advices and answer your questions about the neighborhood. They also have a super sweet and lovely dog. In the summertimes it can get very warm in the rooms. But it's not a real problem... They have a lot of AC's. I would definitely recommend this apartment. Thank you guys!
---
I stayed here for two months, and overall was quite disappointed. Whilst the bedroom was a decent size and the bed was comfortable, the room has virtually no natural light or fresh air. There is a window but it is an internal one. There is also a large pipe that runs through the corner, which gets very hot whenever the landlady downstairs puts the heating on. The room is difficult to cool because of the window, and gets too hot. The whole house generally needs a lot of work doing to it and TLC as it is quite run-down. The bedroom window doesn't open or close properly, nor do the bedroom or bathroom doors. The roof is the selling point, I enjoyed having dinner up there in the evenings. Although you're not allowed friends up there, and you can't use the barbecue. Nonetheless it's a great space. The housemates are generally perfectly friendly. Tyler invited me to a few of his comedy shows which were some of my absolute best highlights from NY! The location is fine if you're planning on staying for a short time and spending the day in manhattan, but it's not a particularly nice area to live longer term. There is the odd good restaurant or bar, but it's substantially less nice than nearby neighbourhoods of Brooklyn. Not many good local supermarkets. I personally think it would be worth spending a bit more money to be in Crown Heights/Park Slope etc. The dog is very affectionate. Although, he loves to sleep in the bedrooms. I was allergic to him and the dog hair he left on my bed/floor. And once he is in your room he is impossible to get out! The house overall wasn't very clean. The kitchen surfaces were well kept, but the kitchen cupboards are very dirty, and the floors are covered in dust/dog hair. There is no vacuum in the house only a broom. The cleaning lady needs to come more frequently than once every 3-4w. The kitchen is amazingly well supplied - and Christina let's you use all the spices etc which is great.
---
From the get go, Christina and Jeremy were great hosts. Instantly helped me out with any questions I had and were very accommodating. The place itself is quaint and full of character, I loved my room. Everything I needed was available, not to mention Bagel, their superstar guest greeter. Thanks guys!
---
It was great staying with Chistina! She was already there when we arrived and welcomed us very heartly. We had no problems to find the appartment and were amazed by the very beautiful house and neighbourhood. The room was clean and we had everything we needed. After exciting days in Manhattan we always looked forward to come back to the appartment. We had great days in NYC thanks to our lovely home in Brooklyn. We can totally recommend the place to everyone who is looking for a special place to stay. Thank you, Christina!
---
Christina is originally from Times Square, NYC but has travelled and lived in Montreal, Paris, Peru/Brasil, Israel, India and more. Her roommate, Tyler is from Connecticut but has been living in brooklyn since 2007. Our household can't live without art, jokes, coffee, Bagel (the dog), bagels the food, and our awesome Airbnb guests. We have been hosting people since last year and it has been a great experience. We have feel so lucky to have had so many wonderful new friends come through!


语言:
English、Español、Français