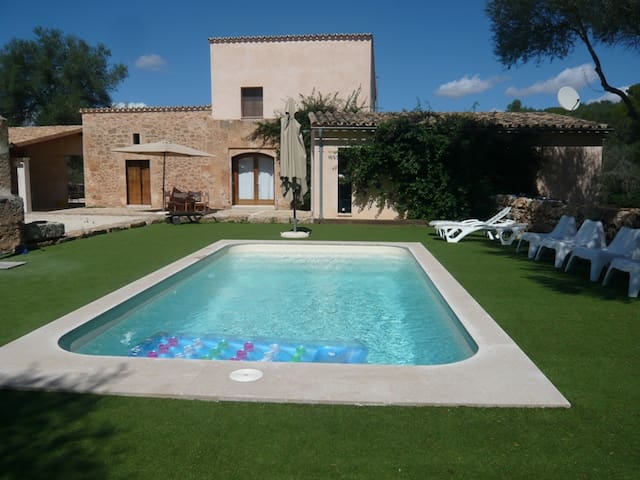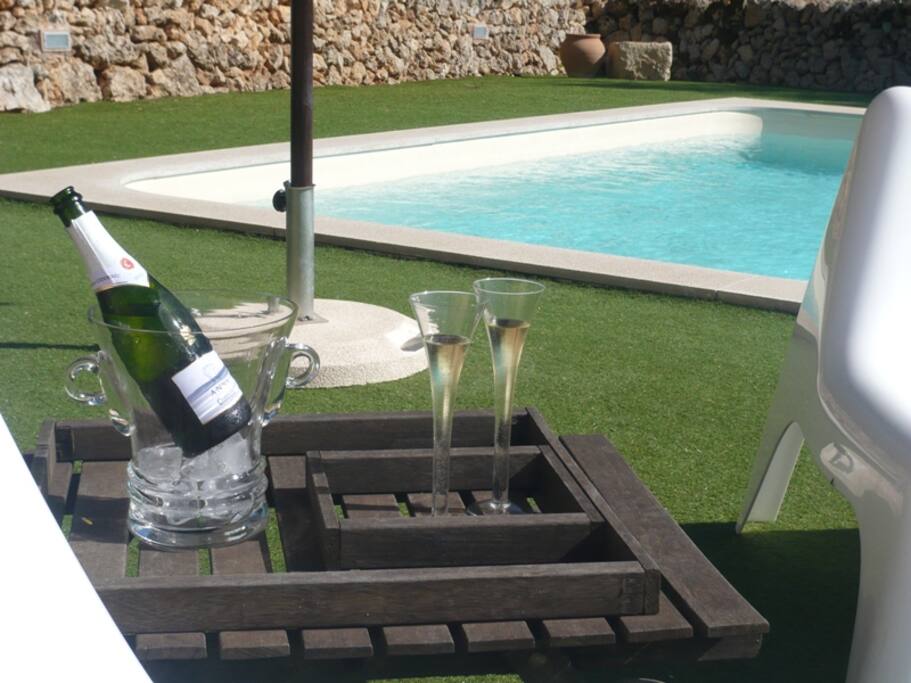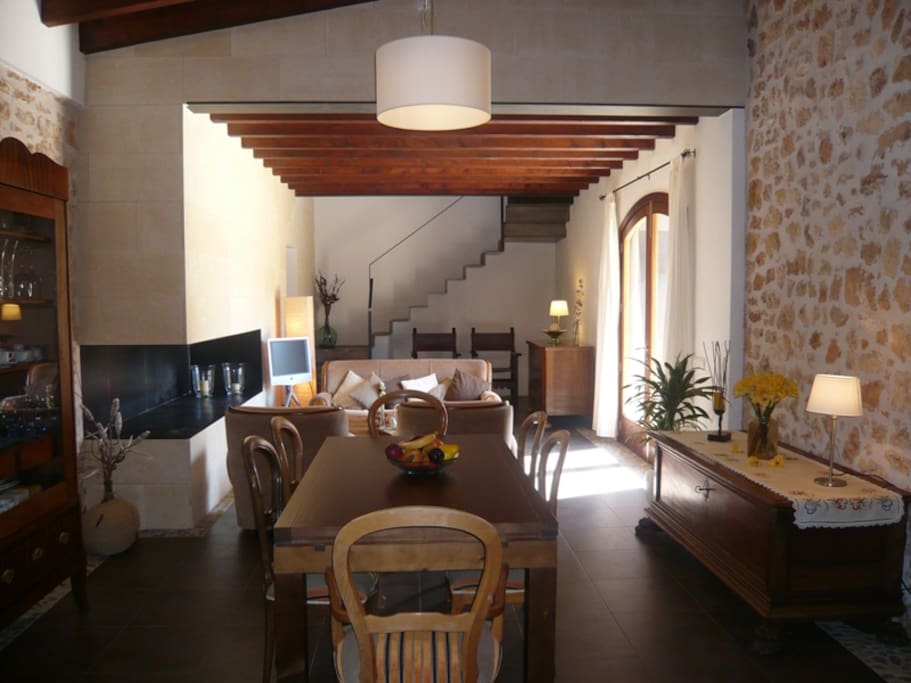 房源
Wonderful country house located in the middle of natural area in Mallorca, 15 minutes from Palma de Mallorca Airport and 30 minutes from Es Trenc, the virgin beach with white sand and the most spectacular turquoise water of Mallorca.
The house is located in a rural Mediterranean pine forests and fruit trees on a property with more than 70,000 square meters to enjoy complete peace and privacy.
There are two traditional buildings rehabilitated in 2012 by ourselves, who are the architects: the main house has a spacious living room with fireplace, a dining room, kitchen and a bathroom and there are two bedrooms on the ground floor. Next to the main house is a bedroom annex with an en suite bathroom. The set of the two houses is 150 square meters.
The whole is surrounded by spacious terraces with outdoor furniture to enjoy nature with all kind of comforts.
It is possible to walk and hike the whole length of the property. Even it is possible to rent mountain bikes!.
At the beginning of the stay accompany guests to the house and explained the overall operation. We are available to customers 24 hours a day during their stay in the house.
The length of the property makes it possible to enjoy the most absolute tranquility and privacy.
Imprescindible vehículo propio.
房客使用权限
Es posible recorrer y hacer senderismo por toda la extensión de la finca. Incluso cabe la posibilidad de alquilar bicicletas de montaña!.
与房客的互动
Al principio de la estancia acompañamos los huéspedes a la casa y les explicamos el funcionamiento general. Estamos a la disposición de los clientes durante las 24 horas del día durante su estancia en la casa.
---
Wir haben den Aufenthalt in Llorençs Haus jeden Tag genossen. Bei unserer Ankunft hat Llorenç uns freundlicherweise an der nahegelegenen Tankstelle abgeholt. Das Haus liegt außerhalb von Algaida. Der Weg zum Haus ist tatsächlich etwas abenteuerlich - aber wir hatten täglich Spaß, die Strecke zu fahren. Und die Ruhe und die Privatsphäre vor Ort sind unbezahlbar. Das Haus bietet allen Komfort - bequeme Betten, schöne Badezimmer, einen tollen Pool, täglich frische Zitronen vom Baum usw. Alles wie es auf den Bildern zu sehen ist. Rundherum wachsen Olivenbäume, Feigenbäume, Zitronenbäume, Mandelbäume, Granatapfelbäume, Aloe Vera, Riesenkakteen, Wein, etc. Unsere Kinder hatten viel Spaß daran, das Gelände zu erkunden und tierischer Besuch war auch reichlich geboten. Gekkos in allen Größen, Häschen, Katzen, super lustige Wiesel, Schildkröten, jaaaa Schildkröten. Und Ameisen und Schnaken. In Hülle und Fülle ;-) Es ist halt mitten in der Natur. Wer empfindlich ist, sollte mit Schutzlotion vorsorgen. Auf Algaidas Dorfplatz kann man lecker Cafe con Leche trinken und pa amb oli essen - ohne auffallenden Tourismus. Auch im Hostal neben o.g. Tankstelle bekommt man sehr leckeres mallorquinisches Essen - stilvoll und bezahlbar. Im Haus selbst ist das Nötigste zum Kochen vorhanden und die schöne Terrasse bietet einen hervorragenden Platz für ein ausgiebiges Essen und lange Spieleabende. Dass die Flugzeuge in hör- und sehbarer Nähe vorbeiflogen, hat uns nicht gestört. Das Ambiente ist so stilvoll, schön und erholsam. Es strahlt unheimlich viel Ruhe aus. Llorenç ist ein sehr freundlicher, angenehm zurückhaltender Gastgeber. Wenn man etwas braucht, immer zu erreichen. Wir haben tolle Empfehlung für Strände von ihm bekommen - und wenn man mal nicht so weit fahren möchte, ist man in ganz reellen entspannten 20 Minuten an der Playa. Wir kommen sicher wieder.
---
We really loved out stay at Llorenc's house. It's in a very rural and secluded setting which makes for a fantastic sense of freedom and privacy. Add in the pool and covered terrace and it's pretty much the perfect place to de-stress. It was also pretty special being able to wander through the grounds and pick fresh figs, lemons and almonds. Despite all this, you're only a 20 minute drive from buzz of Palma so it offers the best of both worlds really. Llorenc is a very helpful and likeable host. Overall, I highly recommend a stay in this property.
---
We had a lovely time at the cottage. The house was lovely and clean and there was plenty of space for the five of us (two adults, three children). The pool was the perfect size and perfect for the kids. The house is very close to the airport and Palma and it's an easy drive to the beaches on the south coast. Llorenc was very friendly and easy to deal with.
---
The finca of Llorenc is beautiful, very comfortable and in a lovely area, if you like it calm. The only sound you hear are animals and some airplanes, but not loud. Llorenc is a great host, was always friendly and replied quickly to all our questions before and during our stay. All of us, esp. the kids loved the pool, we made almost every evening a BBQ with the grill, great to have it! Everything was clean and in a good condition! For us, being with 2 toddlers, it was great to have a washing machine. It was awesome to discover the land with the lemon tree, figue tree and we even saw the turtle, which was a great discover for the kids. All in all, we can recommend the beautiful finca of Llorenc!
---
Llorenc was great and came to meet us (late on a Sunday night!) to bring us to the house, which is located in this amazingly quiet and large estate full of fig, lemon, almond, and olive trees. Our children adored plucking fruits and nuts off the trees. They had so much space to roam and explore, since there was no one else in a radius of 500m. Amazing. Highly recommend the place for a family seeking some peace. The location of the house also means you will be mostly dependent on a rental car, but the location itself was great in terms of driving distances to all other sights and spots in Mallorca. It's not clear from the pictures, but there is actually a little separate house at the pool, which has a modern bathtub in front of a full length window. Definitely the honeymoon suite if travelling with couple friends. The place widely surpassed our expectations!
---
Llorenc made us very welcome. Attentive and helpful, he was concerned that we should feel at home and want for nothing. If you want to 'chill out' this is the place. A delightful, well equipped, comfortable property finished to a very high standard in a very quiet and secluded location. Highly recommended.
---
Mi profesión de arquitecto me permite disfrutar de la rehabilitación de nuestras pequeñas joyas a las que año tras año añadimos más detalles...


语言:
English、Español