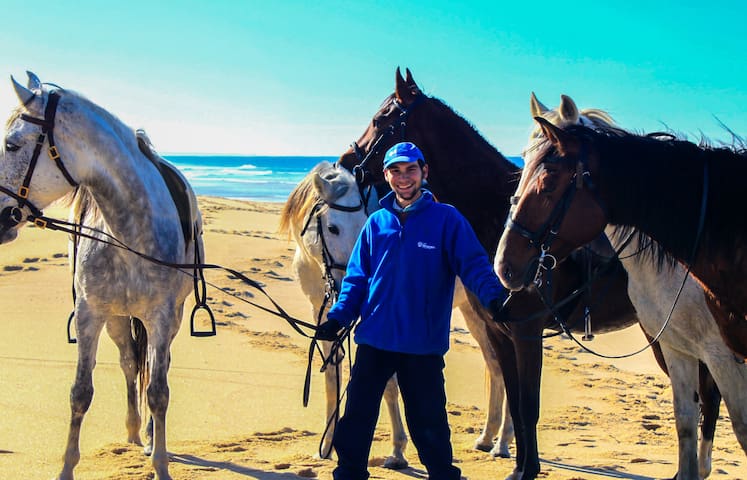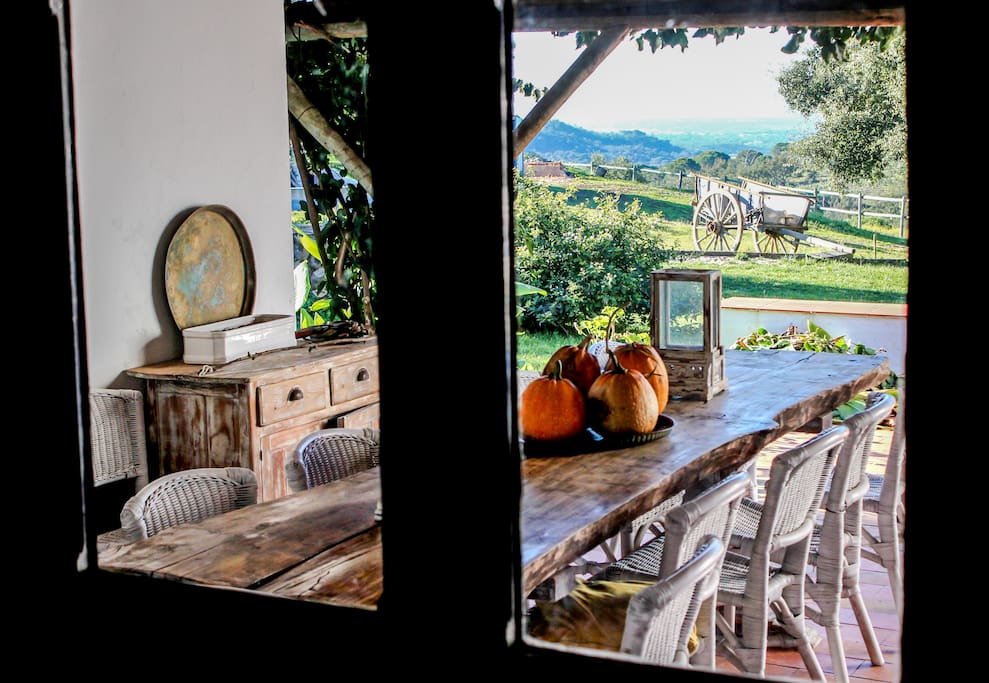 The best Beach/Country Holidaysever
Surrounded by a stud and a walking distance from unexplored beaches this holidays destination is something that you wont want to miss. With warm winters and astonishing summers will provide you increase flexibility when planning yours holidays
房源
Located in Alentejo, a classy to explore destination that from couple years back has been winning awards behind awards for its glamour. Five minutes distance to beach and local supermarkets, surrounded by horses, is something that you don't want to miss.
The property has large communal areas including, two dining rooms and two living rooms with plenty of space, furnished with comfortable sofas and central heating which will warm you up, followed by an office with an excellent working desk. . The fully equipped kitchen includes 2 independent sinks and a large breakfast table.
The central heating system runs throughout the entire house and there is no need for air conditioning due to the thick walls, . The kitchen, dining room and all bedrooms have windows/doors facing the fields plenty of sunshine all day long.
Moreover as an environment friendly house all our water system is heated through solar panels.
房客使用权限
All the area is to be enjoyed by the guests that booked, nothing is shared. Is the entirely house that is booked including the garden, pool and all the other areas mentioned in the booking.
与房客的互动
All the interaction needed will be fulfilled so that everyone feels welcome. however all the privacy will be given.
---
We had a wonderful stay in Frederico's house! The house has a perfect location up a hill , surrounded by nature and horses with a breathtaking view over the ocean. The kids loved playing around the big lawn and in the swimming pool. The house is large and well kept, and has everything you expect for a comfortable holiday. We were very warmly welcomed by Frederico's parents and their other son Luis who were always helpful and reliable in giving us advice and tips on where to go in the area. Three things we would advise Frederico to do : reinforce the wifi which was not powerful enough, secure the mezzanines above each room with some security barriers for the kids and offer to pick up the hosts somewhere in the village and bring them to the house as there is no proper address and the gps coordinates were wrong. Besides these details, everything was fantastic and we will come back for sure in the future !!!
Thank you for your feedback and suggestions Emily. I am glad that you and your friends enjoyed. We also enjoyed to have you as a guest. Just a small note, the wifi provided is the strongest available in the area. Looking forward to welcome you back and if needed just give me a call and more than happy to pick you up in melides. thank you once more. Frederico
---
We had a wonderful time in this warmhearted house with a view that can not be surpassed. There are many places outside and inside the house two spend cosy hours with friends and family, the kitchenequipment and extensive amount of croccery give opportunity to cook great meals that can be enjoyed at the long tables . Swimming , floating in the pool, playing tabletennis, beachball or volleybalvin the garden plenty of activities for young and older. Seeing the horses and fowl hearing them whinny gave an extra dimension .Although the temperature was very warm ,30-35 degrees, there was always a cool breeze and the rooms were never to warm to sleep. The house is decorated with love and good taste. The family Lamas was welcoming and always available for questions and help . The horsebackrides gave a great extra to our stay .. We have travelled a lot and are a little spoiled but this was one of our best hollidays ever !!! We hated to go and will certainly come back .Thank you so much family Lamas for a perfect stay!!!!
---
We had a wonderful family stay at the Quinta for 10 days this summer. The house is tastefully restored, great garden and pool and a phenomenal view over the hills to the ocean! The Lamas family have been wonderful hosts and we have thoroughly enjoyed the hills and beach rides with Luis. Our 3 kids enjoyed it very much as well, our daughter especially enjoyed the riding lessons. I can certainly recommend staying at the Quinta do Almargen.
---