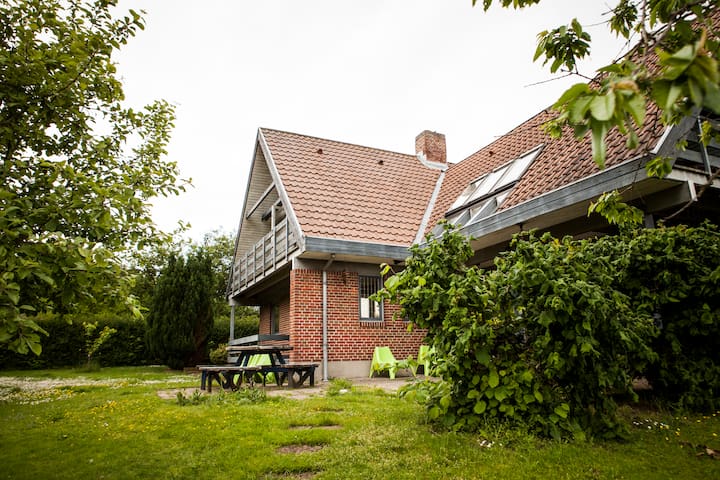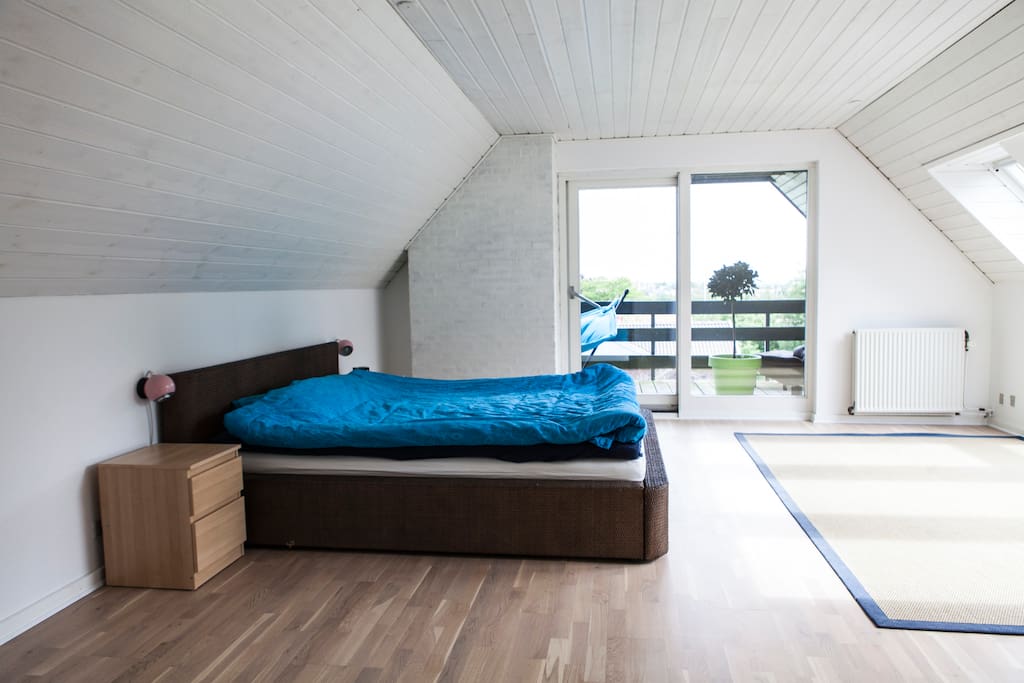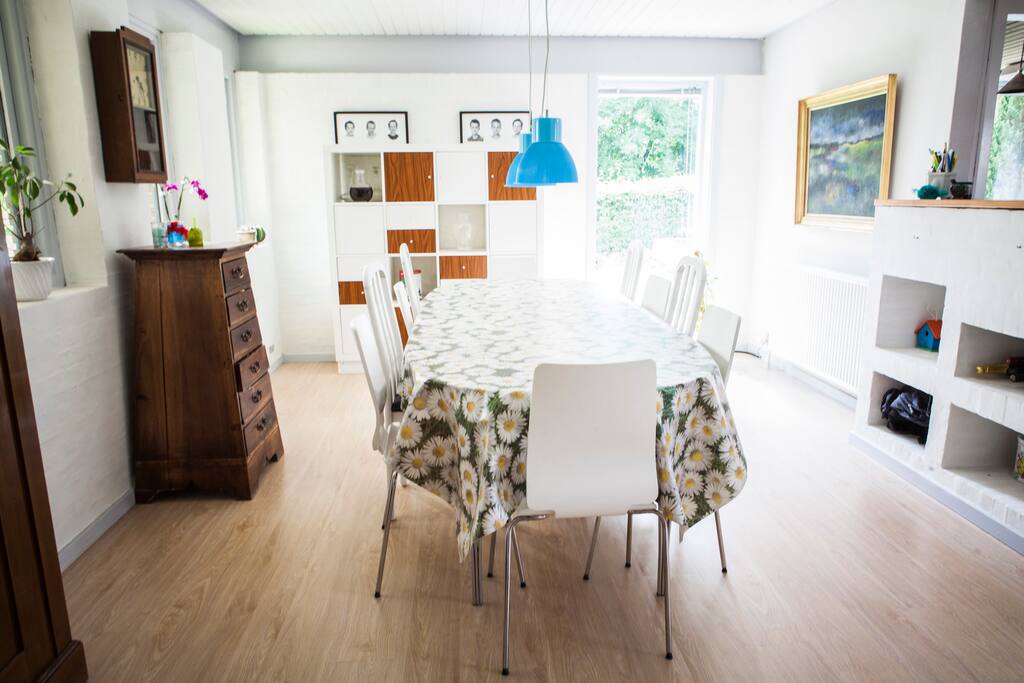 Lots of rooms. Privacy. View of Town. Forrest in back garden. Runs, treks, walks, bike routes and a beautiful castle. Walk down to shops, indoor svimmingpool, cinema and small town. Close to cities: Viborg, Randers, Aarhus, Skanderborg, Silkeborg.
房源
We have a large house with a total of 4 floors. There are beds for 7 people, but you can live many more in sofas and mattresses. Private fenced garden, three balconies, a cinema in the basement. Large forest with a castle just outside the garden gate and nice little downtown with shops, cinema and public swimming pool 300 meters away.

Hammel, our city, is located in the middle of Jutland and by car you can get to Aarhus, Randers, Silkeborg and Skanderborg in 25 minutes. Legoland and Billund airport is approximately 1 hour away. Perfect location for the large family who wants to experience Denmark.

You can expect a large house en a quiet place. A ground floor with two entrances, a batheroom, a livingroom with large tv, netflix and cabel. A library with a computer you are free to use. Free wifi as well.
We have a large fully equipped kitchen with two ovens, microwave, espresso machine, american fridge with ice maker.

On first floor we have another bathroom with both shower and bathtop. And here we have one large bedroom with a balcony and three childrens rooms. Two of them with beds on a mezzanine. All the childrens rooms have access to a balcony as well.

In the basement we have e small cinema, table football/soccer, washing and drying and an extra toilet.

The forrest is two steps north of the house. The town with shopping etc is 500 m south of the house. From the balcony you can see the entire town. Our garden is fenced for the sake of our dog. He will not be at home, when you are here. The place is perfect for the large family or friends traveling together. It is very spacious.
与房客的互动
You will rent our house while we are on holiday. We will never meet. You will have the place completely to your selves. We just wish for you, to take good care of our two cats :) They will stay home.
---
Our stay with Annie and her family was our first experience with Airbnb and it hasn't been a disappointment! Although they were on a holiday themselves, we immediately felt welcome. Annie had left us a note with a picture of her and her family and several pages with good advice. We could use their house, taste their drinks, eat their food, sleep in their beds, let the kids play with the toys just to make us feel at home. The house is quite big and full of nice surprises (like the home cinema in the basement). And it may be big, but it still feels cosy. The garden is very 'natural' and contains all kinds of berries, and is very close to a forest where you can see the squirrels running through the trees. The pictures on Airbnb are a very good representation of what the house looks like. Annie is a very good host: friendly, polite and so very helpful. She's proud of her village, her country, her culture, her own family and so she should be. We would surely recommend a stay at her place!
---
We had a great time in Denmark. Annie gave us a lot of tips. We had so a nice cycling tour in the neighbourhood. This really gave us a good feeling and we rapidly felt at home. There's a lot to see in the area and you are quickly on the spot because of the relatively small distances. The house is very spacious and our kids loved it to feed the cat.
---
Wow ! We really enjoyed our stay in the large house in the forest. What a nice place to be in Denmark, especially to visit this part of the country, full of lakes, forests and beautiful landscapes, but also near of cities like Aarhus and Silkeborg. The house is pretty well situated in Hammel, in a quiet and calm place, near of a castle, but with all the essential services nearby, The house is perfect for a family. It's quite spacious (we were 5 and we could have been more without a problem ) with a lot of rooms and it's easy to find a place for everyone . We really felt like home there. Carla the cat is a pretty good companion to live with and she is really cool with the kids. We appreciated very much all the attentions of Annie and her family for us. They left us an explicative document and tips for the stay that were really useful. Annie is really helpful and easy to join, even if they were travelling too while we were there!
---