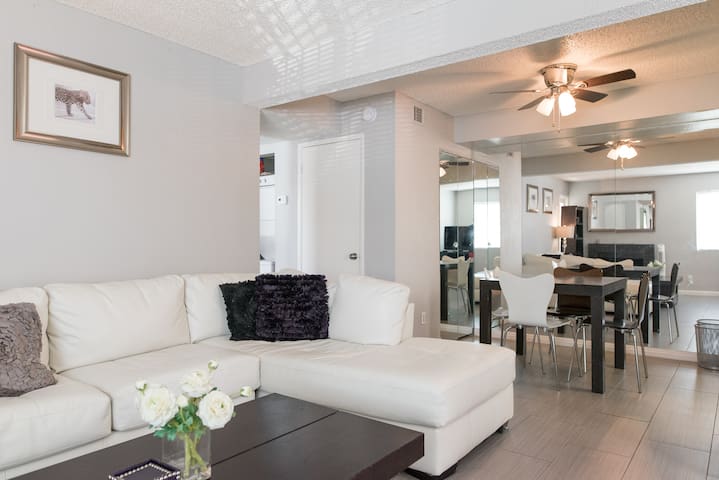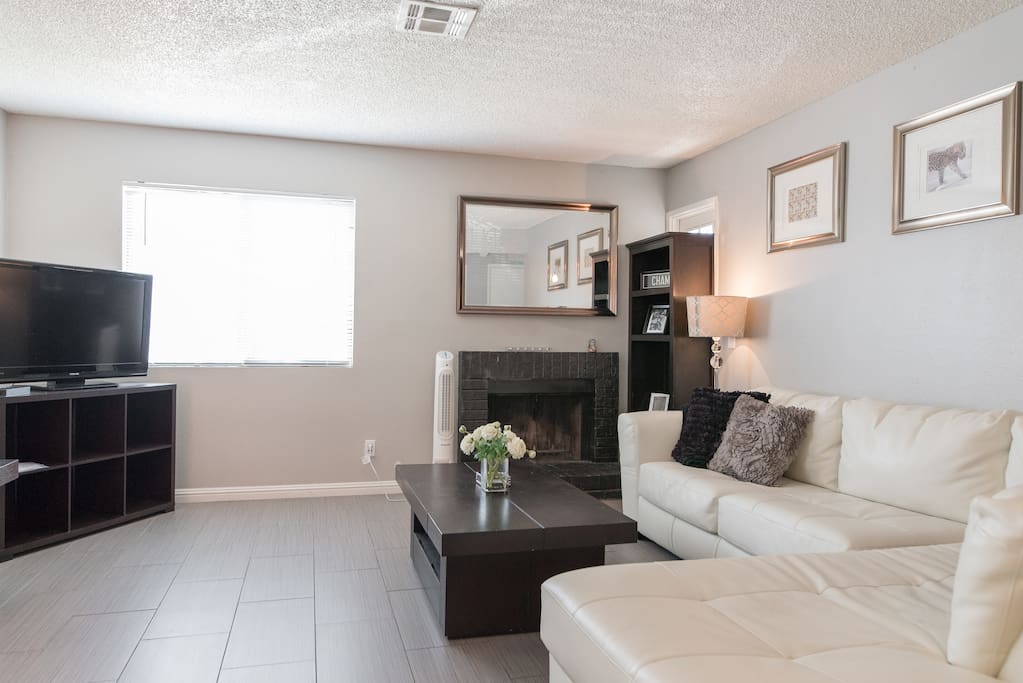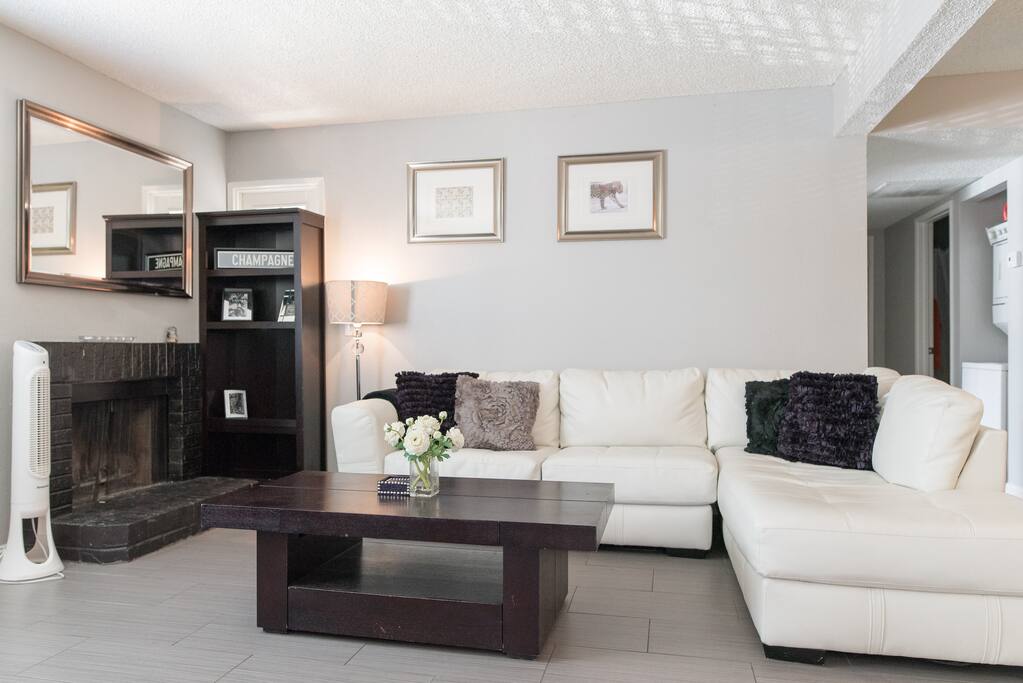 可爱的1卧室公寓,3分钟到地带和会议中心,精美的装修与高端的当代装饰。非常方便的位置,超级靠近Target,Alberstone's,百思买,史密斯等更多的商店和餐馆。
Lovely 1 Bedroom condo, 3 min to the Strip and Convention Center, beautifully renovated with high end contemporary decor. Very convenient location, super close to Target, Alberstone's, Best Buy, Smith and many more stores and restaurants.
---
The location and price was great! Other than that, it was an overall unpleasant experience. BRING A TRASHCAN! There wasn't even a trashcan in the main living area! We had no choice but to use the tiny bathroom trashcan during our entire stay. BRING EARPLUGS!!!!! The upstairs neighbor is extremely loud and in the middle of the night!!! (Stomping, moving furniture around, who knows what else) If you want to get good sleep, earplugs are a MUST! Our white noise app didn't even begin to mask the noise. BRINGS YOUR OWN TOWELS AND LINENS!! We didn't sleep in the bed the first night because when we pulled the covers back, there were hairs...all over. We had to sleep on the couch because we didn't feel comfortable sleeping in the bed. The towels did not smell clean, which forced us to go out and purchase our own. The shower looked like it hadn't been cleaned either. We couldn't get the WiFi to work either. Overall, the price was great and the location was as well. But, there were way too many cons for us to recommend this place to anyone, or for us to consider ever staying there again.
来自Las-Vegas Suite Rentals的回复:
Dear Cortney, we are sorry to hear that you didn't enjoy your stay at the Katie condo and we only learned that from the review above, since communication with you during your stay was very pleasant. If you asked for new sheets and towels or for housekeeper to come and address your cleaning concerns, we would be happily taken care of it. We'd like to reassure you that we always wash our sheets and towels and are taking clenliness very seriously. The tub in the bath is stained due to wear and tear, since it is an older property with an older tub.
---
This place does appear how it looks, however, the shower was dirty even after multiple attempts of cleaning. Bugs (little) were seen on a daily basis including the walls, ceilings, around countertop areas at all times of the night. During the day it is mostly quiet, however, the upstairs neighbor is constantly moving furniture at all times of the day and sounds like walking around in heels. The neighbor across the apartment frequently had his door open playing talk radio or loud music. I would wash clothes to tune him out. Construction noise across the street at night was pretty noisy until about ten pm. Communication with the owners was pretty good however did not like when the cable was not working upon first turning on tv I tried everything and contacted them. Was told I could call the cable company to get it worked out, which I didn't feel I should do. I ended up not doing it to avoid the hassle and settled for wifi. You can definitely tell this place is a rental with items left behind from past guests. I used my own linen, cleaning supplies, and towels. Location wise for my stay was convenient to what I needed it for. Target, grocery store, and mall are all walking distance. People are constantly walking by the apartment on the sidewalks.
---
This is a very nice condo, you have plenty of space if you are traveling alone or as a couple. Everything is up to date. It takes about 7min to walk to vons supermarket. And to the boulevard mall where you have a lots of stores. Cab or uber to the strip takes about 10min. Cost about 15$. I was there for 10weeks and loved the place. Negative: The neighbor upstairs are making noise at random times of the day and night but you get use to it. Some of the cab driver said that this area is bad neighborhood but I dint notice any thing about that. Conclusion, I would recommend this place if you are going to vegas for a longer period and dont want too stay at a hotel.
---
The condo is exactly as pictured, very modern and updated. We enjoyed all the comforts of home in the unit. As far as the prior reviews go... yes, the neighbors upstairs were a little noisy & there were a few bugs here and there, but these are out of the owner's hands (as these are condos, not apartments). The area was wonderful, there is a mall, Target, markets, and an array of restaurants in the surrounding blocks. You really don't need to travel far to get anything! I loved that the unit was pet-friendly & had areas in which I could take my pups out for a morning stroll. I would definitely stay here again.
---
We have over +20 furnished apartments in the Las-Vegas area for rent on a monthly basis.
All our apartments are privately owned.
We specialize in furnished rentals in Las-Vegas and Henderson.
Contact Julia anytime if you have questions or need more details.