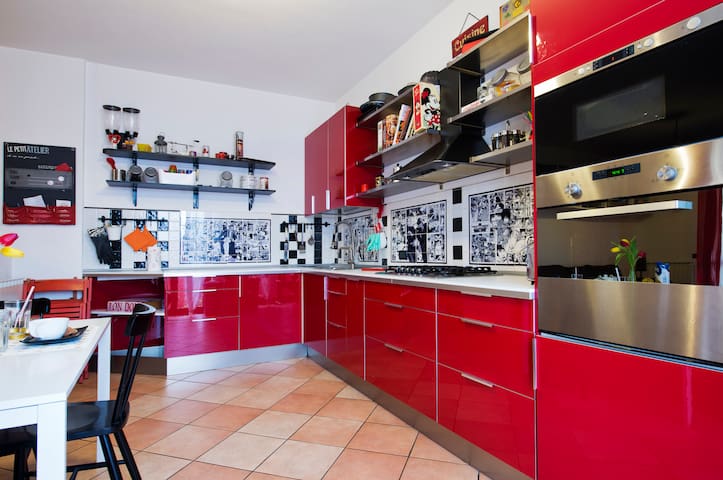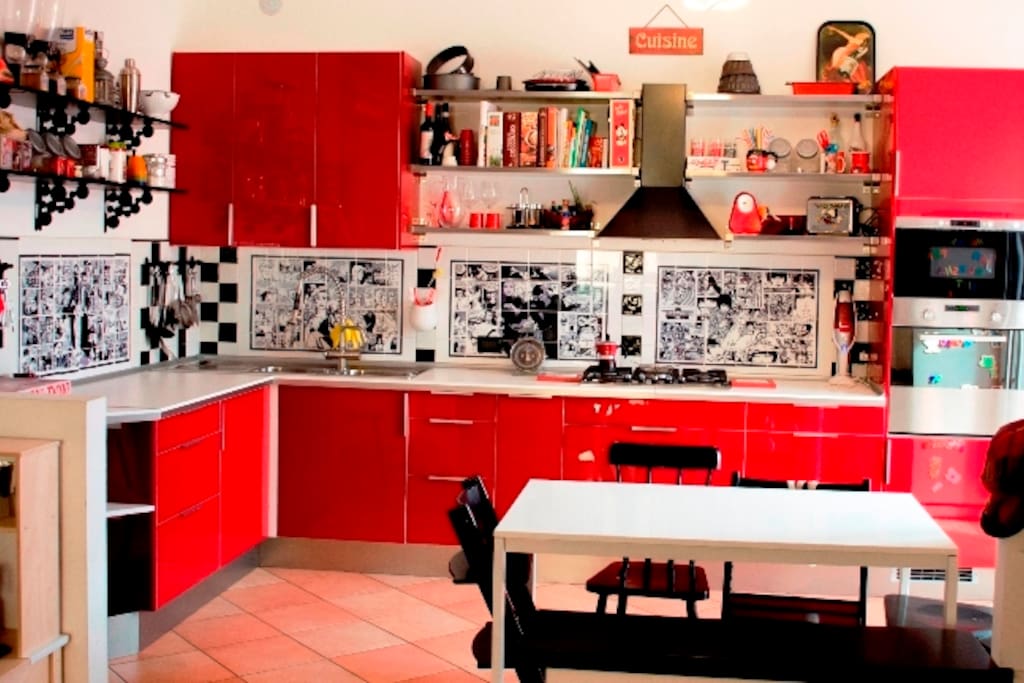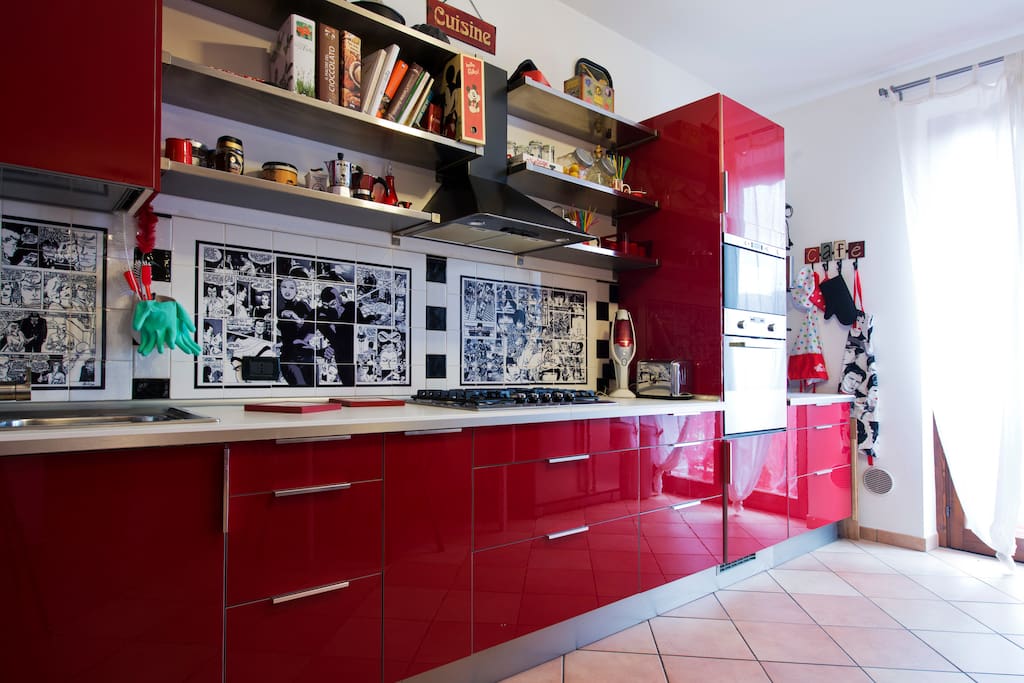 此房源的描述已由谷歌翻译从英语翻译成您的语言,但谷歌翻译并不能保证翻译的准确性。
完美的位置享受附近的城市,如米兰和Rho Fiera的所有博览会,如Salone del Mobile,还有科摩,瓦雷泽,瑞士和湖泊,让您有机会留在一个非常大而舒适的公寓,周围环绕着绿色的乡村!
房源
这间宽敞舒适,色彩缤纷和迷人的2BR公寓位于一个美丽的露台的一楼,位于一个轻松而美丽的私人花园的三面环绕。享受附近城市的完美位置(米兰,首先,所有的展览,只有15英寸的车程或Salone del Mobile;还有科莫,瓦雷泽,阿尔科纳蒂别墅),距离大乱,享受乡村。它还让您有机会以非常有竞争力的成本留在一个相当大的公寓。
我们的公寓由一个开放空间的大入口组成:左边是设备齐全的现代厨房,右边是舒适舒适的客厅。
具有现代和原始装饰的厨房设有风扇烤箱,微波炉,带双门的美式冰箱冷冻柜,5个燃气灶具和6个餐桌。它提供了餐具和板材,眼镜和您可能需要的任何烹饪工具。法国窗口向外开放到私人花园。
起居室设有一个非常宽敞舒适的沙发,舒适的躺椅,宽敞的衣柜,书店,音乐中心,空调和在门廊露台和私人花园外面向外敞开的法式窗户。
然后有两间卧室,一间带一张双人床,另一间设有两张单人床和一张色彩鲜艳的设计扶手椅。他们都有书店,衣柜;带双人床的卧室配有平面电视的电视架和后院的窗户;另一个有一个法国窗口向外敞开到后院花园。
最后还有一间带浴缸的浴室和私人花园的窗户。
根据季节,您还可以有机会享受美丽的花园,三面环绕着露台别墅。您可以在木制门廊,秋千凳子,甚至儿童游戏区内找到烧烤和燃木烤炉,晚餐桌和放松沙发。只需一个你可能需要享受你的假期距离米兰,科莫,瓦雷泽,瑞士和湖泊只有一步。
房客使用权限
酒店提供一整套新鲜的床单和新鲜毛巾。
根据季节,享受花园的机会,烧烤,秋千台,餐桌和沙发(最后在木门廊下)和儿童游戏区。
有可能有其他客人出租在较低的楼层:就在这种情况下,您应该与他们分享花园,因为它将成为唯一的共同区域。其余两间公寓有不同的独立入口,完全自主,所以不用担心,
与房客的互动
我将通过电子邮件和/或电话留在您的处置。如果问题不是紧急事项,我会立即回答你,如果这个问题不紧急,我可以亲自出席紧急情况,尽快取决于我的可用性(工作和/或家庭生活)。我可以亲自出席在上层,即使是相当的罕见。无论如何,总是有人可以在需要时发送给你。
其他注意事项
容易在房子前面停车。
互联网无线网络在抵达时支付15欧元。
---
---
---
宠物不允许
吸烟仅允许在开放区域(花园)。
有可能为儿童(10欧元/天)和高脚椅贷款一张小床。
对于不是AirBnB验证的客人,需要提供具有ID或护照复印件的电子邮件。
---
---
---
---
We had this apartment for 13 days for overseas family during a wedding celebration. The location was good for us as it is close to where we live. The kitchen is the highlight - very large, tastefully decorated and well equipped. The bathroom is large with a shower over the bath and it was very clean. The main bedroom has two single beds that can be made into a double and they are very comfortable. There are lots of interesting books and dvds to watch. The second bedroom fits 3 stretcher type beds, suitable for children or young adults (not elderly people). The linen is fresh and nice. However, there are are few things that are unclear in the english description that people should be aware of: 1) the apartment has another apartment underneath it (with a completely separate private entrance) but the garden is a shared private garden. We did not know this and we were only advised of this in the letter from the host the day before we arrived. As it turned out, it was ok for us as we only had to share the garden with strangers for a few days and they were very nice but had we known in advance we probably would not have booked here, considering our needs. 2) the outside area no longer corresponds to the photos - it is somewhat run down with broken paving and the garden was very overgrown and uncared for. (to be fair, I did not advise the host of this when we arrived as I assumed they knew the condition of their property, and, in our case, it was not particularly important as we used our own garden as much as possible - I did tell the cleaner on the day we left and the host said we should have contacted her and she would have had a gardner come in - however, it should not be up to the guest to have to do this - the host should know the state of their property before guests arrive). 3) You will need to take your rubbish with you when you leave if it is not a collection day - it is not included in the 50 euro cleaning fee you pay (we were there a good length of time and did, naturally, remove rubbish daily but on the last day it was not possible as there was not an appropriate rubbish pick up that day for it so we had to leave some pizza boxes and a small bag of plastic bottles and some cardboard which the cleaner complained about to the host (but the cleaner said nothing to us and since I have never had to take our rubbish away with us from any Airbnb place i have stayed in i assumed it would not be a problem.) On the bright side, the apartment has good access to the train station (3 minutes walk) to access Milan (half hour) and the lakes (one...
Thanks for your precisions, Angela. I use Airbnb too, with 2 kids, and we always take out our garbage before leaving, since I don't think it's very polite to leave to other people our own trash to be taken out (especially when you live aside and you can easily take your 3 bags of garbage with you, knowing that is a bit tricky the collection of trash there and that you're obliging a stranger - say, our housekeeper, in this case - to take your garbage at her house, or to leave it in front of mine, so that I can be susceptible to be fined because of that). Regarding the lawn, you talked about the grass that has to be cut: the grass could grow at different speed, according to the weather condition. If you have told me that it had to be cut, I would have called the gardener. On the contrary no, I wouldn't have changed the tile that is broken, even if you had told me, because it's just one, and our apartment isn't an hotel: we live there quite fine even if there is a nearly broken tile, we look at the others of our nearly 14 meters terrace under the porch and we think our guests could do the same, living as we live, as local, not hotel owner that have to change all the floor the minute when one tile outside accidentally (because of a storm) is a little bit broken. Regarding the "possibility" of having other guests downstairs, in the studio with another autonomous entrance, it seems to be enough clear, being this a townhouse of 3 floors and having rented you just the ground floor, at a very convenient price. Since both the announcement are in my listing, you were free to rent the whole villa of 220 square meters, but obviously at a different price, comparing the one you've paid for renting just the 80 square meters ground floor. Anyway it's specified now in the announcement, the following guests will be aware by reading the description. Thanks for your concern.
---
Séjour très agréable. Jolie maison bien entretenue. À 2 minutes de la gare : super pour aller à Milan sans se soucier de trouver un parking. Très bien situé : entre Milan et les lacs. Très bonne communication avec Laura avant et pendant le séjour . Hôte toujours disponible et joignable. Accueil sympathique avec produits pour le petit dej. Merci .
---
Il soggiorno a casa di Laura è stato molto piacevole. La casa è bella ed accogliente con tanti libri interessanti per chi nel suo viaggio volesse dedicarsi anche alla lettura. Si trova in una piccola zona residenziale molto tranquilla e con parcheggio direttamente davanti casa. Dunque ottima per chi si muove in macchina. Saronno si raggiunge in meno di 10 min. e Como in una ventina o poco più. Dal punto di vista organizzativo ha funzionato tutto al meglio ed è stato possibile definire orari di arrivo e partenza in base alle nostre esigenze. Infine molto apprezzata la presenza del necessario per la prima colazione. Insomma per chi si trova in viaggio in questa zona sicuramente consigliato!
---
---
Nata sul mare, mi sono trasferita a Milano per frequentare l'università e alla fine sono rimasta a vivere e lavorare lì, fino a quando non sono nati i miei due bimbi (che ora hanno 2 e 4 anni). Due anni fa ci siamo trasferiti poco fuori Milano, e quindi è diventato disponibile ad essere affittato questo appartamento, che con i suoi molti colori, riflette perfettamente il mio modo di essere. E anche le mie passioni: per la pittura (vedi il murales da me realizzato), per la scrittura e la letteratura (vedi la parete di frasi scritte sul muro), per il cinema (vedi la presenza dell'impianto surround). Un'altra mia grande passione è viaggiare, e credo che la scoperta di questo sito contribuirà ulteriormente ad alimentarla.
语言:
English、Español、Français、Italiano