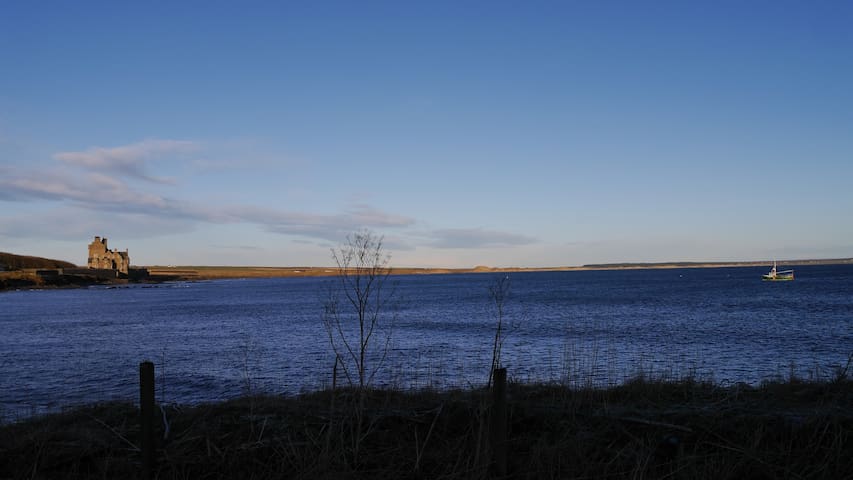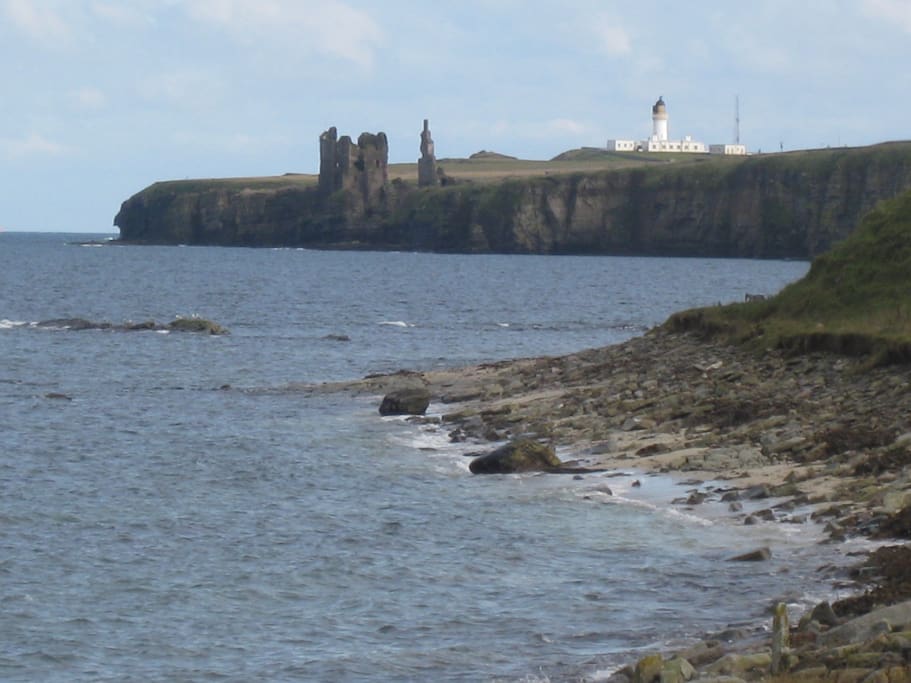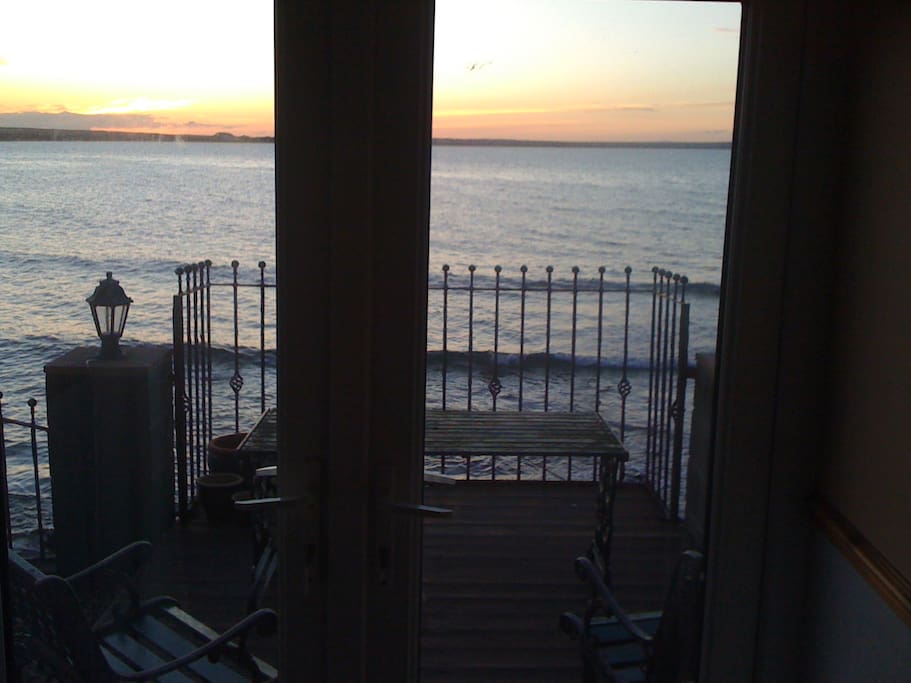 房源
向北望过去的Sinclair Bay湾向Orkney和Pentland Skerries灯塔,这个设备齐全的前滨小屋拥有令人难忘的海景。随着浪潮横跨整个海湾,您可以观看海洋冲浪的活油画。 Orcas经常可见,海鸟和海豹很多,客人有时甚至看到我们害羞的海獭。 它可能看起来很北,但仍然在挪威的南部,是值得的两个小时,风景秀丽的海滨之旅,从恶劣的道路上。不要错过距离Kessock桥以北12英里的商店餐厅(M-Sat 9-6,Sun 10-5),或Golspie附近的Dunrobin城堡。 对于那些喜欢外出就餐的人,在Wick几家优秀的当地酒店,甚至是一家美食法国餐厅。 (对安德烈的问候)麦凯斯友好的酒店(给鲁伯特的个人问候穆雷)持有吉尼斯世界"最短的街道"的记录, 在十字路口(20英里),上层甲板和独特的道德船长厨房("哪家"英国最佳鱼餐厅:2008年)"被强烈推荐 - Mey和Gringoe / Sinclair城堡是值得一游的,腹地是一个主要的鸟类保护区。 Thurso拥有世界一流的海滩。 Wick有定期的海船/港口节日和轻型飞机的飞行。如果你爱海和安宁,这是你坐在传统露天阅读或去海岸线散步的地方。在高潮期间,只有大海和海浪通过法国门才可见;你甚至可以在没有晕船的海上。东海岸mid堡几乎从来不是一个问题,但面向西方,从太阳的厨房设置"Ackergill Towers"(尝试吞噬它并比较价格!)与每一浪潮的潮汐粉红色的景色被认为是相信的。 如果您根据所有这些美丽,您仍然需要互联网,那里提供免费无线网络连接。 停止按:Wi-Fi情况。 我们在海岸和海獭别墅已经有Wi-F多年,直到最近,它一直工作得很好。 不幸的是,我们现在很抱歉报告说,我们继续支付的这项BT服务一直在不断恶化,大概是因为Ackergill的越来越多的人正在试图同时使用互联网。我们承诺,快速光纤"很快",但迄今没有明确的日期。希望你会找到足够的享受的位置,这不是太大的问题,甚至有一些优势。 如果消息是必不可少的,那么在市中心的Weatherspoons,还有McKays的门厅或Norseman酒店,都可以使用Wi-Fi接入。 如果需要,可以以低成本租用喷墨打印机/复印机/扫描仪。 旅行:从阿伯丁或爱丁堡直接飞往威克,并从理查德的友好当地车库租车。或者乘飞机到空中飞行(从卢顿,盖特威克,希思罗机场,利物浦,贝尔法斯特,伯明翰,布里斯托尔,都柏林,利兹,曼彻斯特或纽卡斯尔直接,低成本的航班),或者更多地通过教练或舒适的风景培养。
Looking out north across sheltered Sinclair Bay towards Orkney and the Pentland Skerries lighthouse, this fully equipped, foreshore cottage has unforgetable sea views. As the tide comes in across the sheftered bay, you could be watching a living oil painting of the ocean surf.
Orcas are regularly visible, seabirds and seals abound and guests do sometimes even see our shy sea otter.
It might seem far north but is still south of all of Norway and is well worth the two hours scenic seaside journey on the road up from lnverness. Don't miss the Store House restaurant (M-Sat 9-6, Sun 10-5) just 12 miles north of the Kessock bridge, or Dunrobin Castle near Golspie.
For those who enjoy eating out there are in Wick several excellent local hotels and even a gourmet French restaurant. (Greetings to Andre) McKays friendly hotel (give Rupert's personal greetings to Murray) holds the Guinness book record for the "Shortest street in the world"
Further afield in Scrabster (20 miles) both the Upper Deck and the distinctively ethical Captain's Galley ("Which" Best Fish Restaurant in the UK: 2008) are highly recommended - The Castle of Mey and Gringoe / Sinclair castle are well worth visits while the hinterland is a major bird sanctuary. Thurso has a world class surfing beach. Wick has regular sea boat/harbour festival and fly-ins for light aircraft. lf you love the sea and tranquillity this is the place for you to sit reading by a traditional open fire or to go for shoreline walks. At high tide, with only the sea and the surf visible through the French doors; you could even be at sea without seasickness. Being East coast midges are virtually never a problem, yet facing west, the view from the kitchen of the sun setting over "Ackergill Towers" (try googling it and compare the prices!) with every wave of a high tide being tinged with pink has to be seen to be believed.
lf you in the light of all this beauty you still need the internet, there is free Wi-Fi.
Stop Press: Wi-Fi situation.
We have had Wi-F in both Sea Shore and Sea Otter Cottages for many years and until recently it has been working reasonably well.

Unfortunately we are now sorry to report that this BT service for which we continue to pay, has been getting steadily worse, presumably because more and more people in Ackergill are trying to use the Internet at the same time. We are promised that fast fibre optic cables "soon" but no definite dates so far. Hopefully you will find enough enjoyment of the location for this not to be too big a problem, and for some even an advantage.

If messages are essential good Wi-Fi access is available in Weatherspoons in the centre of town, or in the foyer of McKays or the Norseman hotels.
If needed, an ink-jet printer/photocopier/scanner can be rented at low cost.
Travel: Direct by air to Wick from Aberdeen or Edinburgh and hire a car from Richard's friendly local garage. Alternatively fly to lnverness airpoft (direct, low cost flights from Luton, Gatwick, Heathrow, Liverpool, Belfast, Birmingham, Bristol, Dublin, Leeds, Manchester or Newcastle), or else travel more sedately up to Wick by coach or by the comfortable scenic train.
与房客的互动
由于维斯达姆项目的继续工作,现在可悲的是已经"退休"了,住在伦敦附近。但是,由于反馈意见证实,我确保我通过电子邮件,甚至通过国际电话与客人进行互动。 "退休"我试图确保所有的客人如果有任何问题,可以在上午8点到晚上11点之间打电话给我。
Sadly now "retired" and living near London due to continuing work on the Wisdam project. But as the feedback confirms I make sure that I interact with our guest very concientiously both by e-mails and even by international phone calls. Being "retired" I try to make sure that all our guests can phone me anytime between 8 am and 11 pm if they have any questions.
---
---
---
No smoking indoors.
Pets welcome but NOT upstairs
When you leave please: All Taps turned off, All Windows shut, Please leave useful left-over food up to their use by date for the next guests (Perishables in the Fridge and Freezer) Front door key please leave on the key rack in the hall, Front Door closed, Rubbish/Trash emptied into correct bins
---
---
The views from this house are as advertised. It is truly breathtaking to be right on the water. My kids enjoyed walking down to the private beach looking for seashells and playing by the water. Unfortunately we didn't see any animals, but we still enjoyed the ambiance. The sunsets are absolutely gorgeous. This cottage is older and because of this, it needs quite a bit of attention. If that doesn't bother you, then the views will make up the difference and you will love it here. It does have everything one might need: fully stocked kitchen, wifi (worked great for us), and central heating. Rupert was great at communicating with us and made sure we knew he was available if needed. He gave a lot of great suggestions for things to see nearby.
---
A wonderful home by the sea and a most gracious host. When we missed a connecting flight, delaying our arrival by 24 hours, Rupert was kind enough to offer us an additional night since he had no bookings the day after our check-out date. The house was inviting, and the setting was wonderful, with a Tesco super store just 5 minutes away (Which came in handy since our luggage had decided to spend an extra night in Amsterdam). Our first Scottish meal was just down the road at the host-recommended Rumblin' Tum, where Glyn was friendly and the food was hot and very reasonably priced. If (when) we make it back to Scotland, Sea Otter Cottage will definitely be an accommodation. A helpful note for travellers from the US, Tesco sells 'EE' mobile phone sims for £0.99 that are an excellent deal (UK number, 2GB data, 500 minutes calls in UK for £15.00) and an international calling option that costs 3p/min to call the US.
---
Retired specialist in maternity care, gynaecology and medical ICT

Currently working flat out on the WISDAM Initiative
(With each Individual; Social Demographic And Medical)
The globally standardised Medical and Social welfare dataset and record system (always on paper ± electronic) a system which is totally complementary to thousands of incompatible government and commercial electronic systems, since the source data only exists as a unique record personally held by, owned by, checked by and updated by each one of us.
"Wisdam" for more information

Creator also of the Electronic Encyclopaedia of Perinatal Data
Try googling "Perinatal Data" or "Caesarean Proformas"

Daughters and grandchildren live in Vancouver and in New Zealand

Current Motto "Let's Build Bridges, NOT Walls.
语言:
English、Русский