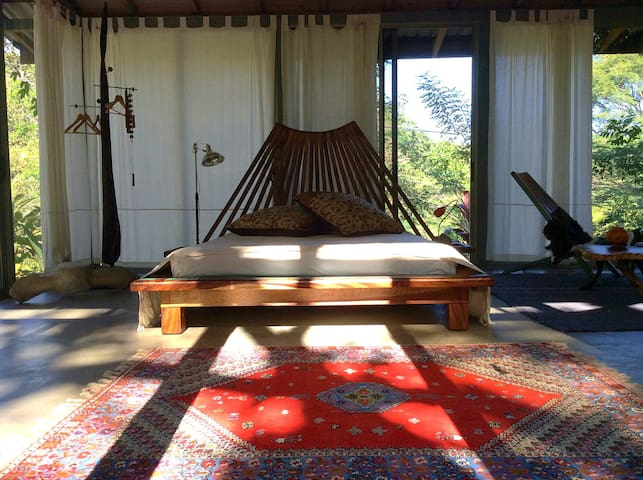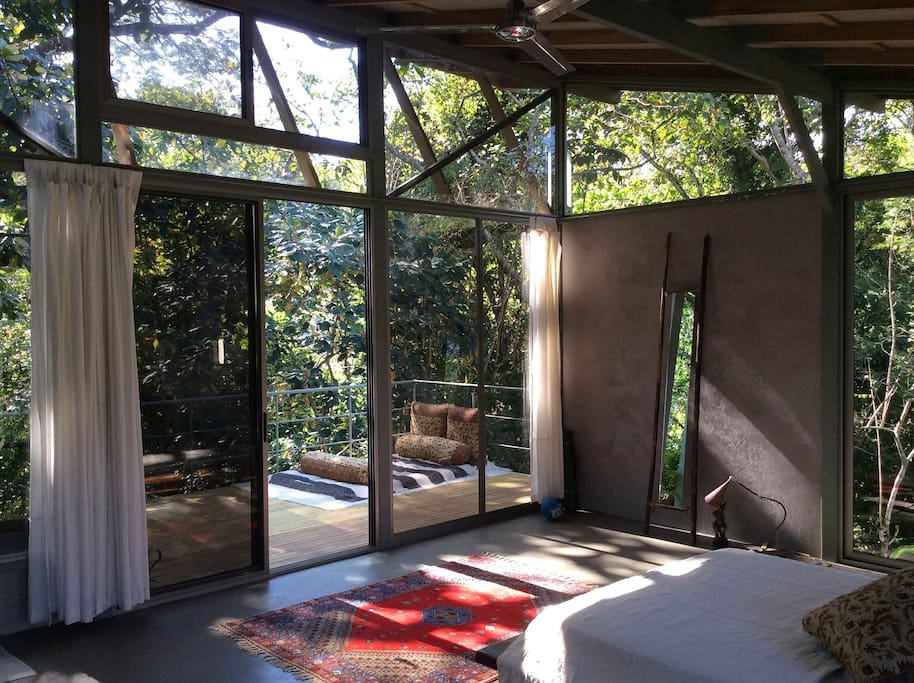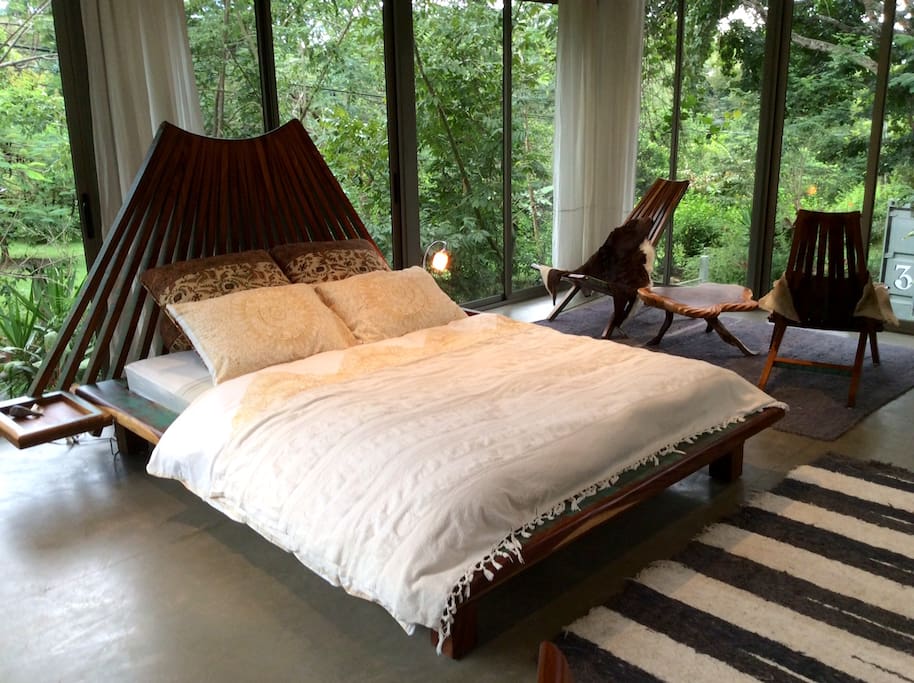 Come and enjoy a new experience in the jungle by staying in our new Treehouse build with a shipping container base. Gaze up at the treetops and enjoy watching the birds and monkeys from your porch. Stylish handmade furniture and designs.
房源
The space is very open and airy with glass doors all around, allowing for a fresh breeze all day and night. Gaze at treetops while resting on your comfortable bed or outside on the big porch, listening to birds , monkeys and the little creek....this is pure relaxation and peace and perfect if you love to immerse yourself in nature.
房客使用权限
you will have your own kitchen area and garden as well as big porch upstairs. We live across the street, so your place is private and independent from us. We have now also added wi-fi at the tree loft for you.
与房客的互动
We are happy to share tips and recommendations if you like and help you to book excursions.
You are also welcome to book a private yoga session with Dagmar on your terrace or come take classes at her studio in town.
其他注意事项
Newly build by artist owner, lots of artistic design and details and you can feel the love that has been put into it. We are happy to share the place with you and making your stay a memorable one.
---
A definite must if you're looking to enjoy the natural wonders of the Costa Rican rainforest in a stunning tree loft! Dagmar's artist loft is impeccably decorated and allows you to be completely immersed in the sights, sounds and smells of the rainforest. We saw all kinds of birds, butterflies, and even howler monkeys right from the balcony. Dagmar was accommodating and a good communicator--she even made domestic travel recommendations and helped us arrange our transport to town. Couldn't recommend enough!
---
Dagmar's tree loft is amazing! She was traveling during our visit, but her caretakers Matt and Jenessa were available and very helpful. Everything about the tree loft is beautifully detailed and wonderful. The outdoor shower is something you can only dream of. Hot water in the jungle-- major perk! The walk up to the tree loft is not for the faint of heart. I'd definitely recommend renting a 4x4 or an ATV, but otherwise we really enjoyed our stay.
---
We literally had the time of our lives! This is one of the best trips (if not the best one) we have taken. Dagmar's place is the ideal stay if you are looking to immerse yourself into the beautiful colors and sounds of nature. If you are looking to find simple beauties that nature has to offer, removed from excess, this is a great spot. This spot is perfectly situated in the jungle where you will be surrounded by one of the most biodiverse ecosystems. You will go to bed to the sounds of cicadas and a rolling creek. The morning hour is announced by the flutelike calls of pigeons and oropendolas perched out of sight in the canopy, punctuated by the distant coughs and roaring of howler monkeys. The such beautiful biodiversity, I am convinced that these hemispheric tropics are the NYC for flora and fauna. You are not too far away from the quaint town of Montezuma which has restaurants, beaches, markets, everything you need, and some of the friendliest people. You are also not too far away from other towns with beautiful beaches like Santa Teresa. If you bring your own vehicle you can explore and find some of the most beautiful beaches, perfect for beautiful sunsets on clear days. There are also beautiful waterfalls near by that you can either hike to, or take zipline tours to get to. We loved our trip so much that I even proposed on a beach not too far from this spot. All in all, it was a dream trip and I keep dreaming of waking up to the sounds of its nature. I would recommend this spot to anyone!
---
This tree house is a very unique experience in terms of the architecture and location! The interior is gorgeous, full of hand crafted wooden furniture. We really enjoyed our stay and Dagmar was very responsive to any questions we had. Two things that may be obvious to others that we didn't realize until we got there: there is no air conditioning, which the description says but deserves restating. It can get very hot during the day inside of the room (fine at night though). And the kitchen is outside, which isn't a huge issue but definitely can make cooking a race against bugs. Overall though, it's a really cool place that's driveable to Santa Teresa and several other gorgeous beaches near Montezuma.
Hi Austin, thank you for your review, we are glad you enjoyed your stay at the treeloft. we are experiencing a very strong rainy season that as a result brings out more bugs than usual these days, but that is why we offer a great discount on the rental rate these months. And if our guests open the doors and windows upstairs with the fans there is usually a great fresh breeze and not too much heat, so we prefer this compared to a closed a/c room. Thank you for staying with us and enjoy the rest of your trip!
---
A wonderful stay. Such a relaxing space to get away and relax - really feel part of the wilderness. The hosts were great! The Treehouse is about a 20 min walk to Montezuma town - which was perfect. Kitchen facilities were just what you need and loved that it was all out in the open. Thanks for the perfect stay!
---
It's a beautiful secluded place to stay in the jungle, 5 mins away from town where there are beaches, restaurants and grocery stores. Cooking is a challenge as the kitchen and fridge are outdoors, but fun if you are up for it as we were. The studio itself was gorgeous! Daniel made all the furniture and there are books to read, you can sit out on the deck and listen to the nearby creek, meditate or simply just be. Our one problem was an overflow of bugs large and small. Now, I am aware it's the jungle, so let's get that out the way. I grew up going to the lush areas of west Africa so I have experienced bugs and am not skiddish. It was the beginning of rainy season so the bugs were at large but it was to the point where we could not even turn on a light at night as the entire studio would filled with bugs. This pretty much made sleeping and relaxing at night impossible. A simple mosquito net over the bed would go a long way. Other than that, the apartment is gorgeous and quiet, and the proximity to nature is unreal.
Thank you Marybeth, we are happy that you enjoyed your days with us. we are also aware that the beginning of the rainy season brings its challenges like humidity from the strong rains and extra bugs, esp the days you were here and that's why we discount the price of the treeloft a lot. We provide a change of towels after 3 days and if you keep the screened doors closed no bugs should actually enter. Thank you for adapting to the situation and being cool about it, we will see how we can improve the situation, all the best Dagmar
---
Originally from Germany i moved here after living in Los Angeles and New York in 2001. It was always my dream to live in a sunny tropical country. I love the simplicity of life here, the climate and of course the abundant nature! I never get bored of all the birds, waterfalls and monkeys!!!
i am the founder and director of Montezuma Yoga, where i teach yoga classes and run retreats all year,
I am sharing my life with Daniel Gautschi, also known as GAUDAN, a very wonderful, creative man who loves nature, creating art and paintings and who also plays the magical instrument called HANG. Together we love to travel and share our yoga classes with people all over the world, we feel both very blessed to have such inspiring & happy lives and look forward to meeting you.