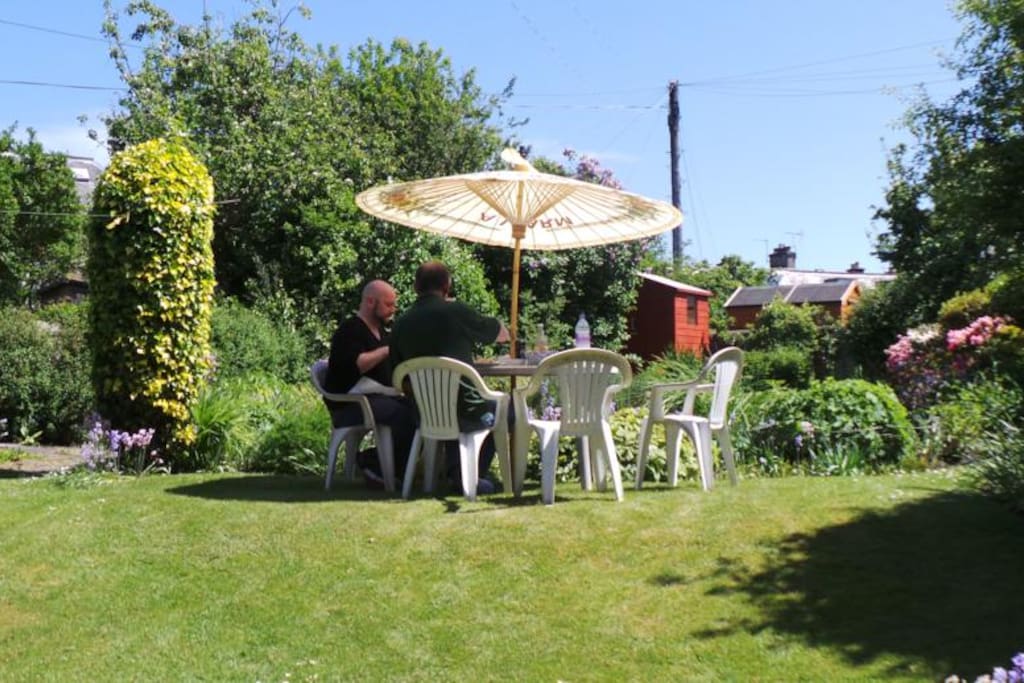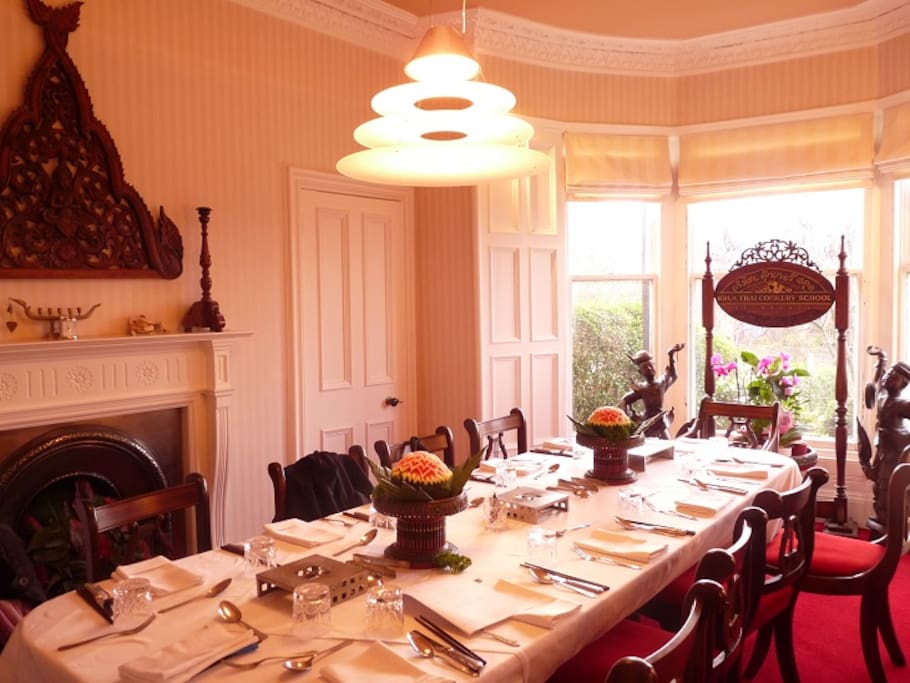 2. High quality bed in good area. Curfew by 2 am.
非常热情的房东,再晚起来,只要有时间都会给做早餐。泰式早饭好好吃!房间大小一个人住足够,设施齐全,床很舒服。环境也非常雅致,干净卫生。出门就是车站,最多20分钟就能到达市中心,很方便。如果下次来爱丁堡,一定还会首选这家!
Dear Sindy..Good morning teacher : ) ...Thank you very much for your kind feedback. I can read from (SENSITIVE CONTENTS HIDDEN) translate : )... Indeed we are very honoured to have you at our place. It was wonderful to have you here, we had a great time,chat,eat, laughed in the kitchen. I am so lucky and thankssss to Airbnb for giving me so wonderful guests just like you all the time. I wish you stay longer : ). Once gain thank you very much Yours sincerely Ru & Ian. PS. Well, Edinburgh is dull today, might be rain soon.
---
A little jewel in Edinburgh Air B n B's crown! Great house. Great food. Great welcome. Enjoy!
Dear Jill, A very good evening to you. Thank you very much for your spare time to write a kind feedback. I am most grateful for this. I am delighted to hear that you had a pleasant stay with us. I really hope that you will be back to Edinburgh and we will have the opportunity to serve you again. Once again our sincere thanks to you for choosing us. Have a great evening. Swadee ka. Yours sincerely Ru & Ian.
---
Ru was incredible in her level of care and support, whether it was doing some laundry for me, giving me a lift to a show when I was late or making special pancakes that I could eat on a crazily restricted diet. She is one of the busiest people around and still finds time to do these extra things for her guests. She truly earns the title Super Host. Ian was lovely to chat with and is a great source of information about Edinburgh. The house is quiet, clean and restful after a day exploring the city. Highly recommended.
Dear Will, A very good evening to you. Thank you very very much for your time writing a review and your kind words. I am truly grateful for this. We are so delighted to have you here. You are a perfect guest. We hope to have the opportunity to welcome back in the future. Have a great trip around Europe..... Next time when you come, it will be a new recipe for pancake... Sincerely Ru & Ian.
---
The house is very beautiful as location. The Host....simply the Best! She was my business trainer during my stay and she helped me a lot for everything! I can't stop to say thanks to her.... for the cake too!!!!!
Dear Giuseppe, Thank you very much for your kind feedback. It's very nice to have you here. We have a good laugh and discussion. I hope very much that we will meet up in the future. I hope you will enjoy your new job in Edinburgh. I wish I could be a vet like you, sadly I am not cleaver enough, but very proud of you and what you can do as a young professional. Please accept my very best wishes to you and your future career. Perhaps I can be your business partner for breeding dogs...ha..ha.. Once again thank you very much. Please feel free to pop in when you are free. Enjoy Edinburgh. Sincerely Ru & Ian.
---
Ru and Ian are lovely and generous hosts and always made sure I had everything I needed. You needn't worry about being hungry at their place, ever! Their home is also easily accessible by public transport and the closest shopping mall is just 10 minutes' walk away. A really nice play to stay with fantastic hosts overall.
Dear Chris, Thank you very much for your kind feedback. It was very nice to have you here. I hope you had a great time in Germany too. How great to be you. Indeed, all we are more than happy to assist you and all guests in ensuring you no hassle during your stay. Thank you for choosing Krua Thai Cookery School - Edinburgh accommodation. Sincerely Ru & Ian.
---
Ru was very helpful and friendly, and always was up for a chat with you. The bed was extremely comfortable and even had an electric (URL HIDDEN) was kind enough to make me pancakes each morning as well as lots of other things to eat. She allowed me also to park the car in the drive which was very helpful as well. All in all, I had a very good stay
---
Ru and and Ian are great and friendly hosts. I was greeted with warm smiles, two pieces of delicious pancakes and a cup of Jasmine tea. Ru and Ian made me feel right back at home and they are very helpful in navigating Edinburgh. Very comfortable bed, clean sheets, warm shower and delicious pancakes, what can I ask more!
Hey...Mitzy : ) Thank you very much for your kind feedback. I am very lucky to have you as another perfect guest at our place. Pancake Thai style with my secret recipe : ) you can't get anywhere else. We hope to welcome you back to Edinburgh and have another recipe of my pancake : ) Once again, thank you very very much. Sincerely Ru & Ian.
---
我们的地方距离市中心不远 - 安全的地方在晚上,安静,大量的隐私,友好,乐于助人的家庭,优质的住宿。主要道路上的绝佳位置15分钟。乘坐巴士前往市中心15分钟。步行到超市我们现在提供Min。 1夜。
Our place is not far from city centre - safe place at night, quiet, plenty privacy, friendly, helpful family, quality accommodation. Great location on the main road 15 mins. by bus to city centre, 15 mins. walk to supermarket. We are now offer Min. 1 night.
---
---
Our price per person. Child/children at any age will be charge as 1 person. We ask for your kind cooperation. Our request is just what most people do at home.: Please introduce yourself , your health issue, your career and the reason to visit Edinburgh. We are host family, This information will be provided before you book our accommodation if you wish to stay with us:
1. take shoes off and leave at front door from outside for hygiene reason,
2, keep noise to minimum by western standards,
3. no guest allowed in the house,
4. no smoking in the house.
5. no drinking/eating in bed.
6. You can cook but we prefer light cooking in the kitchen but not bake one potato in oven.
7. No drunk/drugs guest
8. Please introduce yourself.
9. Rinse shower/bathroom till clean. Use white towel in the bathroom wipe shower screen, WC flush twice to keep clean, around wash hand basin after used for the next person.
10. Please keep your toiletries in and hang your towels on the radiator in your bedroom to keep dry and ready for the next morning.
11. Curfew at 2am.
12. No application of hair dye or fake tan if you are please use your own towel.
13. Washing machine once a week.
14. Light breakfast /tea/coffee - will be ready for you in the kitchen. Please feel free to have when you feel like. Tea towels are in the draw below microwave
15. We have slipper for you to use, it's cleaned, our carpet is cleaned everyday and shampoo regularly.
16. We are looking for guests who are tidy and pleasant appearance. We love art, but NOT visible tattoos face, neck, hands and piercing.
Question: Many people asking how many people share in bathroom:
Answer: We have 2 super clean bathrooms: Our place don't normally have problem with untidy or dirty bathrooms as all our guests here are super clean so far. Everyone loves clean bathroom but clean at different level. We have a note in the bathroom for users to read and check bathroom before they leave. We have white towel in the bathroom for guests to wipe all wet area and ready for the next person or to it's original. This note reminds people especially for those who love clean bathroom but not pay attention to clean after themselves. The note will help to remind everyone to keep bathroom clean. This way will be fair to all parties and it's always nice to see bathroom clean at all times. For those who strict with clean bathroom will love our house rules. In my case, I always spend a few minutes cleaning and checking bathroom before I leave. This to ensure bathroom clean at all times.
---
严格
旅程开始前的7天之前取消预订可以获得50%的退款。如果在旅程开始前7天内取消预订,该预订将不可退款。
---
---
---
DISCOUNT FOR LONG TERM. Our guests are mostly post graduate students, researchers, visiting professors from Edinburgh University. We are willing to host guests that have the same values and principles as us. Our information for you to know us and to feel secure and safe at our place. In return, we expect the same return.

BEFORE YOU BOOK: For those who arrived after 23.00 hr. please notify me first before you book, as It can be very late especially sometimes the plane delayed.

Our booking rules: Please show your clear photo and read our house rules, failure to do so, we regret your booking will be declined. We don't want guests that hide their face and career, we believe this is nothing to do with your privacy but to show respect to both parties. Please introduce yourself - name and family name, your career, your work company workplace /full face recent photo/link to allow us to see and to know you and if you want to help us with our final decision. Our place is not suitable for those who have mobility difficulty.

I also own the 'Krua Thai Cookery School' in Edinburgh. Krua Thai students are from 30 countries most of them are chefs from superyatchs. I am a kind of regularly present Thai cookery on STV called 'FiveLive STV, The Fountainbridge show' Krua Thai also runs 'Thai cookery workshop with lunch' venue '376 for Edinburgh Fringe' every year ( I used to work for various top-flight clients ie. Hilton International Group which cooked for board executives of Hilton. As you know Thai people are known as friendly, helpful and courtesy people. That's how Thailand is famous in charming hospitality. I also gained Dip. in Culinary Arts with Management, BA (Hons) International Hospitality Management which I surely know the true meaning of customer care. My husband is a British Architect he used to work at Building Standard Scottish Government as a principal architect (happily retired). We are very helpful, friendly, laid back, tidy and highly responsible couple. We enjoy British/western standard quality, safe, clean place to live and that good area. We live around our great /helpful neighbours. We love travelling and meeting new people and different cultures.
I am no doubt enjoy cooking and eating. My husband loves films and reading.

You can search more about me 'Rujira Herd or Krua Thai Cookery School' as it is not allowed to put on this site. Why not join us if you wish to enjoy a bit of luxurious when away from home...you do not just sleep here. We promise - you will be well looked after throughout your stay. You will enjoy Jasmine tea and Thai food...while watching professional chef cooking live when you book a meal with us:). I can reply quickly from 11 am. - 12 midnight UK time. If you don't want to wait too long please book at the time suggested. Out of this time, you will have to wait for my reply.

语言:
English、ภาษาไทย