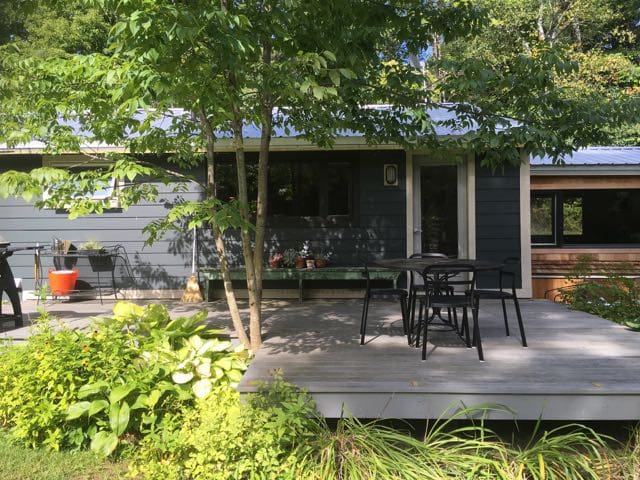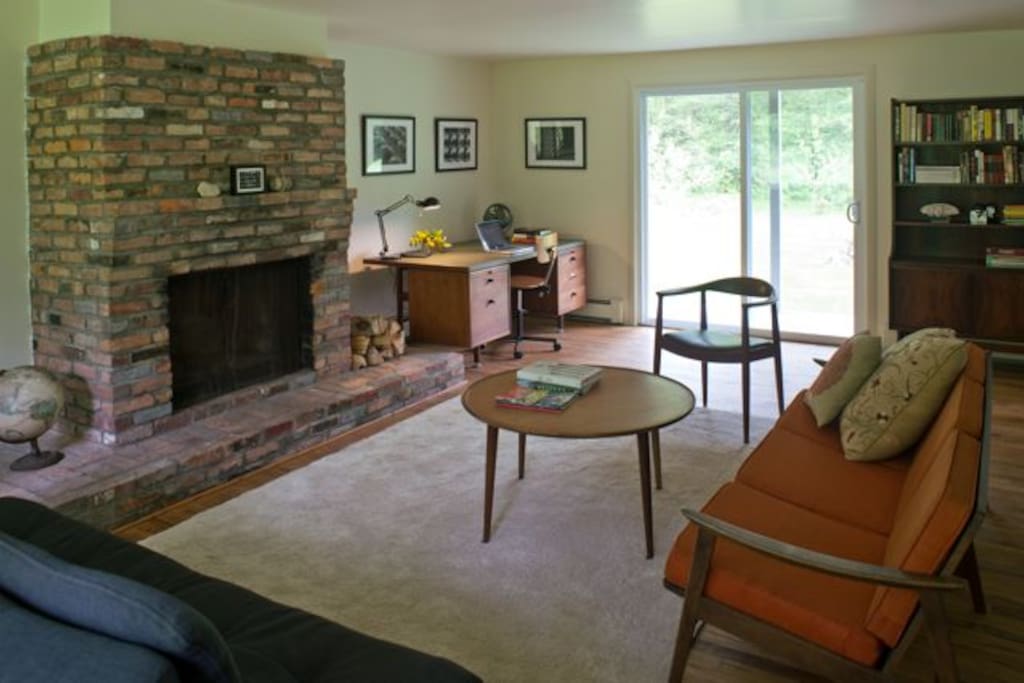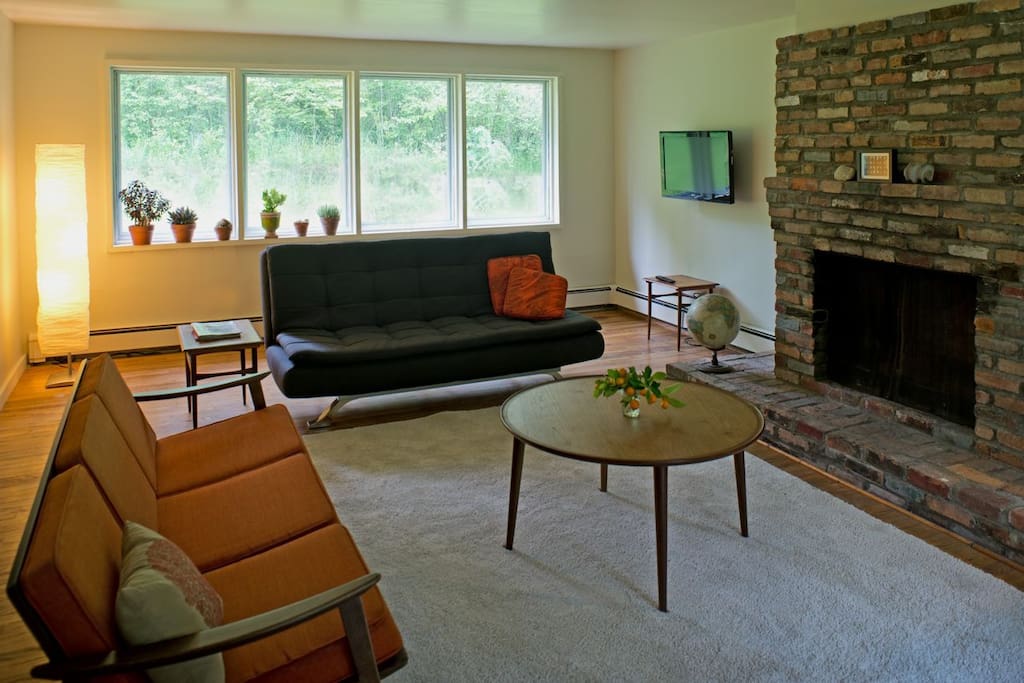 Great Barrington MidcenturyHideaway
Mid century furnished, big kitchen, comfy beds, great hiking. Minutes from Great Barrington, yet very private. "Super chill" say our reviewers...
房源
This property is very private, back a long driveway on a quiet road, yet is less than 4 miles from the center of Great Barrington, approximately 20 minutes to Tanglewood (closer via the back roads shortcut!), close to Butternut and Catamount ski areas, as well as all the Berkshire attractions. Very close to some of the nicest swimming places in the Berkshires. Hiking nearby / and on the property.
On the property there are 8 acres of hiking trails, plus another 35 acres adjacent of trails, plus 90 acres across the road of trails (great for XC skiing in the winters too!). In the front of the house is a very nice open field which we keep well mowed, so nice to amble around in. Lots of outdoor seating too! And a firepit.
The house is a 2 bedroom / 2 bath house newly renovated. Drawing upon our collection of midcentury furniture, we have outfitted the house with some iconic pieces. The house is fully furnished, yet deliberately spare, a blank canvas for you to use for a few days, a week, a month or longer.
It is perfect for a family or 2 (or 3) couples.
Upstairs is a HUGE BEDROOM, with king sized bed. It's a loft-like open sitting area with plenty of light, and also a small exterior balcony. Approximately the size of a nice large studio apartment, with high ceilings and forest AND mountain views. And a bathroom with soaking tub and separate shower. This room is also excellent for practicing yoga...high ceilings, wood floors; 6 mats will easily fit in here (and we can put you in contact with several excellent yoga instructors who will come to the house to give you private classes)
Downstairs there is a streamlined COZY BEDROOM, like a large stateroom in an ocean liner...cozy does NOT mean cramped though. Full sized bed. Full bathroom adjacent.
BEDS are new pillow top mattresses, very deluxe and comfortable; 300 thread count all cotton sheets and duvet covers; down pillows, down comforters OR hypoallergenic comforters and pillows, as you wish.
The LIVING ROOM has a fireplace, a great desk for working / writing (and a fold out / fold flat sofa bed. Flat screen TV for DVDs, reasonably fast wireless connection as well. Books, board games, and a good selection of DVDs. There are sliding glass doors out to a small deck, and a step down to a large meadow and beautiful woods with hardwood copses, beech woods, old stone walls.
DINING ROOM is well appointed, good light, very convivial possibilities, seats 10 comfortably, but is not huge, you won't get lost in it. Great light and views.
The KITCHEN is well outfitted; Viking gas range with vented hood, dishwasher. China is also midcentury; there is a lovely deck off of the kitchen, with outdoor seating and gas grill.
Small covered deck off of living room, and small deck off of upstairs bedroom as well.
Clean and empty 2 car garage + work area.
Washer / dryer
Bicycles available, plus many other useful things. We live just up the road, and so are available if there is anything you need.
Excellent high efficiency / low noise hot water circulating furnace / solar powered for electricity.

Cost is as noted in listing, plus a cleaning fee and deposit, depending upon length of stay. Your weekly cost also includes as much as you need from our organic farm, including eggs. Locally raised organic meat also available (at cost).
We are very flexible about checking in / checking out. However unless you specifically confirm the times you're coming (and going) we must ask that you check in after 4pm, and check out by 12:00 pm

Thanks and feel free to ask any questions
Here are some further reviews from another site -
August 2013
Lovely, Serene Setting Near All
My husband and I spent two August weeks at this terrific location and recommend it highly! While very private and quiet it is close to everything we wanted to do and see in the Berkshires.
We enjoyed the eat-in kitchen, which is bright, spacious and well-equipped. (We also used the dining room and the outdoor deck, which was lovely!) We used the very large upstairs king bedroom, which was comfortable and bright, with windows along one wall and sliding glass doors along another...with a deck for reading and dreaming! Wonderful property!
Ron was so helpful and available to us; his recommendations for restaurants and various activities were excellent. He also brought us beautiful cut flowers and delicious fruit and vegetables from his own gardens and orchard!
Overall, a great place to stay!Recommended for: Families with young children, adventure seekers, sightseeing, age 55+, girls getaway, pet owners, families with teenagers, romantic getaway.
July 2013
Great setting for family vacation
I rented this house for five weeks during the summer, both for myself and for a small family gathering. It was a wonderful experience all around. The listing info is accurate and the excellent reviews are merited. The house is spotlessly clean, comfortable and private, in a bucolic setting, yet only 10 minutes from Great Barrington. The place has been recently rehabbed and is nicely furnished in a clean, spare Scan style with space that is perfect for a couple and still roomy enough for a group. The master bedroom is particularly spacious with a good-sized bathroom and step-out deck overlooking a large picturesque yard -- great for kids and pets to play in and run around. The kitchen is well stocked with cooking supplies and opens out to an adjoining deck with a lovely setting for grilling and dining al fresco. The owners, Ron and Naomi, are wonderful hosts and really made us feel like welcome guests, with provisions of bread, coffee and salad greens in the fridge upon arrival and deliveries of seasonal produce fresh from their farm (which we also were also invited to visit). Ron manages the property in an unobtrusive way – he was easily reachable and responsive to inquiries, providing a font of information about area resources not found in guidebooks. In all my years of renting, I've never had such a positive personal rapport with an owner. I would definitely recommend this house for a family vacation, romantic getaway or just a great home base for exploring the Berkshires.Recommended for: Families with young children, age 55+, girls getaway, pet owners, romantic getaway.

June 2013
Relaxing and Rejuvenating Weekend
Ron was attentive and responsive to our questions and needs, he always replied to emails very quickly and made sure to contact us before and after our arrival. Directions regarding the house were clear, detailed, and concise. The house was homey and comfortable, fitting our needs. Ron provided us with a generous amount of food at the beginning of our stay. The house was a perfect size for the 6 of us and was large enough for us to spend time both together and apart. With the house set far back off a quiet road, we had privacy to enjoy the setting, as well as having fun without disturbing anyone. Definitely recommended!

June 2013
Beaux Berskshire Boite
Well, not quite a box, and not really French at all, but I'm stretching for alliterations these days.
Everything was exactly as pictured. Tasteful Midcent furnishings offend no one. Comfortable bed. Private location, back off the main road. Plenty of room for two people, would be great for 4 or even 6.
Well equipped kitchen. Grill. Firepit. Nice shower and bath. Naomi and Ron were thoughtful enough to leave out coffee, fresh veg from the garden, milk and bread. All nice touches.
Felt like I was staying in a home I already owned in some parallel universe, which, knowing my self-regard, is the highest compliment!
Would recommend this to anyone heading to the Berkshires.Recommended for: Families with young children, sightseeing, age 55+, girls getaway, romantic getaway.

June 2013
Just what we needed!
Stayed for a long weekend with college friends that wanted an upgrade from our average camping trip. The location was perfect - great hideaway surrounded by trees, but close enough to town to get whatever we needed.
Loved all the area info that Ron and Naomi left for us - it was so helpful!! Upon our arrival we were greeted with fresh eggs, berries, bread and local coffee such a lovely touch!
We enjoyed all of our meals on the deck and made use of the grill and fire pit. Also spent one afternoon at a local swimming hole they recommended we check out. Overall great weekend and would certainly stay again! Perfect for families or a group of friends.

Amazing hospitality and cozy hideaway
Guest: emy888 (Northern NJ)
Date of Stay: 02/20/13 Review Submitted: 03/22/13
My husband and our four young children visited the area for the first time to go skiing at Butternut. This house could not have been more perfect. Very kid-friendly, cozy and comfortable, unique in its stylish decor, tucked away and very private. Conveniently located close to Butternut and to Great Barrington's main street, a wonderful place to explore, as well as many other spots we discovered .... But the real treat was the amazing hospitality of the owners. Their recommendations and knowledge of EVERYTHING were top notch and made us newcomers feel as though we knew all the secrets. They greeted us with above-and-beyond helpfulness to make sure everything was perfect and in its place, with fresh eggs, juice, butter and bread for our arrival to boot. And when we found we needed something to execute our customary post-skiing pancakes, they were super responsive and non-intrusive with not one but 3 griddles .... honestly, they were quintessential hosts who ensured that we will be back. We look forward to experiencing the home and area in the warmer months.
Recommended for:Adventure seekers, age 55+, romantic getaway, families with young children, girls getaway, sightseeing.
Did you find this review helpful? Yes | No Helpful votes: 0/0
5/5
wonderful getaway
Guest: Marie, Kurt and Matthew (Lawrenceville, NJ)
Date of Stay: 09/13/12 Review Submitted: 09/18/12
Our family just returned from a blissful four day stay. We will admit that PERFECT weather conspired to make this trip so glorious but Ron & Naomi's home was a huge part of it. The house is clean and cozy. The fresh flowers, eggs and veggies were a lovely bonus! Ron was quick to respond to any and all inquiries and stopped by to help map out a local trip. A very peaceful vibe and we came home relaxed and re-charged. We look forward to a return trip and heartily recommend a visit!
Recommended for:
Did you find this review helpful? Yes | No

stylish, comfortable and impeccably clean
Guest: B Lady (Brooklyn)
Date of Stay: 08/18/12 Review Submitted: 09/03/12
We completely enjoyed our stay. The house offered great privacy as well as lovely minimalist style. My husband usually has bad allergies in summer homes but the Berkshire hideaway was so dust free that he had no complaints. The owners were extremely helpful and accessible. Also, we have two young children so the laundry, dishwasher and hammock were a plus. The location was ten minutes from the town of Great Barrington and there was swimming close by.
Owner response:Thanks for your nice review! Glad that the allergies were not an issue! (we are very thorough with cleaning / everything is dusted, wiped down, HEPA vacuumed, all rugs regularly washed etc). You guys were great guests, please think about us for future visits! Ron & Naomi
Recommended for:Romantic getaway, families with teenagers, families with young children, girls getaway, sightseeing.
Did you find this review helpful? Yes | No Helpful votes: 2/2
房客使用权限
This is a whole house, so you have complete access.
与房客的互动
We are across the road at our farmstead and available for any house related things, as you need us, or not, whichever you prefer. We are also available for questions about what to do, where to go, where to get whatever, etc. Also, we might be able to make a suggestion for a few things way off the beaten path - it's our specialty!
其他注意事项
Please take a look at our guidebook.
---
---
---
---
---
不适合婴幼儿(2岁以内)入住,或不能为婴幼儿提供安全的住宿环境
SMOKING
As is stated in the rental listings with all agencies - there is no smoking anywhere in the house or outside on the deck or anywhere on the property. Please do not smoke in the woods. Please do not smoke.

WIRELESS
network = Up the long driveway
Password = onvacation
It's an Apple time capsule router; in the utility closet / pantry across from the kitchen. If you use the hard drive within the router, please do not leave any files on it.


GAS GRILL
Tank is at back of grill. It is turned off; turn it on when you use it, and turn it off when you're done grilling. Please use the grill brush to scrape off the cooking surface when the grill is still hot. Please use the cover (make sure grill is cold to the touch though).


OUTDOOR SEATING
There are cushions for the deck chairs in the pantry / supply closet. Please take them inside in case of rain / overnight / when not using.


DVD player & stereo equipment
Separate remotes for DVD player & screen. DVD playback uses the screen for audio. You can attach your laptop to view images and films on the flatscreen; disconnect the HDMI cable from the DVD player, and attach it to your computer. Please make sure to take the DVDs out of your laptop when you leave.

There is an iphone with some music connected to the sound system. Feel free to use it. It doesn't work as a phone (sorry – though you CAN use it with (SENSITIVE CONTENTS HIDDEN)). Or you can hook up your own ipod or music player using the same cables. Please don't mistakenly take the charger if you hook up your own phone

Please set all equipment back as you found it (ie cables, settings, etc).


FIREPLACE
Please do not use the fireplace unless / until we walk you through how to use it / what to do / what to expect. This must be done in person. Feel free to call if you have the sudden urge to make a fire and we haven't discussed it yet (up until 7:30pm). Firewood is a bin near the living room doors. Kindling is there too. Please do not bring wood into the house except for what you fit into the wood carrier. Please make sure to put the top back on the woodbin / weight it with rocks.


LIGHT SWITCHES
Garage and exterior of garage (most useful in the winters / as you come up for the 1st time in the dark, etc)
the switch for the INTERIOR of the garage is on the EXTERIOR of the garage, so as you come in, you can turn it on. And you can turn it off at the door between the garage and the house (confusing? for us too, but now it makes sense).
the switch for the EXTERIOR light is INSIDE the garage as you come in, and also at the door between the garage and the house (note, we would not have organized it in this fashion, but it makes sense (sorta)
Dining room floor lamps are switched from the wall at either end of the dining room
Dining room overhead lamp – is on a dimmer, and likewise has a switch on either side of the dining room. Note that if it is dim, turn up the little slider on the dimmer switch near the kitchen. This fixture can only have an incandescent bulb in it.
Living room floor lamps – the hanging lamp and the paper tower are on a wall switch as you enter, to your left, and also can be switched as you head up the stairs to the bedroom. Please do not unplug the lamps from their switched outlets.


HEAT / THERMOSTATS
Please do not use in the summers, even on cold nights. After October 15th or sooner if it starts getting colder earlier, we will program the thermostats to have the house warm in the mornings and from afternoons through evening, dropping down to a cooler temp for sleeping at night. You are welcome to manually override them, however please do not leave on "hold" / please do not turn up the heat and open the windows when it gets too hot. We too are former New Yorkers, and understand that system ,but it ain't so good there, and it ain't so good here neither (sic). We want you to be warm and cozy, and indeed this whole house has been reconstructed to facilitate that – (new insulation, new insulated roof, new roof, new highE furnace, new copper & etc) – but please do not turn the heat up over 65 degrees. Turning it up higher does not make the house get warmer faster. If you are here for a week or more, you are welcome to reprogram the thermostats so it is warm when you get up / or whatever you'd like. They're reasonably simple to figure out, or feel free to ask us to walk you through it. Please wear sweaters / fleeces etc in the winters. We want you to be comfortable but in balance with our resources (note again that this house is run from our solar array putting energy back into the grid).


HOW TO KEEP THE HOUSE COOL – & the BERKSHIRE AIRCONDITIONER
Keep the windows (mostly) shut during the day, especially on the side of the house overlooking the field (ie with the deck). Keep the other side slightly open. Keep fans running downstairs. There is a rotating fan on a pole in the pantry / utility closet. If you set it up in the dining room, it makes a huge difference throughout the house.

The upstairs bedroom…yes, it gets hot, but you can cool it way down, and the rest of the house too! When the sun goes down open the sliding glass door and all the opposite windows. Set the floor fan in front of the sliding glass door, facing OUT (ie as an exhaust fan) (there's an extension cord in the supply closet across from the kitchen if you're doing this). The room will cool down by 15 to 20 degrees within a ½ hour. Keep it running on low during the evening. And / or, we can provide a box fan to fit IN the windows at back (noisier though).


FIRST AID
There's band aids, peroxide, gauze, tape, etc in upstairs medicine cab. First aid kit in kitchen can facilitate cooking.


KITCHEN
If there's anything that you need that isn't there, please let us know right away, and we will see if we have what you're looking for. We've done our best to put in whatever we think is necessary for cooking.

Cuisinart pieces are in the lowest drawer to the right of the stove.

Please use placemats on both tables, and coasters when you put glasses or cups down on wooden surfaces (coasters on sideboard)

Please do not cut onions or garlic on the wooden cutting boards; use the plastic one, which can go through the dishwasher.


VEGETABLES & EGGS from our homestead
We will supply you with as much as you want / can use / wish to try, dependent upon the season and availability.

In spring and summer we have lots of greens (Asian greens; rare Italian Chicories; and the usual lettuces in cooler months), pole beans, bush beans, plums, peaches, grapes etc. In the autumn, we have apples, sweet cider, more greens, kale, collards, chard, arugla etc. Please note that produce will most likely not be washed (though sometimes it is); please rinse if necessary. We also have crops in winter; we have 2 hoophouses, 1 glasshouse, and covered cold crops outside. Depending upon the weather, we might have a bounty – or very little! We do preserve, so usually have kimchi (hot!) and other interesting things. We are completely organic.

Eggs are dependent upon how the ladies are doing, generally we can supply you with 1 – 2 dozen eggs per week, except when the ladies are molting.

Please note that if you DO NOT want vegetables or eggs etc - just tell us, esp in summer! so that we don't keep bringing baskets over that you don't want to use. We will not be offended.


COFFEE
Mmmm, coffee. There's a French press (grind more coarsely), and a drip coffee maker. If you would prefer NOT to grind your own coffee beans let us know, otherwise the Braun works just fine. The coffee is roasted by friends of ours, 1 of whom lives nearby and just up the road. "Barrington Coffee" is a nationally known company; their product is excellent. If you've stayed here before you will notice that as of July 2012, we no longer have their fancy bag; it's just a regular paper coffee bag, but it's the same coffee (the prepacked bags are less fresh / more costly). You can purchase their coffee in GB at Guido's, Rubi's and I think Bizalion as well.


COMPOST
What's that at the bottom of the compost bucket? Leaves…if you put your compost onto leaves in the bucket, it does not smell so quickly / begins to break down / is easier to handle (try it at home). We will pick up compost, recycling, and trash on Saturday mornings and Tuesday mornings.




BATHROOMS
Please do not flush tampons, diapers, or paper towels down the toilet. If a drain starts to run slowly, please let us know immediately, ie before it stops up. Please do not purchase and use caustic drain cleaners (eg Draino) in the drains or toilets. They don't work, and make it far more difficult to unclog [all that said, we've never had a stopped up drain at this location]


PANTRY / SUPPLY CLOSET
You can use this as a pantry. There are emergency candles in jars if we lose power, and matches, at the upper left


BROOM CLOSET IN KITCHEN
Aprons (very manly aprons, so feel free, men), brooms, rags, cleaning supplies.


TOWELS
In downstairs bathroom. Extra bath towels, hand towels, washcloths, bath mats. Also a red squared beach towel to put down if you go to the Green River to swim (or to the town pool or Simon's rock pool).


BEDSHEETS & add'l blankets
There are 2 or 3 complete sets of sheets for each sized bed. Sheets are kept in the bedroom closets. In winter, the 2 quilts snap together to make one thicker one; we always use a duvet cover and topsheets.

FRAGRANCE
Pardon us for being a little, well, personal - but we ask while you're using this or any other of our houses, to please refrain from using highly scented perfumes, colognes, fragrances of any sort. We try to have as scent free / laundry product scent free houses as possible. We do our best to always line dry sheets, duvets, duvet covers, outside, even in the winters. If you are staying here long term and washing sheets and towels, please use "7th Generation Unscented Laundry Soap", or something equivalent. Thank you.

KIDS
We have a small bin with some kid stuff (for 3 – 6 year olds) in the supply closet – a few DVDs, some stuffed animals, a puppet or 2, small blocks etc. And there's a separate case of lego there as well. If you have older kids / want other stuff, let us know ahead of time / or ASAP and we'll see what we can rustle up (no guarantees though). And there are family board games in the living room (Monopoly, Clue, Scrabble, etc). + a few kid friendly DVDs on the bookcase as well.


BOOKS & DVDS
Please do not take them with you when your vacation is over. If you like any of the books or DVDS, we can try to get you copies of them. Please make sure DVDs are out of your laptops when you leave.


SAFETY
There are fire extinguishers in the corners of most of the rooms. Please take a moment to locate them. There are smoke detectors throughout the house. Please do not disable them, even temporarily (ie when cooking, or if you make a bit of smoke from the fireplace). Please. Also, there is a carbon monoxide detector in each bedroom (as required by state law). Please do not disable them, they beep when you take them off the wall. Frustrating, but that's the law; and they have been known to work in emergencies as well.


NIGHTLIGHTS
Turn them on in each bathroom, please turn them off in the mornings. There are several more in the upstairs bathroom cabinet if you want more night lighting in the house.


FLASHLIGHT
There is a small flashlight on the windowframe above the kitchen sink / toward the door to the deck.


TRASH, RECYCLING AND COMPOST
Recycling - there are 2 plastic bins in the garage. Please put paper and cardboard in one, and plastic, glass and metal into the other. The town of Alford recycles plastic bags (Naomi is the recycling coordinator for the town). Please put all plastic bags into 1 plastic bag.

Compost into red bucket in the kitchen. Compost is all fruit and vegetable scraps, leftover cooked food, any leaves or grass clippings. You can also compost meat and fish, as our compost bins are in a fenced in area. Please do not dump compost in the woods; we will pick it up. See previous note about "what's that in the compost bucket?"

Anything that is not compost or recycling is trash; please put into kitchen trash can.

We will pick up trash on Saturday mornings and/or Tuesday mornings, depending upon what days you're staying with us. Usually we come by around 8:00 am (the xfer station is not open beyond midday)


MICE
We do our best to keep mice out of the house…all holes are sealed, the crawl space is sealed, the furnace room is sealed, etc. HOWEVER...all houses round here will have mice in them at one time or another (usually when it starts to get cold). We will not poison mice, because dead mice in the walls smell bad. If you see a mouse (it's a nice country mouse!) – let us know, and we'll set traps and empty them if you'd prefer not to. Please do not leave food scraps / food crumbs etc out.

Sometimes there might be ladybugs, ants or spiders (or all 3). This is fact of life in the country and not a cause for alarm.

DAMAGE
You are responsible for any type of loss or claim beyond normal wear and tear, ie all types of insurable "covered losses". So, if you break a plate or glass, that's fine, just let us know; beyond that, please immediately tell us if there is any damage to the house, grounds, or furniture, so that we may sort out the replacement costs together. You have either taken out an insurance policy through the rental company, and/or you have given us a refundable security deposit. We will promptly send you your security deposit within 2 days from the end of your rental. Regardless of the amount of the insurance policy, you agree to compensate us for any damages or loss. All that said, in many years of renting vacation homes and year round homes, we have never had any type of loss that was not amicably resolved to the satisfaction of all parties.


WHEN YOU LEAVE
We hope you've had a good time; and again, if you need anything while you're here, please please ask, and we'll do our best to make it so.

Please make sure the gas grill is off, all lights are off, no water is running, all windows are cranked shut, and that you seal the kitchen trash. Put all used towels into the laundry basket in the laundry room (in garage)

Please run all dirty dishes etc through the dishwasher, and handwash anything that doesn't fit / needs to be scrubbed, etc.

Please please take all food out of the refrigerator and take it with you or dispose of it.

Please check to make sure DVDs are back in their cases and not in your laptop.

If there's anything you can't do or need help with, please let us know before you leave.

If you were satisfied with the house, please leave a detailed positive review. It matters a lot to us and is helpful to others. And do think about coming back to this or any of our other places! (& tell your friends!)

Thank you so very much for staying with us!


Naomi & Ron


Our contact information -
(PHONE NUMBER HIDDEN) = our house phone up the road
(PHONE NUMBER HIDDEN) = Ron's cell
(PHONE NUMBER HIDDEN) = Naomi's cell
texting to Ron generally gets a quick response, with the caveat being cell service is spotty at our house.
email comes to our phones and is checked frequently
(EMAIL HIDDEN)
---
---
---
---
Ron and Naomi were fantastic hosts. The house was in a perfect location, close to Great Barrington for easy access, but in a setting of pristine wilderness so you felt like you were away from everything. The house was great. The master bedroom is enormous and the king-size bed was super-comfy. Beyond that, they were great communicators and went above and beyond to make sure our stay was awesome, which it was.
---
Ron and Naomi's house was a beautiful respite from our busy city lives. The layout, with its two bedrooms (and bathrooms) situated at opposite ends of the house, suited our family of four perfectly...and gave mommy and daddy a little space to enjoy the spacious upstairs master bedroom! The kitchen space was great, and the focus of some intense cupcake baking activity. The cozy living room was a wonderful place to snuggle with the kids and watch a movie or play Monopoly by the fire. The house is 10 minutes from the pretty town of Great Barrington and skiing at Butternut (and Catamount is also close by). We love this town, with its classic Main Street, stores and good eats. My wife is not a skier, and she can enjoy any number of yoga classes and spa opportunities in the area. Nestled among trees in a true semi-rural setting, the house provides a real feeling of tranquil, relaxed solitude and escape. Even my two girls (7 and 10) felt it! Ron and Naomi were extraordinarily gracious and responsive hosts, and I recommend them without reservation. My wife and I can't wait for our next trip up!
---
Wonderful hideaway for the holidays! We enjoyed Ron & Naomi's reclusive property nearby Gt. Barrington (+15 mins). It was clean and well furnished. Stylish and open plan. My twins (5 years) were very comfortable here and we thoroughly enjoyed the fireplace and beautiful berkshire views from the bedroom. My son was awake early one night and we saw the remnants of the Full Cold Moon or the Long Nights Moon which fell Christmas night. As a host Ron was beyond helpful bringing us wine Christmas day for a party we were rushing to (no liquor shops were open). He also made himself accessible to us via text for questions or guidance. I would love to visit this property again, it was peaceful and private. Perfectly wonderful and rejuvenating for us! A home with no clutter and vast Berkshire beauty!
Thanks for your review, and glad you enjoyed your visit here. Not sure how you measured the time to Great Barrington center - we live across the road from the property, and even though we're slow drivers - it takes us far less than 15 minutes to travel the 5 miles to town [we often go by bicycle even]. If you do come back - will show you the direct route!
---
We rented this Ron and Naomi's house for Columbus Day weekend with our 2 boys and 2 dogs. Both Ron and Naomi were always available to answer our questions from the time we reserved until the minute we left. Upon arrival everything was unlocked, all lights were on (this was great because we got stuck in traffic and got there very late) and they had placed fresh milk, eggs and greens in the fridge and a fresh loaf of ciabatta bread, jam and some flowers in the kitchen. The house was very clean (as were the linens) and we had everything we needed in there. Would recommend if you want to be close to Great Barrington. We have no complaints. We even left a little late and they were very accommodating.
---
Quiet, calm place a perfect weekend getaway with easy access to Great Barrington. Our family enjoyed the peace and quiet and private tucked in location of Naomi & Ron's place. House itself has been decorated in a simple elegant style with cool details throughout. Surprisingly well equipped kitchen for a rental, comfy beds, lots of great DVDs but it's the produce that will blow you away. Straight from their farm, I've never had tomatoes or apples that good. Also their guidebook was spot on with perfect restaurant and activity recommendations. Best Airbnb experience yet!
Thanks for your nice note! So glad you liked the house and produce / we can amp it up on request - lots more produce always avail, we would have been glad to bring more over...we have found that not everyone wants to cook! so we try not to inundate. Next time, we will be extravagant with deliveries! And apple season doesn't really start until after the 1st frost...come back for cider making. Thanks again, Naomi & Ron
---
We had a very good stay at this secluded property. The home was spotlessly clean and furnished in a beautiful mid-century modern style. The outdoor decks were the perfect places to sit in the morning. The kitchen was well-stocked and easy to use. When we arrived, there were farm fresh eggs, fresh bread, jam and milk waiting for us-a nice touch. Our communications were with Ron and he has quickly responsive. If you are looking for a quiet, secluded, comfortable home that's only 10min to great Barrington....this is a marvelous choice.
---
We do a variety of small things - house renovation and restoration, small scale farming, garden design, as well as product design and manufacturing.

We have lived in the area for almost 20 years, and know every back road, swimming hole, hiking area etc, as well as all the restaurants, cafes and arts venues (and there are a lot of all of them here).

Avid cyclists, we can direct you towards some excellent rides, from flat to hilly to 20% grades on dirt / rides to take with your kids etc (and we can lend you tandem(s) to ride with your kids).

We are also long time Ashtanga yoga practitioners and can point you towards an appropriate yoga facility in the neighborhood, there are many around here, most are pretty low-key and accessible (and/or we can put you in contact with instructors who will come to the property and give private lessons there - the upstairs room is an excellent yoga studio).

We have several houses available for short term and long term rental. We live nearby the properties, on a small farm with extensive test gardens; you are welcome to take a tour of our gardens, plus we can point you to some interesting gardens that are not often open to the public (plus many other places of gardening interest).

Please email or call if you have any questions about this or any of our other properties.