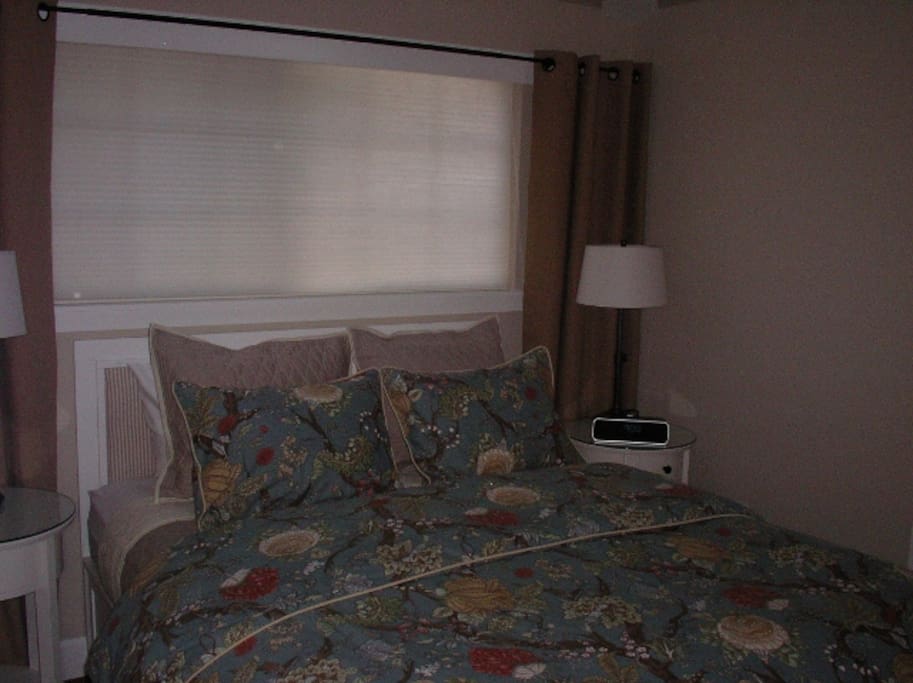 Immaculate Downtown Bend Cottage
2014, 2015, 2016 & 2017 Airbnb "Super Host" award.
2017 Winner of a "Certificate of Excellence"
Most 5 Star reviews for ALL vacation rentals in the Bend area.
City of Bend Short Term Rental Operating License: STR-17-0001
房源
Immaculate, 1 bedroom cottage just a 4 minute walk to numerous activities and businesses in downtown Bend.
~Professionally decorated Cottage.
~Large Bathroom with deep tub, tiled walls and multiple shower heads. Tankless water heater and zone heating.
~Queen size bed and queen size sofa bed-all linens 600 thread count or higher.
~Off street parking and private entry.
~2 HD cable televisions, Blu-Ray DVD player, surround sound, wireless streaming video for your NetFlix or Pandora accounts. Password protected Guest WiFi.
~Retreat like setting. (one of 6 Bend area homes on the 2012 Central Oregon Master Gardeners Tour).
~High-end finishes and skylights in every room for abundant natural light.
*Privacy glass in bedroom and bathroom. Top down/bottom up blinds on all clear glass windows and doors allow for various degrees of privacy.
~ Fully equipped Kitchen with 4 burner gas stove, microwave, dishwasher, coffee and tea pots. Full set of dishes, glasses, cookware and quality stemware.
~Washer and dryer. Laundry products provided.
~Storage available for bikes, golf clubs, coolers and luggage
~Loaner PACK n PLAY, Golf clubs (M/W sets), trekking poles, and snow shoes available.
~Just a 4 minute walk across Newport bridge to downtown.
~Zone heat; two ceiling fans.
~ AIR CONDITIONING
~One block to Public Transportation
~Cottage meets and/or exceeds "Fire and Life Safety" requirements.
~Working smoke and carbon dioxide detectors
~First Aid kit and Fire Extinguisher
~We encourage energy conservation and employ energy saving devices as appropriate.
~PETS ARE NO LONGER ACCEPTED
-NO SMOKING OR VAPING OF ANY TYPE OF MATERIAL ALLOWED
(URL HIDDEN)
~All stays are a Two night minimum. Holiday weekends are 3 night minimum. Thanksgiving, Christmas and New Years rates and minimum stays vary.
~Rates vary: $169 weekdays (M, T, W, & T), $189 weekends (F, S & S). Weekly and off season monthly rates available.
~Summer rates vary: $189 weekdays (M, T, W, T), $209 weekends (F, S, & S).
~Active Duty Military and Veterans-10% discount on stays less than 30 nights. Proper proof of service required at check-in. Thank you for your service.~
TRAVELER ALERT
The City of Bend and State of Oregon require all lodging operators (including Vacation Rental properties) to be licensed. All legal lodging operations will have a City Lodging license and a State Lodging Business Identification Number (BIN). When making reservations travelers should ask for the operator's State BIN and proof of City licensing. When in doubt, you can contact the City of Bend ( (PHONE NUMBER HIDDEN)). As compliance enforcement increases, traveler reservations with illegal operators could be adversely impacted. Know you are doing business with a licensed operator to help ensure a trouble free lodging experience.
Oregon Lodging BIN #(PHONE NUMBER HIDDEN)
City of Bend Short Term Rental Operating License: STR-17-0001
Awbrey Rd at NW 1st Street
房客使用权限
Private entry next to your dedicated off-street parking. Personalized combination entry locks. Complete access to your own patio, BBQ and spacious gardens.
与房客的互动
The Cottagers (what we call our guests) set the tone for how much or little interaction we have with them.
其他注意事项
Airbnb now collects the required 10.4% City of Bend and the State of Oregon 1.8% lodging tax directly from the traveler.
---
---
---
---
---
PETS ARE NO LONGER ACCEPTED
Please no smoking of any kind- we try to be considerate of neighbors and future guests.
City of Bend "Good Neighbor Guidelines" will be emailed to you upon booking-violation can lead to immediate eviction and loss of all fees paid.
Bend has a noise ordnance and while we hope good sense and consideration of others would be the order of the day... The City is intent on strict enforcement. NO amplified sound after 10 PM.
We want our guests to enjoy the premises and the various seating areas, patio, BBQ, and seating area at the top of ..."The Stairway to Heaven".
Deer frequent the property and should be given a wide berth. Of course deer eat and, well, watch your step.
We encourage Green Practices and recycling.
Please let us know immediately if anything is broken or inoperable. We want your stay to be trouble free.
Combination locks on all exterior doors, night lights, fire extinguisher, emergency lights, first aid kit and tub/shower grab bars are provided for your safety and security. Please do not disable smoke and or the carbon monoxide detectors- Those devices are for your safety.
---
---
---
---
This Cottage stay was simply amazing. Don was an incredible host and takes pride in providing a 5 star experience... I would give it 6/5. He's thought of every way to be hospitable and make your stay as good as can be. The cottage was quaint, private, remodeled, clean and comfortable. It felt like we were the first people to ever stay there... meticulously maintained! It felt like we were living in a Pottery Barn magazine. The location was perfect. We walked downtown every night and easily found lots to do in Bend. It was sad to leave The Cottage, but we'll be back :)
"Thank you Katie for the great review! I really appreciate that you said a..."5 star EXPERIENCE". Marline and I recognize that lodging can be simply a place to slept but that is not what the Second Street Cottage is about. As you noted in your review, it is so much more. Typically, we spend over 4 hours cleaning, prepping and maintaining the Cottage between each new arrival. We want each Cottager (what we call our guests) to feel like they are the first to have ever stayed in it. As a comparison, hotel housekeeping staff are allocated 15-20 minutes to prepare a room. The difference is discernible."
---
This is one of my favorite AirBNB experiences! The cottage is beautiful and updated, and the hosts are very thoughtful and caring. The location is amazing - close to downtown, close to the river, and very easy to get to. The neighborhood is nice and it felt like we had all the amenities and comforts of home, including our own private patio. We plan to stay here again next time we are in Bend!
Thanks for staying in the Cottage and taking such good care of it. The location seems to becoming more unique as the City of Bend grows outward, inward and upward. The Cottage being located on over a .25 acre lot which is shared by our home yet is only a 4 -5 minute walk to downtown. When you called to see if early check in was available and told me where you were having lunch, we both got a laugh. You probably have parked at the Cottage and walked to the restaurant faster than the time it took to find a parking spot downtown. Marline and I do hope you will return and spend time relaxing on the Cottage patio. DonP
---
Beautiful home and location! Incredibly clean and comfortable. Don is a great host-- great communication, friendly, and helpful!
---
If you are going to Bend you can not do better than Don's cottage. Superb experience on all fronts. Don was a great host and the cottage is beyond perfect. Best airbnb experience we've had and we've had many.
Thanks for the great recommendation Jeff. Marline and I really do want our Cottagers (what we call our guests) to have a perfect stay. We are constantly looking for ways to improve the guest experience and always welcome feedback/suggestions/reviews. Perhaps that effort is reflected in Airbnb awarding us Super Host status 10 quarters in a row. Our promise is we will always try to do even better. DonP
---
The 2nd Street Cottage is in a fantastic location. The cottage has everything you need for a comfortable stay. Many personal touches and little extras above and beyond other places we've stayed. Deer visit the backyard almost daily. The backyard is beautiful, but requires hours of daily maintenance by Don, which limits privacy in the yard and if you keep the blinds open. Overall it was a wonderful place to stay.
Thank you for taking the time to write a review. I wish you had responded to the weekly texts I sent you during your 30-night stay in which I repeatedly asked about your comfort, needs and/or concerns. I could have adjusted some of the gardening tasks to times you where away. I am also glad you pointed out the gardens require several hours a day to maintain. The Cottage and our home gardens were on the 2012 Central Oregon Master Gardeners' tour and are a significant investment. Many of the prior guest reviews mention the beauty of the gardens and, like at any 5 Star resort, the gardens do require constant attention. The Cottage and our home are situated on over .25 secluded acres which in part, is why deer frequent the yard. Regarding any inaccuracy of the Cottage description, I wish you were more specific. However, I will add to it. Interested travelers will know that there is privacy glass in the Bedroom and small windows above eye level in the bathroom and kitchen. I will also clarify that the window in the Bedroom and all clear glass windows and doors are equipped with top down/bottom up blinds, allowing infinite choices for privacy. I will also add the Cottage has a full array of cleaning supplies, a broom, rags, and vacuum cleaner for those guests staying more than a few nights who might want to tidy up their environment.
---
Everything about the 2nd Street Cottage is amazing from its amenities to its location. My wife and I rented the cottage for Christmas and chose the cottage because of its proximity to downtown Bend. From the moment she and I arrived the two of us were totally happy with the choice. Don, the owner, had a split of Champagne chilled for us and he even invited the two of us to a holiday open house in his home next door. The kitchen pf the cottage has just about everything needed to cook from butter to salad dressings and the bathroom is furnished the same with fine shampoo to cotton balls. Since the cottage is just one block from the river there were up to five deer grazing in the backyard of the cottage. Add that to fresh snow and the two of us had a lovely white Christmas.
Thank you for your business and glowing review. Marline and I try to not only provide an immaculately clean Cottage but also one which is well stocked with non-perishables. We know travelers often need just a dab of this or that. We want to reduce the time and expense of going to the store for small grocery items. Time saved from shopping is time now available to play. We hope you will return and enjoy the peaceful gardens and outdoor seating areas.
---
We opened the door and breathed in a deep sigh of "we're home." While we always focus on where are visiting not where we are staying, it was hard not to relish the special hours we spent at Don and Marline's classy and conveniently located cottage.
Thank you for your insightful remarks. I think your observations would resonate with business travelers who are more focused on work than the "roof over their heads". Several of our frequent guests come to Bend for work and even inquire if the Cottage is available prior to setting their travel dates. We are always please to hear this cohort of guests remark that the Cottage truly does feel like ..."home away from home".
---
Don Ptacnik (say-Tack Nick) and Marline were married under the large White Paper Birch located in the yard between The Cottage and their home. Years later, one of their daughters was married ion the terrace overlooking the Cottage. We love our home and the large yard within which The Cottage is located. Marline is a health care executive and Don, your primary host is Marline's Gardener and Painter. We both enjoy people and sharing our secluded space in Downtown Bend. Don has lived in central Oregon for over 40 years and has participated in a number of activities which has provided him with a broad base of knowledge in the available outdoor opportunities. You are welcome to ask for suggestions ranging from the best hikes, automobile tours, bicycle trails/routes to the hidden jewels of coffee shops, museums and other cultural offerings.
We want our guests to be pleasantly surprised by the luxury and charm of The Cottage, the grounds and of course, the overall experience. We recognize guests have numerous choices competing for their entertainment dollars and want to provide excellent value and a memorable experience. When every guest departs our goal is to hear them say ..."We will return and will recommend The Second Cottage to all our friends". So far, so good!