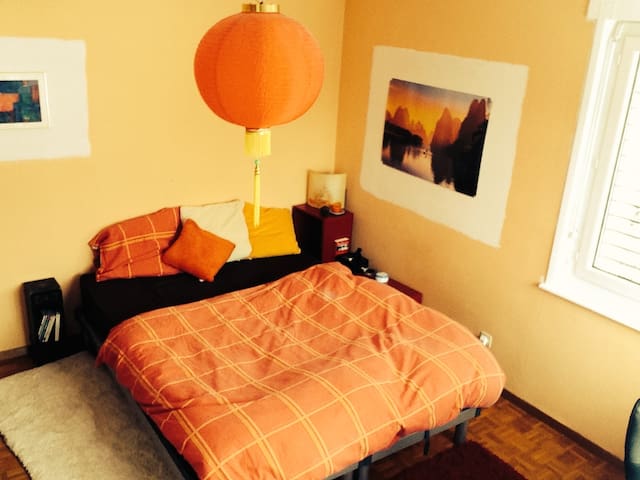 Room Rental in Big Apt. Downtown Lausanne4
Settling in Lausanne?
In need of a temporary friendly place to stay the first few months?
→ I propose 5 furnished bedrooms, for individuals or couples;
→ And my help to survive the settling bureaucracy.
-130m2 apartement (80m2 of common space);
-4 indivudual rooms to rent + 1 studio next door (see the 4 other ads on my profile);
-2 brand new bathrooms;
-300mb/s internet everywhere + HD TV;
-Access to ALL common spaces and devices;
-Plenty of space allowing for social interaction AND privacy!
房源
All common spaces are yours to use.
On top of high speed internet and HD TV (on-demand, replay, etc), you are also free to use ALL FACILITIES AND DEVICES, AT ANY TIME, in the kitchen, livingroom, balcony and bathrooms – including the washing machine. There are also common items you may use: bicycles, swimming pool pass, soap/softener, and all sorts of commodities.
NOT INCLUDED IN THE AIBNB PRICE:
-monthly participation to common charges, bills, cleaning, products, etc., etc., etc. (this is to be paid each month in a collective pot. Whatever's left is used for common parties/activities).
-Parking (should you need it, we can ask the agency).
RENTS (all-inclusive)
All rooms are Fr. 850.- + charges
Add to this: AirBNB booking commission, for these months you book through AirBNB.
HOW TO BOOK? (tips)
-Read my profile.
-Complete YOUR profile.
-About 3 months before you come, send me a request for 1 or 2 months (specifying what would be the potential duration of your total stay – i.e. 2 initial months + maybe another 2 months).
-Ask any question you have – I'm always happy to answer them.
USEFUL INFO
-I never book more than 1 or 2 months here, on AirBNB – but these are renewable upon arrival.
-I work on a 2-3 months deadline. It means I make room planning 2-3 months ahead only. Which means it's useless to send me a request 6 months before you come, or the week before you arrive. It also means that once you're living at my place, you have to tell me well ahead if you want to extend your stay.
-All rooms are somewhat similar, and each AirBNB ad is a description of all rooms, and portrays a picture of each other room. Booking a room on AirBNB means booking ANY room within the apartment. This being said, I'll do my best to meet your needs and preferences!
其他注意事项
→ I'm also experienced with the arrival bureaucracy and hassle foreigners have to go though upon arrival in Switzerland, and am more than willing to lend a hand:
-I provide the residence attestation you will need for residence permit and bank account issues,
-And can give you good tips to save you some time including:
-Insurances issues;
-Where and how to look for apartments/house;
-Translations from/to French;
-And put you in touch with former people in similar conditions who already stayed at my place, and successfully survived the Swiss settling!
---
---
---
-Common sense respect (as far as other mates and neighbours are concerned)
-Please read and respect the instructions/explaination desplayed in the kitchen and bathrooms.
-Keep the main door locked at all time and lock your room if you have values.
-Please, GO GREEN, and save hot water and electricity as much as possible (because 1. we're limited in hot water and 2. that help me keep this place affoardable).
-Smoking legal stuff on the terrasse is okay.
-We have a couch/bed in the living room and -We accept trustable guests/friends overnight if you let us know AHEAD.
---
---
I AM a Swiss fella, in his 30's, currently doing a PhD and working in International Relations. My girlfriend Sam and I are lucky enough to have a 5 room apartment downtown Lausanne in one of the most fancy part of the city, but unfortunately, it is waaay too expensive for us alone. Or fortunately actually, since months after months, year after year, it has become a fabulous opportunity to meet, host and live with facinating people of all walk of life and coming from all over the world. Most people I nowadays consider as close friends.

MY PURPOSE (beyond covering my rent!) is to help foreigners settle in Lausanne area by providing them with a safe place to crash at in the first month(s), and some advises to move on with their settling. As I already hosted and helped many people here, I do have some experience and contacts.

STAYING AT MY PLACE - PHILOSOPHY
1. My place is not a hotel nor a hostel:
This is my homey and I want to share it with mates, not anonymous. I hold no reception hours or room service. We hold diner or parties altogether every now and then.
2. My place is not a "flat sharing" horizontal community either: I've invested a lot of effort, months of work, and money to make this place cosy. You will only spend a few weeks or months here. So I expect my things to be cared for, and my rules considered.

HOW TO MAXIMIZE YOU CHANCE
I don't do castings. I receive a continous flow of requests and have rooms turning free every now and then. And I fill them up with as much diversity as possible (because I like it!): gender balance, contrasting background, nationalities and ages. So LUCK has a lot to do with it.
Still, at the end of the day, we have to choose someone, so be it said:
I FAVOR people who:
-want to stay between 1 and 3 month;
-acknowledge they took the time to read my profile and ad descriptions;
-speak several languages and have had apartment sharing experience before;
-seem grown up people;
-raise good questions;
-have a nice project (not only a need);
I DON'T ANSWER to:
-request from people with an empty profile who do not care to introduce themeselves;
-copy-past request asking 5 questions which answers are all in my ad.
语言:
English、Français、Português