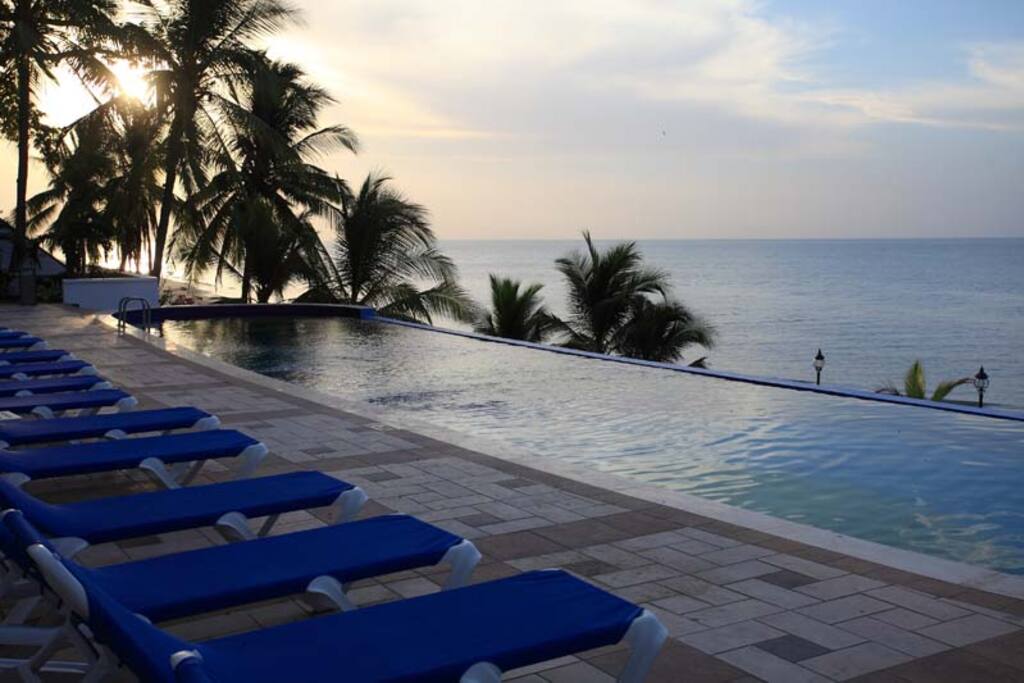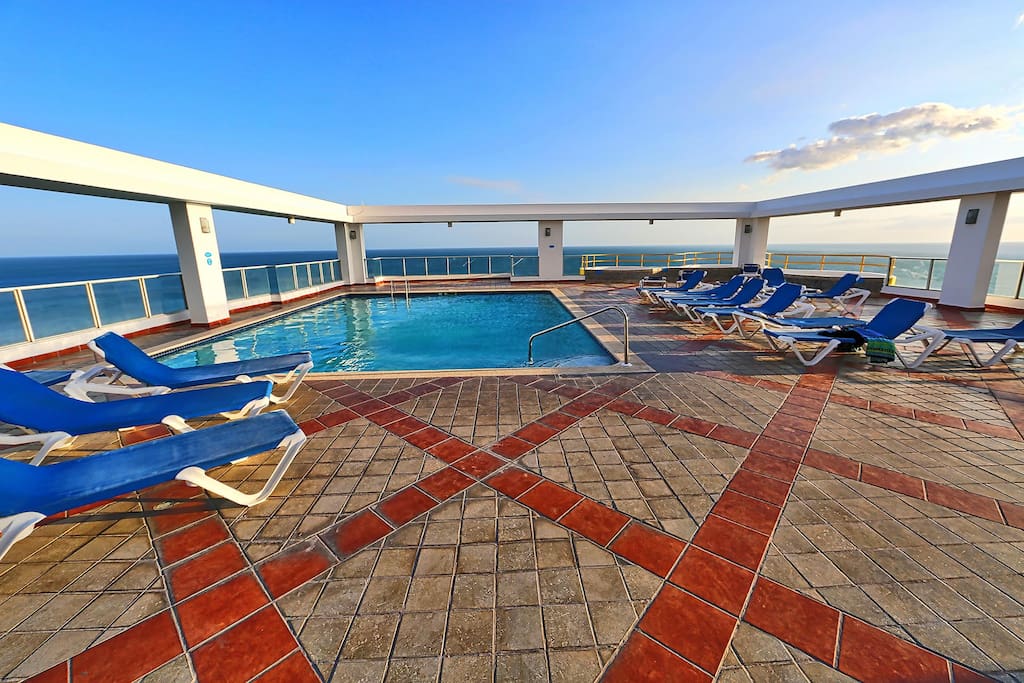 True Beachfront in Coronado
Imagine your little pocket of paradise: a beautifully remodelled efficiency condo with beach access, rooftop and beach level pools, walk to best restaurants. Coronado Bay is a highly sought building and Coronado's only beachfront vacation rental.

---
---
---
Basic rules of respecting your neighbours with regards to noise after 10 pm, no pets or smoking indoors.
---
---
---
---
This is an apartment located in Coronado, one of the best beach towns in Panama. The building is ocean front, and the apartment has an excellent view of the sea. This apartment used to be a room in a hotel, so this is more an efficiency apartment. So if you do not like to cook, there are many choices in Coronado, but if you do, just buy everything you need in the supermarkets nearby and you will be fine too. Fully recommended
---
We spent 6 nights at True Beachfront Condo over the Christmas holiday. The unit is nice with a great view of the beach and nice balcony on which to enjoy the view. The condo is in the largest high-rise in the area and seems to be occupied mostly by expats from various countries. The unit is comparable to a hotel room with 2 queen-sized beds in one large room with a small kitchen counter along one side. A plus is that it includes a washer and dryer. When we arrived Jen met us and gave us a brief introduction to the unit and area. The condo is about 2 miles off of the main business highway and a cab ride costs $3.00 each way. There are a couple of good restaurants within walking distance. We encountered a couple of problems that were not attended to very ell. First, there was a strong sewage odor that developed soon after we arrived and we asked if some clorox could be sent over to pour down the drains. We did not get any response other than "this happens some times because of the Panamanian sewage system". This odor made us nauseous the first night and second day but repeated texts brought no action. This problem and lack of attention would stop me from renting this unit (and possible any other in this building) again. Second, When we arrived the unit was sweltering and Jen said that the AC would have it cool in a short time. She also said an AC tech was coming the next day to "service" the unit. The AC could only cool minimally leaving us with a very hot unit with a very strong odor for the first 2 days. They obviously knew about the AC problem--why didn't they have the AC on long before we arrived to avoid the heat build up which could not be cooled? Again, no response to this except to say that the soonest the AC people could come was 2 days hence. A floor fan would have helped.
Dear Arelene, thank you for the feedback. We strive to provide customer service that enables you to enjoy your holiday to the fullest. I apologize that you felt the response time was not adequate. My property manager assured me of her prompt response to each call so I will look into that further, as this is not reflective of our normal service and response time . As mentioned, we work hard to provide superior customer service which also includes response time. Regarding the AC, we were not aware of an issue beforehand, as previous guests relayed all was great. The appointment had been booked weeks prior for its quarterly routine maintenance. When made aware it was not cooling as well as usual, a call was made to the technician for urgent response, due to holidays, we could not retain his services quickly, nor the other technicians we contacted. The ceiling fan in the unit also provides secondary cool air. As a team, my property manager Jen and I tried to find you another condo to relocate to, but everything was booked. Finally, we had a major upgrade, larger condo for you, but at that point, you were satisfied with the maintenance and all was well, for that we were very happy. Really glad you enjoyed all the benefits of the condo and location and we hope you will visit us again in the future (pleased to offer you a discount ) so you can experience the way our properties are normally maintained and functional. Warm regards, Sarah
---
Hi World!

It's Panama Sarah, a high spirited Canadian, living in Panama for 12 years, and I LOVE hosting fellow travelers from all over the globe! In fact, it's my second favourite thing to do.. that is, after traveling the globe myself (and I use airbnb exclusively for my solo travels - you just meet the most interesting people and wherever you go, you are "home"!)

My Panama by owner portfolio includes: fully equipped apartments in the 2 best areas of Panama City, Charming fully equipped casitas (with kitchens) on my private property 5 min walk the beach in Coronado (about 1 1/4 hour from Panama City), a brand new 2 bedroom Coronado Golf Condo located on our famous Tom Fazio golf course in Coronado, and 2 beachfront studios with kitchenettes and the best amenities, TRUE BEACHFRONT in Coronado.

I know how expensive traveling can be. I keep my rates reasonable so you can make the most out of your trip and have a cozy, personal home base." Excellent hospitality and great value for the money" are comments I receive regularly.

Interested in other services? I am also a Buyer's Consultant with a reputable REAL ESTATE company in the Coronado Area. I have helped many people realize their retirement, relocation and investment dreams, and I have wonderful contacts in just about any field you can think of. I am happy to help you with everything Panama!

I started (with a dream, a prayer and a loan from a friend! ) a property management company in Whistler in the 90's and owned / operated Whistler Peak Properties, managing 85 high end ski in/out condos and townhomes, along with my wonderful team. After selling my company in 2001 I traveled SE Asia for 2 years, then moved south and put my experience and expertise to work in Mexico and now Panama. I have renovated all my properties and have learned so many interesting and valuable lessons, about the countries , the people and their unique cultures. I really love living in Latin America.

Personally, I am friendly, easy going, spontaneous and my friends compliment me on my spirit. I love a good adventure and my greatest passion is travel. I am curious and interested in other cultures and strive to learn languages and get to know the locals. I have the "wanderlust gene", as I embreace movement, change and adventure. Travel.. ahhhhhh, In essence, it inspires me....

I'm British Born, brought up in B.C. Canada (notice I didn't say "grew up" haha). and have had the pleasure and priveledge of adopting other countries (and families!) along the way. I've been an expat for 13 years, and am still in my 40's. I tell you this, because anyone can do it, no matter what your age or status. ! I believe in a "pay it forward" and am happy to help anyone make their dreams a reality if the goal is to make that move overseas. If the goal is just to have a great holiday and getaway, well.. that, of course is our specialty!

My business , and passion is real estate investing, renovating and marketing / renting vacation rentals in Panama City and country areas, as well as Puerto Vallarta, Mexico. I sincerely believe in a high level of service and my motto is "Everyone deserves a world class greeting". I also make a huge effort to keep my properties current, constantly renovating / upgrading items and furnishings. I always appreciate guest feedback (preferably directly and personally) if improvements need to be made and I am always open to suggestions. Most importantly, I and my team believe in sincere service and true hospitality!

Because of my love for travel, Panama has proven to be a fantastic hub, and I've visited almost every Central and South American country with only a couple more countries left on the bucket list.

I hope you will come and visit us in Panama!

I have had the BEST experience with airbnb.. first as a renter, then host, now both! I have used this site extensively in my travels to the Middle East, India, Bali, Thailand, Malaysia, Australia, New Zealand and Europe as a guest, and even more extensively as a host.

Please contact me for the best local experience.
Bienvenidos a Panama y Mexico, Sarita (aka Panama Sarah)

语言:
English、Español