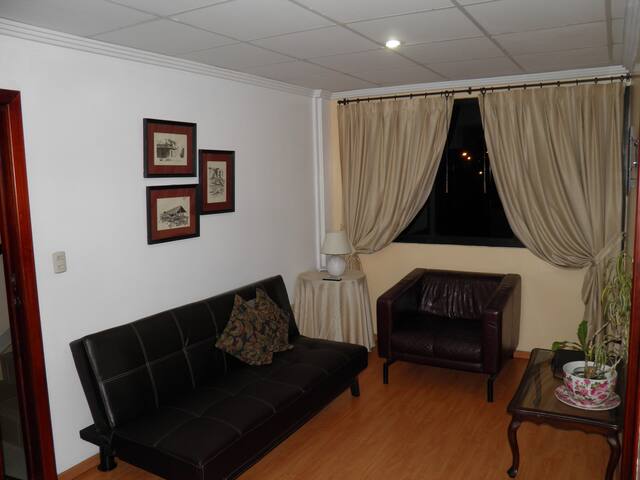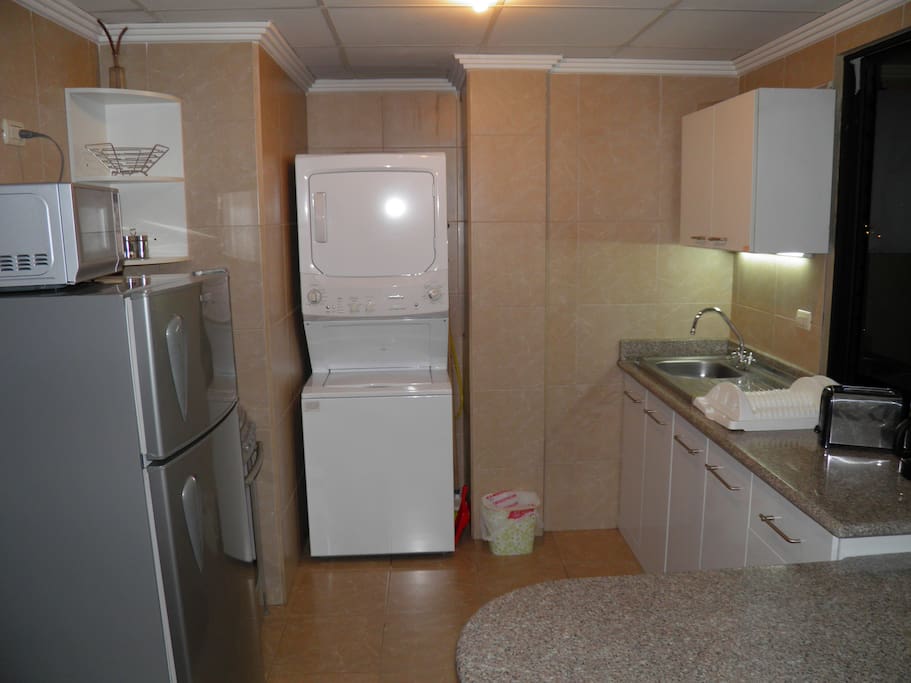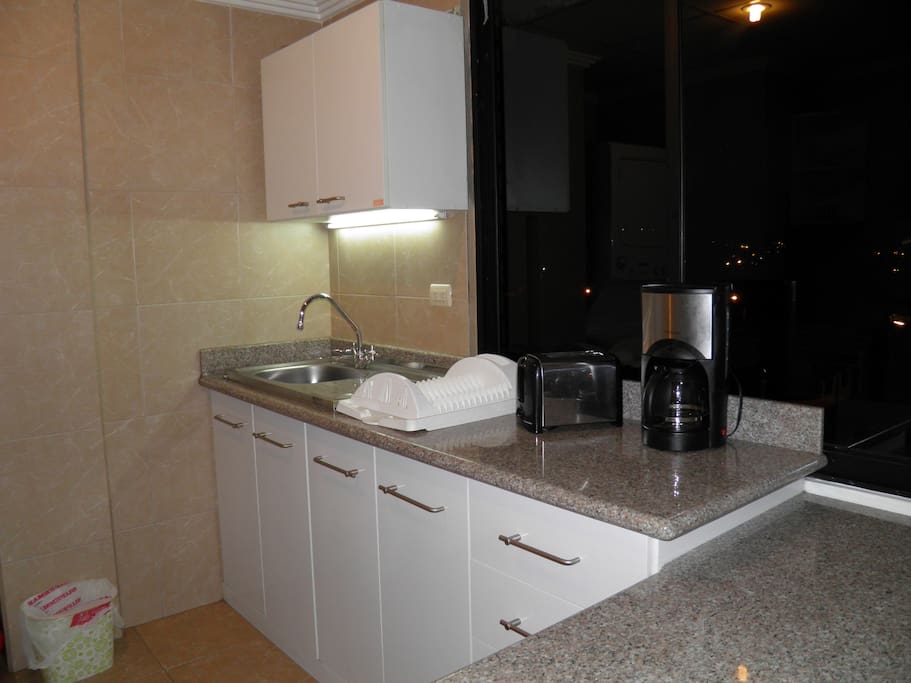 Beautiful one bed/bath apartment with great views of the city. Access to shared terrace with 360 views of the mountains and city. Perfect for short and long-term stays. Easy access to public transportation.
---
This review is for the 2 Bed/2 Bath in El Centro. A gem in the heart of Cuenca! Roomy, comfortable, and very secure building. Plenty of appliances to cook with, direct TV with a few movie channels in English, and the wifi worked great. Located about 5 blocks from El Centro, but lots of shops, and places to eat steps away. Very safe area to walk around even at night, as the streets are well lit. Gabriela is an excellent host, and she always gets right back to quickly if you have questions, or problems. Ernesto picked me up from the airport, and was quick to respond when I needed something. Thanks for a great month stay, I would recommend this place, and wouldn't hesitate to stay again, if ever back in Cuenca!
---
Jenny was such a warm & helpful host! She picked us up at the bus station (there was a little miscommunication at first, and she even sent her niece to go to the other bus station just in case we were there -- talk about going an extra mile!). She drove through town pointing out places for us, and gave us lots of ideas of where to go & how to find things. It was really appreciated. Since we didn't have any problems really, we didn't really see Jenny much overall, but when we ran into her she was always attentive & a great person to chat with. The location is about a 45 minute walk from downtown/historical center. We liked having the walk-- about 5 blocks north is the river walk, and then you can follow it in (or go the other way for quiet/ relaxation). The bus is just outside which goes downtown, a HUGE market ("Feria Libre") about 5 minutes away (by foot) & also has gobs more buses.... so there are a lot of positives of the location. It is on a busy (loud) street, however. Usually nights were quiet since buses/ trucks stopped, but the noise woke us at about 6:30 am. Luckily, I like to get up early! Maya & her husband Pablo tend a store on the ground floor & they are also so friendly & helpful... always ready to answer questions (Pable speaks conversational English). The apartment is neat & compact-- looks like the photos, and has all the basics one would need (pots/pans, dishes). We stayed at another place after we left Cuenca, and realized how lucky we were at Jenny's (nice, hot showers with good pressure!). 3 floors up, so not appropriate for someone with mobility issues. Roof terrace (one floor up) is great too, but even *in* the apartment the views are wonderful-- LARGE windows on three sides. The biggest negative for me was the toilet was "low-flow," which isn't a huge concern.
---
Jenny picked me up at the bus terminal and showed me parts of El Centro in Cuenca on the way to the apartment. She was very was also very helpful and kind with my stay in Cuenca. Yes, the apartment was pretty much as advertised. The only drawback the apartment building was next to a very busy street so the noise at times was more then desirable. All the people n the building were very friendly. I felt very comfortable. Thank you, Robbin Zoupas
---
Jenny & Juan made us feel very welcome. They picked us up from the bus terminal and even gave us a little city tour. It was nice to have a place to call 'home' while staying in Cuenca. The apartment had everything we needed. It is in close walking distance to the mercado (which we loved) and about 15 walk to supermaxi. Bus 19 stops just outside the building and it takes you right into the city. We would definitely stay there again.
---
I had a wonderful time at this apartment! Even before arriving, Jenny arranged to pick me and my luggage up to make sure I arrived easily. Much appreciated! Jenny doesn't live at this location but is easily reached by phone or e-mail. Maya and Pablo, who run the store downstairs were always available for advice and quickly became like family. The apartment has everything a traveler might need, including a washer and dryer and a great internet connection. Bus routes and shopping are nearby. I really felt at home here with Jenny and all the other great people I met at this location. Highly recommended.
---
We are a Family team originally from Cuenca - Ecuador. We work together to make sure our guests feel at home in any of our properties in the city or at the beach.

About Jenny:
My husband Juan and I have been married for 32 years and have 3 daughters and 1 son along with 3 beautiful grand kids. Our kids/grand kids are spread around the world with two kids in Spain one in the U.S. and one home.
Juan and I caught the travel bug a few years ago and now that all the kids are gone we try to get away every change we get!
I enjoy meeting people and showing them a bit of our city and culture. My kids tell me I can talk to anyone and they would be right! :D
语言:
Deutsch、English、Español、Français、Italiano、Português