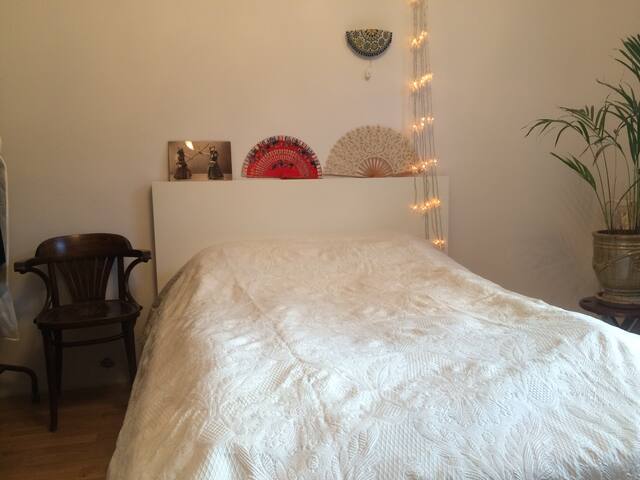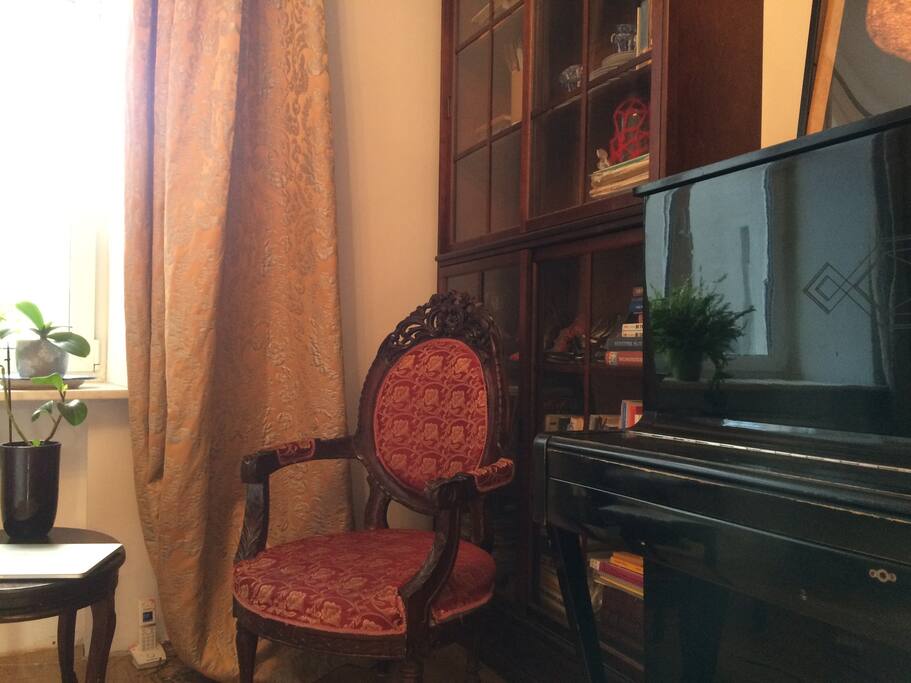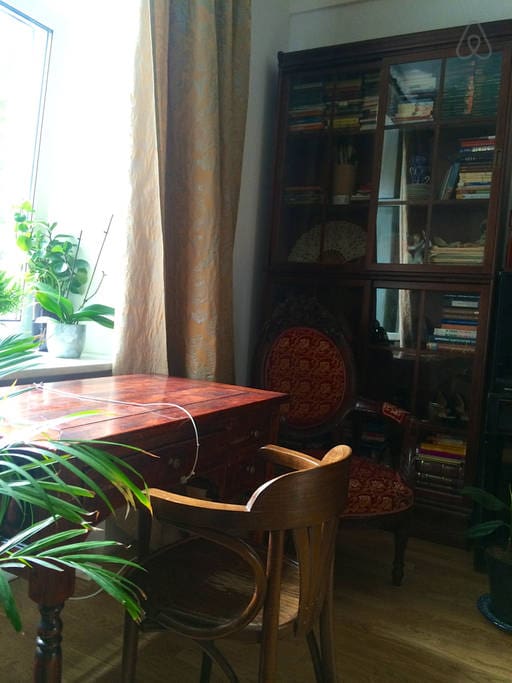 GORGEOUS APT! 5min to Kremlin!
Hi! I'm Lara, and over 100 visitors have used my tips to discover and stroll the streets of Moscow like a local. You'll share the flat with me (or even have it for your own) The room is newly renovated, you'll enjoy a comfortable bed and a old-moscow style high ceiling with original decoration. Despite being located on Tverskaya which is bursting of city energy, the room is nice and quiet (as it overlooks the green yard). My flat is decorated with contemporary art and antique furniture. Welcome!
---
---
---
---
1. No shoes past the door; it keeps the place cleaner for you to enjoy!
2. No smoking
3. No guests
4. Please be respectful of my things. I've worked hard to own nice furniture, some of it - antique, so please be respectful and treat it as your own :)
---
---
---
---
Отличный выбор для тех, кто хочет остановиться в центре города. Гостепримная и общительная хозяйка, коренная москвичка, расскажет вам все о городе. Хорошее соотношение цена/качество. Несмотря на то, что квартира находится на Тверской, комната выходит окном во двор и очень тихая. Место удобное и безопасное. Всё рядом. Рекомендую.
---
Unfortunately, I can't recommend this flat. Of course the location was very good. but host has problem in the attitude to accept guests and I had trouble with host. During the staying, after taking shower, water always spilling out of bathtub every day (I had many times to stay in other flat in Moscow and all over Russia, such a problem had never been happened.). Obviously it should be a defect of equipment, but she din't grant my logical explanation. She only yelled out emationally and I couldn't talk with her logically at all. Then I had decided to leave her room and move to other AirBNB house before planned duration of stay is over. Also in the next room(very near from her room), water didn't spill out of bathtub. I think that she blamed the failure on me. Of course, I cannot approve such blame, then now I am waiting for the judgement by AirBNB Office. Is she bad lady? No, maybe she is a good lady. But She shouldn't rent her room to guest, because she can't respect the lifestyles of others and she can't admit her own mistake. Larissa, please study hard and know "What is the accepting guest into my room. I hope you to understand this problem deeply and be good host. Sincerely.
None of my guests had ever manage to make such a big puddle in my bathroom, all the equipment works fine I had an inspection after you have left. If your lifestyle is to spill water around you –  I have no problem with it, but I do however against my guests flooding my bath. I was asking you to be careful several times and I had all the right to be emotional about the issue when I found water spilling from the bathroom to the corridor. There is a bank under my flat and I do not want to be sued for a water damage not even saying about the flat interior. I am sorry that your careless attitude (or maybe problem was in communication) left a bad impression about my flat so you left without saying anything and left the keys by taping them to a door handle jeopardizing my safety. I was lucky that I haven´t been robbed.
---
My stay at Larissa`s place has been nothing short of outstanding. She is a really kind open-minded and smart host, which makes her a really interesting person to talk to. She arranged everything to make my arrival painless and didn't bother changing her plans when I told her my plane was 2 hours late. Her flat is super central, yet quiet and comfortable. I'll definitely go there again and can only recommend her. Merveilleux séjour chez Larissa, une jeune femme sympathique, ouverte d'esprit et intelligente. En somme, une personne avec qui il est très agréable de discuter, en anglais ou même en français. Son appartement est très bien situé - plein centre de Moscou. Il est aussi très silencieux, propre et agréable. Je ne peux donc que vous recommander de rester chez elle. Thank you again Larissa !
---
BE CAREFUL WITH THAT FLAT. I was supposed to be a month and I left the flat a week before because: she is very rude and impolite, she controls everything you do. She seems so nice when texting her by airbnb but once you arrive, surprise. It's like having two eyes in your back the whole time, even when you are doing nothing. Your room won't ever be your private space. She gets in whenever she wants and it is full of her things. Not space for your stuff. She is not up to share the flat. She just want the money and you not disturbing her. But carefull, she will disturb you and not respect you at all. It's "her house", "her rules" and you always will be the stranger. If you do something she doesn't like she will yell at you in a very rude way. You WON'T HAVE ANY RIGHTS in the flat you rented, because she won't accept you pay and that you are also living there. She acts like you are there because of charity. She has no idea how to live with someone. There are also some cockroaches in the kitchen. So disgusting. In conclusion: I do not recommend this flat, in a long-term stay above all. No recomiendo este apartamento en absoluto. Es una persona muy maleducada que no te deja hacer nada. No tienes nada de libertad y es como si estuvieras por caridad en el piso cuando en realidad estás pagando un pastón por él. Te habla sin respeto e incluso te chilla. No puedes hacer ni un solo ruido y menos molestarle, pero ella sin problema se pondrá a hacer cosas a la una de la mañana. Y dile algo... si queréis estar a gusto, en este piso está difícil.
---
Larissa is an sensational host. Her flat is gorgeous with very old furniture adorning the interior and vibrant colors. The flat is as described, 5 minutes away from Kremlin and major attractions, which is very convenient for strolling and exploring the center of Moscow. I truly enjoyed a warm and welcomed stay by Larissa.
---
语言:
English、Español、Français、Русский