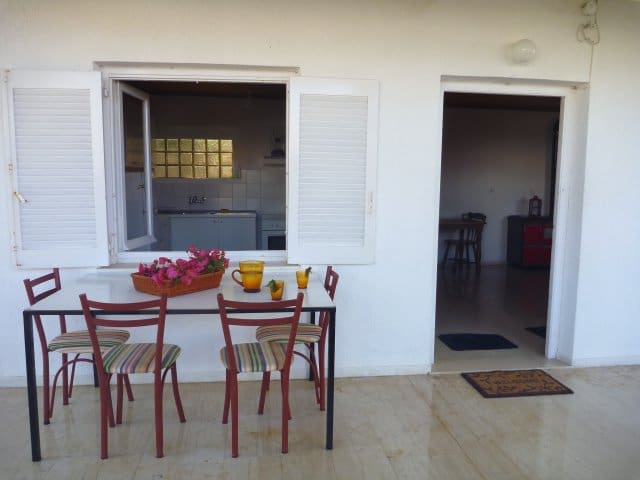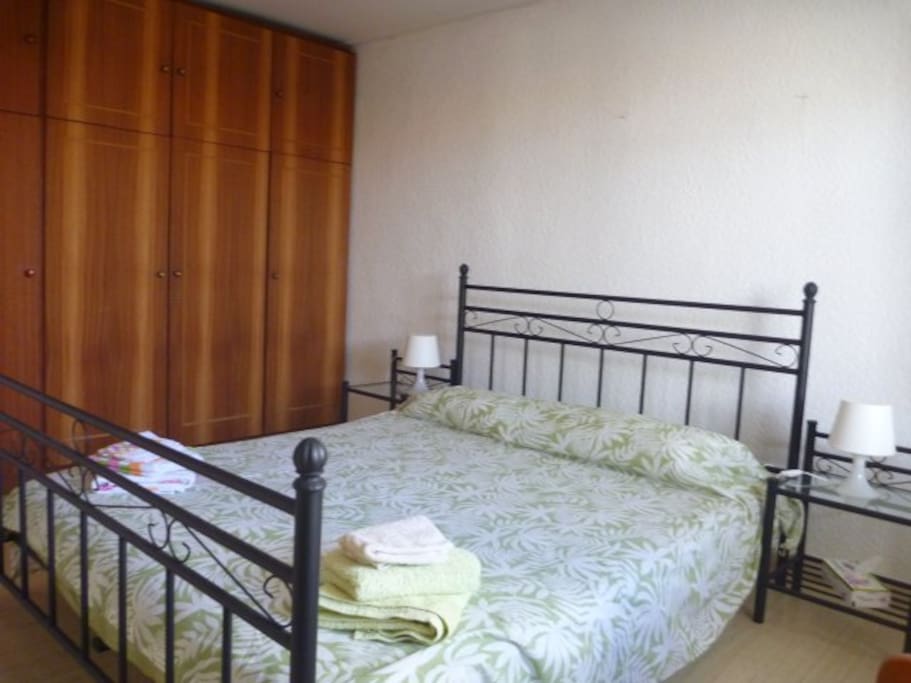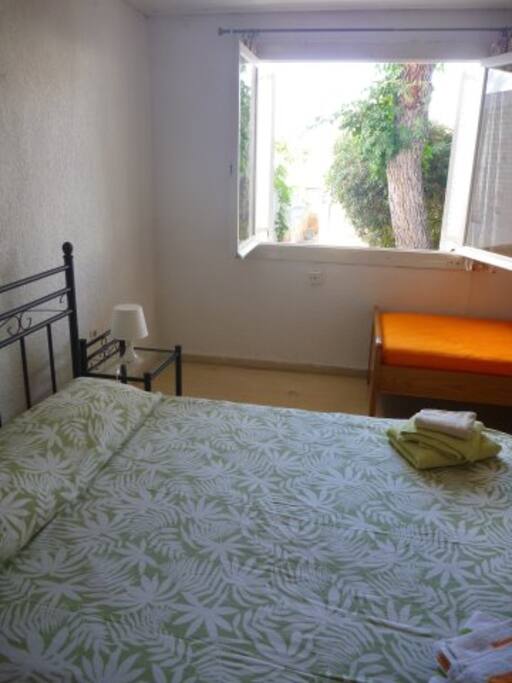 Entire house, composed by a large living room with two single sofa-beds, a big bedroom with excellent double bed (king size), a fully equipped kitchen and a bathroom with bath tub.
---
We rested here in second half of June 2017. This house is placed in a very nice and cozy place. It is cheap and very good for such amount of money. The village (Stomio) is a quiet place and there are no many tourists around and we liked it. Nearest villages (Derveni and Xilokastro) have exits to highway. But they looked more noisy than Stomio. The nearest supermarket is 4 km away. It is good for buying food, and the only problem that it doesn't work on Sundays (it seemed to be common in Greece).And there is a good cheap cafe right near the house. The house is very close to the sea, but the beaches are placed a bit further (big pleasant beach is placed about 700 m from the house). Near the house there are some spots where you can swim too. There are pebble beaches only and the water is very clean. There are a lot of beaches along the road and if you rented a car you can easily find a comfortable place. The house have all necessary home appliances including air condioner (though we didn't use it). Athanasios is a very hospitable and friendly person. It was a real pleasure to talk to him. He helped us in clarifying all our questions. And we could always connect him by phone or (SENSITIVE CONTENTS HIDDEN). Athanasios, thank you so much! The house is rather simple, but for us it is better to live in such small cozy house than in apartments in a building. For example, the pine near the house is just great! I would recommend it if you like quiet places and you want to travel to different places in Peloponnesus by car.
---
Everything was simply perfect. Appartment was big enough for the 3 of us and everything we could think of was there. Very friendly and helpfull hosts. Dont think because the rent is cheap that this is a bad rental, the quality of the experience was much higher than the costs would let you believe. All in all I would love to return here!
---
Уже второй раз снимаем аппартаменты у этого хозяина. Это невероятно, но нас не покидает чувство, что это не арендованое жилье, а ваш личный загородный дом. Хозяину удалось создать атмосферу удобства и уюта. Дом полностью оборудован всем необходимым и даже больше. В нем есть все что нужно и даже дополнительные неожиданые сюрпризы, типа барбекю, утюга и сада с лимонами. Данный дом очень хорошо подходит для семейного отдыха и для тех, кто любит тихий уединенный отдых без громких дискотек и клубов. Настоятельно рекоммендую.
---
great hollidays in a great place. Athanasios and his wife Diana are very hospitable. and it's very good idea to stay a file with a very useful information inside the house. and) the old chest is worth seeing)
---
We really enjoyed our stay in Stomio. Athanasios and Diana are wonderful hosts, very friendly and always ready to help. They helped us plan our trip and gave a lot of practical advice when we were in Stomio. There were 4 of us and the house with the outside terrace was big enough for all of us. We had two active teenage kids with us who felt really free both inside and outside of the house. The extra shower outside was a nice bonus. The house is sheltered by two great pine trees which provide natural deep shade during the whole day, so conditioner was needed only a few times. It is a very safe place - a pleasure to relax away from the city. We would highly recomend to stay at Athanasios and Diana's house and would like to thank them for their hospitality
---
My name is Thanasis I'm 56 y.o. civil engineer. I speak english german and little italian. If you are looking for relaxing vacations, I'm sure you will enjoy your stay in the area, by swimming in the clear sea, walking in the nearby hills, or having dinner with very fresh fish.
语言:
Deutsch、Italiano、Ελληνικά