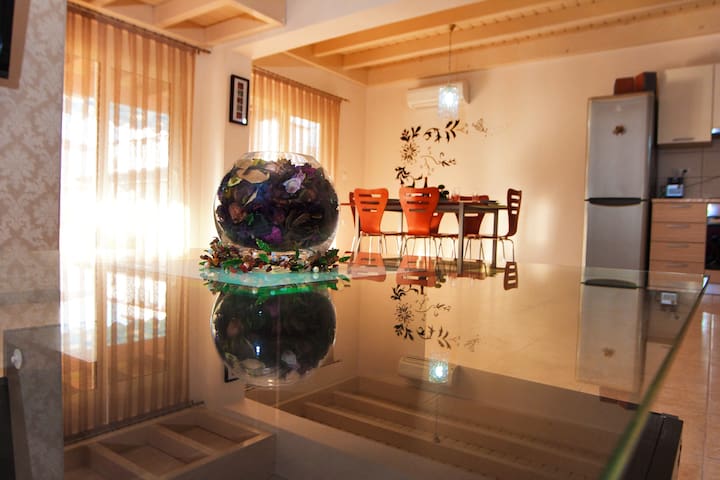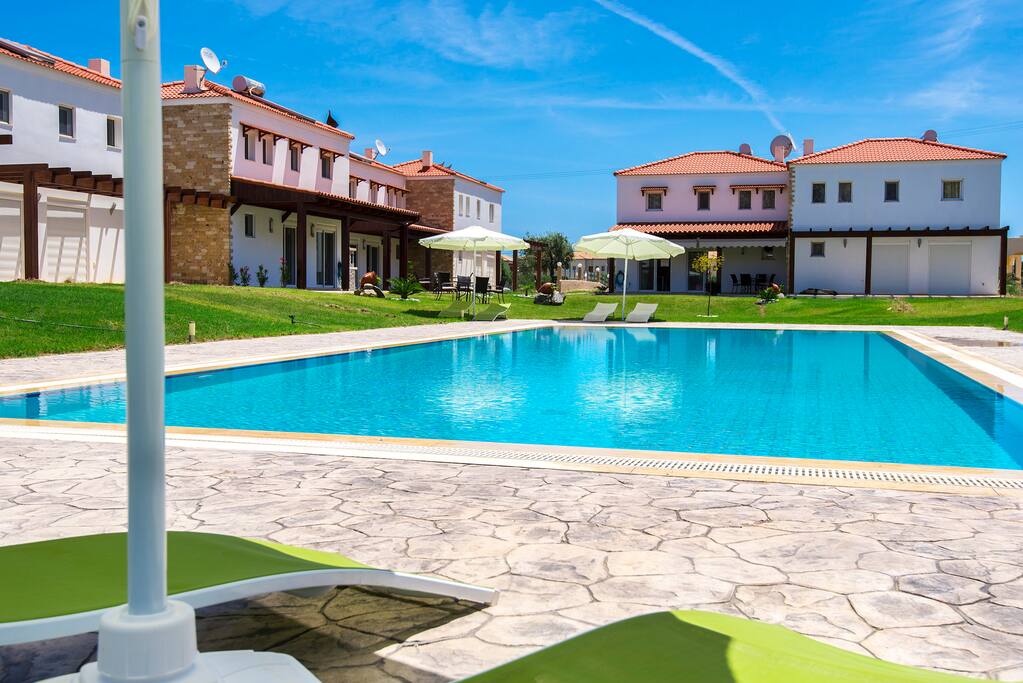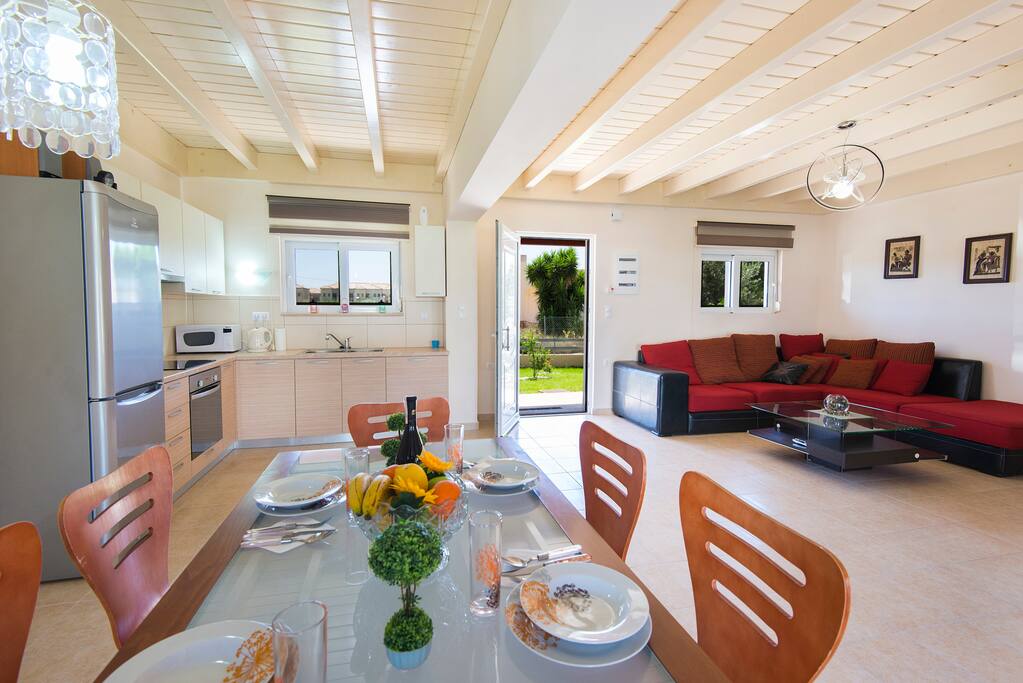 Fully equipped villa with pool near the beach
Villa with garden and swimming pool just 150 meters from the beach , TV and Air Condition in all rooms and fully equipped kitchen.Free WiFi , BBQ near the pool , DVD , Radio , Parking.
---
Despite of the fact that the villa that was shown in the pictures was not the one we stayed at and there was not a TV in every room (as mentioned in the ad), we had a pleasent stay. The location is good; not too crowded with nice surroundings and centrally located. We were happy with the well working air-conditioning in every room, especcialy because the roll-up fly-screens didn't work properly. The contact with Manuel was good. He took good care of us and delivered fresh towels and sheets halfway through our stay. The 'welcome' package with local traditional products contained 3 small bottles of water, juice and 2 soda cans. The only amenities that were at the house was 1 roll of toiletpaper. The advertisement seems to experience a bit more than it actually is but nevertheless we had a nice stay.
---
We had wunderful Holidays in the Villa from George. As we arrived in Rhodos, we took the car, which George has arranged for us and we drove to Kolymbia. You need to have a car because if you want to move a little on each day you'll need it! There are busses but you're not that flexible as if you have a car. Manuel was there at the house and welcomed us. He showed us the house and gave us some recommendations for restaurants, supermarkets etc. We loved the week we stayed in the Villa and I really can recommend the Villa!
---
We had a wonderful stay at Kolymbia Villas. Just as described. The villa is set right next to a fabulous pool which is shared by about 15 villas I think; not all were occupied and the pool never had more than 8 people in. It's a superbly quiet spot with some nightlife within about a half hr walking distance. There is a great restaurant just over the road too and the beach is very close although with the heat we enjoyed the pool most of the time. The villa is clean, fresh and bright with very efficient air conditioning good sized rooms and bathroom. Our son slept very well in the travel cot next to us. The area is great to explore, a car is useful as we shopped in the small local supermarket and then ate out for dinner every night. We were met by Manuel who showed us around and made sure we were happy with the villa and how things worked. We were made to feel very welcome. The restaurants were all great and very accommodating with a baby. Use trip advisor and work your way down the recommended ones! All in all a great stay. Thank u for your hospitality.
---
To start with, I did not receive the unit described . George emailed me a few days before arrival and said he will be on a business trip and his co partner would meet us with the keys. Upon arrival, we discovered. - No amenities as described shampoo etc. we purchased our own toilet paper. - We could not sit outside on the patio as weeds were of abundances and it was embarrassing as this was the only unkept unit in the complex. - No TV in each bedroom only one in the living area which had no satellite therefore no TV for the duration of our stay. -The downstairs was not L-shaped room etc. - No welcome basket was provided - No BBQ In conclusion, I did not receive the unit George advertised, I believe it was another unit in the complex.
---
We were greeted on arrival by Manuel, who was very helpful and kindly drove us to the big supermarket to do a big shop, which was great, as we did not have a car. He gave us a basket with lovely local products, like honey olive oil and Greek delight. The villa was very modern and well appointed and very comfortable to stay in. Kolymbia is halfway between Rhodes old town and Lindos, so it is a good location to be based for visiting these two places. There was a very good Taverna 3 minutes away on foot and a great mini golf place nearby too. There are a number of small "supermarkets" near to the villa, but they tend to sell drinks and cigarettes and souvenirs and only a few food items, as Kolymbia has many all inclusive hotels. We came to an arrangement with the one of the shop owners, who would buy bread for us and we would go and collect it from him. The harbour is a 30-40 minute walk away and we took a a boat trip from there, which visited the local bays and was the best boat trip we have ever been on. We had a great stay and really enjoyed our time on Rhodes, which is a lovely island with lovely people.
---
When I first booked this house I was happily surprised for the price I found depending on the prices on all other houses around including the other one George has. I was a little sceptical so I ask George if with that price he offered is the same house I saw in the pictures with all the amenities. He answer me that was not mistake. When I arrived I saw why. First of all the house he put us was not the same as the pictures when I booked. The house from the pictures exists but in a different part of this Villas compound. The one we have was with less furniture ,no second TV in the bedroom and in top of that ,the TV in the living room had a technical problem with the channels that never solved, so no TV at all, until we left ,internet we had 4 days after we arrive and they never gave us a second pair of towels and sheets as promised without any explanation. The only explanation we had from Manolis the guy that George hired to greed us and take care of his business was that he had a lot of business around the island and he cannot take care of us .We have all the above in all our written complains to George. Then we had the accident with the windows blinds. We never touch those thing until the last hour before we left when I tried to move it a little in order to close the kitchen window. ( NOONE even try to contact us and greed us to check out ,we just close the house and leave the keys.)When I move the blinds a little they just fell of in my head .I suspect that the windows blinds was already broken and someone replace them just in order not to seem (URL HIDDEN) just a matter of time before they fell off again, Now George just ask to pay for them a charge I cannot accept not because of the ridiculous claim of 250 euros it was just the same if it was 25 (URL HIDDEN) is because of the deliberate attempt to force someone else's damage to me. Avoid booking with this person and if you do ,maybe because of a nice offer ,be extra careful
---
We had a pleasant stay at this house. The house is spacious, but not as spacious as in the pictures. It was great to be next to the pool and to have a fantastic view of the rock mountains. We also loved that we were a 10 minute drive to Tsampika beach. We didn't like that there was not grass, but weeks and dirt between our house and the pool. Our children were constantly tracking in mud to the house. The owner says there is a disease in the grass (By the way, we never met the owner and he only sends messages via this service). From what I can see, there are owners that pay for a gardner to keep their yards beautiful. The gardener was there every day, but did not come to our house. Most of the homes have beautiful grass and gardens. How did they avoid the disease? This owner does not invest in keeping a nice yard. He did not even pull the weeds that stood high at the patio. For this reason, I would not highly recommend this house.
---
Welcome to the beautiful island of Rhodes ! I am a professional person working in the holiday rental and property management sector, I live in Rhodes and enjoy travelling and meeting people. I am a friendly and enthusiastic person and would like to provide to my visitors the appropriate environment for a pleasant stay. Me and my partners have a nearly 10 years' experience in holiday accommodation in the island of Rhodes and we are here to offer you the service you expect and to arrange for you anything you might require during your holidays.
语言:
English、Ελληνικά