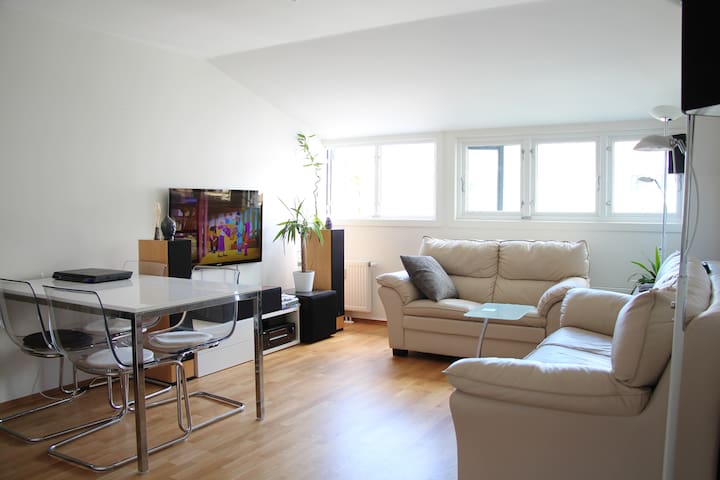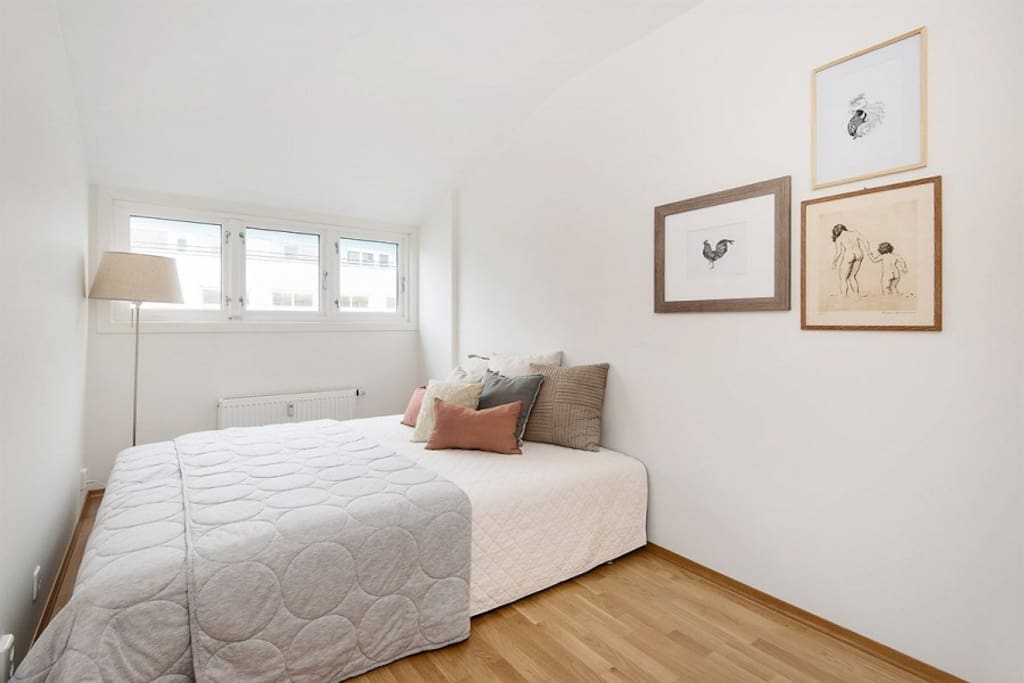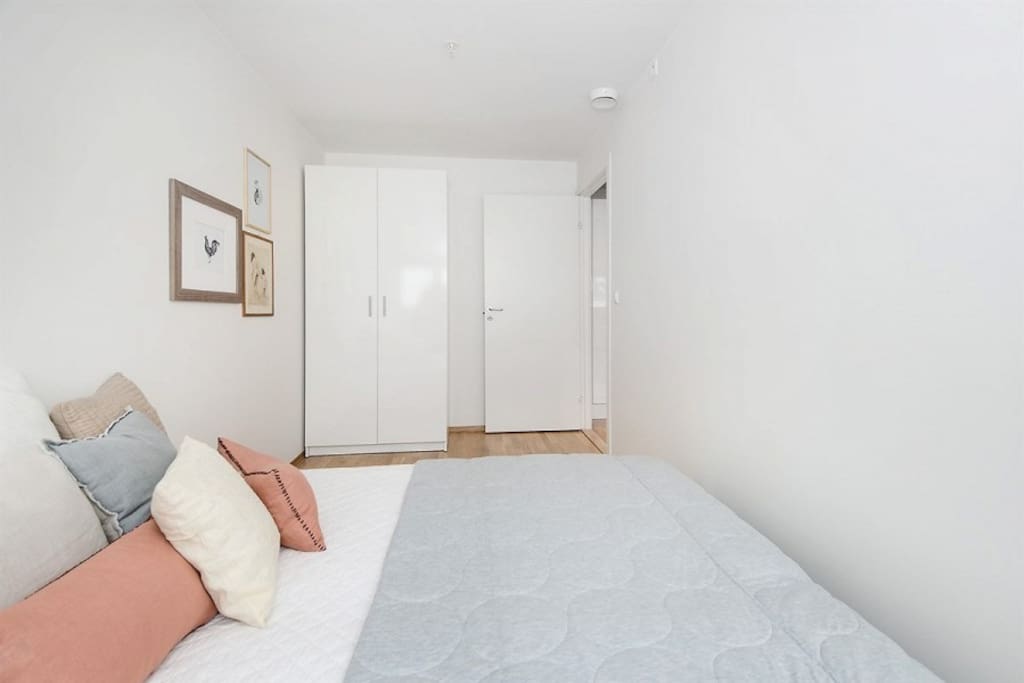 - Central
- New 70 kvm apartment flat
- 2 bedrooms with double beds, totally 3 rooms
- Fully furnished apartment
- Broadband TV/internet WI-FI ready
- Elevator, Heis,
房源细节
Modern and nice apartment in Oslo Center, Aleksander Kjellands plass
Two Separate bedroom. Top, 5th floor in the building.
A living room with new 3+2 leather sofas.
2 min walk to the center, parks, Akerselven, grocery stores and very good restaurants.
A modern flat with a great solution when it comes to space. A complete kitchen with oven, dish washer and all necessary equipment.
It has a designer bathroom with shower, toilet, sink and combined washing machine with dryer function.
Close to buses that takes you down to the city center.
2 min. Supermarkets (several choices)
2 min to restaurants (several choices)
4 min. Oslo food hall (Mathallen)
5 min Grünerløkka , Bislett
15 min. Karl Johans gate (main street of the city of Oslo).
Please ask if you want any advice about the city, how to get around etc. I will gladly help you with additional information or/and lend a hand for anything you might need during your stay.
Guest will be able to use all the aspects of the flat.
Location
Great neighborhood one of the best In Oslo great selection of bars and restaurants in the Aleksander Kjellands plass area.
Bislett bars and restaurants are 10 minutes away
Grunnalokka bars and restaurants are a 5 minute walk
Then main shopping centre is only 10 minutes away - Bogstaveien , as is the centre of Oslo, central bus and train (website hidden) Kuba park is just a few steps away, good for running with play areas for children
You can eat and drink there in the summer, some weekends there are Theatre shows.
Easy access to Oslo international airport, Rygge or Torp, Train and bus station 10 minutes away. (4 -5 bus stops)
The area has fairly good parking, especially around the nearby park
Attractions available by nearby:
- The Opera House
- The Middle Age Park
- Akershus Castle and Fortress
- The Royal Palace
- Cruise on the Oslo Fjord
- Oslo main shopping street (Karl Johan gate)
- The Parliament
- Others: National museums, Historical museum, National Gallery, Nobel Peace Center and etc.
Aleksander Kjellands plass is a beautiful and modern area with shops, parks and restaurants, one of the best situated areas in Oslo. It's closely located to Vulkan where you have bars and clubs and also to Grünerløkka which is a very cozy district with more bars, restaurants, small and cozy shops and more parks. You can walk to the city center in 15 minutes from the flat or take a bus.
If you want to take a stroll you also have the very beautiful path along the river Akerselva which passes behind the building.
The apartment is located close to several busses that takes you down to different aprts of the city center. Bus 21 takes you down to Aker brygge where you have all kinds of restaurants and shops, or 34 and 54 which takes you down to the main street Karl Johan and Oslo S.
Easy access to Oslo international airport, Rygge or Torp, Train and bus station 10 minutes away. (4 -5 bus stops)
46 inch TV with surround sound available when time to relax is needed. Broadband Get Box receiver with over 20 channels. High Speed WI-FI is ready to use.
Parking is free in certain areas, outside the flat is free on week days & after 17.00, some areas between 8-1700 is not allowed, I have a car and normally find a non parking space within 5-10 minutes max.
There is good storage space in the hall.
Clean towels sheets duvets all bedding is provided for each of the rooms, there is an iron and ironing table.
Flat is clean and is to a high standard
Kitchen has a dish washer, large fridge freezer, and oven, as well modern microwave / grill, plenty of cabinet space. There is also additional cooking tools like kettle, blender, mixer and more.
房客使用权限
The guests will have access to the apartment.
There are 2 keys available depending on how many in the group.
与房客的互动
I try to meet the guests where possible, certainly on check in and explain some things about the flat as well as wheres best to go in Oslo
The flat is cleaned the morning before you arrive.
Strictly no Smoking building, no smoking in the flat.
Please can you take your shoes off as you enter the flat each time.
Flat can be used whilst visiting Oslo but isn't suitable for partying
Flat will be cleaned thoroughly before each booking and beds made ready with clean towels toiletries etc
Clean duvets and sheets provided for each of the rooms.
Kitchen utensils and various electrical equipment provided including, oven, blender, a small mixer, microwave.
Respect the neighbours , keep the flat clean where possible. be careful with the electronic equipment, no smoking no animals, no loud music.
Absolutely no smoking is allowed in this building:) (did I already say that:) )
My mom and I were in Oslo for vacation for a couple days. Let's start off with the good things about the apartment. The location was decent as it's close to a public bus stop to get into the city center and supermarkets. It is also close to cafes and an airport bus stop. Barish was responsive to questions. He was also accommodating when we checked out. My mom is not very good with English and didn't have a phone to call Barish when she was checking out. I had to leave Oslo before she did, so I gave her instructions on how to check out, which required waiting for the lockbox to open at the nearby store to drop off the keys. Barish opened the lockbox at the time specified instead of us giving him a call first. Now... about the check-in process... After a long transportation into Oslo, we were looking forward to a good rest. We were quite disappointed when we arrived. After standing in the rain for 15 minutes trying to figure out how to get in based on the directions given on the airbnb account, we found out we had to pick up the keys from a nearby store at the lockbox when I called the host. The host communicated this 30-60 minutes right before check-in, when I didn't have access to wifi at the time. Prior to us checking in, the host had asked us around what time we would check-in, so someone would be able to meet us to hand us the keys. We provided this information a day or two before our arrival, but the directions to pick up the keys weren't communicated until almost right before we were checking in. The host doesn't appear to live nearby the apartment, so the check-in process was not very convenient. I wish I had known about picking up the keys from the lockbox earlier, so I can plan ahead. When we walked into the apartment, it had a funny smell as if someone just cooked food. Some of the furniture had dust and it wasn't professionally cleaned. The apartment looked like someone was living in it right (long-term) before we checked in. The drawers contain clothes, the bathroom contains all the daily personal products, and there were personal belongings in the cabinets. This was not disclosed in the description. The place also didn't look like what was in the pictures. The park outside is not as glamorous and the pictures of the apartment is not as nice. I had read about the negative reviews prior to booking this place, but I wanted to give it a chance since the reviews were a year or more ago, so maybe there were improvements. It didn't seem like things have changed much.
Mrs Flora, apologies if you had some problems checking in, i try to leave as clear instructions as possible the keys are left in the market (7/24) right in the corner to the building for easy access, instructions are sent to each guest beforehand, to improve the process in future will make sure each guests gets the instructions in a clear manner so there is no waiting period, its normally fine and works very well Smell yes the neighbours were having a celebration and were cooking italian food, there is a good environment in the building and there can be a mixture of foods cooked its not normally that noticeable in the flat maybe outside Dust The flat is cleaned thoroughly each time, but of course will continue to improve on this if there are any areas guests are not happy with. Photos personal belongings Yes there are some belongings in the flat, i have some books on the shelves and personal things in the kitchen which are all there for guests use, pots and pans microwave kettle etc, there is always the challenge as an airbnb host to balance what personal things to have in the flat for each booking, will look at this and maybe make some changes to improve the guest experience
---
Let's start with the positive: Our flight got delayed so we didn't get to Barish's apartment until 12am midnight. He and his son waited for us to ensure our check-in was seamless. He was also very flexible with the check-out time when we needed more time. Another good thing was he got a full-stock kitchen which was a big plus. Now the downside: we were excited about this modern chic apartment because of the pictures listed in Airbnb; however, when we arrived, it was nothing like what we saw in those pictures. Same apartment, but the decor, furniture and cleanliness were completely different. We felt the same as the person in another review - totally confused. Not only that, the apartment was not that clean. You would see used bottles on top of the kitchen counter, and yet we were still charged for $30 cleaning fee. We saw there were some food crumb in the sink and the cabinets were dusty. My friends and I all felt the pictures were definitely misleading. Had the actual pictures of this property posted in Airbnb, we would have made a different decision. Again, it was disappointing. Lastly, the apartment is on the top floor (attic unit), and it was hot when we stayed there during day time. We were told there was an automatic AC but we didn't feel anything. It was quite unpleasant until late night when temperature dropped. In short, Barish did try his best to help; however I would suggest he replaces those real estate pictures with the pictures that shows what the apartment actually looks like. My friends and I would unlikely to stay in this property in future.
the apartment has getting improvement time to time regarding to furniture and interior design. New leather sofa 2+3, new 4 seats dinning table, TV, home theatre, lighting, refrigerator etc... new pictures are coming soon. There is a separate water filter tank under the kitchen desk which is used for drinking and cooking water, and bottles are not trash, are provided to use for filtered water actually. But after this comments, they are removed and will not be provided anymore.
---
Really good option for Oslo stayed at Barish place for a couple of night, check in was easy, key is next door with access given when needed, couldnt have been simpler, the flat has two bedrooms all beds made, everything was really clean and new, great Norwegian interior, Internet was really fast important for us, we were also able to use the playstation, Kitchen had everything, Barish was always in contact made sure we got in and had a good time during our stay, The flat is near Alexandre Hielland place with restaurants and bars and area place to sit outside as well as really near the Aker Selva river which was perfect for walks into town.Buses run frequently to the area, or you can even walk into town it wasnt that far. This was really value for money great location and a good airbnb experience will definitely use again when back in Oslo in a few months, thanks Barish!!
---
Very good flat for family up to 4, good location 20 mins walking along the river, to the center, good if you are on holidays. At 200 m there is a wonderful caffe for breakfast and at 10 m a good supermarket.
---
Barish was an excellent host during our visit to Oslo. He had gone the extra mile to get the keys delivered to us at the station as our train was arriving late in the evening. The location of the flat is excellent. There is a supermarket at the doorstep and lots of cafes and restaurants nearby. One area of improvement - I think it the apartment should be professionally cleaned before the guests arrive. Thanks.
---
Unfortunately, our experience with Barish's Airbnb listing was far from ideal. We arrived into Oslo very excited to be in a new city, only to learn that Barish's plan for us to access his key was unsuccessful, meaning we were locked out of his apartment block for about 2 hours. Barish kindly organised for his neighbour to taxi her key to us, a fee we paid for at the time, but Barish kindly repaid afterwards. Over two hours later, we finally got access into the apartment only to be further puzzled by what we had entered. Unfortunately, the photos in this Airbnb listing are NOTHING like that of the apartment we stayed in. The photos used for this listing look like the professional photos that the real estate agents probably used to list this apartment on the market several years ago. This was actually quite disheartening, as we were frustrated by the previous two hours' delay, hungry, tired (as we entered the apartment around 9:30pm) and perplexed as we looked around thinking "this doesn't look like the photos of what I thought I had booked". Barish's apartment was not the cleanest Airbnb place we've stayed at - it literally seemed as though Barish left the building right before we got there to allow us to stay for 2 days, only then to move right back in. The bins were not emptied. Dishes that had been washed remained on the bench to dry. Empty alcohol and water bottles remained on the bench by the fridge. This is far from acceptable. The beds were not made up with linen, and in fact, the douvet in one room and one of the towels left for us to use was blood-stained. No further comment needed. The area surrounding this apartment was ok - we never felt unsafe, but it was not an area dominated by families. The apartment is situated closely to the Oslo city centre by bus - the walk is too lengthy, even for us 27 year olds! Overall, Barish really did try his best to ensure that we got into his apartment successfully, after a horrid start to our holiday, but we are unlikely to reserve this Airbnb listing in the future.
The apartment has getting improvement time to time regarding to furniture and interior design. New leather sofa 2+3, new 4 seats dinning table, TV, home theatre, lighting, refrigerator etc... new pictures are coming soon. There is a separate water filter tank under the kitchen desk which is used for drinking and cooking water, and bottles are not trash, are provided to use for filtered water actually. But after this comments, they are removed and will not be provided anymore. For this booking the biggest bed room is prepared, the clean, new washed sheet, duvet, 4 pillows and 4 new towel are provided but comments given here is for the one other smaller bed room which is not prepared and not supposed to be used since that smaller room for bookings 3 or more people.
---
Barish is a professional, working in Telecom, has worked and lived for 8 years all around the world from China to England, from Israel to Belgium, from Ireland to Turkey and since last 4 years he has been working in Telenor Norge, Forbebu HQ. He has a son, 4 years old. He likes skiing, tennis, golf and work out in the gym but has a passion for diving and sailing. He loves people from different cultures, mind sets, having morals ethic values.